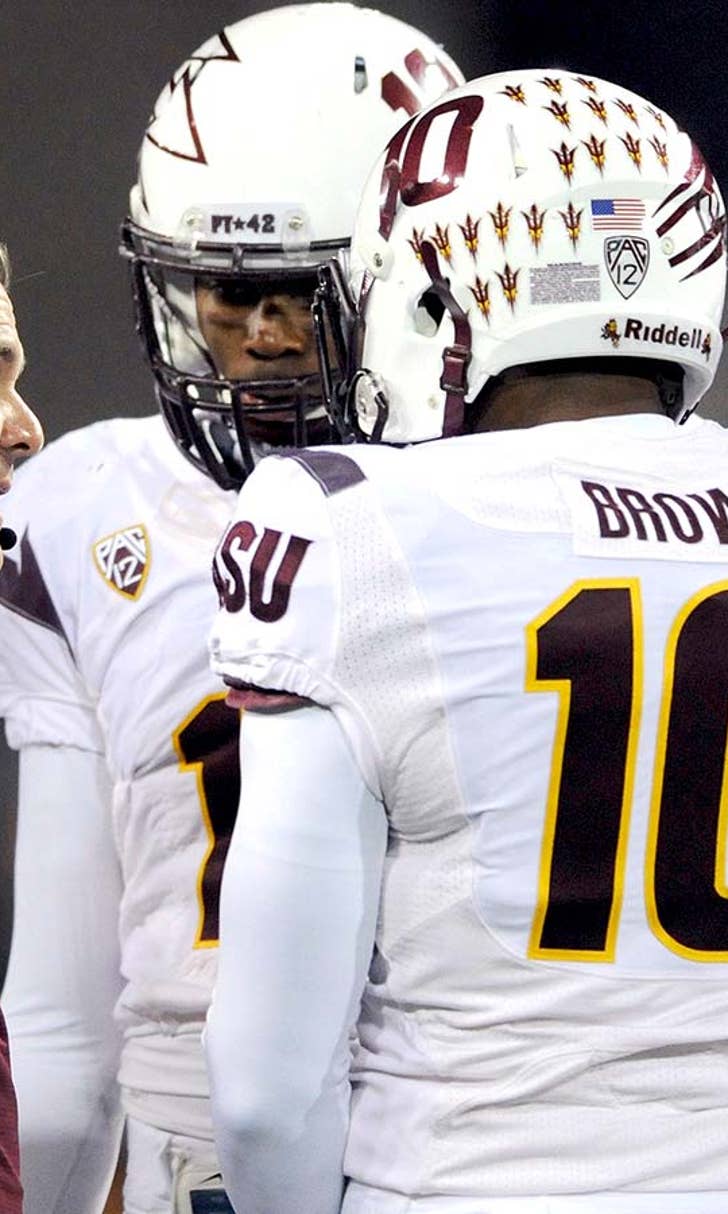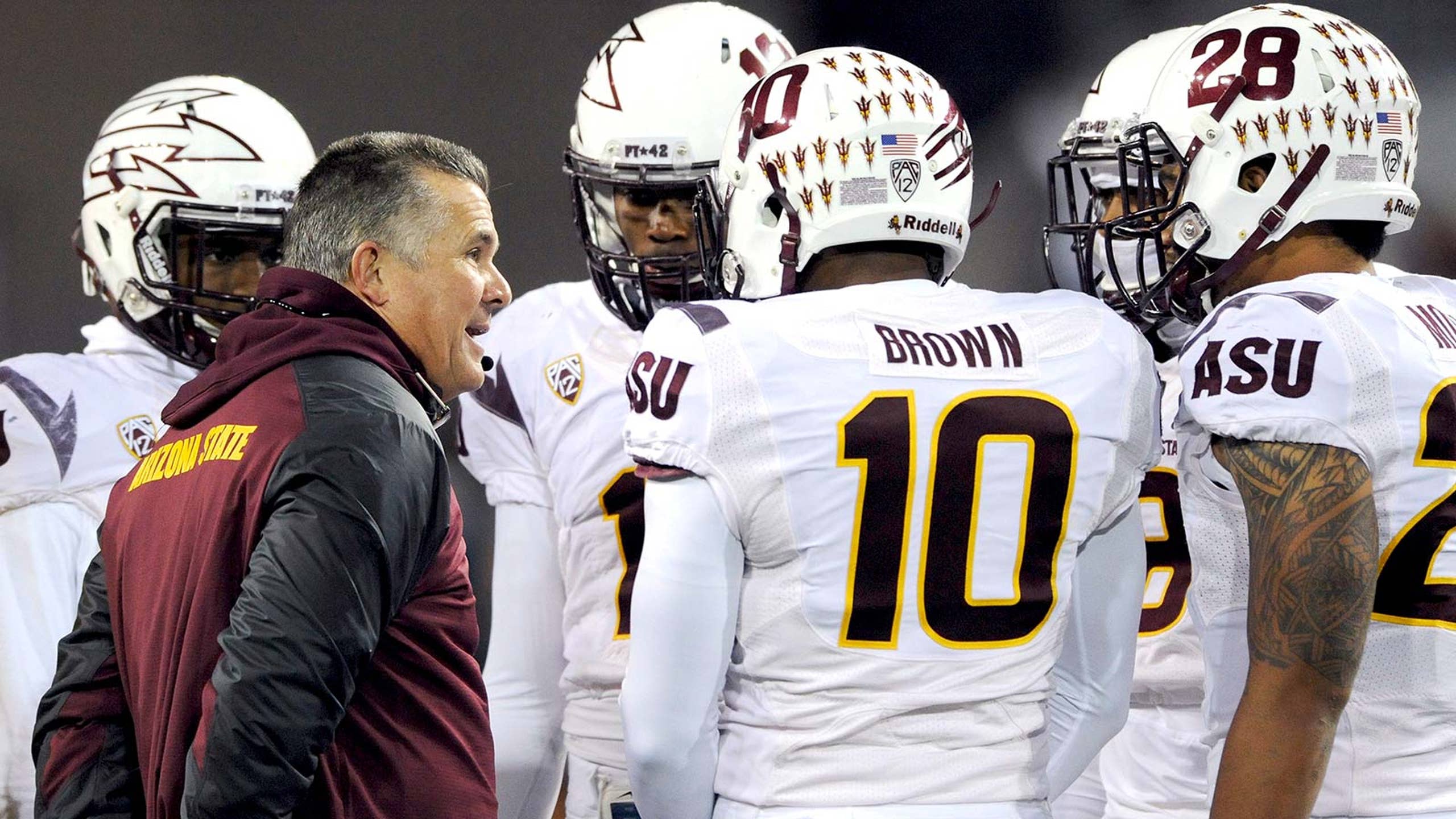 Graham shoulders blame for Arizona State's loss at Oregon State
BY foxsports • November 17, 2014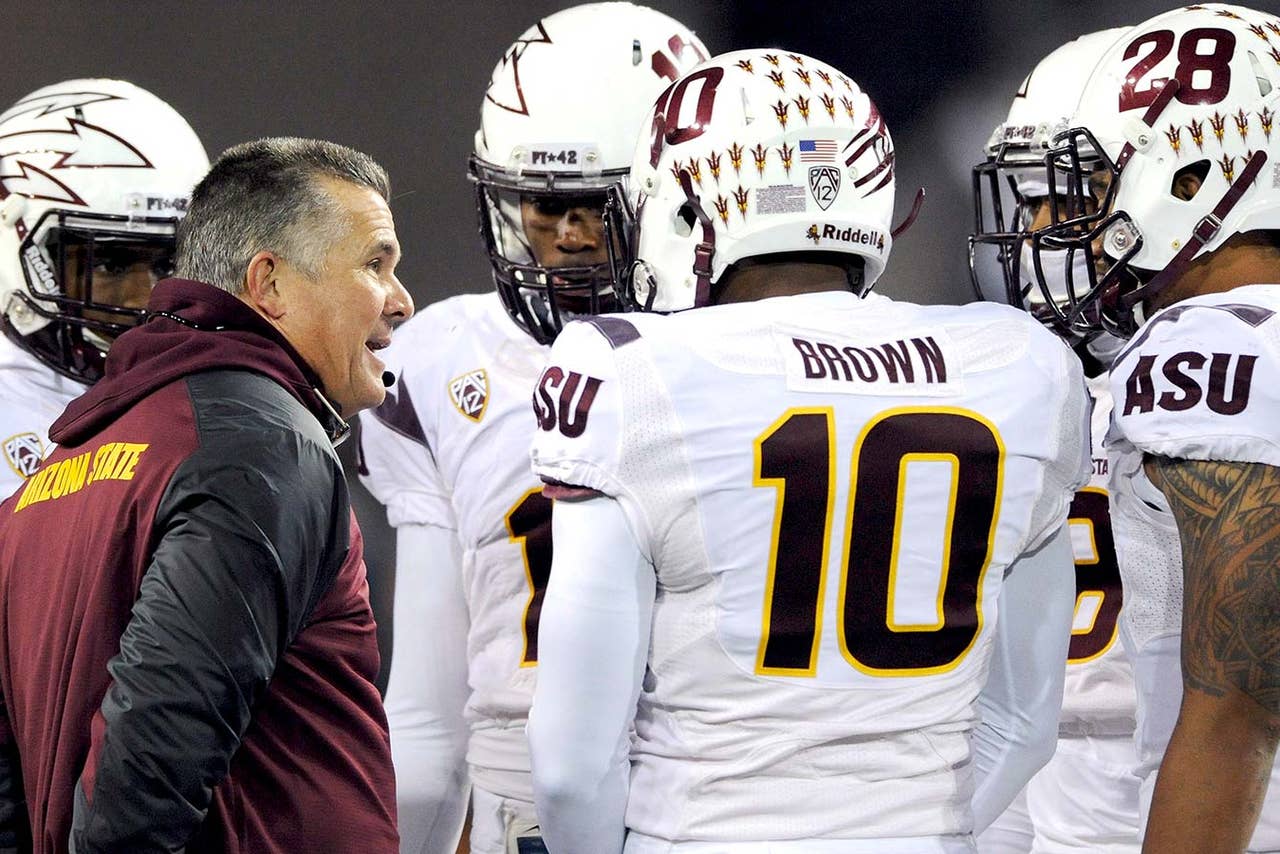 TEMPE, Ariz. -- There was very little finger-pointing from Todd Graham on Monday in his assessment of ASU's stunning loss to Oregon State on Saturday night -- with one major exception.
At himself.
While Graham acknowledged that it was a bad night for the Sun Devils collectively -- "we beat ourselves in just about every area" -- he repeatedly put the blame on himself for multiple transgressions: ASU's preparation, its in-game adjustments, and his poor sideline response to the performance.
"I took ownership because ultimately I'm responsible for getting 'em ready," Graham said. "I told our players it was every one of us, me mainly. We didn't make the right adjustments or do the right things we needed to do to win."
The 35-27 loss ended ASU's shot at a College Football Playoff berth and took away control of the Pac-12 South race. The Sun Devils (8-2, 5-2 Pac-12), ranked No. 6 in last week's College Football Playoff poll but certain to drop out of the top 10 Tuesday, now need help to repeat as champions in the South.
Graham offered a number of factors for the loss, including what he terms "critical errors" that led to Oregon State's first-half touchdown runs of 78 yards and 66 yards.
"Early in the year we were just a young football team making a lot of critical errors," Graham said. "You look at this game and it looked a lot like early in the year. We made a lot of mental errors. Obviously we weren't very mentally sharp."
On Oregon State's 67-yard touchdown pass in the fourth quarter, Graham said he called a pressure that ASU has not run this season, which he blamed for the touchdown.
"I tried to do something new, and that was a really bad call," Graham said. "I made a really bad call there. You don't get those things back."
The weather seemed to be a factor too, Graham admitted, with the temperature starting at 34 degrees at kickoff and dropping as the game went on.
"I did not think that would affect us," Graham said. "Evidently it did. ... Maybe I underestimated how much of a distraction that was."
But more than anything, Graham repeatedly pointed a finger at himself for the way he responded to the adversity ASU faced in Corvallis. Graham's sideline demeanor, which on TV appeared to include more than a couple expletives, had social media buzzing during the game.
Graham could be seen chewing out his players after mistakes, perhaps most when ASU was flagged for a penalty when redshirt freshman Ronald Lewis ran into Oregon State's punter.
"I apologized to our players for how I responded," Graham said. "I ask them to do things with class and character, and obviously I didn't respond that way. I feel the same way toward our fans.
"I didn't respond well as a leader, and I told the players that. There's a certain standard to which we do things, and as a leader I fell short on this one. I took responsibility for that."
Graham said it was "probably the worst I've responded in a game," admonishing himself seven different times and apologizing twice to fans for it.
While emphasizing that the Sun Devils made mistakes in every phase of the game, Graham also made sure to again give Oregon State credit for coming at ASU with its best shot. 
"They had nothing to lose, and I knew that going in," Graham said.
Despite the disappointment of the loss, Graham stressed how much ASU still has to play for. If the Sun Devils win their next two games and UCLA loses one of its last two games (USC and Stanford), ASU would win the South and face Oregon in the Pac-12 title game Dec. 5.
"We talk about rising up and doing like we always do," Graham said. "You make mistakes, you own up to 'em and take responsibility, and then you move forward. That's where we're at."
KELLY STILL STRUGGLING
Against Notre Dame, quarterback Taylor Kelly appeared to take a step forward in his return from a six-week absence due to a broken foot. Against Oregon State, he took a big step back, throwing two interceptions -- one for a touchdown -- and completing just 22 of 44 passes.
On Monday, Graham wondered how much the broken foot, which required surgery and a pin, was still impacting Kelly's performance.
"He's gotten better, but I still don't think he's running to the level he was before," Graham said. "I'm not sure he's 100 percent back yet. That's something that is hard to evaluate and hard to look at because obviously watching him in practice is one thing and games is another."
Kelly's lessened mobility has hindered his ability to run the zone read effectively, Graham said, and on Saturday he simply wasn't hitting his spots passing. But ball security has been perhaps his biggest issue since he returned on Oct. 25.
Kelly has thrown five interceptions in the four games he's played since returning, after throwing none in three games before the injury. He had not thrown two in a game since Nov. 16 of last season -- a ten-game span -- also against Oregon State.
Graham continued to express confidence in Kelly, and it's all but certain he will remain the starting quarterback against Washington State on Saturday, especially with it being his last game at Sun Devil Stadium, but it might not be unreasonable to think he's working with a shorter leash after his performance in Corvallis.
BANGED UP
Graham didn't offer any specific updates on the injuries suffered by receiver Jaelen Strong, safety Jordan Simone and running back Demario Richard but said he hopes to have them all back against Washington State.
Strong took a few hard hits and in the final minutes of the game was barred from returning by ASU's medical staff, though the nature of his injury is not known. Richard's injury is also unknown. Simone suffered a shoulder injury early in the second quarter and did not return.
Graham said linebacker Laiu Moeakiola, who has played through a shoulder injury since week three, also left late in the game due to injury. Graham also said center Nick Kelly has been playing through injuries.
EXTRA POINT
-- Graham on senior defensive end Marcus Hardison, who had two sacks against Oregon State and leads the team with eight this season: "Marcus Hardison's a guy right now that I think is playing at an All-American level. His light has gone on. I'm so excited for him."
Follow Tyler Lockman on Twitter
---