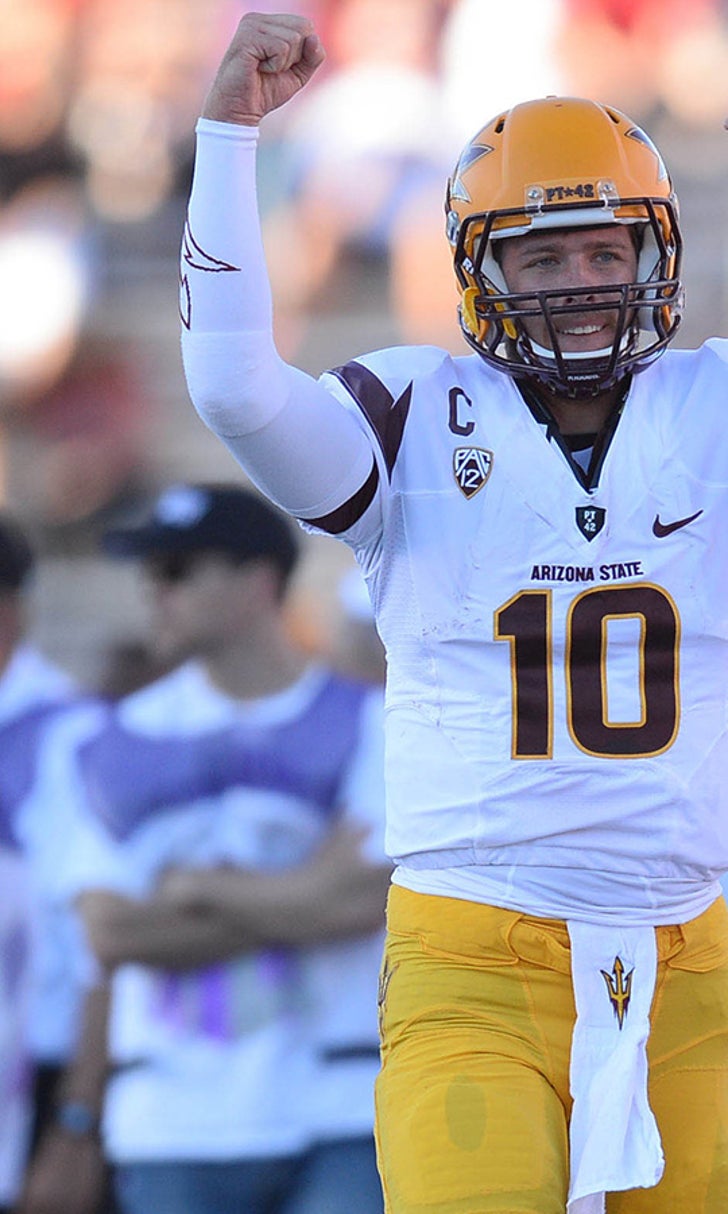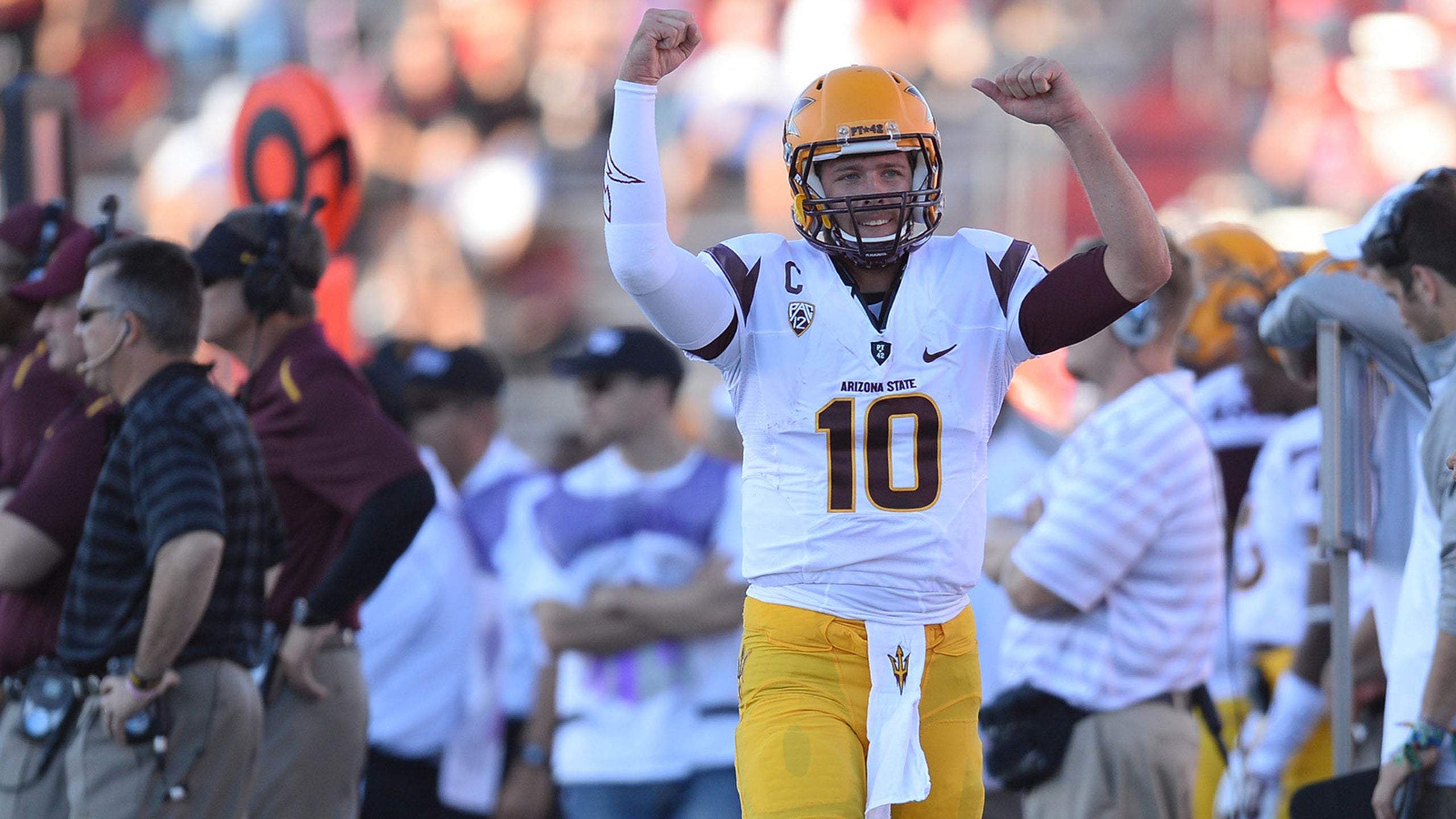 Graham says there's room for both quarterbacks to play
BY foxsports • October 21, 2014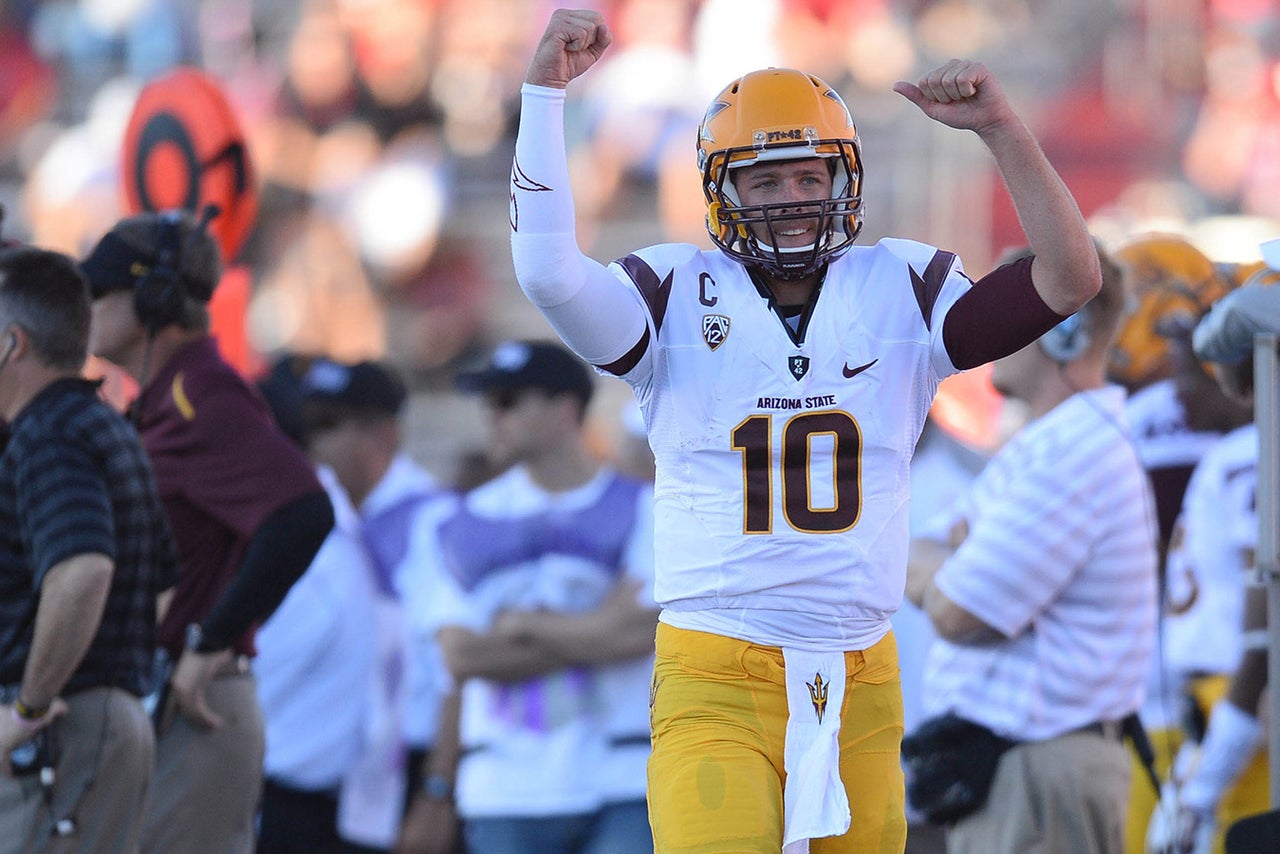 TEMPE, Ariz. -- Arizona State coach Todd Graham on Tuesday reiterated his expectation that starting quarterback Taylor Kelly will return from a foot injury against Washington this week but added that admitted backup Mike Bercovici could remain involved.
"We've got a lot of confidence in Mike," Graham said. "I'm not telling you he's not going to play, because I think he will play."
That answer came in response to a question about what Graham would tell fans who want Bercovici to keep the starting job after leading ASU to wins over USC and Stanford while passing for 1,243 yards and nine touchdowns over three starts. On Monday, Graham declined to discuss the idea of keeping Bercovici involved.
It's understandable some fans would want ASU to ride the hot hand at quarterback, especially considering the quality of his wins, but Graham and offensive coordinator Mike Norvell have made very clear there is no quarterback controversy in Tempe.
"I've won 21 games with Taylor Kelly, and at the end of the day it's my job to put the best player on the field that I think gives us the best chance to win a championship," Graham said. "I do believe that he's the best one that gives us the best chance, but ... that's not to say we won't use Mike a lot or some. We'll see how that goes."
Whether Kelly truly gives ASU the best chance to win will depend on his health come Saturday. While Graham expects Kelly to start, ASU is monitoring his progress and could make a game-time decision.
At Tuesday's practice, ASU's first since its 26-10 win over Stanford, Kelly shed the green non-contact jersey he'd worn since Oct. 9. In the portion of practice open to the media, Kelly ran the first-team offense in drills. Graham said both quarterbacks took reps, with Kelly getting the majority.
"He looked good," Graham said. "I think we did the right thing not playing him. I thought he looked good today, moved around good. I haven't talked to him, so I'll see how he felt, but everything looks fine."
Graham said he is less involved this week in the process of determining how ready Kelly is to play but said he's "fully confident" Kelly will be ready to go.
While Graham suggested ASU could use both quarterbacks due to their different skill sets, how ASU might keep Bercovici involved remains unclear.
"I know Berc will be ready to go just as he's always ready to go," Norvell said. "When you're looking at having two guys that talented and both can make plays, we just have to see what situations arise. I know both those guys are going to be ready to play."
Bercovici said he's preparing like he's the starter -- he always has -- and says he'll treat a two-quarterback scenario the same way he does his backup role.
"When you're a backup you wait for a big hit, you strap your helmet on and you're ready to go. If it's one series or one play, it's the same thing. It's more worrying about myself and focusing on the defense. The plays will come."
ASU is not alone in its quarterback questions, as it was reported Tuesday that redshirt freshman quarterback Troy Williams took all the first-team reps in Washington's practice while starter Cyler Miles deals with concussion-like symptoms.
On Monday, senior safety Damarious Randall earned Pac-12 Defensive Player of the Week honors. On Tuesday, Graham said Randall can be even better.
"Damarious has not even scratched the potential of how good he is, and he's been pretty good," Graham said. "I think he's one of the best safeties in the Pac-12. My goal for Damarious is for me and him to be at the Home Depot Awards for the Jim Thorpe Award. To do that, he's got to knock it out of the park the last half of the season."
The Jim Thorpe Award honors college football's best defensive back. Through the first half of ASU's season, Randall leads the team in tackles (58) and leads the nation in solo tackles per game (9.0).
"I think he had a really good first half of the season, but he hasn't even come close to his potential," Graham said. "It's just consistency. He has to continue to get better technique wise. It's hard to rely on your technique when you're such a tremendous athlete."
-- Discussing the defensive line, Graham said, "If I have a Devil-backer it's Marcus Hardison." The senior has started all six games at defensive end, but Graham suggested he might try Hardison in a standup linebacker role.
-- Sophomore receiver Cameron Smith, who had three catches for 24 yards against Stanford, wore a green no-contact jersey Tuesday for an unknown injury. Also in green: linebacker Laiu Moeakiola (shoulder) and linebackers Jamal Scott (unknown) and Jason Franklin (unknown).
Follow Tyler Lockman on Twitter
---