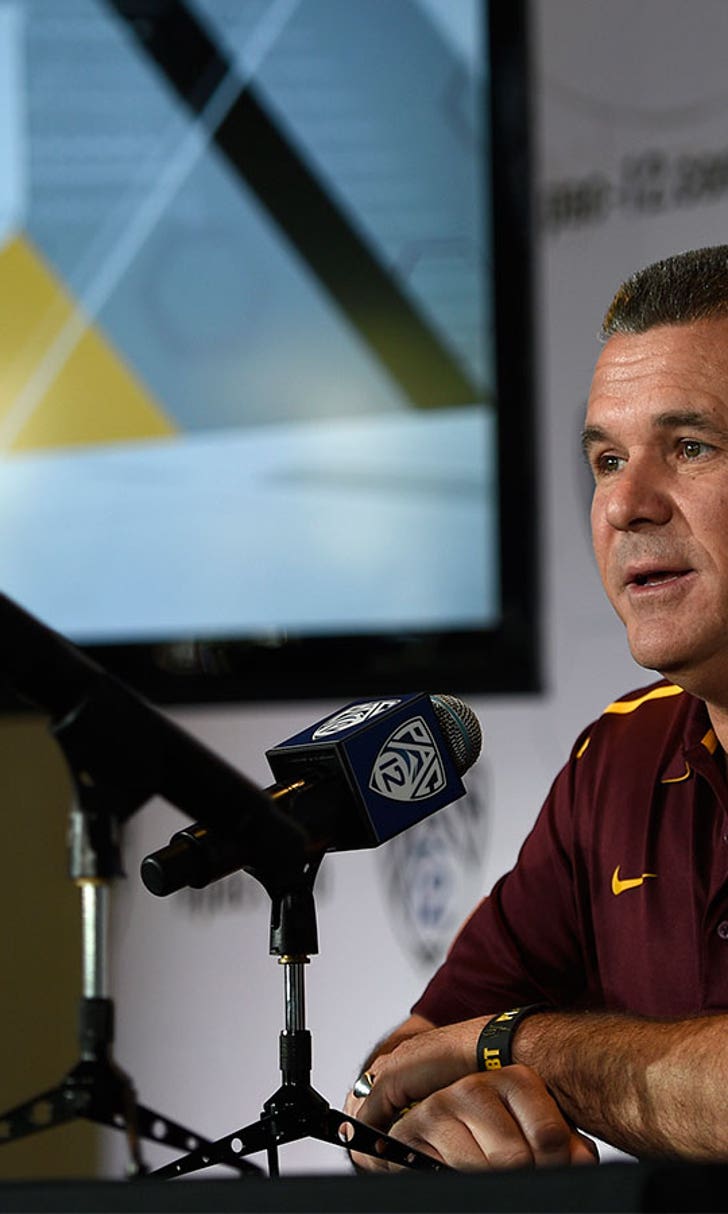 Graham embraces another chance to show doubters
BY foxsports • August 9, 2014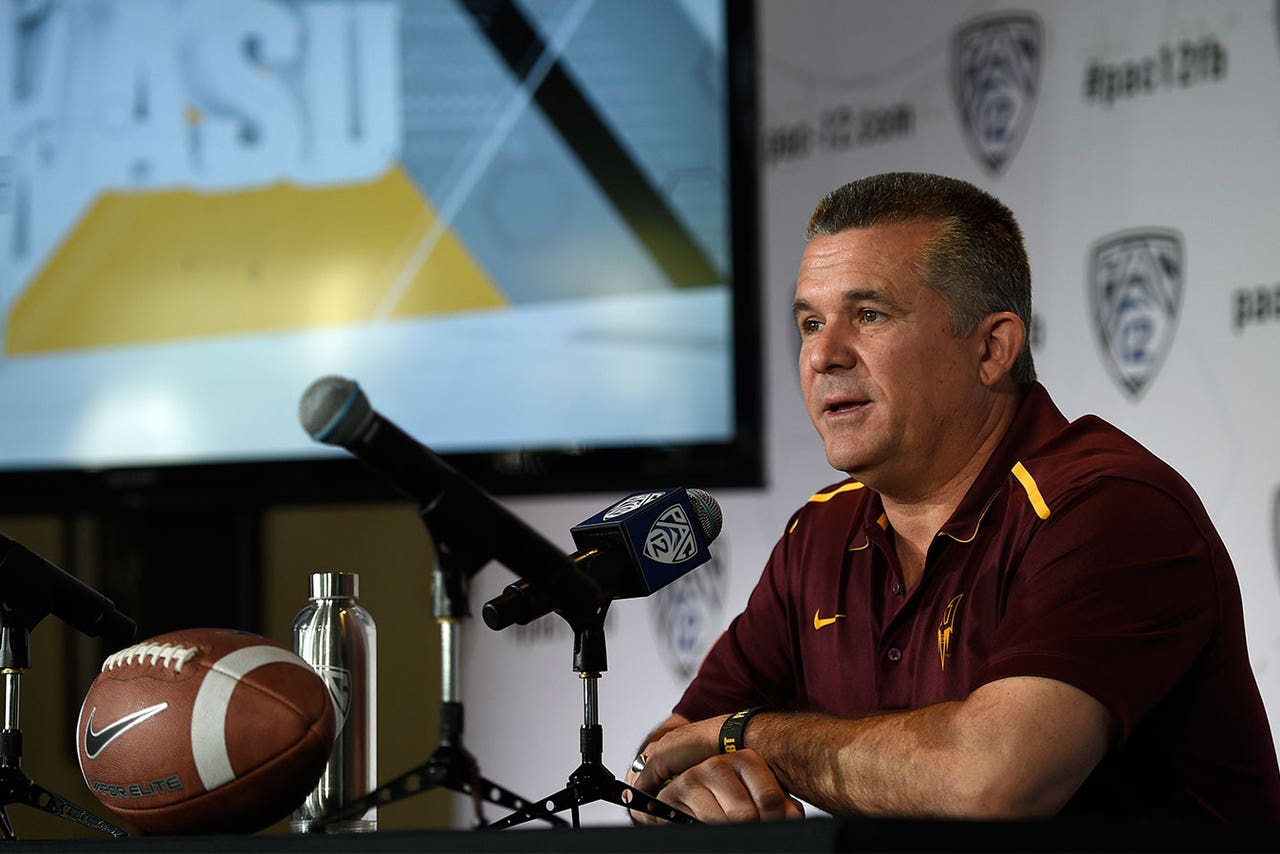 TEMPE, Ariz. -- Two years ago, Todd Graham conducted his first media day as Arizona State coach and emphatically rejected the notion the Sun Devils wouldn't win many games that season.
At the same event Saturday, Graham took a similar tack to address the external notion his Sun Devils will regress a year after winning the Pac-12 South.
"I have the same mindset that I had two years ago: Our program's going to be about winning championships," Graham said. "I do not worry about the expectations at all."
As he enters his third season in Tempe, Graham welcomes the opportunity to continue proving wrong those who doubt him and his program.
And there certainly are doubters, though their numbers have dwindled greatly since Graham took over. Then, people said ASU couldn't win more than the six games it did in 2011, Dennis Erickson's final season. They saw Graham as a job-hopper making his next move up the Division-I ladder.
Graham proved himself for the first time that season as ASU won eight games, including a bowl game, and came a field goal short of a spot in the Pac-12 Championship Game. He also turned the nation's most penalized team into one of the least penalized, quickly instilling discipline in a group used to a loose style of play.
Then last season, with UCLA the consensus front-runner in the Pac-12 South, ASU beat the Bruins in the Rose Bowl to win the division and reach the conference title game. The Sun Devils lost the game to Stanford but finished the season with 10 wins, a plateau not reached since 2007, and Graham's teams were 2 for 2 in exceeding expectations.
In just two seasons, Graham made believers out of many and helped put ASU in a position of unprecedented momentum. The college football world has taken notice.
"Todd Graham lives it and breathes it," former UCLA coach and current Pac-12 Network analyst Rick Neuheisel said. "I've never seen a guy happier to be at a place or more involved.
"The guy loves this job, and he's got the Valley of the Sun loving this team. So needle north, man. Needle north."
Graham's peers, too, are keenly aware of what he's doing at ASU. Last season, Pac-12 coaches voted Graham the conference's coach of the year. And despite the loss of 14 starters to graduation, coaches around the country ranked ASU 18th in the preseason poll.
"A lot of coaches say all that stuff's not important -- yes it is," Graham said. "Man, to be picked 18th in the country? That's respect. That's expectation. Winning six or seven games is not going to get it. So that's a good job. That's where you want to be."
Certainly Graham hasn't done it by himself. He admits to being fortunate in the talent he inherited -- quarterback Taylor Kelly and two-time Pac-12 defensive player of the year Will Sutton, for instance -- but doesn't shy away from crediting himself and his coaching staff for its development.
Graham also is not without faults. He admits to past mistakes and still at times speaks in terms that could rankle opposing coaches. He also has an admitted tendency to frustrate his assistants when he wants to try players at new positions.
"It makes me real unpopular with my staff," Graham said.
Despite those or any other knocks, there is no denying Graham delivered in his two seasons. But for all he, his players and his coaches have accomplished already, the coming season presents their greatest challenge yet.
As much confidence as the loaded offense inspires, the rebuilt defense that will feature nine new starters inspires as much doubt, just not within the program.
"Obviously people focus on particular players, and those are all valid questions, but the program is what matters," Graham said. "Great programs, they reload, they don't rebuild."
ASU came in third in the South in the preseason Pac-12 media poll, an indication voters believe the Sun Devils will take a step back. But Graham has been here before, and offensive coordinator Mike Norvell, who has been with Graham for seven seasons, knows perhaps better than anyone in the program how unfazed Graham is by external expectations.
"It's never really mattered," Norvell said. "Our expectations are all that matters. Our job as coaches and as players is to go out and push ourselves to be the best we can be."
There's a clear divide between ASU and its observers over how good it can be this season. Graham is fine with that, and his message is unwavering.
"Anything less than being a Pac-12 champion is unsatisfactory," Graham said. "I came here to win championships. I'm not interested in anything else."
Follow Tyler Lockman on Twitter
---