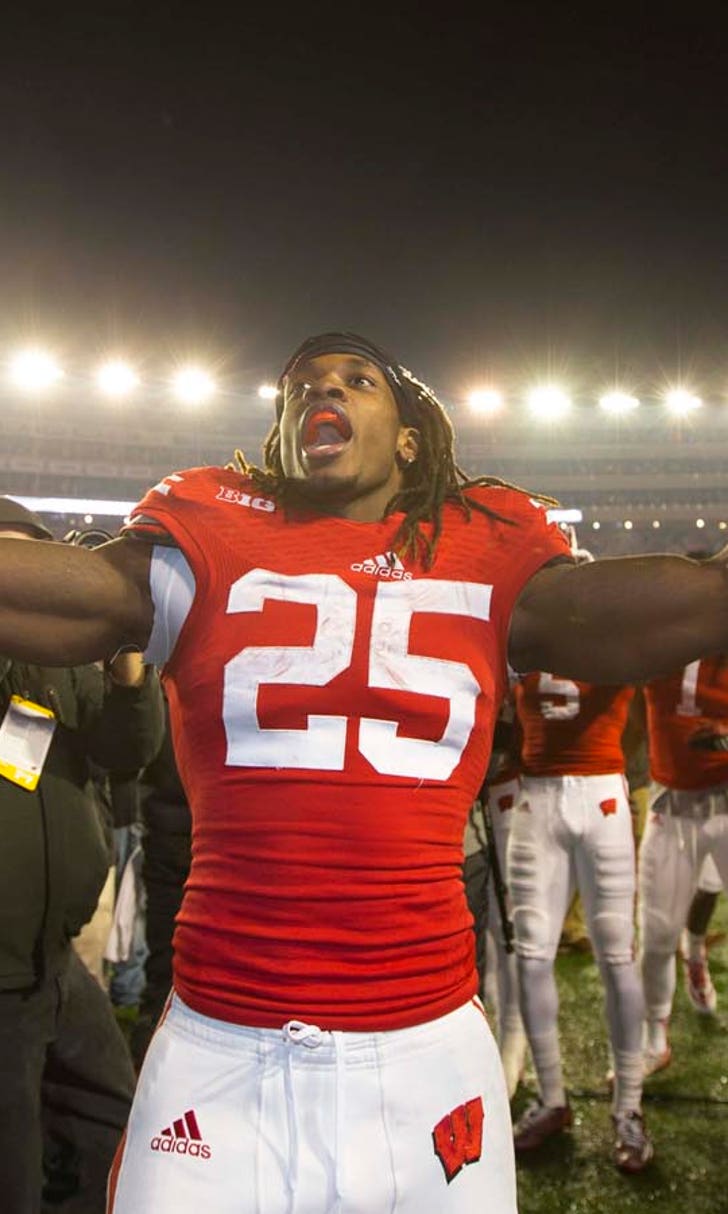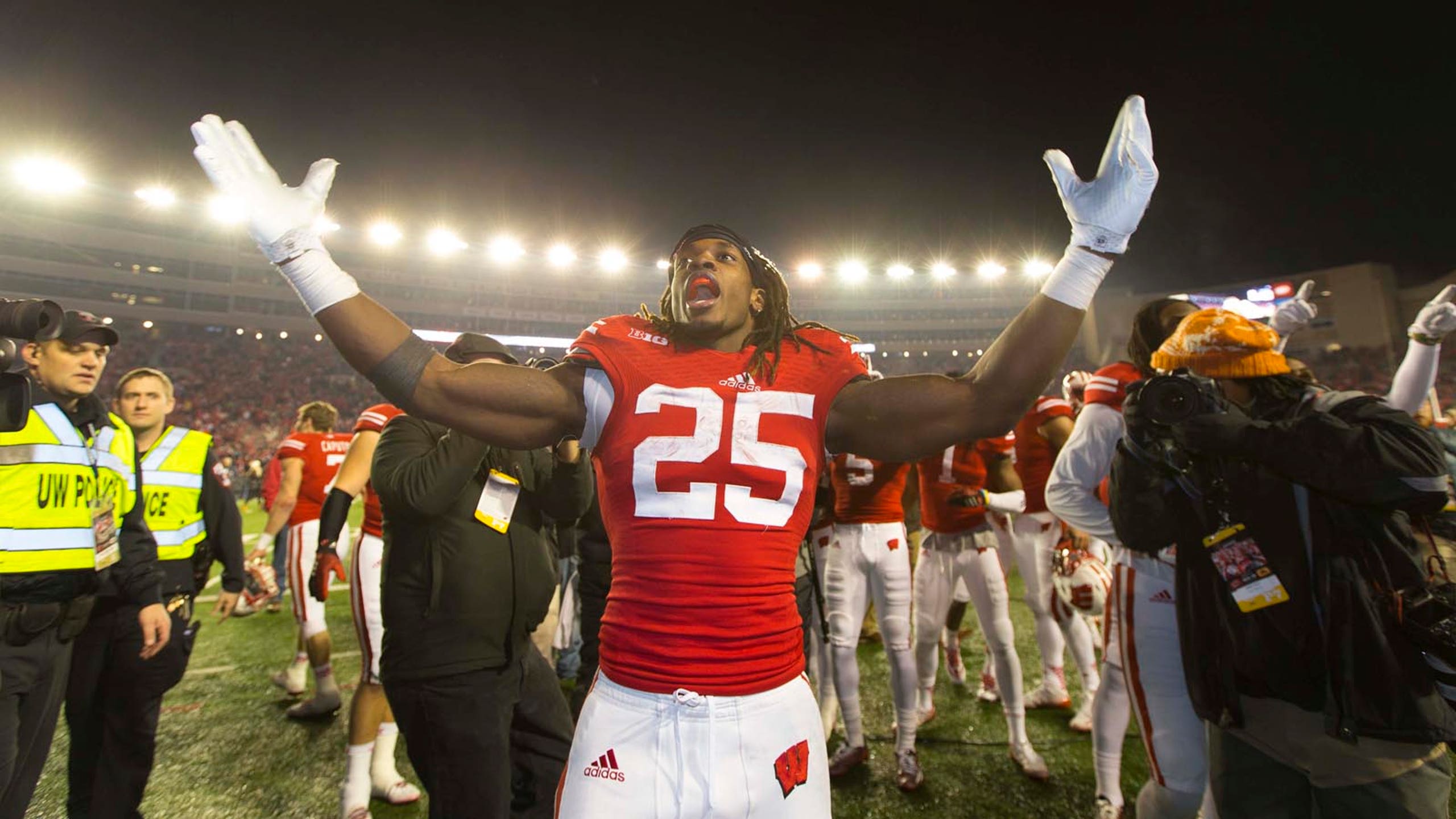 Gordon's impact at Wisconsin continued on recruiting front
BY foxsports • February 6, 2015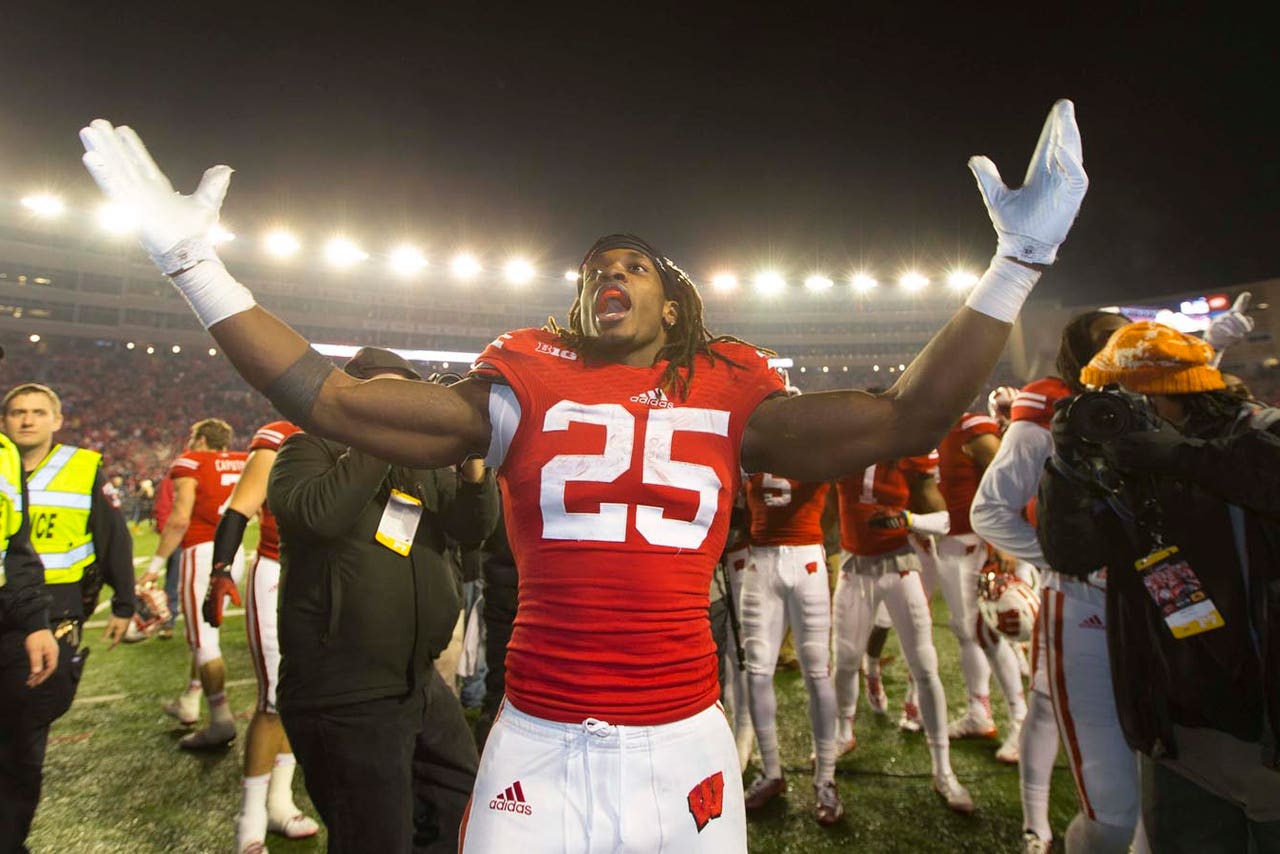 MADISON, Wis. -- Melvin Gordon's NFL Combine invitation announcement became official Friday, and there's no question the former Wisconsin star running back will be among the top players drafted at his position. But Badgers running backs coach Thomas Brown said his impact on the future of the program will continue to be felt for years to come.
That's because Gordon and his success were big reasons Wisconsin was able to land two highly regarded tailbacks in its Class of 2015 -- Jordan Stevenson (Dallas) and Bradrick Shaw (Birmingham, Ala.). Stevenson, one of five Scout.com four-star players in the 20-player class, picked UW over offers from Alabama, Ohio State, Texas and UCLA, among others. Some of Shaw's offers came from Alabama, Nebraska, Minnesota, Ole Miss and Vanderbilt, and he ultimately selected Wisconsin over Vanderbilt.
The fact Gordon, who declared a year early for the NFL Draft, was a Heisman Trophy finalist certainly caught the attention of both Stevenson and Shaw. So did the way in which Gordon interacted with them when both took their visits to campus together. Gordon even took the time to congratulate both players over Twitter on national signing day and included the message: "Make sure you keep the RB tradition going."
"I think it's definitely hard to ignore when you're a running back recruit, and I said it from the day when I got the job," Brown said. "I think this is one of the top places in America to play tailback and coach running backs because of the history, the tradition and commitment to feeding the running back and keeping those guys involved in the run game. I think that definitely played a big factor into it.
"And I think his humbleness when guys are around him, to reach out to them and communicate with them. When those guys were on campus, you pull them aside and talk to them an tell them his story, what it was like to be a player, away from me, when I'm not there. I think that was huge in the process."
Shaw said earlier in the week that he watched Gordon nearly every Saturday and noticed how many games he rushed for at least 200 yards -- there were six such instances last season, when Gordon finished with 2,587 yards and 29 touchdowns.
"I think the program sold itself," Brown said. "Those guys being around Melvin, watching Melvin, watching Corey (Clement), watching the production they had and also learning about the history and tradition was very important. The distance is always going to be an issue to overcome. Coming from the south, you're pulling them away from their families, their comfort zone. Those guys have to trust you a lot to come away from home. It was an adventure to say the least. Some ups and downs, but we were able to hold on."
Brown said his goal in the recruiting class was to land two running backs. The first to commit in July was Davon Crookshank (Missouri City, Texas). Ultimately, however, he signed to play for Blinn College because his test scores weren't high enough to qualify at Wisconsin.
Stevenson committed in December one day after former coach Gary Andersen left -- curious timing, Brown said, that spoke to how much the school mattered to Stevenson.
"I think it's crazy," Brown said. "But I think it shows also that he wasn't just attracted to the coaching staff, which is obviously important. I tell the recruits all the time about making sure you choose a school for the school. Not just for the coaching staff. We get fired, we get re-hired somewhere else all the time. You want to make sure you're comfortable no matter who comes or goes from the previous staff."
Shaw committed to Wisconsin on Jan. 24 after taking one final visit to Vanderbilt, though he apparently wanted to commit to the Badgers sooner. But because of Crookshank's initial commitment and a coaching turnover, he was forced to wait.
"I don't think we ever had three running backs committed at the same time," Brown said. "I think there were some decisions that had to be made privately. But everything was talked about. (Crookshank) decided to move on and go somewhere else. I wish him the best. Didn't work out between the two of us.
"We were trying to hold on to Jordan. He had some late push from other schools that made it tough to hang on to him. And we wanted to continue to keep Bradrick in the boat. I'm really excited to get that guy and ready to get him here."
Defensive improvements: Badgers defensive coordinator Dave Aranda has targeted one problem area above all others as he strives to improve his defense ahead of his third season with the program: takeaways.
As a team, Wisconsin tallied six interceptions last season, which ranked No. 13 out of 14 in the Big Ten. None of those interceptions came from cornerbacks. And Wisconsin's 17 total takeaways ranked tied for 12th in the conference and tied for 92nd nationally.
"That is something where we have to get better at," Aranda said. "In year one we struggled in that area, but we fought through and I think were able to get some takeaways later in the year that really made a difference. Probably one of our bigger ones this year was the Nebraska game. I don't know if we win that game if we don't get the five takeaways that we got. It's such a huge part of it and I feel we were inconsistent at best. That's going to be a big point of emphasis all winter, spring and fall."
Wisconsin brought in only one scholarship cornerback in the Class of 2015 with Titus Booker (Grayslake, Ill.). But he'll be converted to the position after playing running back in high school. Junior college transfer Serge Trezy (Eastern Arizona College), a safety, also has joined the team at the semester. UW still has returning starters Darius Hillary and Sojourn Shelton, and the secondary is expected to be a strength of the defense next season.
"I don't think anybody in the country is satisfied with their depth at corner," Badgers defensive backs coach Daronte' Jones said. "That's a position especially with the way the game is going where you're always looking to improve at that position. We would like to have more. That's just the battles of recruiting. There's always next year. I'm very pleased with what we have. You look at Serge, a mid-year guy who's already in here and in school. He provides some depth with us. And Titus does also."
Follow Jesse Temple on Twitter
---