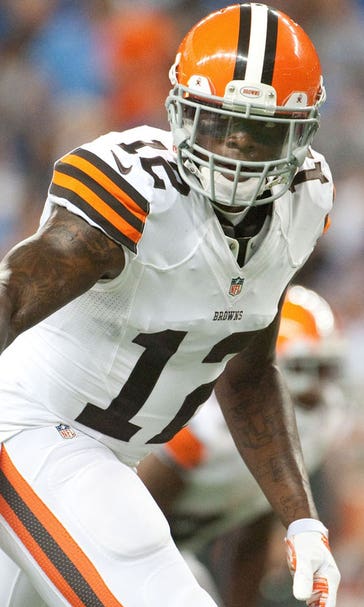 Gordon to Burleson: 'Going to tear this league up'
BY foxsports • November 18, 2014
Former Browns wide receiver and current NFL Network Analyst Nate Burleson was on NFL Total Access Tuesday night and he said he talked to recently re-instated Browns wide receiver Josh Gordon as Gordon readies to return to the field.
Burleson was signed by the Browns last off-season as an unrestricted free agent. He spent most of training camp with Gordon and the Browns before being released in the final roster cuts.
"He told me one, starting on practice this Wednesday I'm going to outwork everybody on the field. I'm going to try to evoke a pride in Cleveland that can hopefully lead us to the playoffs," Burleson said. "He's excited about coming back...When I was with the Cleveland Browns and he knew that suspension was coming, I said what's your plans? What are you going to do when you get back?
"He said I plan to lose 10-15 pounds and when I come back I'm going to tear this league up," Burleson said. "Now, this offense is different; it's not the same offense as last year. They're not going to be running and gunning throwing the ball up the sideline, but definitely look for them to get Josh involved early, kind of to get his rhythm back. I'm excited just like everybody else to see if he can pick up where he left off."
Gordon was re-instated from his 10-game NFL suspension on Monday and is expected to practice for the first time on Wednesday with the Browns, and can play in his first game on Sunday against the Falcons.
---