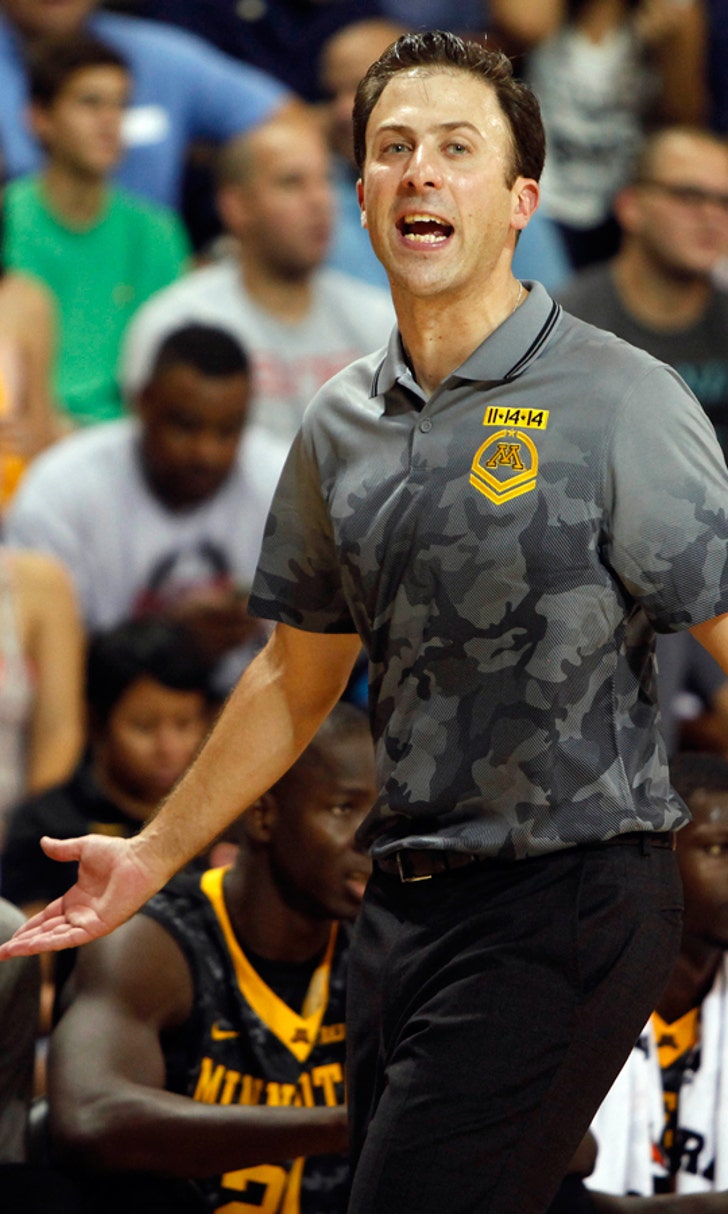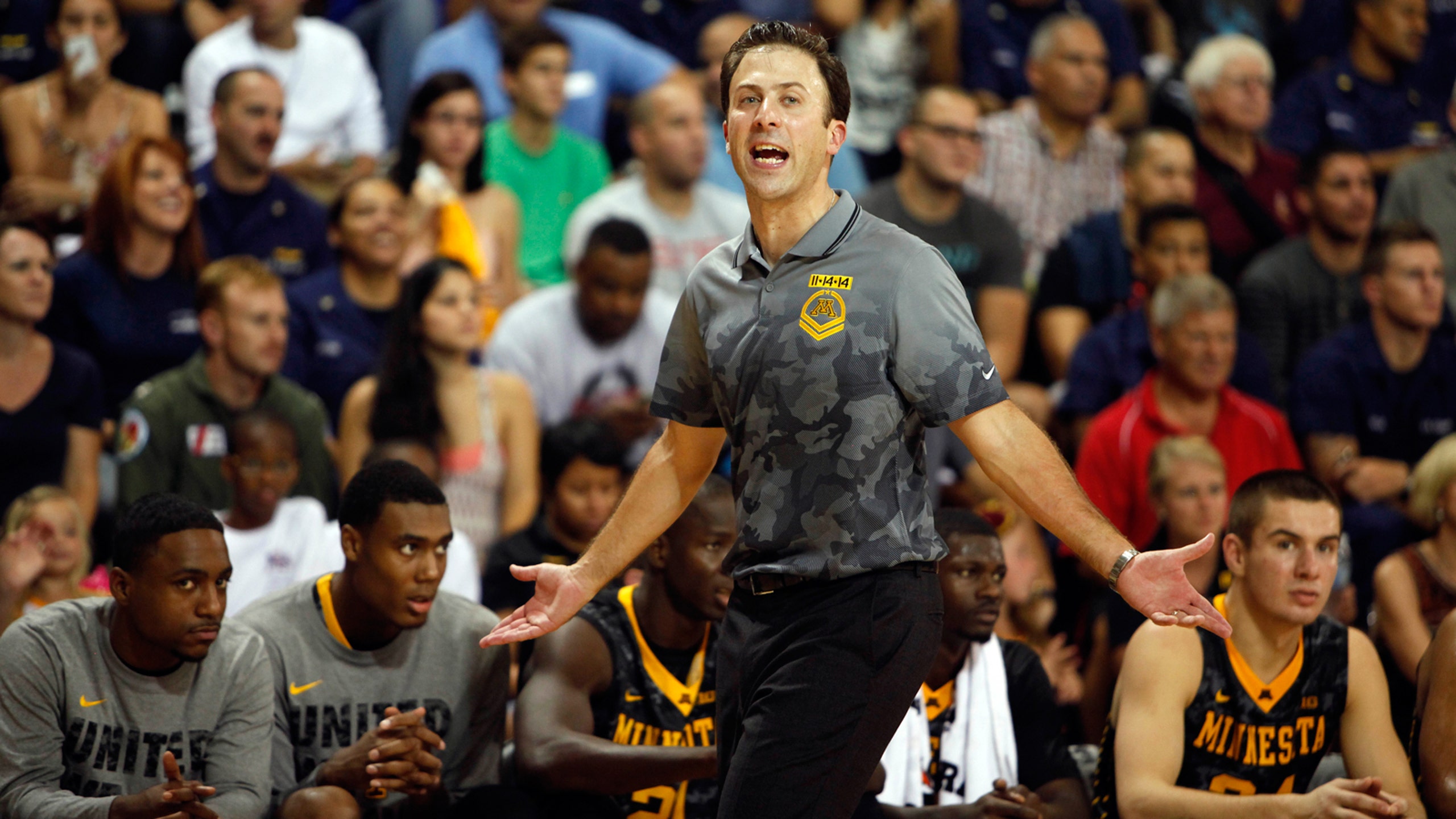 Gophers will be challenged with three games in five days
BY foxsports • November 17, 2014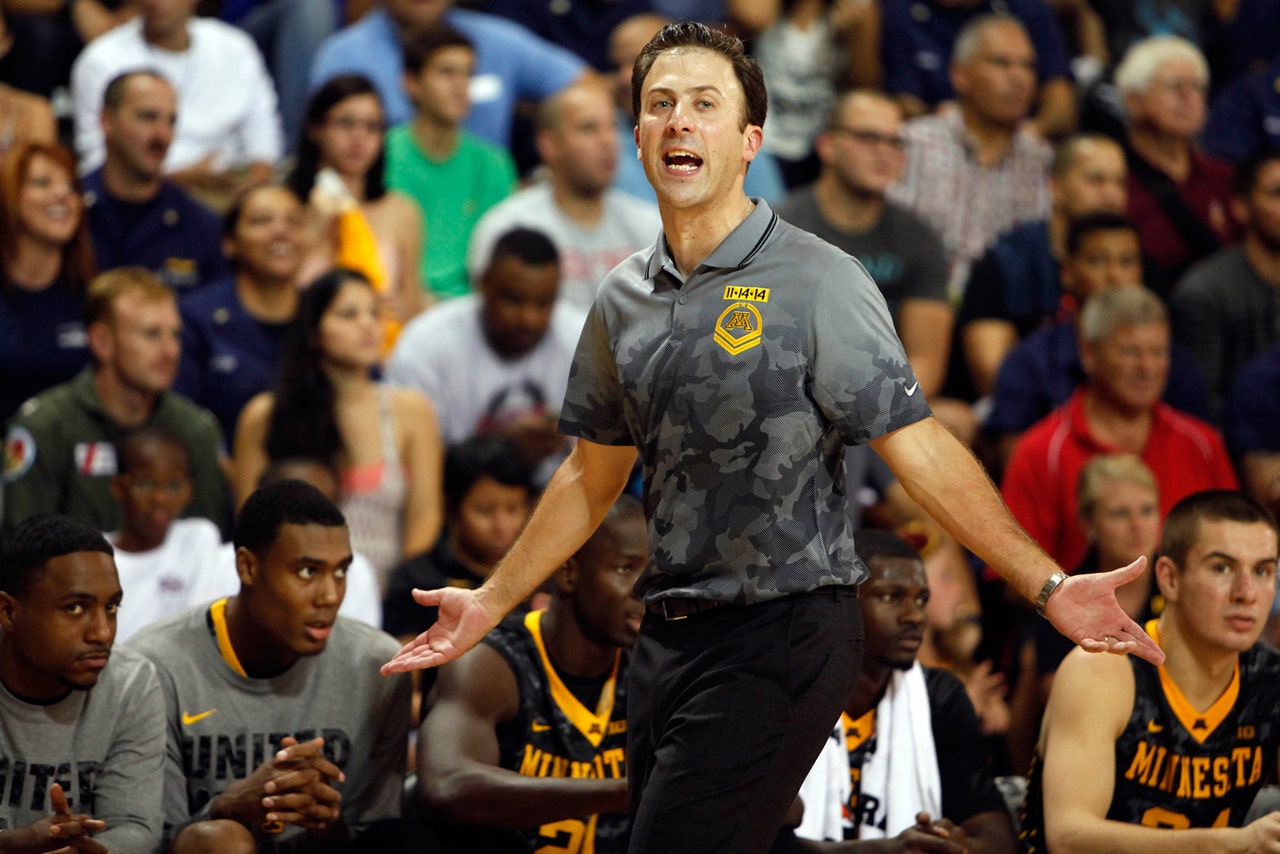 MINNEAPOLIS -- All preseason was a crescendo up to the first game of the year for the University of Minnesota basketball team. From the time the Gophers started practicing, all eyes were turned to Minnesota's game against Louisville in Puerto Rico, which also pitted Gophers coach Richard Pitino against his father, Rick.
That highly anticipated matchup is now in the books, an 81-68 loss for Minnesota that the Gophers can no doubt use as a learning lesson. As the non-conference season continues, Minnesota's schedule isn't as appetizing as that game against a top-10 team.
But that doesn't mean things are a cakewalk for the Gophers, who now play three games in a five-day stretch as part of the NIT Season Tip-Off at Williams Arena.
"It's going to be pretty challenging," said Gophers senior Mo Walker. "In the long run, it's going to prepare us for what we have planned, being in the NCAA tournament off of one-day preps all the time. We're going to have to really focus on the scouting reports and pick up the tendencies of the teams we're playing against. It's going to be a quick turnaround."
The natural expectation may be that Minnesota might have a harder time raising its energy level Tuesday against Western Kentucky to the level the Gophers played at against Louisville in Puerto Rico. But Pitino says that won't be the case.
Minnesota hosts a Hilltoppers team that Pitino faced three times during his one year as the Florida International coach during the 2012-13 season, including the Sun Belt Conference Tournament championship game. Pitino and FIU needed a win in that game to advance to the NCAA tournament, but Western Kentucky pulled out a two-point victory to earn a tournament bid and send Pitino and the Panthers home.
So as Minnesota looks to get in the win column for the first time this year after Friday's loss, Pitino knows that won't come easy just because Western Kentucky lacks the name recognition of a school like Louisville.
"(Tuesday's) not a confidence builder, because that's going to be a tough game," Pitino said. "As somebody who's lived in Kentucky, I understand the culture of their program, their fan base. Their expectations are very high. This is a team that's going to come in and expect to win, so we've got to be ready."
After Tuesday's game against the Hilltoppers, Minnesota has a day off before playing Franklin Pierce. Two days later the Gophers face off against the University of Maryland-Baltimore County in the final game of the NIT Season Tip-Off (previously known as the Preseason NIT).
The competition might not be as fierce of a challenge as Louisville presented, but the rigors of playing three games in five days is something the Gophers don't usually experience during the regular season.
"I'm being honest, I haven't even thought about the other two games," Pitino said. "(Tuesday) is an opportunity, and then we'll move past it. It's too good of an opponent to not focus on Western (Kentucky)."
The Gophers learned plenty about their team in the loss to Louisville. In that game, fouls were a problem (Minnesota committed 32), and Pitino's team struggled to shoot free throws (20-for-33). On top of that, Minnesota simply had no answer for Cardinals star forward Montrezl Harrell, who figures to be one of the top players in college basketball this season. Harrell had a game-high 30 points and seven rebounds and was truly the difference-maker for Louisville.
Minnesota knew Harrell was going to be a handful, and the Gophers didn't have anyone that matched up well with him.
"I told my dad, 'If LeBron James didn't show up wearing a Montrezl Harrell jersey, it might have been a different game," Pitino said. "I'm proud of him, because he's worked really, really hard. He's going to be a great player. I didn't think it was as unbalanced a game as some people may think, except for Montrezl. We didn't have a whole lot to stop him."
Thankfully for the Gophers, there will be no Harrell at Williams Arena this week. But that doesn't mean Minnesota can automatically pencil in three wins. If, as Walker alluded to, this team does want to play in the NCAA tournament in March, these three games in five days will be a good crash course on how to prepare for so many games in such a short period of time.
"My expectations are for them to really compete with us," Walker said of Western Kentucky. "I'm not overlooking them in any way. We're not underestimating them in any way. We're trying to play our best basketball (Tuesday). We expect them to come in fired up and really try to beat us. We're going to fire right back."
Follow Tyler Mason on Twitter
---