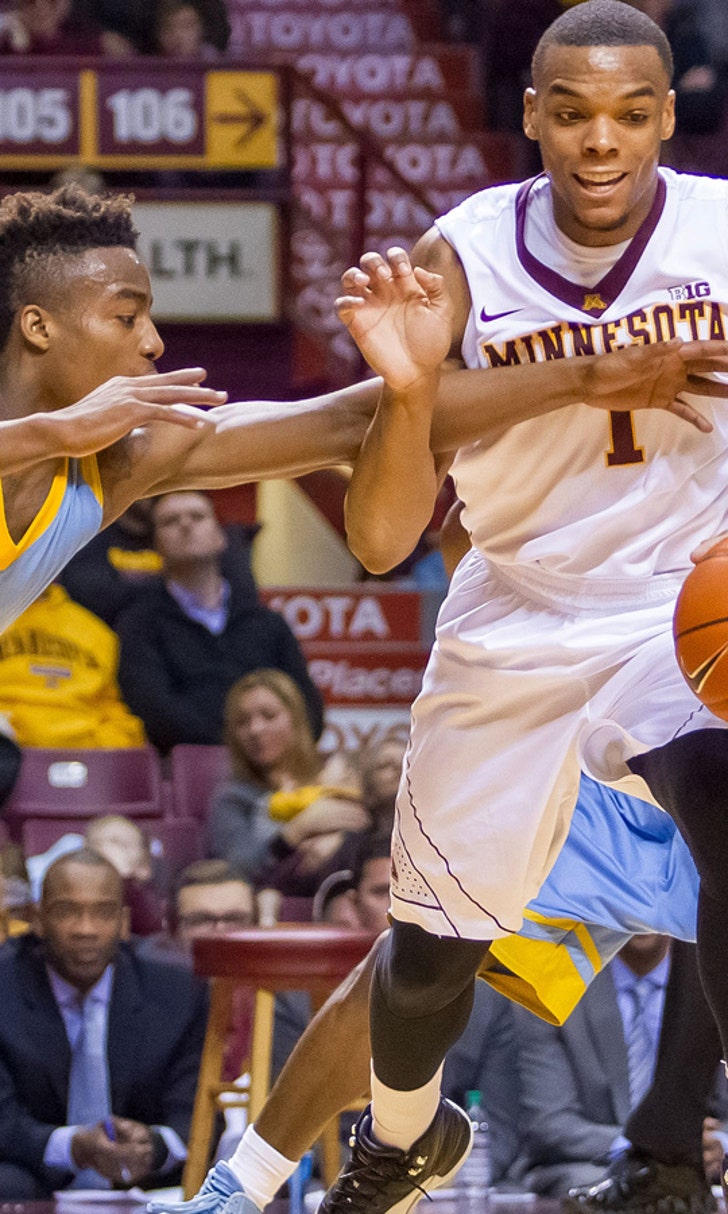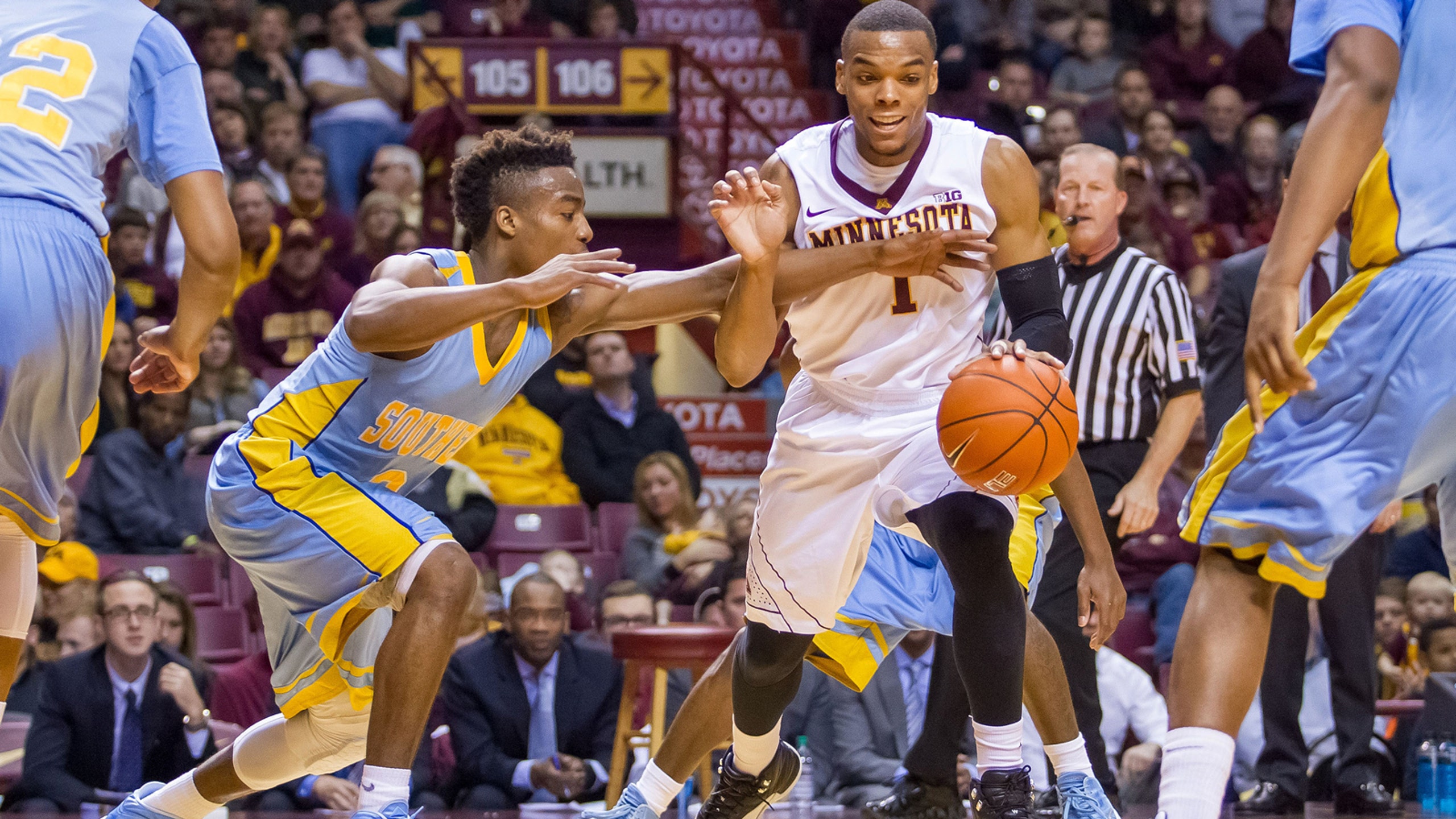 Gophers' Hollins displays veteran poise in rout of Southern
BY foxsports • December 10, 2014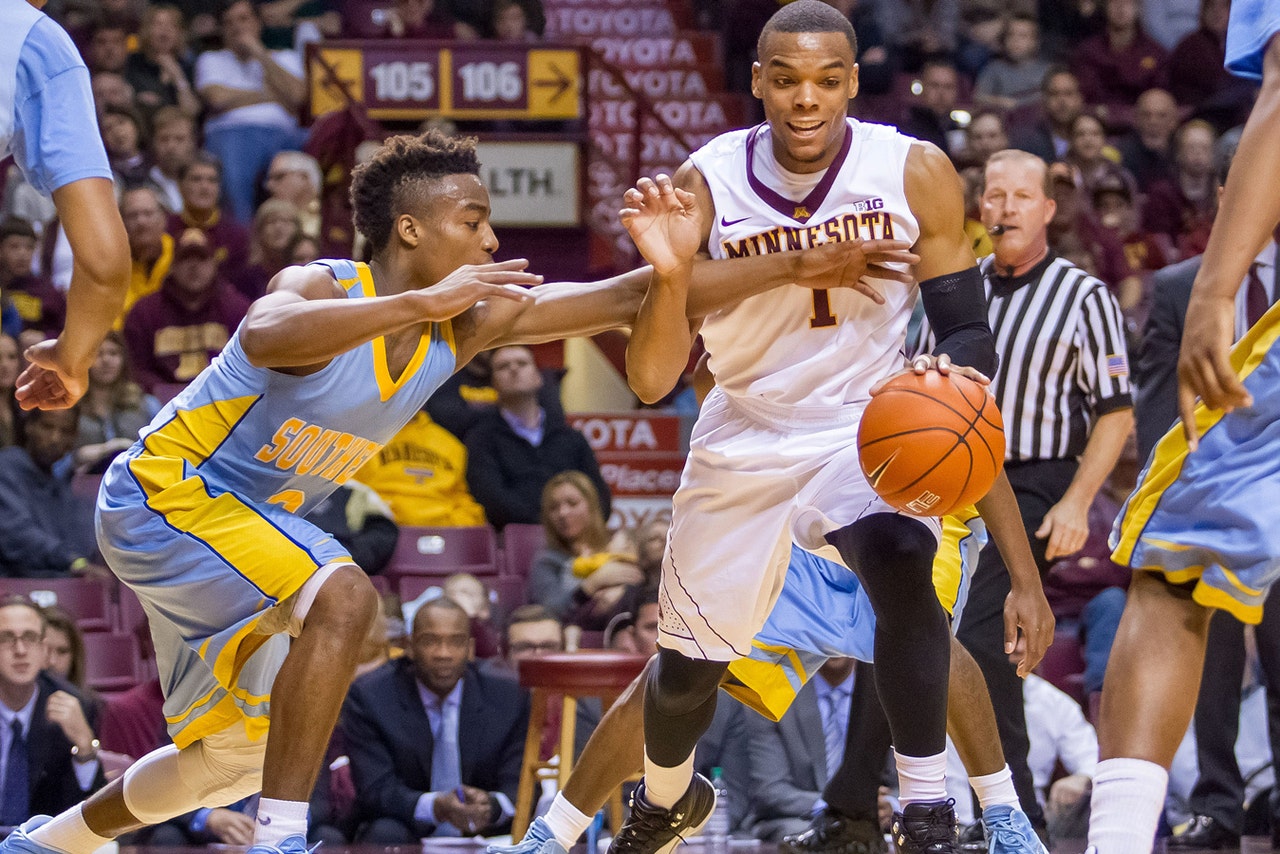 MINNEAPOLIS -- Andre Hollins checks the scoreboards. He's seen the struggles other Big Ten teams have had in non-conference games.
Michigan has already suffered back-to-back home losses to NJIT and Eastern Michigan. And on Wednesday, the same day Hollins' Gophers dispensed of Southern, the Nebraska Cornhuskers fell at home to Incarnate Word, a school new to Division I competition.
Hollins did his part Wednesday to make sure Minnesota didn't join some of the other Big Ten teams who have wound up on the wrong end of early-season upsets. The Gophers' senior guard scored 24 points on 9-of-11 shooting as Minnesota topped the Jaguars, 85-57, at Williams Arena.
The non-conference season remains upset-free for Hollins and the Gophers.
"Teams have been dropping and letting their guard down this time of year," Hollins said. "I came out and just wanted to set the tone like, 'We're not going to have that here.' We're trying to do something bigger, looking at the bigger picture."
Hollins, the Gophers' leading scorer for the third consecutive season, finished with double-digit points for the fourth straight game after struggling in the NIT Season Tip-Off in New York last month. He dropped a season-high 27 points at Wake Forest, and followed that up with a 15-point effort against Western Carolina.
Though Hollins had just 10 points on 4-of-11 shooting in Monday's win over North Dakota, four of those points came off rare dunks. Even two days later, Hollins -- who said he once dunked six times in one high school game -- was excited about dunking twice in one night.
"They were weak dunks, but you have to give me credit," said the 6-foot-2 Hollins, who has just seven career dunks at Minnesota.
There were no dunks Wednesday for Hollins, who only attempted four two-point field goals. Instead, he was lighting things up from 3-point range against the Jaguars' defense. Of his 14 points in the first half, 12 came from downtown.
Hollins played just 11 minutes in the second half as Minnesota ran away with its eighth win of the young season. He added 10 points after halftime, including two more 3-pointers, as he once again established himself as the Gophers' leader on offense.
When asked about the performance of his best player -- Hollins -- in Wednesday's win, second-year Minnesota coach Richard Pitino paused and asked for clarification on exactly which player that was.
"I don't think we have a best player. I really don't," Pitino said. "I think we've got a collection of really good ones. Andre is certainly a very good one. . . . I think that it's important that he shoots the ball well, does a lot of different things. He's been working really hard. He's taking advantage of his senior year."
Hollins was one of four Gophers to score in double-figures against Southern on what's proved to be a balanced scoring attack for Minnesota. Carlos Morris and Mo Walker both had 11 points, while senior DeAndre Mathieu added 10 points and five assists. Charles Buggs and Elliott Eliason each added seven points off the bench for the Gophers as Minnesota's reserves garnered some extra playing time.
But it was the leadership of Hollins that set the tone early for the Gophers. By the time Minnesota took a 30-13 lead, Hollins already had 13 points of his own on a perfect 4-of-4 shooting. One of his 3-pointers helped cap a 12-0 Gophers run that gave Minnesota the lead for good. On top of the 24 points, he also added four assists and four steals.
"He's acting like a pro, bringing it every day," Mathieu said of Hollins. "You can tell he's trying to be a pro and he's really showing it. I think he's doing a good job. . . . Right now, he's killing it."
Entering Wednesday's game, Hollins was averaging 13.6 points per game, the exact same as his average from a year ago when he was hampered by an ankle injury. Now fully healthy (Monday's dunks were a sign of that), Hollins feels like he's back to his old self.
That's a good thing for the Gophers, who intend to roll through their remaining non-conference games before the Big Ten season starts in late December.
"It's just confidence, sticking with it," Hollins said of bouncing back from two disappointing games in New York. "I know I'm a really good shooter. Two games is not going to bother my confidence. That comes with maturity and being around for four years. It's my fourth year. If I go 0-for-10, I'm not going to let that affect my night the next night."
Follow Tyler Mason on Twitter
---