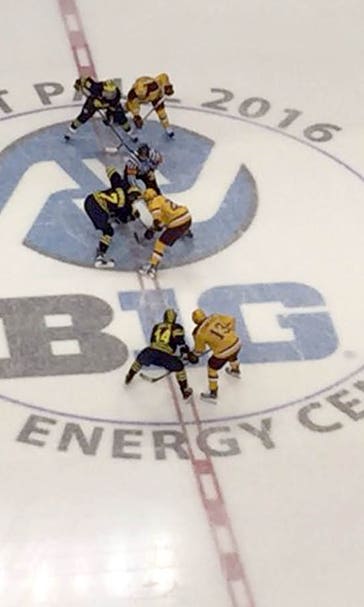 Gophers hockey season ends with Big Ten championship loss to Michigan
March 19, 2016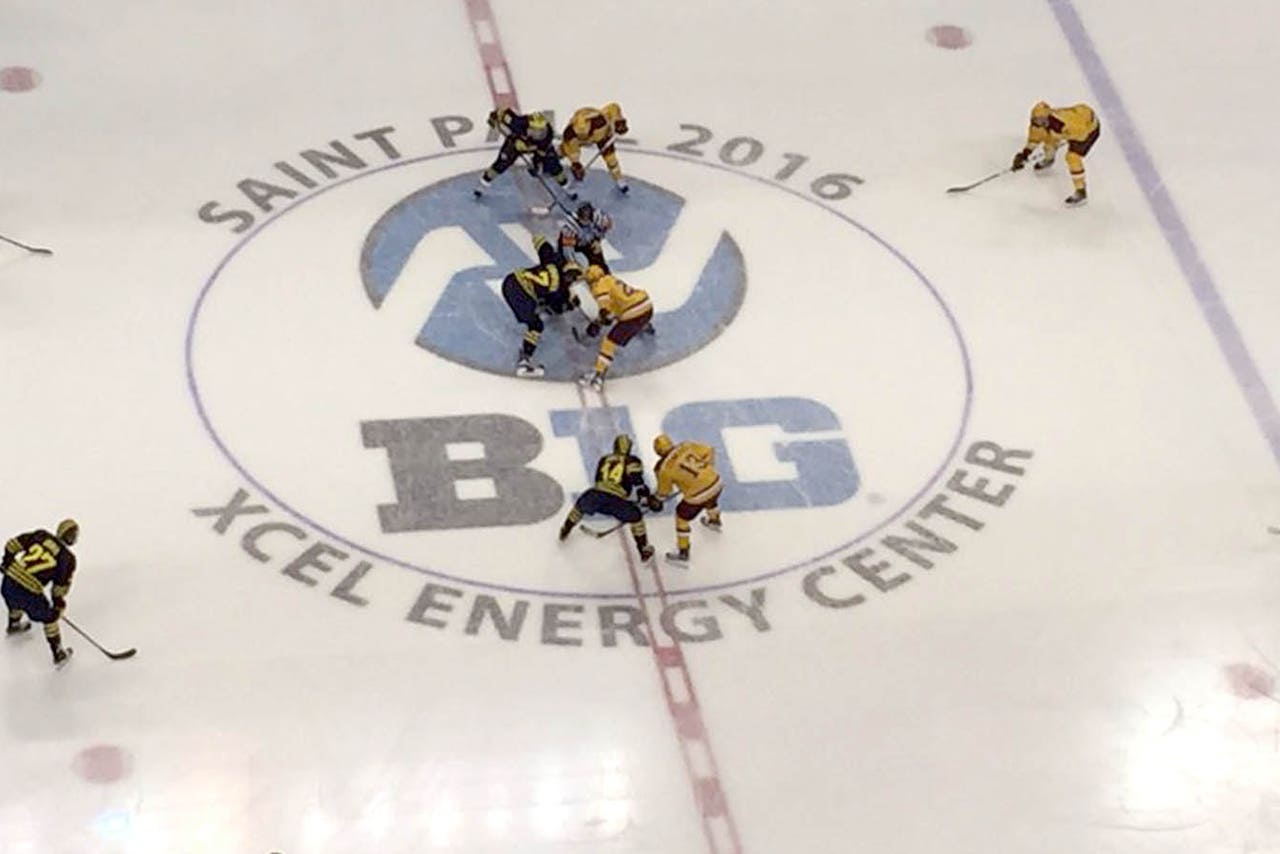 The Minnesota Golden Gophers men's hockey team had a big second period but ultimately lost 5-3 to the Michigan Wolverines in the Big Ten championship game at the Xcel Energy Center in St. Paul, Minn., on Saturday night.
Michigan (24-7-5) claimed the Big Ten tournament title with worthy performances from their roster's three Hobey Baker Memorial Award nominees, Kyle Connor, J.T. Compher and Tyler Motte.
While Minnesota (20-17-0) was able to overcome lackluster nonconference play and advance to the NCAA tournament with a Big Ten tournament win last season, this season's loss ends a streak of four straight years of NCAA tournament appearances.  
"There's no question that we're disappointed and frustrated," Gophers coach Don Lucia told media after the game.
Motte struck first, getting his 30th goal of the season on a power play midway through the first period. Compher padded Michigan's lead with another power-play goal early in the second on his own rebound. Connor and defenseman Zach Werenski each picked up an assist on both goals.
Gophers forward Leon Bristedt put the Maroon and Gold on the board with a goal off a great feed from forward Vinni Lettieri. Then, defenseman Jake Bischoff tied up the game on a wrap-around backhand with help from Michael Brodzinski.
Center Justin Kloos picked up a third straight Gophers goal late in the second, taking advantage of their first power play. Assists went to Tommy Novak and Bischoff. Big Ten Goaltender of the Year and First Team All-Big Ten honoree Eric Schierhorn made a diving save on a bouncing puck to maintain Minnesota's lead going into the second intermission.
Connor, the nation's leading goal-scorer, tied up the game for the Wolverines, getting past Schierhorn for his 35th goal of the season. Werenski and Compher each added to their point total for the night with assists.
Wolverines goaltender Steve Racine made some nice saves to preserve the tie until Werenski made it 4-3 on a power play goal with 4 1/2 minutes left. Compher and Connor assisted. Motte added an empty net goal to seal the win and the conference tournament title for Michigan.
Schierhorn and Racine both finished with 30 saves.
"(Michigan is) a great program, and I'm proud of the way the guys came out and played in a big game. We just came up short," Lucia said.
"There's going to be a really good Gophers hockey team on the ice next year," promised Kloos, a junior.
---