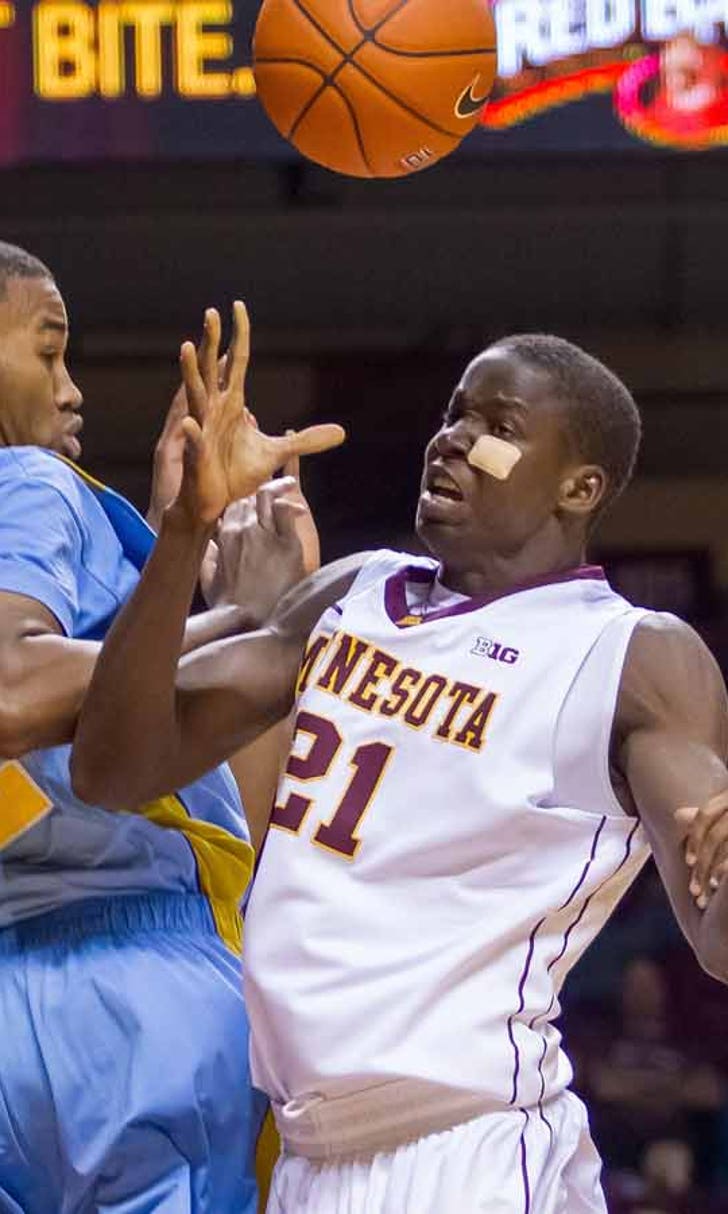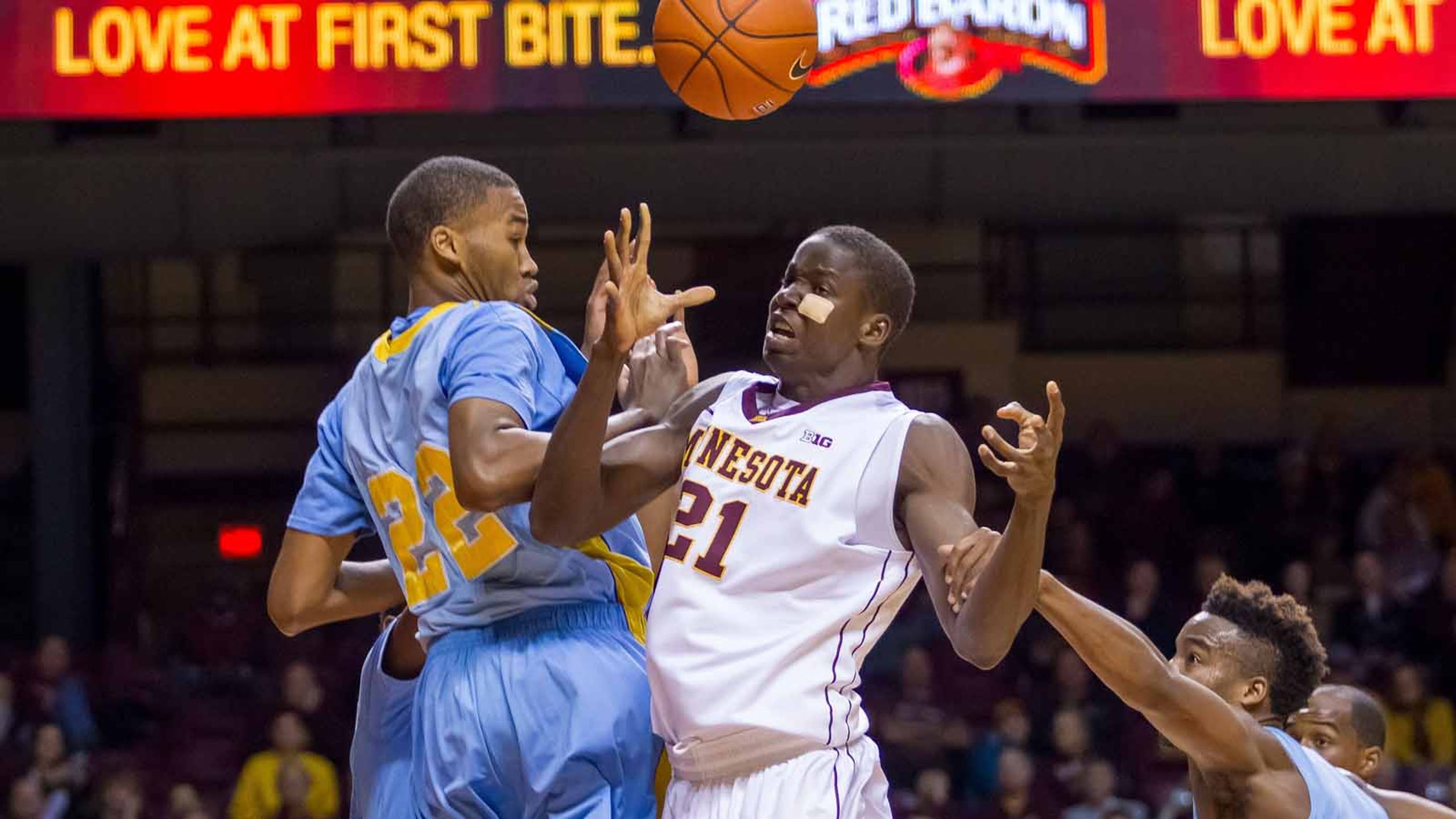 Gophers C Konate gaining valuable experience
BY foxsports • December 12, 2014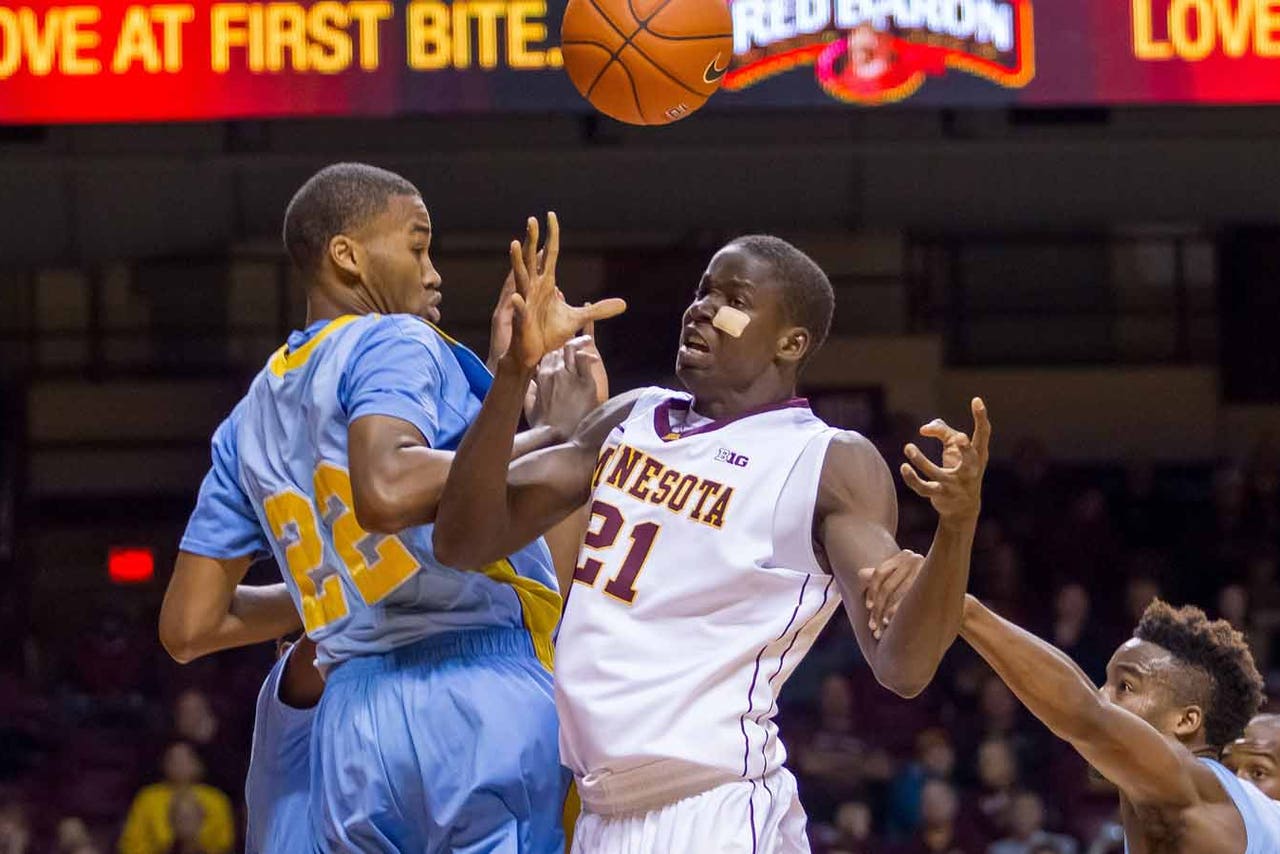 MINNEAPOLIS -- It's been tough for Gophers center Bakary Konate to get a ton of playing time in the early going of his freshman year. The Mali native came to Minnesota still a bit raw and has had to adjust to the college game.
But there will come a time -- perhaps as soon as next year -- where Konate could be the Gophers' starting center. Current centers Mo Walker and Elliott Eliason are both seniors, and Minnesota doesn't have another center on the roster besides Konate.
That's why games like Wednesday against Southern are so valuable for Konate. Entering that game, he averaged just 6.9 minutes per night; only former walk-on guard Kendal Shell (3.3 mpg) saw the court less. As Minnesota rolled over Southern, Konate earned 23 valuable minutes and tied his season high with six points.
"It was definitely good for Bakary," said Gophers forward Joey King. "He got a lot of clock (Wednesday), just working on his offense and defense.  . . . He definitely got a good run in there."
Konate entered Wednesday's game early -- certainly earlier than usual for the 6-foot-11 freshman. He checked into the game with 16:01 to play in the first half, replacing King off the bench. Though Konate profiles more as a center, he's played some power forward since Minnesota is now thin at that position after freshman Josh Martin announced he was transferring.
After his early first-half entrance, Konate played 11 minutes before halftime and was productive in Minnesota's offense. Though he didn't even attempt a field goal in those 11 minutes, Konate got to the free throw line three times and was 5 for 6 from the stripe.
"Bakary's going to really have to step up in Big Ten play," said point guard DeAndre Mathieu. "As you all can see, we're shorthanded, not like a lot of teams. He's really going to have to play a lot of Big Ten time. These games help him improve, get the speed of the game and learn the plays a little bit at the four and the five."
There were a few times in the second half in which Konate showed he's still a work in progress. After getting the ball in the paint, Konate was surrounded by several Jaguars defenders. Instead of making a strong move to the basket, Konate couldn't get a shot off and Southern tied him up for a jump ball.
Later in the second half, Konate grabbed an offensive rebound and had an easy putback opportunity but couldn't get the shot to fall. In the rough and tumble Big Ten with plenty of talented big men, plays like that will have to be made.
"I think the only way he's going to improve is playing in games like this, to be honest with you," second-year head coach Richard Pitino said of Konate after Wednesday's win. "He's got a long way to go. He plays hard, and he's got size, so that's a good start. He needs to be put in a position where there's guys around him and being able to play through that. (Wednesday was) a valuable experience for him."
Konate has already gotten a taste of the physicality of college basketball. He took an inadvertent elbow to the face in Monday's game against North Dakota. That forced him to the bench temporarily, where he received a nice big bandage on his cheek. Konate was still bandaged up on Wednesday, almost as a badge of honor for getting acclimated to life in the post in Division I basketball.
The 23 minutes Konate played Wednesday were a season high. His only other instance of double-digit minutes came in the Gophers' rout of Franklin Pierce on Nov. 20 when he was on the court for 22 minutes and had six points. Otherwise, he's had a few games in which he hasn't seen the court at all, and a few others in which his playing time was just a few minutes.
Minnesota has just 10 active players on the roster with Martin transferring and guard Daquein McNeil suspended, and the Gophers are thin at forward. Though he still has plenty to learn, Konate will have to do so with plenty of on-the-job training.
"Now that our depth is going down a little bit, everybody's important," said senior guard Andre Hollins. "We've been talking about that lately that everybody's going to have to contribute for us to continue to improve and get better."
Follow Tyler Mason on Twitter
---