Gophers break ground on new practice facility
Published
Oct. 30, 2015 7:10 p.m. EDT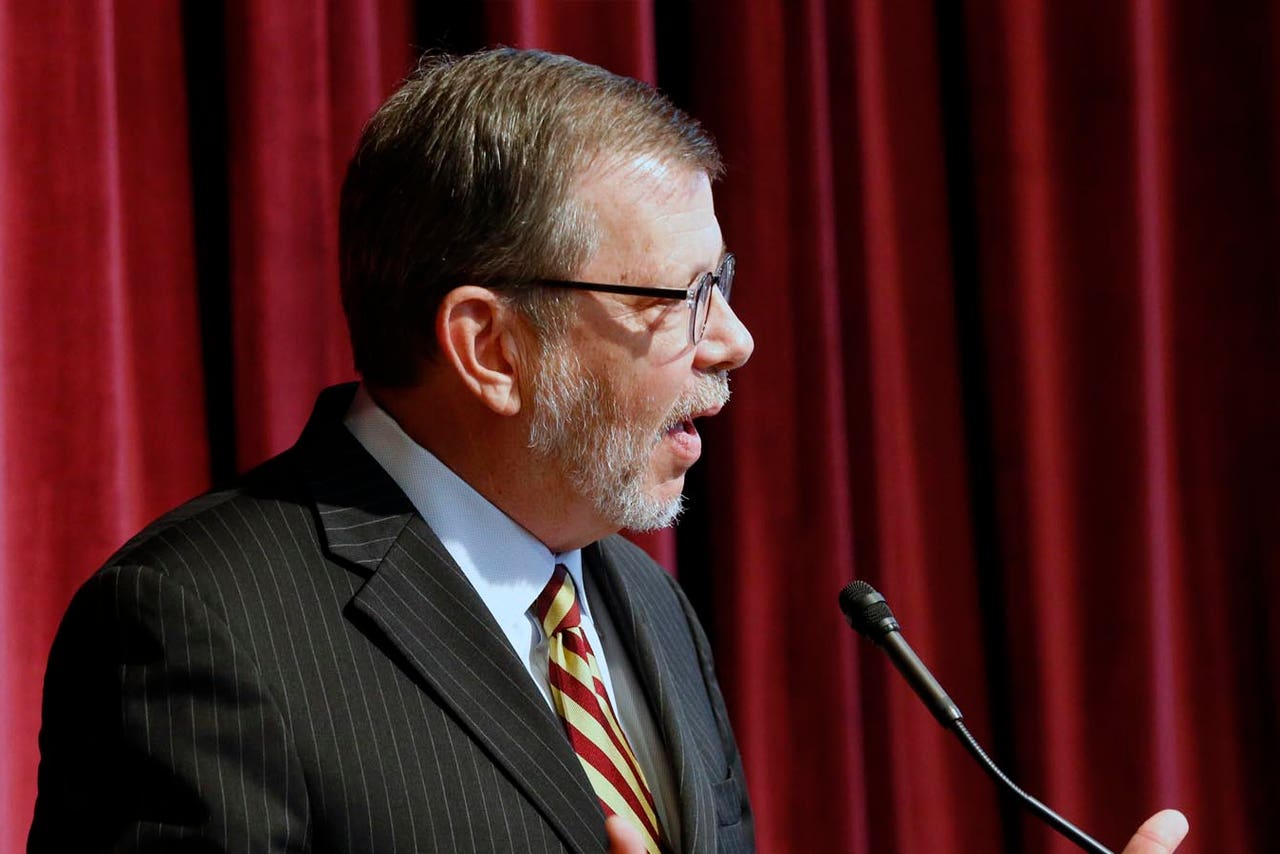 MINNEAPOLIS -- Dean Johnson, the chairman of the University of Minnesota's Board of Regents, was driving to campus for the athletic facilities groundbreaking ceremony when he answered his phone.
Jerry Kill was calling.
The suddenly retired football coach wanted to attend, of course, but he's focused on his health after another bout with seizures. Kill was there in spirit, though, despite his reluctant absence.
"The legacy for this day, at least for me personally, is all the things that Coach Jerry Kill has done for this university," Johnson said, with maroon and gold balloons and the marching band behind him.
Gophers boosters, officials and athletes gathered Friday for a formal launch of the $166 million complex, for which Kill was a dogged fundraiser. The keystones of the complex will be new practice and training areas for the space-crunched football and basketball programs.
About half of the money, all from private donations, has been committed. The athletic department will borrow the rest. The board of regents typically waits until an 80 percent threshold has been reached before approving such projects, but Kill and men's basketball coach Richard Pitino (and his predecessor, Tubby Smith) have been pushing for years to move this forward.
It was passed three weeks ago on a 12-0 vote.
"It makes people crazy, but it is an arms race and it's important that we have the facilities our competitors have," President Eric Kaler said.
Indeed, the rest of the Big Ten had long passed the Gophers by in terms of space for the revenue-producing sports, the football stadium that opened in 2009 notwithstanding.
Chunks of the ceiling on the indoor practice facility frequently fall when punts hit it, and the 30-year-old building's exterior is chipped and faded. Players have often eaten post-practice dinners in the lobby. Pitino's team recently began practicing in a converted weight room, but the men's and women's squads have had to share time on the main floor at Williams Arena with other resources elsewhere on campus.
So that's why Kill conveniently sat next to Johnson last summer at Major League Baseball's All-Star game at Target Field.
"The entire time he spent talking about the project," Johnson recalled. "He said, `When are you regents going to open your eyes and get this done?'"
The goal for completion of the entire complex, called the Athletes Village, is sometime in 2017. All 25 varsity teams will share the Land O'Lakes Center for Excellence, a new space for athletes to study, relax and eat. It will also include space for programs promoting leadership, life skills and community service.
The project, Johnson said, will cost an additional $20 million for relocation of the track and related gender-equity arrangements to make room for the new buildings. The university is anticipating an influx of new TV money to help cover the currently unfunded portion, Johnson said.
"We expect it to accelerate. People are going to believe this is real now," Kaler said.
Perhaps Kill, at some point, will resume his fundraising role for the project he was so passionate about.
"Any way he chooses to be engaged with the university," interim athletic director Beth Goetz said, "we'd love to have him."
---