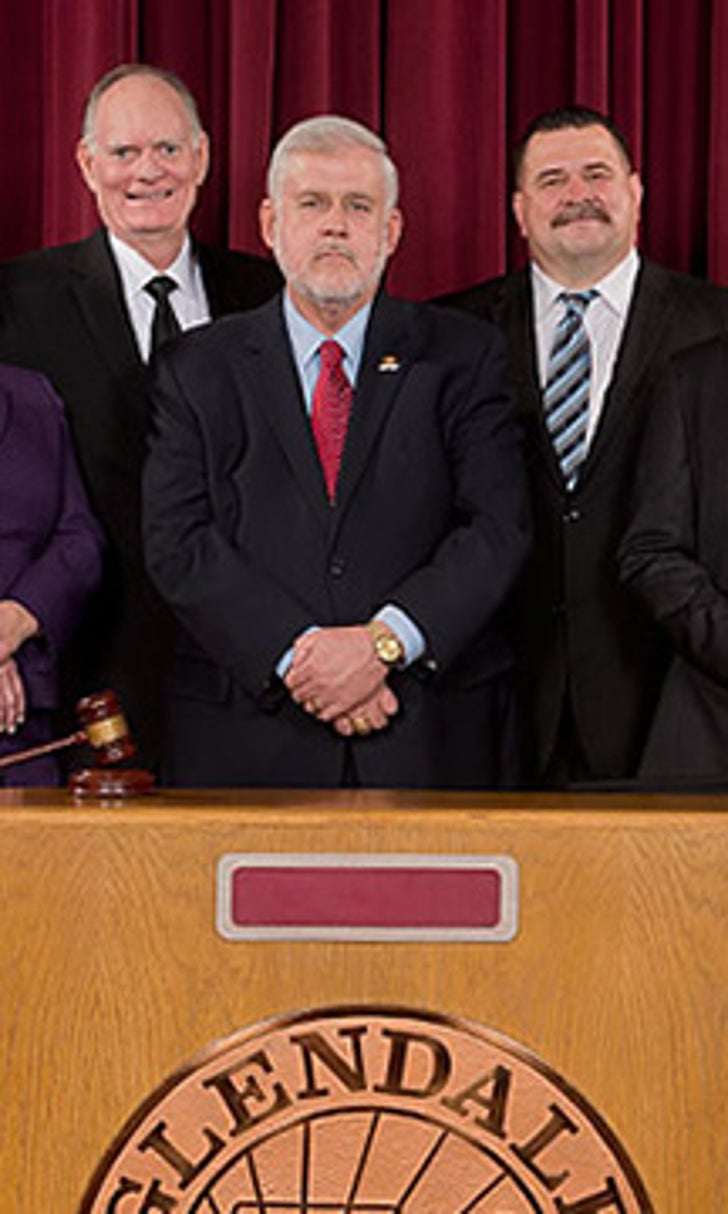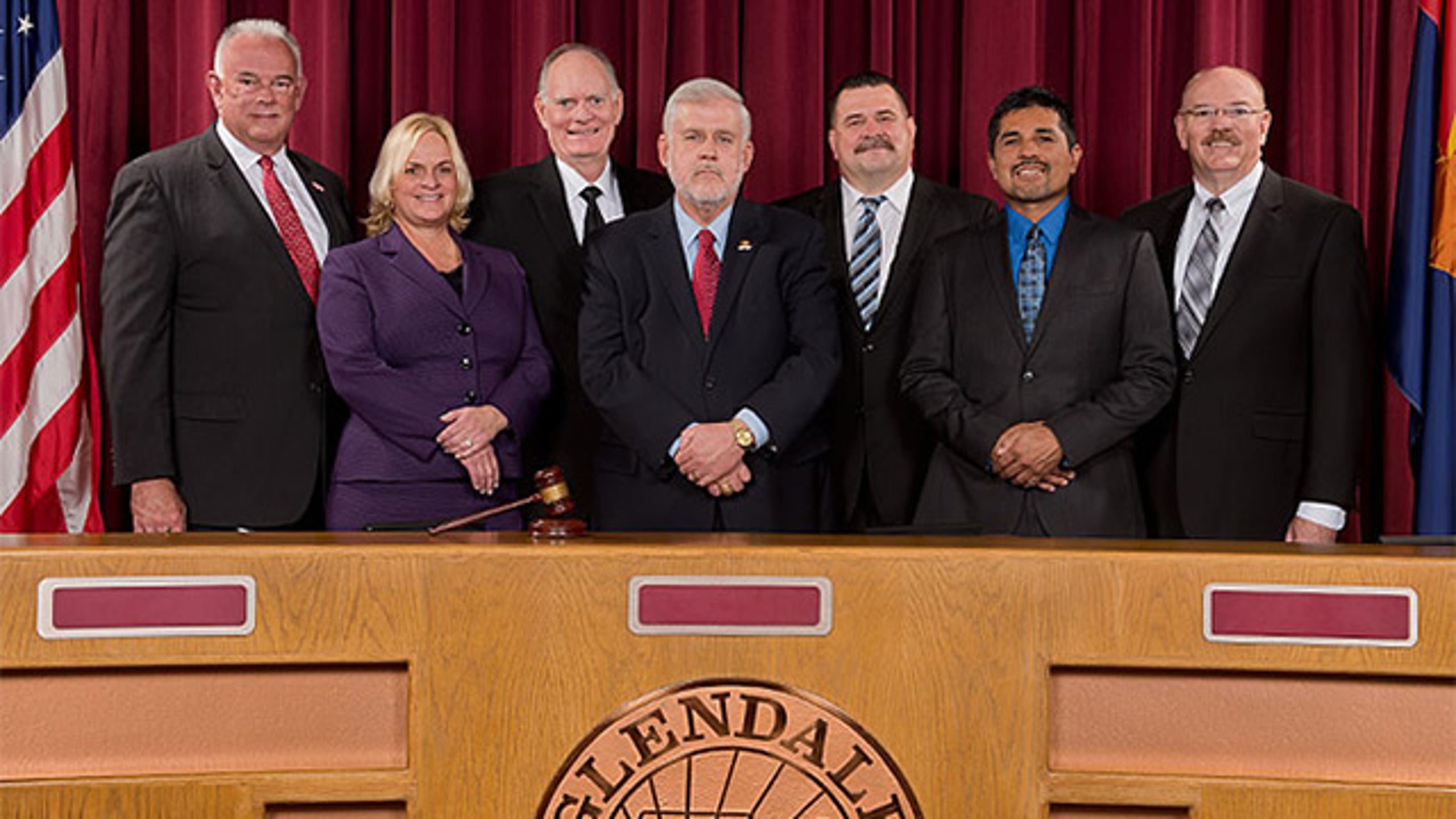 Glendale to discuss Coyotes' options at closed-door meeting
BY foxsports • June 15, 2015
The Glendale City Council will meet Tuesday in a closed-door executive session to further discuss its recent vote to void a 15-year, $225 million arena lease deal with the Coyotes.
On Friday, a Maricopa County Superior Court judge granted a temporary restraining order, putting the City Council's decision on hold.
Glendale Mayor Jerry Weiers expressed optimism about a possible compromise in a statement Friday, calling the situation "an opportunity for the two of us to discuss the issues. I am optimistic that with continued dialogue we can come to an agreement that satisfies both parties."
There are three potential directions the council could go on Tuesday, aside from scheduling further discussions. Here is a look at those three options.
Multiple legal analysts around the Valley have examined the city's case against the Coyotes and determined that it is, at best, weak. Many have opined that it is without merit.
Weiers asserted that outside opinions are immaterial because "the complexity of this issue is the fact that you don't have all the information. When you have more information, I think you will have a better understanding."
Unless the city has far more evidence to reveal regarding former city attorney Craig Tindall and former assistant city manager Julie Frisoni, who was the city's communications director at the time of the deal, legal analysts say the city will likely lose the case, potentially putting it on the hook for $200 million in damages.
Valley attorneys Dan Barr, Rodney Smith and KTAR legal analysts Monica Lindstrom are of the opinion that Glendale has received poor legal counsel from city attorney Michael Bailey and outside counsel, as are two more legal analysts FOX Sports Arizona contacted who requested anonymity.
It would be an extraordinary step for Weiers and vice mayor Ian Hugh to go that route, given their vocal opposition and steadfast insistence they are in the right. But if Bailey takes the fall for this mistake, that could help shield Weiers and Hugh from criticism, particularly as Weiers eyes re-election in November 2016. Weiers could use this fiasco to say he took a tough stance for the city's financial future while laying the blame for its failure at Bailey's feet. 
.@cmorganfoxaz The city of Glendale's argument is so stupid that one has to wonder how the Glendale City Attorney passed the Bar Exam.

— Dan Barr (@DanCBarr) June 13, 2015
Numerous sources believe this has been Glendale's goal all along, to get the Coyotes to sit down and renegotiate that 15-year agreement less than two years after its creation.
There is one major problem. The Coyotes will not renegotiate the deal.
"Why should they?" said former vice mayor and council member Yvonne Knaack, who voted in favor of the deal in 2013. "We all know it wasn't the best agreement, but it was the best we could get at the time. After building the arena and spending all that money, we were gong to let the Coyotes walk away? 
"I know people some people think Anthony LeBlanc is unethical, but just because he negotiated a deal that is more in his favor doesn't make him unethical. He's a businessman, and he struck a good deal. I understand council's thinking here that they want a better deal but this is a deal we agreed to, and it's ridiculous to expect the Coyotes to renegotiate with 13 years left on it."
Glendale continues to claim huge losses from its Coyotes deal, citing them at $8 million for the first season and projecting them at $8.7 million for the second season. Those numbers, however, ignore the fact that Glendale budgeted $6 million annually to manage Gila River Arena; money it expects to spend annually.
There is also the tax revenue the city receives from all the businesses at or near the adjacent Westgate Entertainment District. After news that the council might vote to void the deal broke, multiple business owners in the area attended the council vote to express concern for the viability of their businesses. Clearly, they believe those futures are tied to the Coyotes remaining in Glendale. 
Lastly, the aforementioned legal experts agree that asking the Coyotes to renegotiate a deal -- and this entire ordeal -- will have a negative impact on Glendale's brand.
"Anyone is going to think long and hard before they decide to do business with Glendale," said Rodney Smith, director of the sports law and business program at ASU's Sandra Day O'Connor College of Law.
If Glendale chooses to go ahead with its legal case -- and this is what Knaack and Sherwood both expect the city to do -- it must present far more evidence that Tindall and Frisoni violated Arizona Statute 38-511. Legal experts agree that as it is currently constituted, Glendale has virtually no case.
If Weiers and Bailey do have more information to reveal, this will turn into a messy and lengthy legal battle with ramifications for both sides. The next court date is June 29, but that is just a scheduling hearing. The case could stretch into August or longer.
Knaack said the city has no money to spend on such legal proceedings.
"Our small contingency fund is just a building block," she said. "This is so important to the city. I am hoping and praying it turns out OK, but I'm worried about what council is doing to the city's future, and I'm worried about the national press we're getting. We're being looked at as a laughingstock."
A lengthy case could also have a major impact on the Coyotes. Aside from the legal costs, which Barr said the team could end recouping under ARS 12-341.01, the Coyotes may have trouble attracting more corporate sponsors due to concerns about their future. They may also have difficulty luring free agents when the NHL's free agency period opens on July 1.
In an ironic twist, if the Coyotes win the case, those latter hardships could also impact Glendale in the form of lost revenue from the Coyotes.
Follow Craig Morgan on Twitter
---