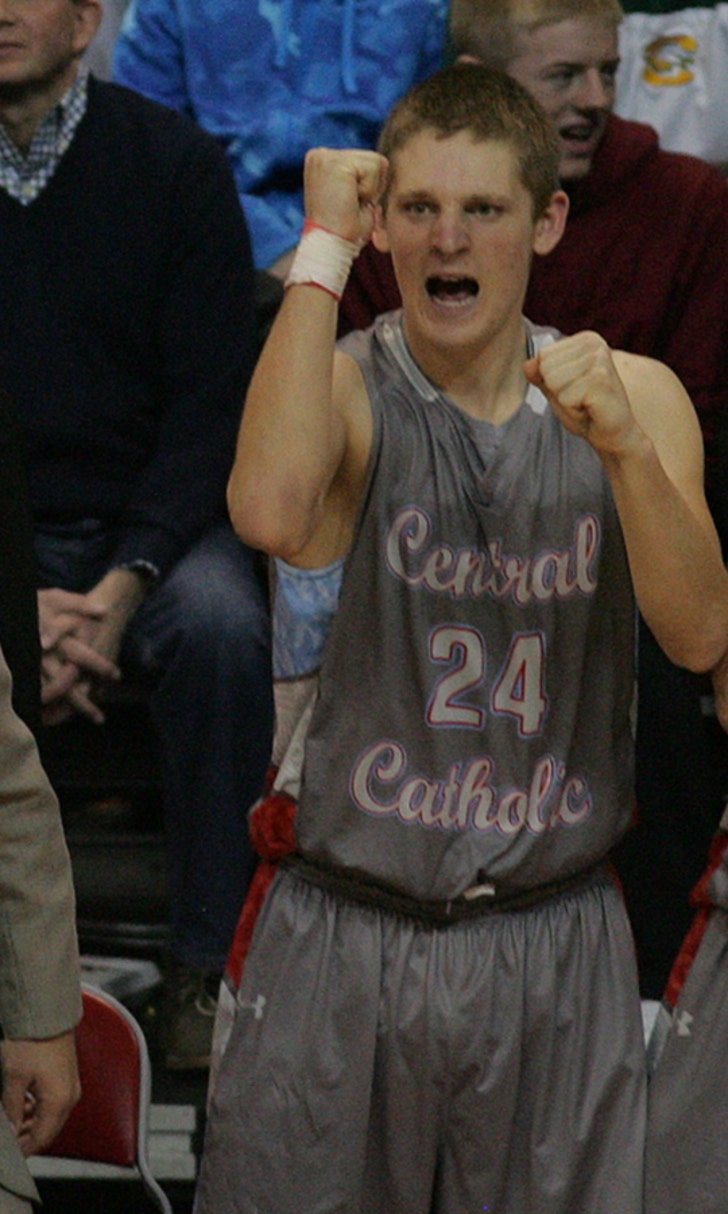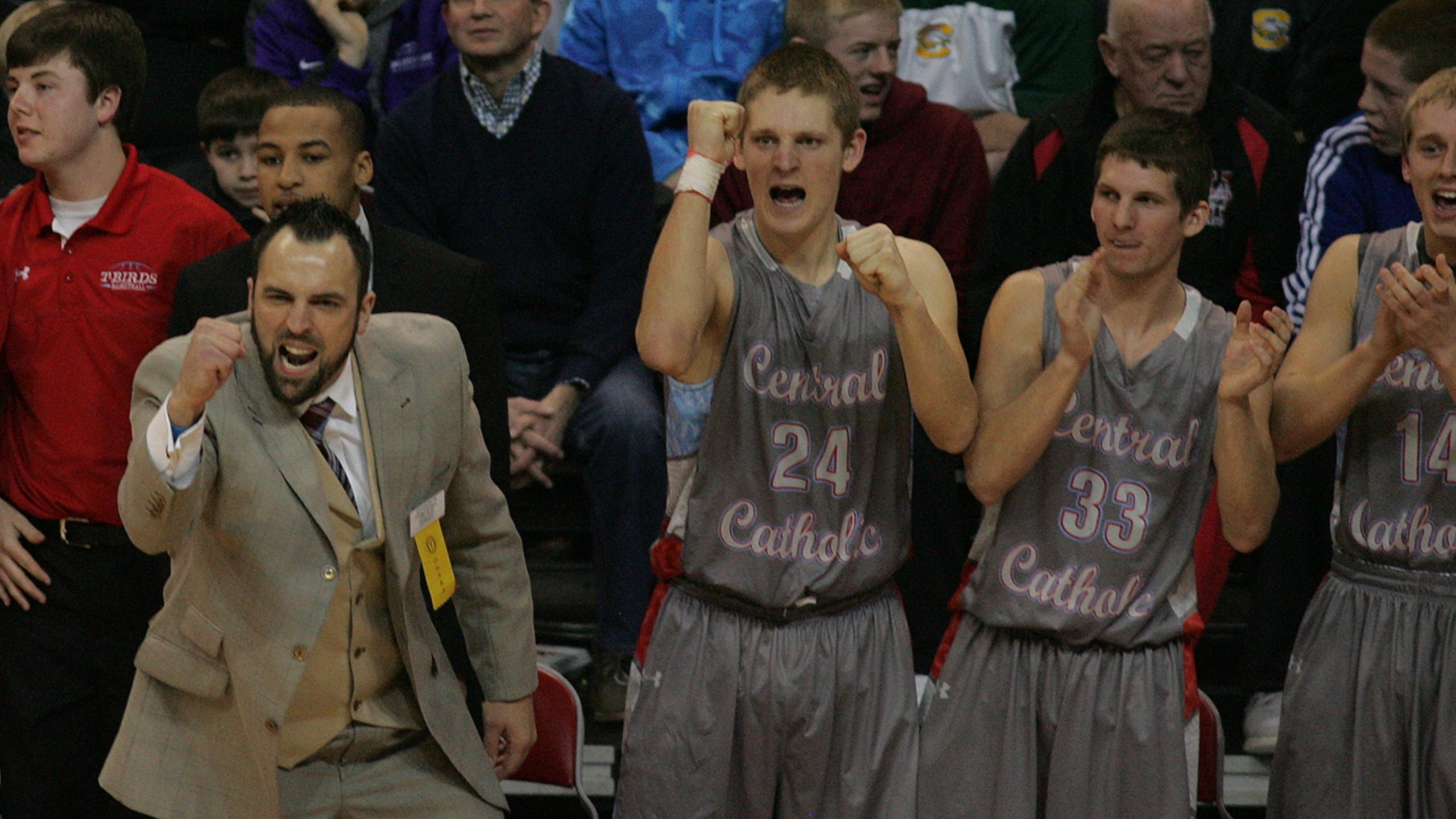 Gifted guards dominate as LCC wins Div. III crown
BY foxsports • March 22, 2014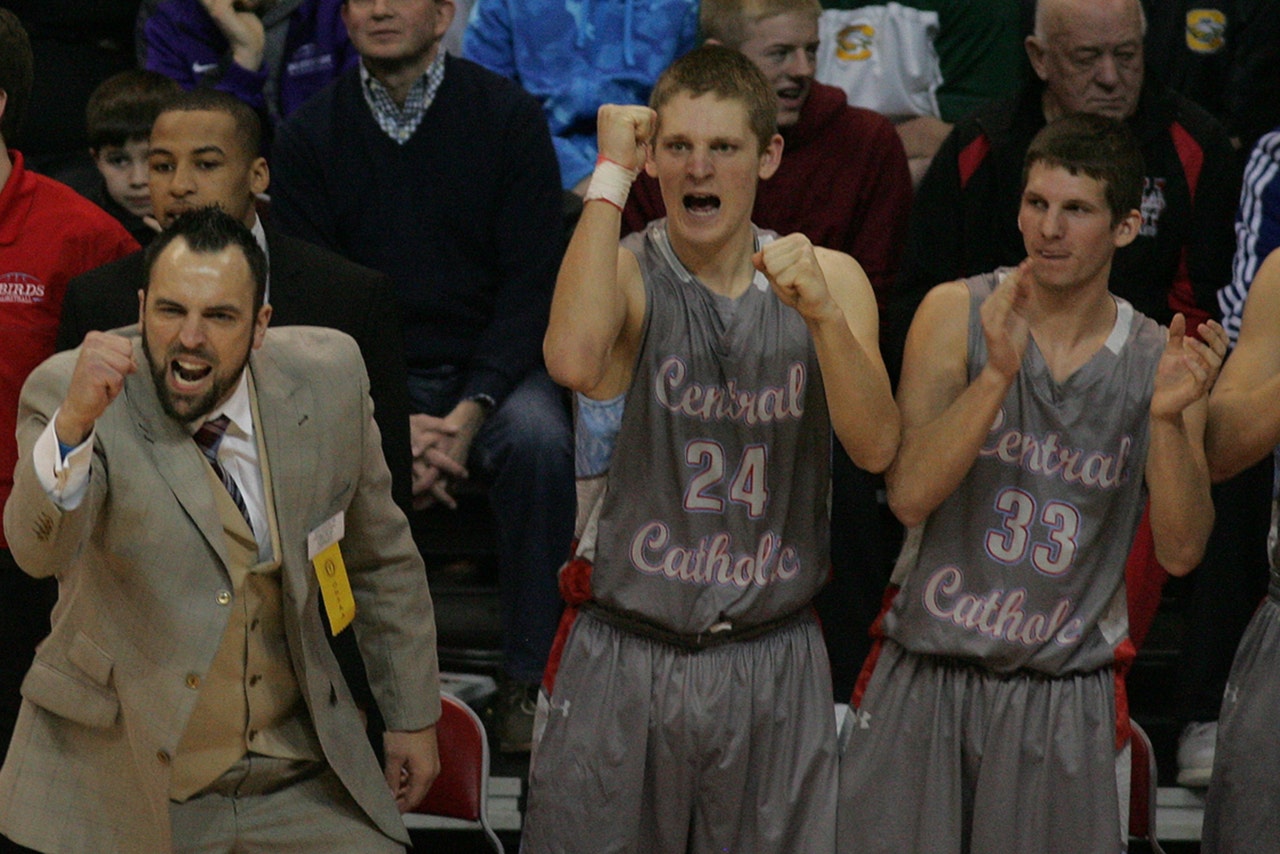 COLUMBUS, Ohio - Xavier Simpson beat a double team in the backcourt and kept going.
He went fast, too -- as he did all day. Even though there were fewer than 75 seconds in the Ohio High School Athletic Association Div. III state title game Saturday afternoon that was as good as advertised and his team was leading by two points, Simpson went all the way to the rim.
Or, at least as close to the rim as he could get. Cleveland Villa Angela-St. Joseph's 6'8 Dererk Pardon met Simpson in the paint. Simpson launched a high-arching floater that hung, then hung some more.
It went way above the square.
It fell right in the net, summing up how the day went for both the Thunderbirds and the Vikings. Simpson and backcourt mate Martyce Kimbrough were really, really good and the Firebirds were a little bit better from start to finish than Villa Angela-St. Joseph was.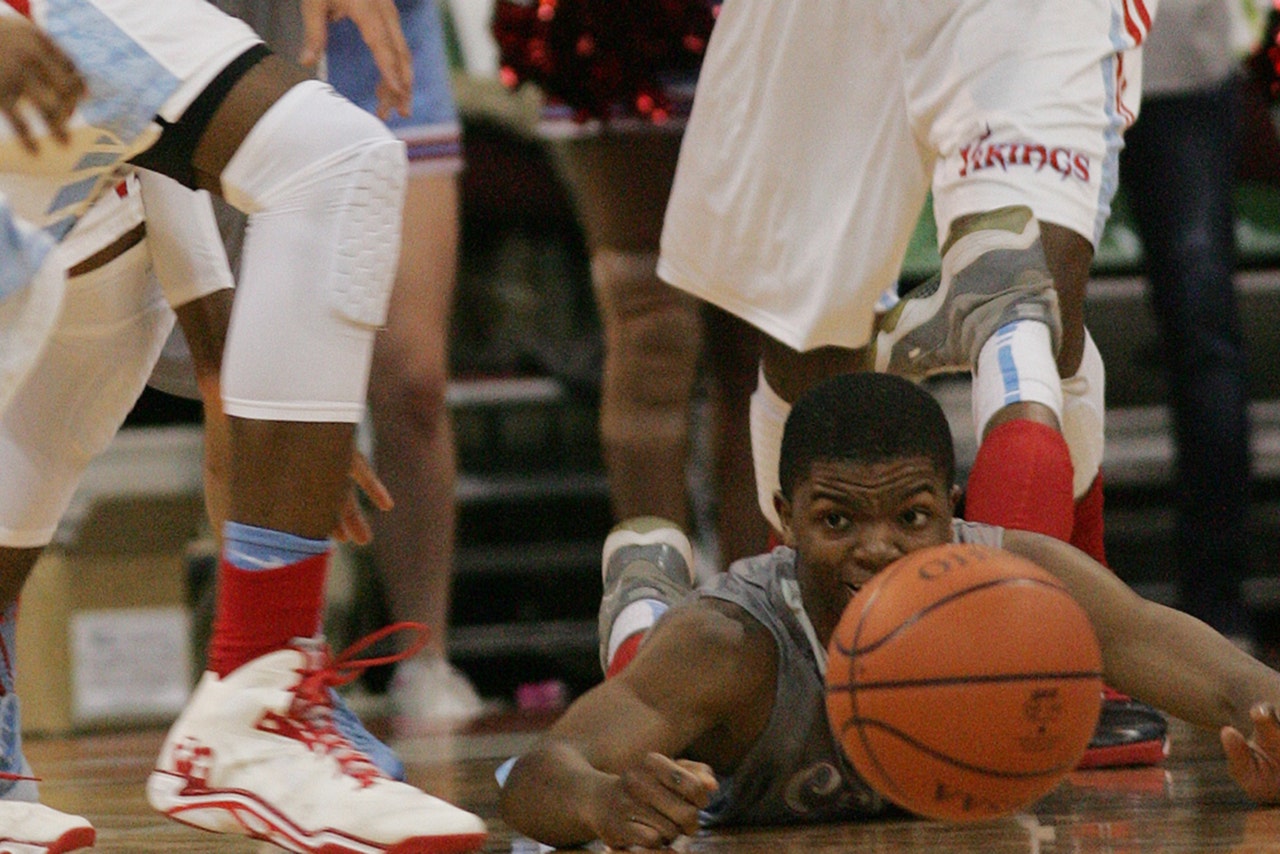 Lima Central Catholic guard Xavier Simpson chases a loose ball.
Every play and every second counted. Lima Central Catholic won, 64-62, but couldn't celebrate until Brian Parker's halfcourt heave glanced off the rim at the final buzzer.
Simpson and Kimbrough combined for 40 points; Kimbrough had 18 in the first half; Simpson had 16 in the second half. On the floater over Pardon -- Simpson's second such shot of the game -- the sophomore said he "just saw (Pardon) step up. I decided to just go up with it. I have confidence in that shot."
Obviously.
"I'm not a big fan of the floater," Lima Central Catholic coach Frank Kill said, "but I am today."
Lima Central Catholic had led by 14 early in the second half. The Vikings chipped away and made things really interesting over the final three minutes, but the Thunderbirds never lost the lead. Two big offensive rebounds by Lima Central Catholic in the final seconds doomed VASJ's comeback try, helping to finalize what many would call an upset.
"Not in my heart," Kill said when asked if it was an upset. "This was a heavyweight battle. I think people got their money's worth."
No one would argue.
"It turned out to be a great basketball game," VASJ coach Babe Kwasniak said. "It didn't look that way for a whle.
"They made some plays. They're really tough to guard. They're just very good, just very well coached. wWhen you have guards that good, players that good...we had to play better than we did today to beat that team.
In Simpson -- cousin of former Ohio Mr. Basketball at Lima Senior Greg Simpson -- and Kimbrough, Kwasniak said he felt "like we were playing Earl Boykins and Scoonie Penn."
Said Kill: "Two floor generals. We got off to a quick start (16-6) and that might have been the difference maker."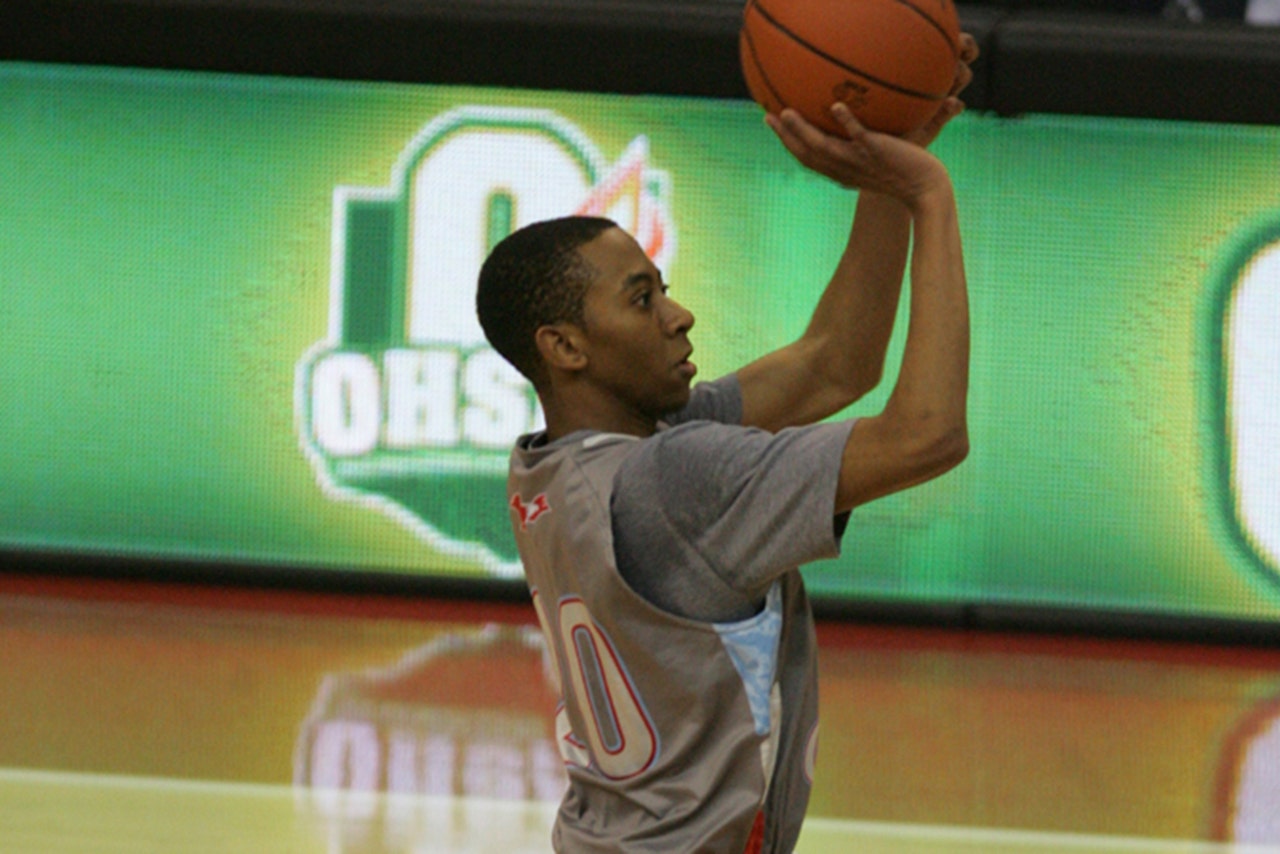 Martyce Kimbrough shoots for Lima Central Catholic.
Kimbrough made four 3-pointers in the first half.
"I shoot every shot thinking every shot is going to go in," Kimbrough said. "After my first couple went in, I just kept letting it go."
6'10 Carlton Bragg had 23 points and sparked VASJ's comeback, but Bragg's desperation 3-pointer in the final 12 seconds that cut the deficit to one was just the second the Vikings made all day. Simpson had 3 assists and 2 steals in addition to his 18 points, and the way Simpson and Kimbrough kept the Thunderbirds on the attack made up for a 14-of-28 free-throw shooting performance that left the door open for VASJ.
Just not enough.
"We just came out and said we were going to beat them," Simpson said. "This is what we've worked for."
Said Kimbrough: "They were a really good team. Everyone knows that. We are a really good team as well."
Good enough to be state champions.
---