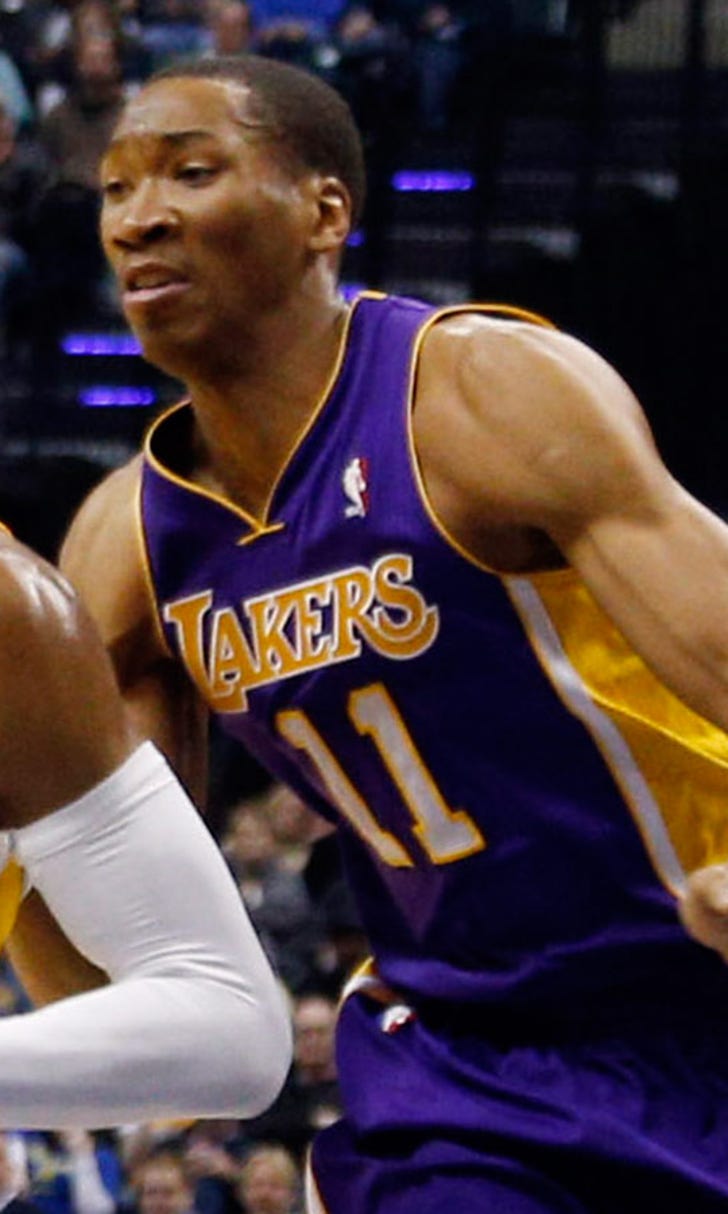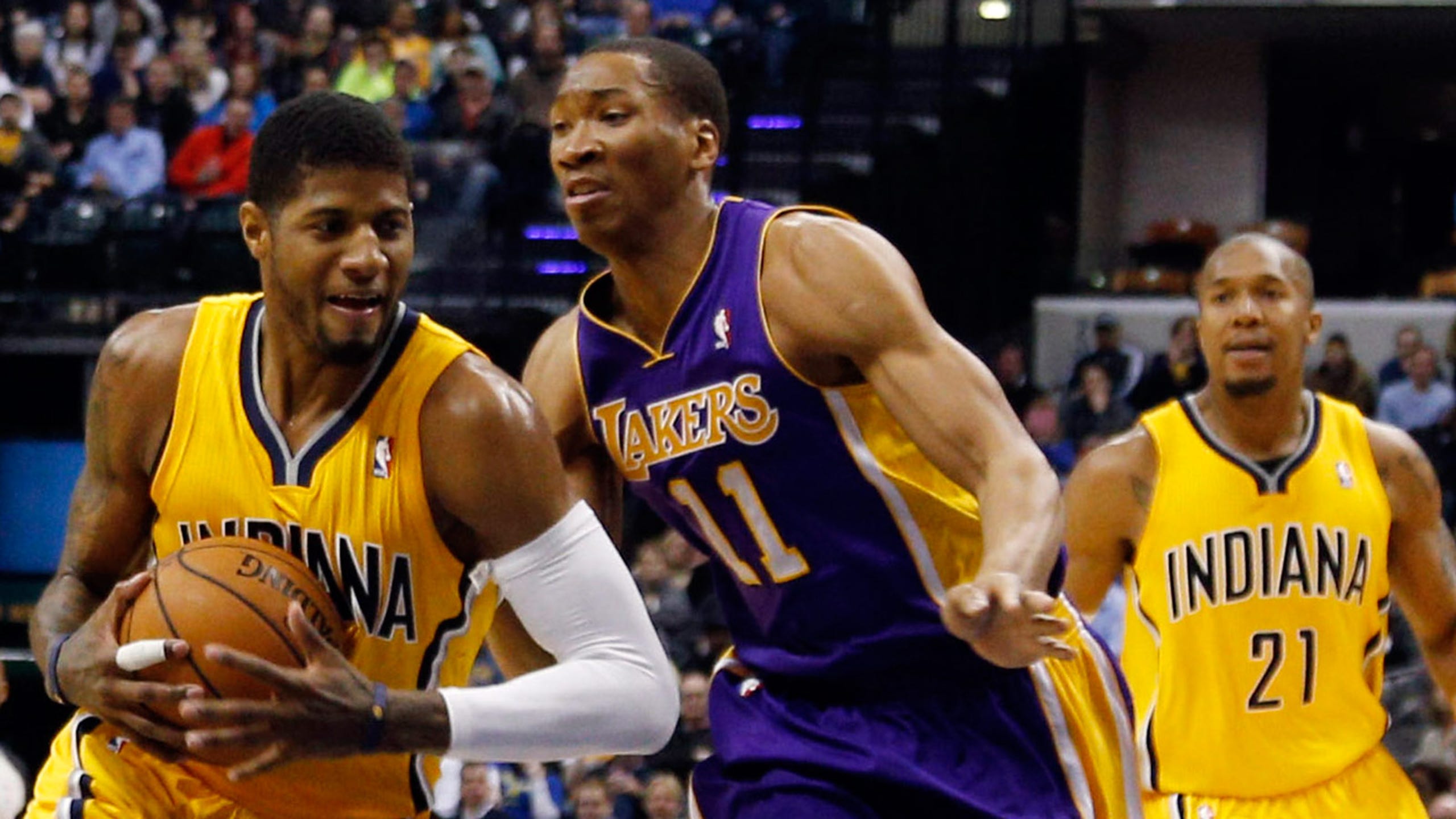 George helps Pacers pull away from Lakers, 118-98
BY foxsports • February 25, 2014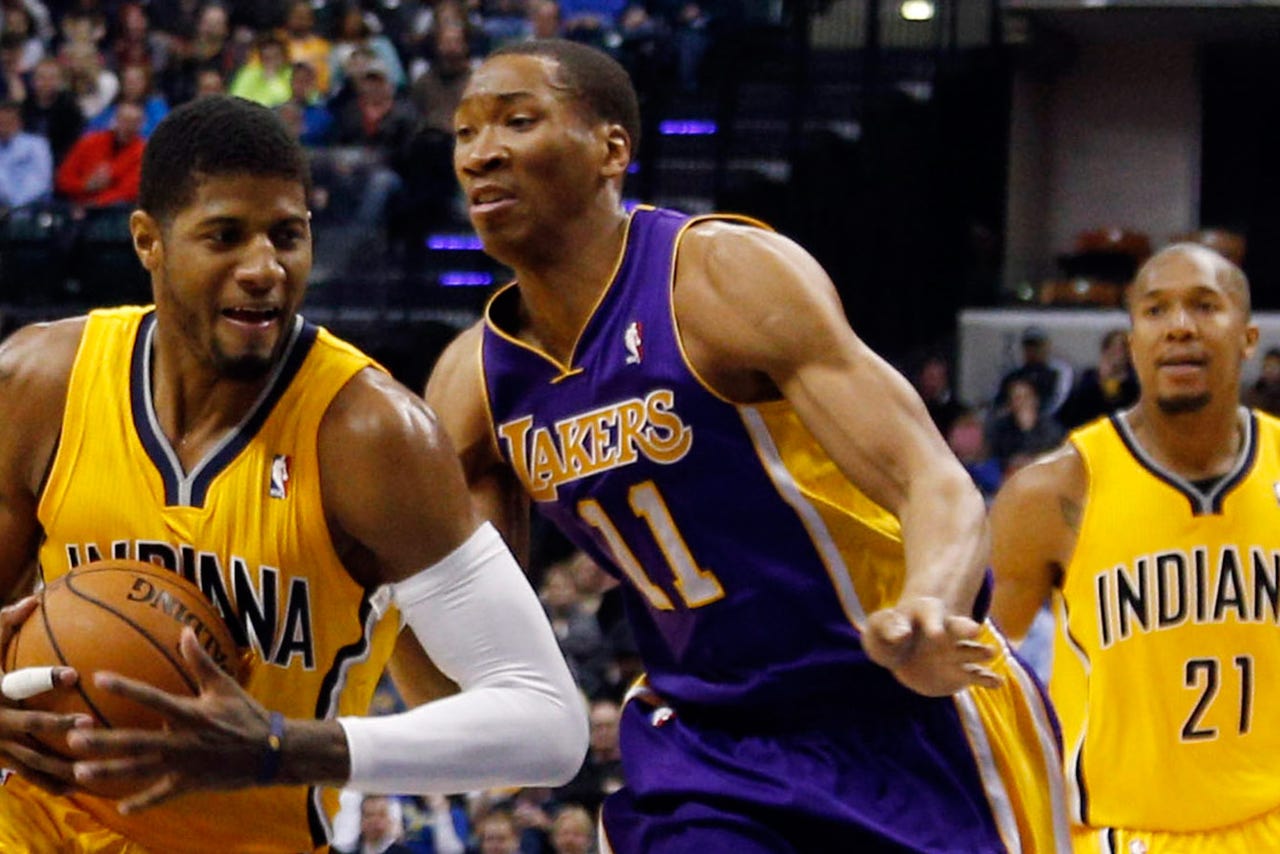 INDIANAPOLIS -- Indiana already had the league's No. 1 defense. The Lakers discovered Tuesday that the Pacers' offense is becoming just as potent.
Paul George had 20 points, seven rebounds and six assists, newcomer Evan Turner and five other Pacers reached double figures, and the top team in the East blew out the worst team in the West, 118-98.
"We're probably one of the deepest teams in the NBA, where one through 15 can actually really play," Pacers guard George Hill said after scoring 14 points. "It shows that if we continue to move the ball and share the ball like that, it can be anybody's night."
This is precisely what Indiana (43-13) envisioned when it pulled the trigger on the biggest deal before last Thursday's deadline.
Team president Larry Bird spent most of the offseason reconstructing a bench that didn't quite get the job done against Miami in last year's Eastern Conference finals. So he's continued tweaking it throughout the season, signing former All-Star center Andrew Bynum 3 weeks ago and then sending former All-Star Danny Granger to Philadelphia for Turner and Lavoy Allen.
The Pacers looked like a more explosive team in the second half of Turner's first game. He finished with 13 points and six rebounds and was 6 of 12 from the field, leading the Pacers bench to a season-best 50 points.
"He's on this team and I'm on the same page as him," George said. "He's a player who can make shots and make things happen. He's a huge talent for us and it's great to have him here."
The addition of Turner certainly helped the Pacers maintain their grip on the league's best record and best home record (27-3). Indiana is now two full games ahead of Miami in the chase for home-court advantage in the East.
Indiana appears to have all the pieces in place, too, though Tuesday night's big game came against a reeling team that has lost six of its last seven while playing without Kobe Bryant.
But the Pacers didn't change the blueprint.
In addition to the big games from George, Hill and Turner, Indiana also got 13 points from Lance Stephenson; 11 points and 12 rebounds from David West; 10 points, six rebounds and four blocks from Roy Hibbert and 11 more points from C.J. Watson, who missed only one shot all night. Ian Mahinmi and Luis Scola each scored nine points, too, and Stephenson was the only Indiana player to log more than 28 minutes.
There was no defensive letdown, either.
Los Angeles (19-38) shot 43.3 percent from the field, 34.8 percent on 3-pointers and got demolished on the glass, 62-42, as Indiana grabbed a season-high 21 offensive rebounds.
Newly acquired guard Kent Bazemore finished with 23 points, the third straight game he's had a career high since he was traded to the Lakers from Golden State. Wesley Johnson added 15 points, while Pau Gasol and Jodie Meeks each had 13.
But it was an abysmal night for the Lakers, who managed only 16 points in the decisive third quarter and half of their 44 second-half points during the final seven minutes, after they trailed by 33.
"We'll go back and watch the film and get a better idea of how badly we played," coach Mike D'Antoni said.
For 2 quarters, things didn't look so bleak for the Lakers.
They trailed just 57-54 at halftime and closed to 59-58 when Gasol knocked down a 15-foot jumper early in the third quarter.
The Pacers didn't let it get any closer.
West answered with a tip-in and Hill followed with five straight points to make it 66-59. Then George accounted for 10 quick points in a 14-5 run that pushed Indiana's lead to 80-66. After a layup from Chris Kaman, the Pacers closed the quarter on an 11-2 run that included Watson's 3 with two seconds left to make it 91-70 after three. Indiana's 12-6 run to start the fourth quarter gave them a 103-76 lead and the Lakers couldn't get closer than 19 the rest of the way.
"It's good to have another guy out there that can put the ball on the floor, get in the paint and make plays," George said of Turner. "I think we are kind of perfect for his game."
Notes: Indiana has the NBA's top two single-game rebounding totals this season, both against the Lakers. They outrebounded Los Angeles 63-43 on Jan. 28. ... Los Angeles had won its previous three games in Indy. ... Turner received polite applause when he entered the game for the first time with about 4 minutes left in the first quarter.
---