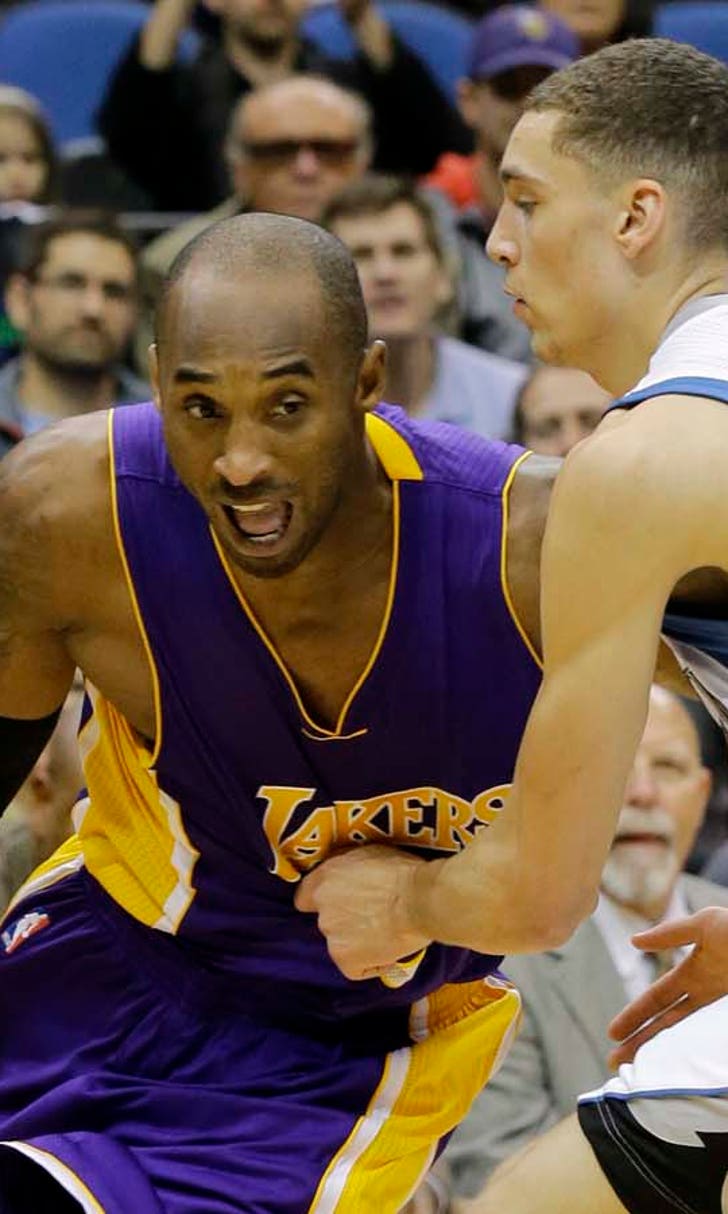 Generation Kobe: Timberwolves youngsters grew up idolizing Bryant
BY foxsports • December 14, 2014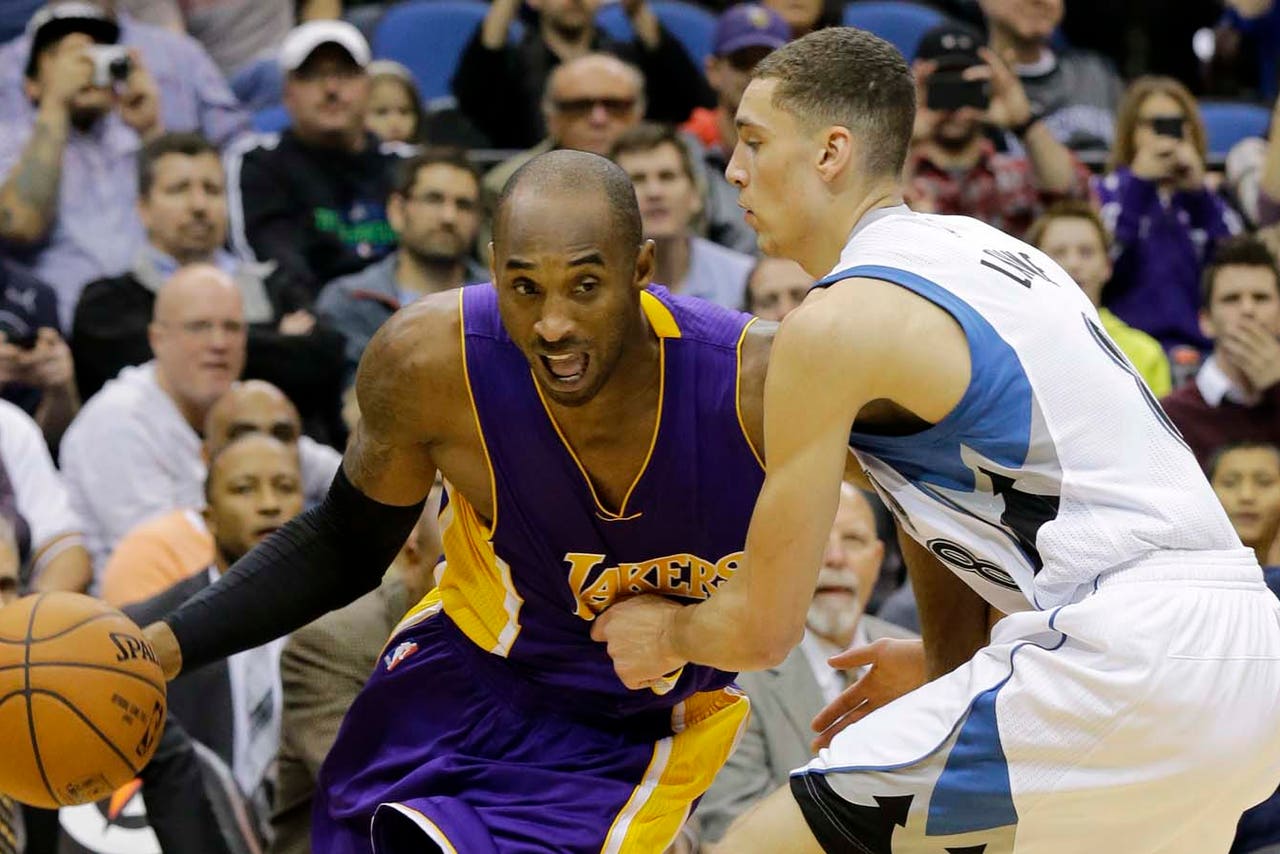 MINNEAPOLIS -- Flip Saunders' closest encounter with the Kobe Bryant mystique occurred inside the transcendent guard's home arena at halftime of the 2004 NBA All-Star Game.
The Timberwolves' coach and president, then in his first stint on the Minnesota bench, had just watched the starting Western Conference shooting guard pick up Vince Carter defensively from baseline to baseline. Now, the transcendent, nefarious hoops luminary was in the Staples Center dressing room asking to deploy the Saunders-devised zone defense that had the Wolves frustrating offenses that season.
Defense.
In an All-Star Game.
"He's always had that fire," said Saunders, whose club would go on to lose to Bryant and the Lakers in the West finals later that year. "He just wants to win."
As a youngster, current Wolves guard Zach LaVine saw the blaze every basketball season from his parents' living room in Seattle. He once saw the Black Mamba at a game against the Supersonics but was too young to remember; LaVine considers his 28-point outburst Nov. 28 in Los Angeles his first chance to see Bryant in person.
Something made an impression early on, though. LaVine wears the No. 8 because of Kobe.
"I feel like everyone has that one person," LaVine said. "I feel like that was it for me. That was just my idol growing up. It's crazy competing on the same floor, growing up my whole life watching this dude."
Andrew Wiggins, the No. 1 overall pick in this year's draft, was more of a Vince Carter guy growing up on the outskirts of Toronto. But he, too, was molded in part by Bryant's eminence.
Even though Wiggins was in diapers when Bryant entered the league in 1996.
"I was 1 when he got drafted," Wiggins pointed out.
Forward Shabazz Muhammad was 3. Growing up in L.A., though, he quickly learned to mold his turnaround jump shot and post moves off the guy who represented the City of Angels -- and megastars -- throughout the 2000s.
It doesn't stop in Minnesota. Milwaukee's Jabari Parker grew up during the Bryant era. So did the Lakers' own Julius Randle, another rookie expected to do big things in the NBA one day. Kids in China still idolize him. Italy, too, where Bryant spent a good chunk of his childhood.
In a moment that sent him back to his NBA debut 18 years ago, Bryant surpassed Michael Jordan on the NBA's all-time scoring list Sunday night at the Target Center. And while the megalomaniacal future Hall of Famer's legacy -- particularly when compared alongside Jordan's -- has been debated for years, what's not up for argument is his widespread influence on the modern roots of basketball, in America and abroad.
Call it Generation Kobe.
"They're all just young basketball players that watched Kobe when they was growing up, probably admired the way he played and the things he was able to do," said Byron Scott, the Lakers' coach and a teammate of Bryant's during his first years in the league. "Now they get a chance just like he did when he was coming into the league, to play against some of the guys they admired back in the day."
Bryant's moment in the spotlight, in-game presentation and all, offered the latest opportunity to celebrate his impact -- five NBA championships, two league scoring championships and astonishing performance after astonishing performance.
He's one of the most celebrated players to bypass collegiate basketball and smash straight into the pros. Today, he'd be a one-and-done like LaVine and Wiggins.
Kobe was 17 when he was drafted 13th overall. LaVine and Wiggins are 19.
"Gee whiz," said LaVine, also a 13th overall pick, shaking his head.
The Wolves' starting floor general was in similar awe when Bryant sunk a pair of free throws with 5:24 left in the second quarter to reach 32,293 career points -- one more than Jordan had during his illustrious career. Bryant was, too, as the game was stopped, the flashbulbs flickered, teammates and opponents alike embraced him and Minnesota owner Glen Taylor came over to present him the game ball.
Jordan released a statement congratulating Bryant. "He's obviously a great player, with a strong work ethic and has an equally strong passion for the game of basketball," Jordan said. "I've enjoyed watching his game evolve over the years, and I look forward to seeing what he accomplishes next."
There were a fair amount of Bryant jerseys among the 15,008 in attendance at the Target Center. And the cheers when he passed M.J. could go down as the loudest heard there all season.
"It was different. I'm so used to being a villain all the time on the road," Bryant said. "You're not expecting a hug, and you get a hug."
That reputation has been earned. Nothing exceeds his intensity, so he is known in some NBA circles as a downright jerk to be around. Sexual assault allegations stemming from a 2003 incident in Colorado forever tarnished his image.
Just Friday, Bryant was caught on video telling teammates during a scrimmage they are "soft as (expletive)" and complaining about the team's personnel makeup to general manager Mitch Kupchak. But some blame Bryant's ego and percentage of the payroll for the club's demise in recent years.
The critics rang out as loud as ever Sunday, pointing out Jordan took three fewer seasons and 230 fewer games to amass his 32,000-plus points. They focus on the fact Karl Malone (36,928 points) and Kareem Abdul-Jabbar (38,387) are thousands of points ahead of the aging Bryant, who hinted Sunday his retirement isn't far away.
But this wasn't a seminal moment that overshadowed Los Angeles' 100-94 win because of where exactly Kobe ranks, either on the all-time scoring list or among the greatest to ever play the game. This time was special because of who he passed, and what he's already passed on.
Just like Mike did.
"I witnessed greatness tonight," said Wiggins, who watched helplessly as Bryant (26 points) , ever the lockdown closer, hit the game-icing 3 over him with 1:02 remaining to break a 94-all tie.
Bryant knows the feeling. Lining up against Wiggins, he said, produced flashbacks of his first game against Jordan -- whom Bryant and countless other children of the 90s mimicked in their driveways growing up -- Dec. 17, 1996. Like Wiggins, Bryant entered the NBA as a teenager with enormous expectations.
And like Wiggins and the rest of Generation Kobe, Bryant himself is a product of who came before him.
"It's a strange feeling, because I remember being Andrew Wiggins," said Bryant, now 36 and in the twilight of his career, heavy bags of ice bandaged to each knee after Sunday's game. "I remember playing against Michael my first year. To be here tonight and play against him, seeing the baby face and the footwork and little technique things he's going to be much sharper at as time goes on, it's like looking at a reflection of myself 19 years ago."
Follow Phil Ervin on Twitter
---