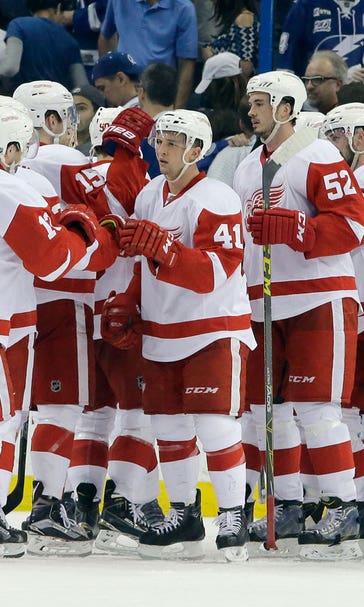 Gave: Wings need more from Game 1 no-shows or series will turn quickly
April 17, 2015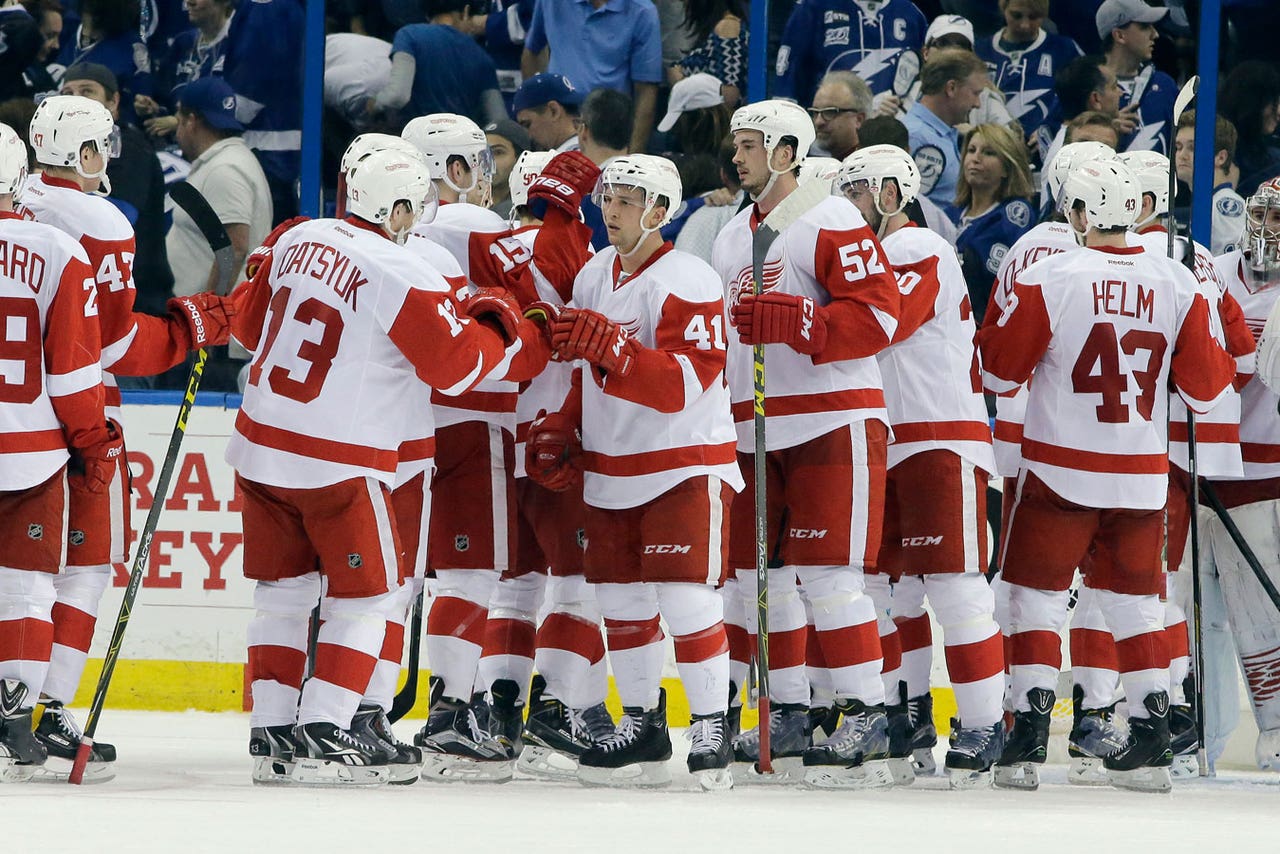 If the Red Wings have any shot at upsetting the Tampa Bay Lightning in their opening-round Stanley Cup playoffs series, they're going to need more players.
Injuries are one issue, but there is little excuse for the number of no-shows the Wings had in their lineup in Game 1, when they managed to abscond with a victory despite being woefully outplayed.
For starters, Justin Abdelkader cannot return soon enough from a hand injury. The Red Wings are at their best when their three horsemen -- Abdelkader, Darren Helm and Luke Glendening -- are in the lineup. They might play on different lines, but they're the ones who make their lines go, and pull everyone else along in the process.
Rookie goalie Petr Mrazek (44 saves) and Pavel Datsyuk (two goals) got all the headlines after Thursday's 3-2 victory in the series opener at Tampa. But the Wings wouldn't have won this game without Helm and Glendening.
Helm, who logged the most ice time among all Detroit forwards with 20:26, assisted on both Datsyuk goals and helped penalty killers snuff all seven Tampa Power plays.
Glendening made critical plays at both ends of the ice -- each while killing penalties. He recorded the game-winning goal by stealing the puck and scoring a highlight-reel backhander, and in the closing frantic seconds he blocked a shot and managed to kick it out of the Detroit zone as time expired with his team clinging precariously to a one-goal lead.
Abdelkader remains iffy for Saturday's Game 2 with a hand injury that has kept him out since he was hit with a puck at Minnesota on April 4. Without him, coach Mike Babcock kept the Euro-twins, Datsyuk and Henrik Zetterberg, together on a line with Helm. And it carried them Thursday as it did in must-win situations in the closing week of the season.
More likely, Abdelkader will rejoin the lineup Tuesday when the series moves to Detroit for Games 3 and 4. In the meantime, the Wings will need more -- a lot more -- from several other important players who were virtually invisible in Game 1.
Notably, the so-called second line of Riley Sheahan between Tomas Tatar and Gus Nyquist. Detroit's potential big line of the future was awful, producing no points and just two shots on goal, with one hit and one giveaway.
In their relative absence, Babcock turned to the Glendening line, with Drew Miller and rookie Landon Ferraro, rolling alternately with Detroit's big line. Three other forwards, Joakim Andersson, Stephen Weiss and Tomas Jurco, played sparingly as a line and were spotted in other situations. Those three were also pointless and shotless.
Andersson was a mainstay among penalty killers, however. Jurco continues his season-long struggle to make an impact on the game. Weiss logged a team-low 8:22 of ice time, and he's a good bet to be replaced by healthy-scratch Teemu Pulkkinen. The Wings need to produce shots on goal, and Pulkkinen is a shooting machine, though no one knows where the puck is liable to end up once it leaves his stick.
Bottom line, the Wings need far more from their forward corps -- and to stay out of the penalty box so Babcock can get some flow going with his lines.
"Seven minor penalties, that's way too many," Babcock said. "That's a big chunk of the game. If a guy's not on the penalty kill, there's not much of the game left for you."
That said, too many guys the Wings are counting on in this series didn't acquit themselves well.
"We didn't have enough forwards going," Babcock said. "Our D had way too much work. So we're going to have to get all hands on deck, get to work tomorrow (in practice on Friday), get untracked and play the way we're capable of playing."
Two youngsters who did make the most of their opportunities Thursday were defenseman Alexey Marchenko and Ferraro, 23-year-old rookies playingin their first Stanley Cup playoff game. Both found themselves taking a regular shift in the final two minutes with the Lightning desperate for a goal. That speaks volumes about how much Babcock trusts them.
ICE CHIPS:
Joining forwards Pulkkinen and Daniel Cleary among the healthy scratches in Game 1 were defensemen Jakub Kindl and Brendan Smith. Smith must have figured out by now that when he was scratched for the regular-season finale at Carolina it wasn't because Babcock was saving him for the playoffs.
Smith's gaffe in Montreal, batting the puck with his gloved hand from his perch on the bench, gave the Canadiens a two-man power-play advantage that led to a goal. The way Marchenko played in the series opener, Smith may have to get used to his seat in the press box.
Marchenko was paired with Danny DeKesyer, and the duo served as the second defensive unit. Kyle Quincey, who assisted on Datsyuk's first goal Thursday was paired with Zidlicky, who took two penalties and played just 13:19, lowest among all Detroit defensemen.
Niklas Kronwall, as he typically does, led all Wings players in ice time with 25:34, matched against the Lightning's best players all night long, killing every penalty and working the point on the power play. He also blocked three shots.
--
Getting outshot 46-14 and needing the goaltender to stand on his head to earn a 3-2 victory wasn't exactly what Babcock had in mind for his team in Game 1.
"It wasn't the way that I would've drawn it up," said Babcock. "But it was a win and that's all that matters."
On the other bench, coach Jon Cooper, of Lansing, acknowledged that the way his team performed was pretty much precisely what he had in mind.
"I couldn't draw the game up any better than we played," Cooper said in his news conference.
The weird upshot is that, all things considered, the losing team has more to feel good about its game than the winners do. It came down to goaltending at both ends, where both goalies were making their playoff debuts. On this night, Petr Mrazek played far better than Ben Bishop.
--
Mrazek is the fifth goaltender in Wings history to win his postseason debut, joining Johnny Mowers (1941), Glenn Hall (1956), Bob Champoux (1964) and Chris Osgood (1994).
Mrazek's 44 saves were a career-high and the most by a rookie goaltender in his first playoff appearance since April 8, 1980, when Jiri Crha made 55 stops for Toronto in a 6-3 loss at Minnesota.
Datsyuk had his sixth career multi-goal game in the playoffs and first since April 27, 2010 in Game 7 of Detroit's first-round series victory over Phoenix. His second goal came just eight seconds into the second period after a slick give and go with Helm.
Datsyuk won the face-off to Helm, who pivoted at the sideboards and whipped a perfect pass to Datsyuk streaking to the net -- similar to a pick-and-roll in basketball. According to the Elias Sports Bureau, the goal was the fastest goal to start a period in the postseason in franchise history. Gordie Howe set the previous franchise-best when he scored nine seconds into the first period on April 1, 1954 against Toronto.
The Wings earned the regulation win despite being outshot by the Lightning 46-14. The minus-32 shot differential was the largest negative shot differential in a regulation win in the postseason for Detroit in the past 50 years, according to Elias Sports Bureau.
---