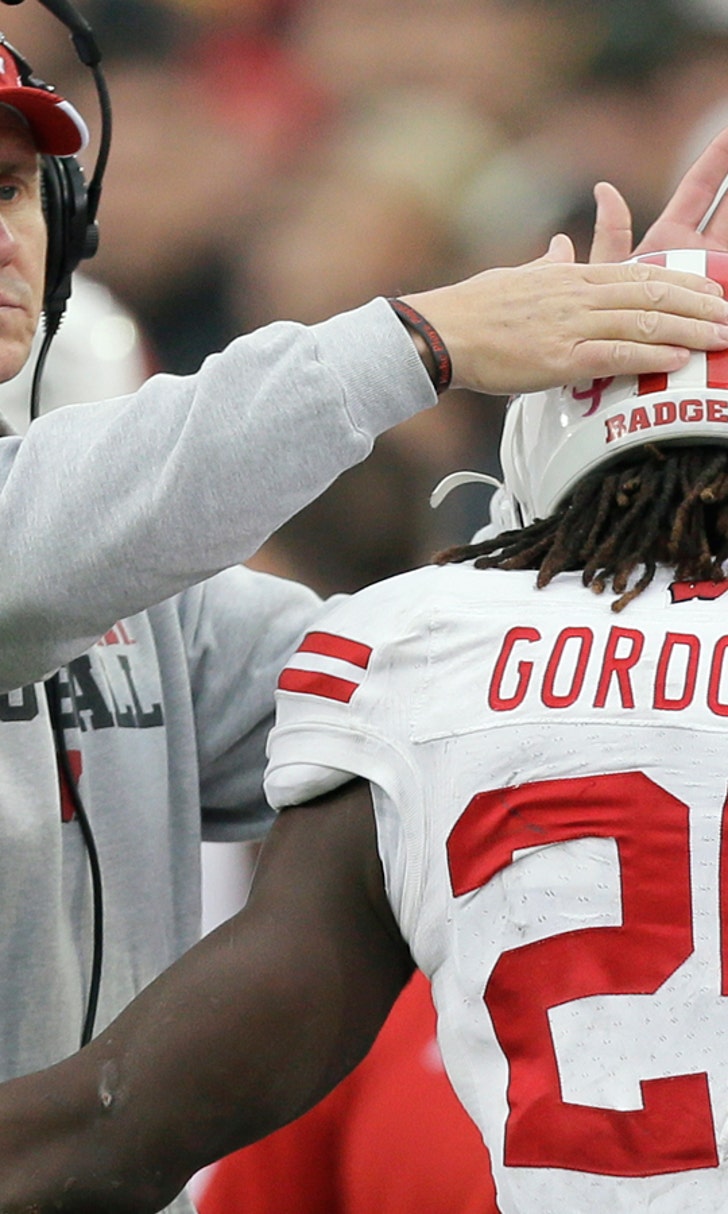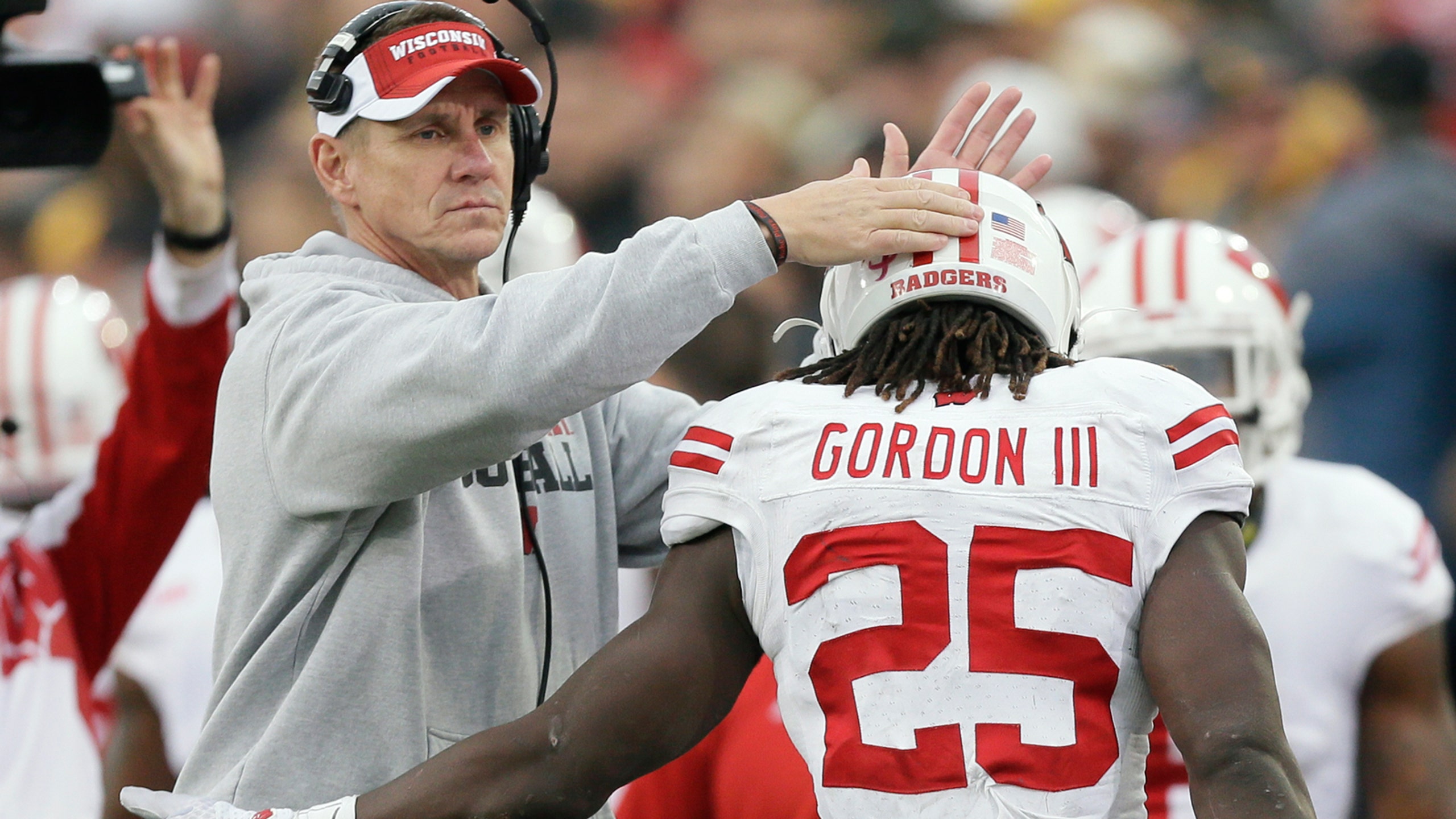 Gary Andersen: 'We have our work cut out for us' vs. Gophers
BY foxsports • November 25, 2014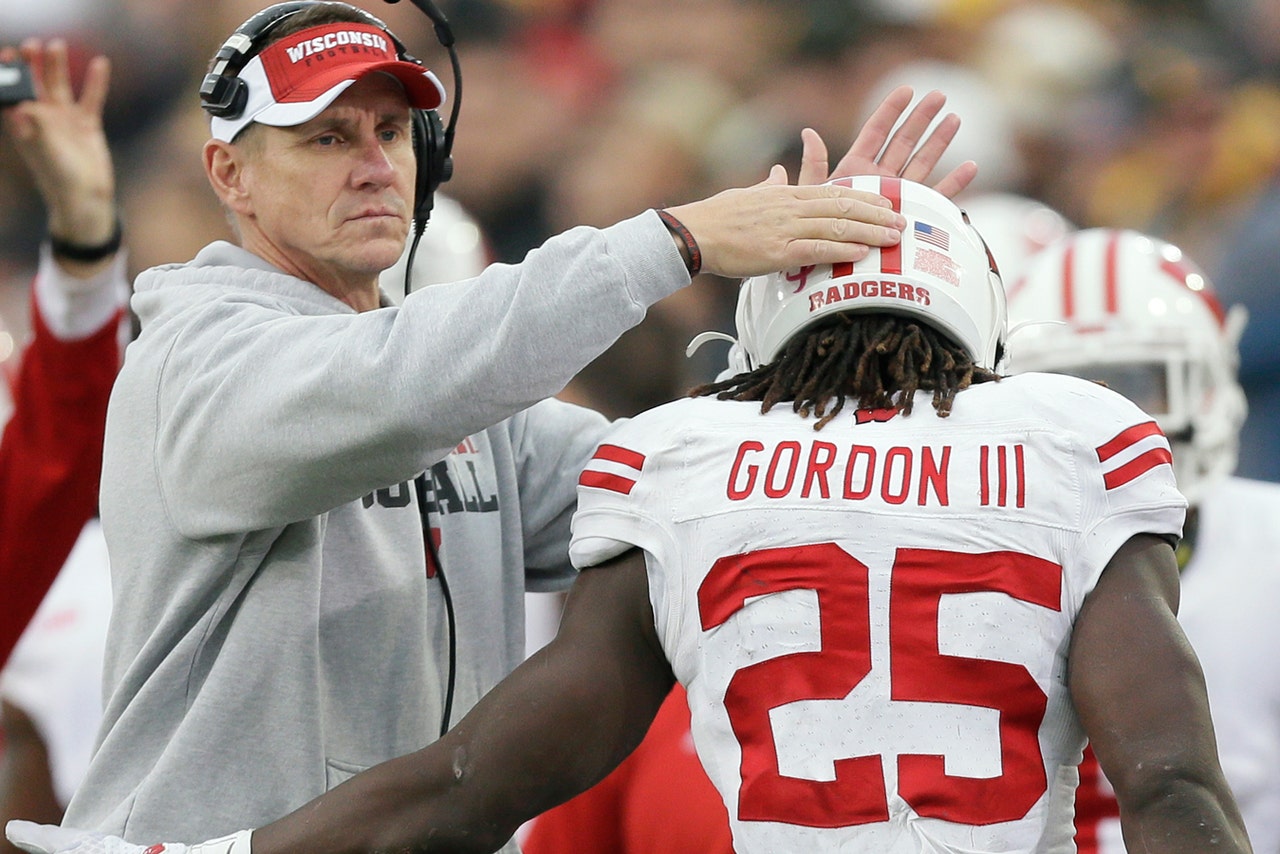 Wisconsin football coach Gary Andersen spoke with the media Tuesday morning on the Big Ten's weekly coaches teleconference ahead of the Badgers' regular-season finale against Minnesota.
Andersen recapped Wisconsin's 26-24 victory against Iowa last weekend looked ahead to the Minnesota game. He also discussed the success of his defense and the play of backup running back Corey Clement.
Here is the full transcript of Andersen's conference call:
Andersen: Melvin (Gordon) in the last game at Iowa was tremendous for us. I thought Joel Stave made some big plays there towards the end of the game. For those two to hook up on the big pass there late was just a tremendous, tremendous play. Melvin kind of took over a drive, which we needed to get in the end zone. We needed points to win that football game obviously, and he got it done for us. Very, very  proud of those two kids.
I think Marcus Trotter played his best game on the defensive side of the football for us overall. It wasn't a bunch of great positives on the defensive side of the ball on that last game overall, but he was definitely one of them.
Moving into this next game, obviously it's a big game for a lot of reasons. There's a lot that goes into this football game. It's the last game of the regular season for both teams, the ability to go to the conference championship is on the line and play in the championship game. There's a lot to play for, without question. You put the rivalry game on top of it. So, fun spot to be for both teams late in the year.
Much respect for Minnesota. They're playing in my opinion great football all year long, done a tremendous job of recruiting. They have great speed. It's the fastest team overall I think on defense we've seen all year long. Very, very talented.
They're in the right spots. They get turnovers. They fly to the ball. Offense is extremely difficult to defend. Very well coached and cause you all kinds of issues with different types of formations and abnormal scenarios. It goes from normal offense to some versions of at the end of the day, it's not really option football but it turns into option football with the way they're using the blockers and they're using their schemes very, very well. Special teams speaks for itself. They've been very, very solid on special teams.
We have our work cut out for us. Looking forward to the opportunity as I'm sure they are. It's a great place for both teams to be at this point in the year. It's going to be an exciting game and great for the Big Ten and great for both universities.
Question: How do you manage the chance that your players may get over-hyped before this game with everything on the line?
Andersen: I talk about it all year long. We get to the end of the year. When you have the chance to finish the year off, you want to be in a position to finish the year off and play in some big games.
This is a big game. How we manage it, we absolutely address it. We do nothing different. I talk to the kids on Monday about that situation and I think quite frankly with the youth of our team, we had a little bit of a problem early on in the Nebraska week, kind of into the Nebraska game of kids understanding that it is another game. You've just got to go out and play. That's where we are, and we've addressed it. We've addressed it again. We've told them we don't practice one extra day this week. We're going to do things how we do it. They should have a little extra edge for a lot of reasons. It's the end of the year.
It's verbalized, it's communicated. If you prepare differently for one game, I don't think you're ever going to be a very good team, and that's exactly what I tell them. You've got to prepare the same every week, especially in this conference. With tremendous respect for every opponent, you'd better be ready or you're not going to get yourself in position to play a big game.
We're still learning that. We'll see how we handle it this week. It's been good, all except for the Nebraska week. We had couple hiccups early in the week as far as understanding the emotion can take over if you allow it to in a bad way. It's good to play with emotion, but too much is not good.
Question: Is there one element that's driven the defense to achieving such a high level?
Andersen: I don't think I could take just one scenario or one fact and state it to you why I think this defense has been so successful. Overall, their ability to play as a unit has been impressive. Their ability to prepare and be solid at practice has been impressive and then take what they have in the meeting room and put it to the field and into the games have been impressive.
Took a little step backwards on that last week. We've got to improve on that this week against a very complicated offense. They've been a great group of kids. I would say this. If you told me I had to say something, I'd say their love of the game has got them where they are because they love to prepare, practice, lift weights, do everything. They're not that flashy, but they love the game and they compete on Saturdays.
Question: Has Corey Clement become a more patient runner?
I believe so. That comes with repetition as a running back. I never played in that spot or goodness knows I never could have played that spot or been any good at it.
But as I watch those young men develop through repetition and especially in our offense with the power plays, the stretch plays, the zone read plays, the different things in the offense, it forces you to become a little bit of a patient runner at times and pick your spots and see the creases as they develop and trust your offensive line.
I've definitely seen that in him in practice and in games. I think that will continue to improve as he becomes a feature back as we move forward into the future.
Question: Where do you want to see Corey's game improve the most?
Andersen: Right now I would say for Corey, it's overall. It's everything from ball security to blocking to getting his pads over his toes and understanding when he needs to get three yards and when he has an opportunity to break the big one. There's not a knock on any of those. I just think that's where he is in his development.
He'll grow through that. He'll handle that with the coaching coming his way. He'll accept the reps that are coming his way and he'll improve every day because he'll study very hard at it.
His body is in a good spot. I think he needs to make sure he fine-tunes his body to be elite. What that is, the strength coaches and Corey need to be completely on the same page to get his weight, his speed, his quickness and his durability right where it needs to be so he can hold up during the season.
He's a very talented back right now, don't get me wrong. I like Corey Clement a lot. He's a great running back but he wants to be elite, so he'll continue to work.
Question: Did you enjoy and did your team enjoy the trip to Rutgers and what are your thoughts in general about the arrival of both Maryland and Rutgers to the Big Ten?
Andersen: I think it's absolutely helped the conference. It's helped each school. If indeed they decide to recruit out there, it's going to help them in recruiting. If not, it helps alumni. It gets eyes on their program that you're going to be able to see them if it was a little tougher for them to see earlier on.
Playing both teams, the trip to Rutgers was great. You'd like to be able to take your team to see some things, which we didn't get to do with going in and out. It was a good trip. But it was a business trip for us as usual, so we just did what we did. After playing both teams, great fit overall. Well coached. Much respect for the head coaches on both sides.
Brian Stewart, I know very well at Maryland. I know he loves it. They seem to do things the right way on the Maryland staff also. And so it's very, very good additions. I'm new here, too. I'm new to the conference obviously this is the second year. Those are two very good coaches, well coached programs, I think they'd fit well in any conference. It's great to have them part of the Big Ten.
That's my take on it. They're very competitive teams. They showed that as they went through the season. They're both going to show that as they continue to go through this year.
Follow Jesse Temple on Twitter
---