Garcia on walk-off HBP: 'I'm wearing that one 100 percent of the time'
Published
May. 14, 2014 2:05 a.m. ET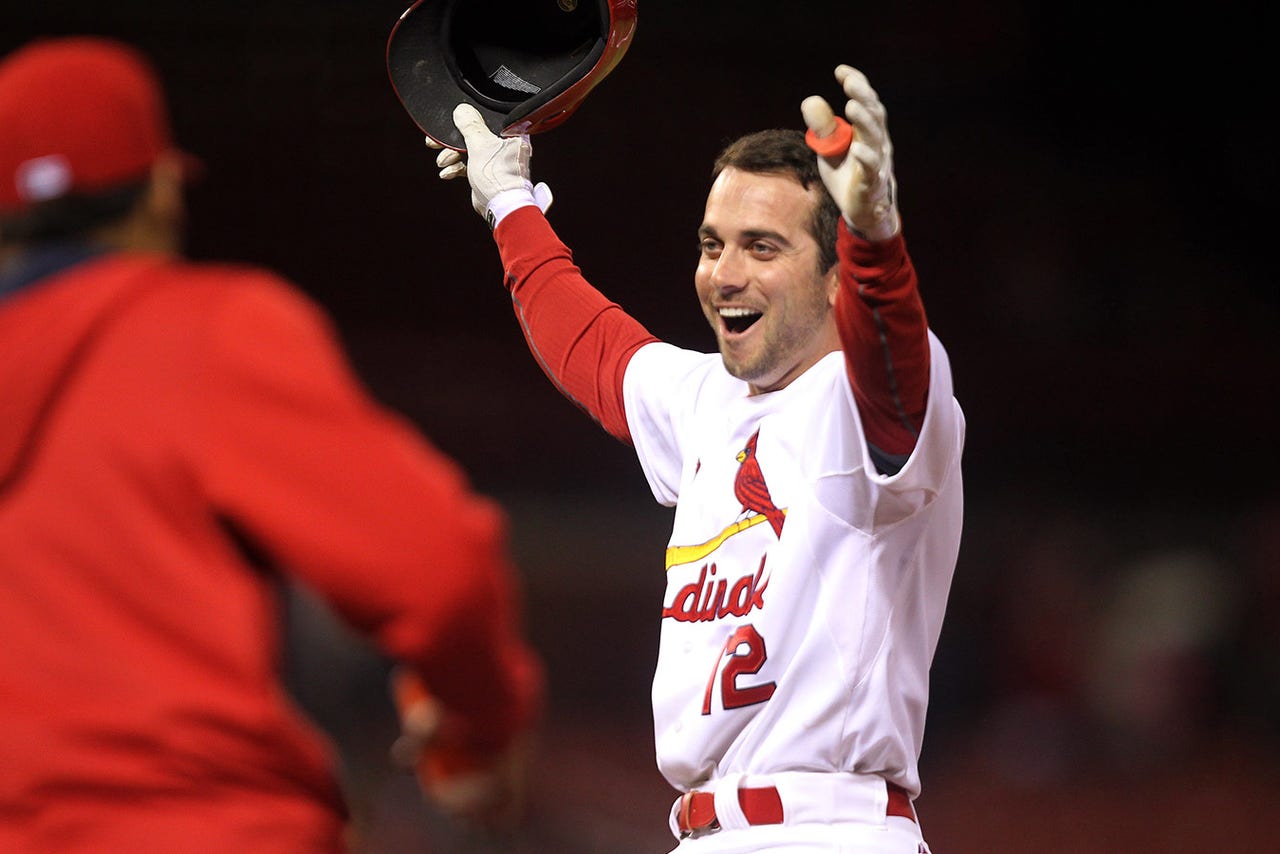 ST. LOUIS -- Greg Garcia saw the pitch coming at him and he was determined to not get out of the way.
He didn't. And because he didn't, the Cardinals scored a 4-3, 12-inning victory over the Cubs on Tuesday night at Busch Stadium.
Garcia was pinch-hitting with the bases loaded and one out, and after falling behind in the count 1-2, he said he was just looking to put the ball in play. But Cubs reliever Justin Grimm cut him a break by missing with a fastball that caught just enough of Garcia as it zoomed past.
"My instinct was to get hit. I wanted to get hit," Garcia said. "When I saw that pitch coming at me, there was no doubt in my mind I was not going to get hit. I'm wearing that one 100 percent of the time."
It wasn't the first time Garcia has been hit since he was called up in late April. He has made only 14 plate appearances but already has been hit three times, the most on the team.
"Out of his hand, I knew it was (coming) in," he said. "I tried to recognize the pitch. I see it's a fastball. I'm like, 'That's got a chance to hit me. I'm going to wear that.' It was great to get a win for the team."
The loss would have been an excruciating one for the Cardinals, who were coming off a 17-5 defeat and had led 3-2 going into the ninth. After taking the lead in the sixth, they put only one runner on base in the next five innings and he was erased on a double play.
But after Sam Freeman, Pat Neshek and Seth Maness each worked a scoreless inning, Jhonny Peralta singled to lead off the bottom of the 12th. A popup and two walks later, the stage was set for the rookie second baseman and Garcia delivered the team's first walk-off win in a most unusual way.
"We'll take it any way we can get it," a relieved manager Mike Matheny said.
3 UP (plus an extra for the extra innings)
-- Peter Bourjos. His speed has been paying dividends for the Cardinals lately, and never more than in the sixth inning when he triggered a two-run rally. Bourjos went around the bases without the ball leaving the infield. He reached on a bunt single, advanced to second on a slow grounder to first (after he had drawn half a dozen pickoff attempts), stole third and came home on a ground ball to short.  
Watch the Cardinals Live pregame and postgame shows before and after every St. Louis Cardinals game on FOX Sports Midwest.
-- Adam Wainwright. He allowed a hit in all six innings he worked but still managed to give up only two runs and left with a 3-2 lead. The Cubs scored on a third-inning, two-run homer by Luis Valbuena, just the third Wainwright has allowed this season -- though all have come against the Cubs. Wainwright was in line for his majors-leading seventh win when he left but, for the first time in nine starts, did not register a decision.   
-- Matheny. His decision to pinch-hit Jon Jay for Wainwright with the Cubs up 2-1 in the sixth could have backfired. Wainwright has been hitting well this season and his pitch count had not reached 100. But with a runner on second and one out, Matheny decided to go for offense. Give him credit, but give Jay more. He fell behind 0-2 against reliever Carlos Villanueva but fouled off four pitches and worked a 10-pitch walk to trigger a two-run rally.
-- Jaime Garcia. The lefty's chances of making his season debut on Saturday against the Braves are looking good. The club's reports out of Memphis after his 74-pitch rehab start were "extremely positive," GM John Mozeliak said Tuesday afternoon. "But more importantly, it's going to be how he feels from a physical standpoint. I am encouraged. It's certainly a possibility."
If Garcia isn't ready, lefty Tim Cooney looms as next in line. He is 4-2 with a 2.94 ERA in eight starts for the Triple-A Redbirds.
3 DOWN
-- Trevor Rosenthal. He suffered his first blown save of the season when, with two outs in the ninth, he gave up a run-scoring single to Emilio Bonifacio that tied the game at 3. Rosenthal entered 10 for 10 in save chances but he hasn't enjoyed many clean outings lately. He has allowed at least two base runners in each of the four innings he has pitched this month, and only once has he turned in a scoreless inning. His fastball regularly reached 97 mph against the Cubs, but giving up two singles and a walk left him with an ERA of 5.19.
-- Matt Carpenter. A night after going 0 for 5, he showed up clean-shaven. But the new look didn't help him pull out of a slump that has reached 2 for his past 24. Carpenter also failed to score for the fifth straight game, his longest such drought of the season and, remarkably, only the second time in the past two seasons he has gone more than three consecutive games without crossing the plate.
-- Cool weather. A 24-degree drop in temperature from first pitch on Monday night did not help hitters on either team. Peralta hit a blast to center that likely would have been a two-run homer in Monday's summer-like air but instead was a warning track fly. Yadier Molina hit a liner to right that probably would have been an RBI double off the wall a night earlier but was nothing but a loud out in the cool air, which is expected to stay around the rest of the week.
You can follow Stan McNeal on Twitter at @stanmcneal or email him at stanmcneal@gmail.com.
---