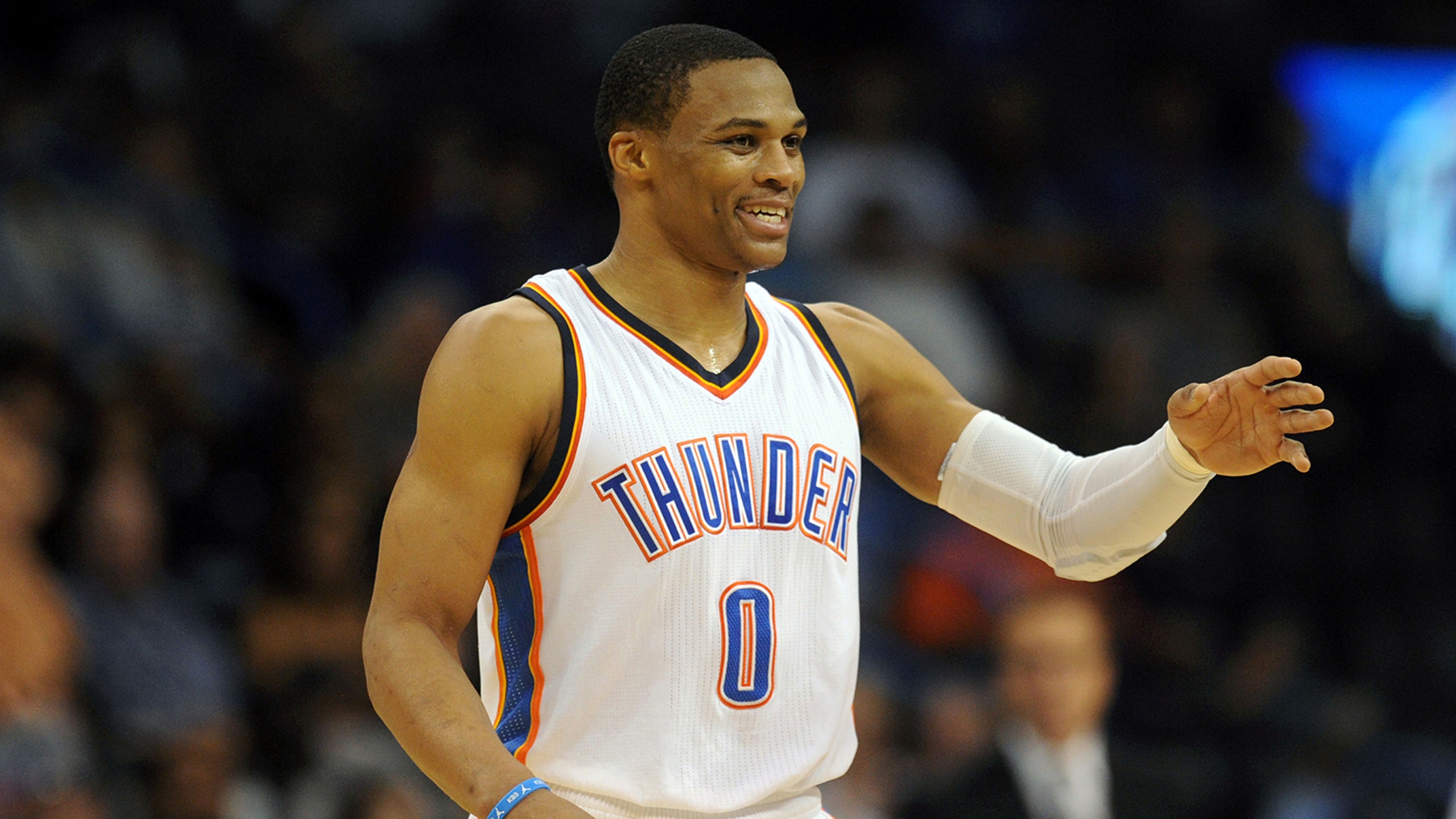 Game-by-game predictions for 2014-15 Thunder
BY foxsports • October 29, 2014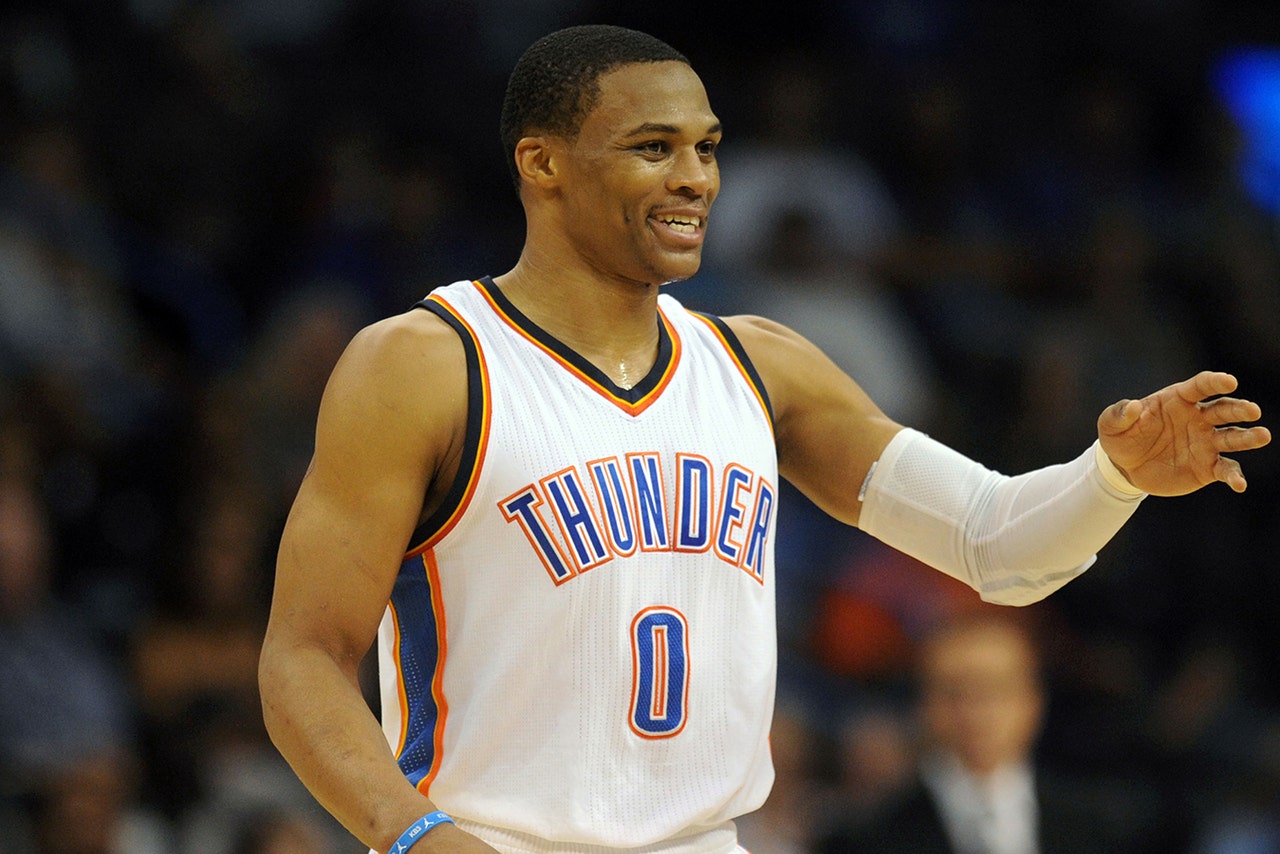 Game-by-game predictions for 2014-15 Thunder
The season starts tonight, but looking ahead starts now.
Here's your game-by-game predictions in 140 characters or less.
Feel free to #retweet.
Tonight
Game 1: L - So, we're not allowed to complain if Russell Westbrook shoots too much, right?
Oct. 30  at Clippers
Game 2: L - Can't believe Blake Griffin is still flopping. Did Matt Barnes get another tattoo in the offseason?
Nov. 1  vs. Denver
Game 3: W - Man, it's good to be home. #blessed
Nov. 3  at Brooklyn
Game 4: W - After watching Joe Johnson, it's obvious Russ doesn't #shoot #too #much.
Nov. 4  at Toronto
Game 5: L - Back-to-back games are hard. #notwinning
Nov. 7 vs. Memphis
Game 6: W - This is when the MVP chants start. For Perry Jones. Thunder move to 2-0 at home.
Nov. 9  vs. Sacramento
Game 7: W - It doesn't matter if it's the Hornets or the Thunder. The Kings aren't winning in OKC.
Nov. 11 at Milwaukee
Game 8: W - Anteokounmpo, Ilyasova #scrabblenames
Nov. 12  at Boston
Game 9: W - As far as back-to-backs go, this is about as easy as it gets.
Nov. 14  vs. Detroit
Game 10: W - Thunder wrap up three-game Eastern Conference sweep.
Nov. 16  vs. Houston
Game 11: W - As if Russell Westbrook really needed more motivation. OKC dislikes Patrick Beverley more than James Harden. That's saying something. #sports
Nov. 18  at Utah
Game 12: W - This is not the game where Dante Exum passes Russell Westbrook in the, "Who's the best point guard in the Western Conference," discussion.
Nov. 19  at Denver
Game 13: L - Ty Lawson vs. Sebastian Telfair. #headbands
Nov. 21  vs. Brooklyn
Game 14: W - Hopefully Kevin Durant isn't taking foot advice from Brook Lopez who has had FOUR foot surgeries.
Nov. 23  vs. Golden State
Game 15: W - First look at Curry and Klay. Hard to believe they'll shoot more than Westbrook.
Nov. 26  vs. Utah
Game 16: W - Thunder get some major revenge for losing home preseason game to Jazz.OK, not really, but it's an easy win.
Nov. 28 vs. New York
Game 17: W - Gonna be awesome when Derek Fisher coaches the Knicks, gets fired, then signs with OKC for the 2nd half of the season.
Dec. 2  at New Orleans
Game 18: L - When's Durant gonna come back?
Dec. 5 at Philadelphia
Game 19: W - The return of Durant. Pretty sure Philly was thrilled to see him, too.
Dec. 7 at Detroit
Game 20: W - #Bestbrook, #KD together again. As if they've never been apart.
Dec. 9 vs. Milwaukee
Game 21: W - Limited minutes for KD. Limited excitement from the Bucks.
Dec. 11 vs. Cleveland
Game 22: L - LeBron is still the best in the world. Mike Miller still makes you mad. Kevin Love is hurt. Nothing ever changes.
Dec. 12 at Minnesota
Game 23: W - T-Wolves didn't play any defense with Kevin Love. Now, Wiggins gets to try and guard Kevin Durant.
Dec. 14 vs. Phoenix
Game 24: W - Biggest challenge for the Thunder vs. the Suns still remains trying to tell the Morris brothers apart.
Dec. 16 at Sacramento
Game 25: W - Dozens of people turn out in Sacramento to see Thunder win again.
Dec. 18 at Golden State
Game 26: L - Curry can't miss. The scouting report says he likes to shoot, right?
Dec. 19 at Lakers
Game 27: W - KD poses for pre-game picture with Kayne. Signs movie deal during halftime. Commence worrying about future free agency.
Dec. 21 vs. New Orleans
Game 28: W- Ibaka vs. Anthony Davis is worth watching, even if you don't know a single other player who plays for the Pelicans.
Dec. 23 vs. Portland
Game 29: W - Lillard vs. Westbrook. Both are great. Westbrook is better.
Dec. 25 at San Antonio
Game 30: L - Nothing better than seeing Gregg Popovich berating a sideline reporter on X-Mas.
Dec. 26 vs. Charlotte
Game 31: W - Charlotte made the playoffs last year. Aren't you glad you held onto your tickets to see Al Jefferson and Kemba Walker?
Dec. 28 at Dallas
Game 32: L - Tyson Chandler Parsons. #WheelOFortune
Dec. 31 vs. Phoenix
Game 33: W - Phoenix in OKC twice before the new year? Awesome.
Jan. 2 vs. Washington
Game 34: W - John Wall will try and convince you he's better than Westbrook by shooting and shooting and shooting. #andshooting.
Jan. 5 at Golden State
Game 35: L - I stayed up late for this?
Jan. 7 at Sacramento
Game 36: W - Huge crowd in Sac-Town. Must be Vlade Bobblehead night.
Jan. 9 vs. Utah
Game 37: W - If you're here, you probably won a raffle at work or something.
Jan. 15 at Houston
Game 38: L - Things James Harden is doing: 1. Shooting. 2. Not passing. 412. Not play defense.
Jan. 16 vs. Golden State
Game 39: L - Curry and Thompson and Steve Kerr are back in our lives. Again. That stinks.
Jan. 18 at Orlando
Game 40: W - Now who coaches this team? Wait, who plays for them?
Jan. 20 at Miami
Game 41: W - If you don't show up for the game, you can't leave early, #Heat fans.
Jan. 21 at Washington
Game 42: L - Totally expected the Wizards to make a pitch for Durant.  Didn't expect them to do it as their halftime act. #RedPandaRetired
Jan. 23 at Atlanta
Game 43: W - It's always good when the Thunder play the Hawks so I can find out who coaches the Hawks. Oh, and who plays for the Hawks.
Jan. 25 at Cleveland
Game 44: L - This one has a Finals feel to it. Weird that the Thunder are playing like they did the last time they were in the Finals, too.
Jan. 26 vs. Minnesota
Game 45: W - Kevin Martin homecoming. Can't wait for the video tribute. #legend
Jan. 28 at New York
Game 46: L - Derek Fisher has the boys running the Triangle offense really well. However, that Triangle D isn't so hot.
Jan. 31 at Memphis
Game 47: L - The last time the Thunder were in Memphis Reggie Jackson cried. Just an FYI.
Feb. 2 vs. Orlando
Game 48: W - Who's the top player in the draft the Magic are already angling to get for next season? #tanking
Feb. 4 at New Orleans
Game 49: W - Seems like the Pelicans are on the schedule 12 times this season. #excitement
Feb. 6 vs. New Orleans
Game 50: W - If you promise to show up against the Clippers, you can leave this game early.
Feb. 8 vs. Clippers
Game 51: W - Best crowd of the year, best game of the year. Wish this was Game 1 of something between these two teams.
Feb. 9 at Denver
Game 52: W - Not ashamed to say Danilo Gallinari and Kenneth Faried are the best front-court in the league - when it comes to hair. #lglorious
Feb. 11 vs. Memphis
Game 53: W - Vince Carter is now playing for the Grizz. Once, he was, "Half-man, Half-amazing." He's now, half-retired.
Feb. 19 vs. Dallas
Game 54: L - One of the seasons Dirk won't get every call. And make every shot.
Fen. 21 at Charlotte
Game 55: W - Fave if you thought Cody Zeller would be a good NBA player. RT if you can name the Hornets' coach.
Feb. 22 vs. Denver
Game 56: W - #backtoback #doesn'tmatter
Feb. 24 vs. Indiana
Game 57: W - The Pacers' free fall started at the All-Star break last year. It's in meltdown mode tonight.
Feb. 26 at Phoenix
Game 58: W - At least once per year Isaiah Thomas goes off against the Thunder. This is that once.
Feb. 27 at Portland
Game 59: L - Chris Kaman must have an extensive jersey collection at his house. How many teams has he played for?
March 1 at Lakers
Game 60: W - Kobe doesn't call Russ soft.
March 4 vs. Philadelphia
Game 61: W -On a good night, and this isn't one of them for Philly, where does it get its scoring from?
March 5 at Chicago
Game 62: L - One chance in Chicago and it comes on a back-to-back.
March 8 vs. Toronto
Game 63: W - Last year, Toronto won in OKC. He probably won't cement his Coach of the Year award on this trip.
March 11 vs. Clippers
Game 64: W - We came to appreciate Chris Paul, Jordan and Griffin. We stay to boo Matt Barnes.
March 13 vs. Minnesota
Game 65: W - Wiggins has said he wants to "score" like Durant. Well, he will and does. Then again, there's no one else to help out.
March 15 vs. Chicago
Game 66: W - Derek Rose is good, but Durant and Westbrook look better in the afternoon light.
March 16 at Dallas
Game 67: L - Three games, four days, so tired.
March 18 vs. Boston
Game 68: W - It's nearly the end of the season. By tonight we'll all be able to name at least three Celtics.
March 20 vs. Atlanta
Game 69: W - Atlanta is going to make the playoffs again and no one cares. Including you.
March 22 vs. Miami
Game 70: W - Love watching an offense run through Chris Bosh. #fantastic
March 24 vs. Lakers
Game 71: W -  Carlos Boozer's knees have filed a lawsuit against Julius Randle for having to play too much.
March 25 at San Antonio
Game 72: W - Watching the Spurs sit starters is fine. Watching Matt Bonner run the offense isn't so great.
March 28 vs. Utah
Game 73: W - Thunder challenging for home-court advantage. Jazz challenging you to stay awake.
March 29 at Phoenix
Game 74: L - Dragic, Bledsoe, chemistry is good. Love watching Russ destroy it.
April 1 vs. Dallas
Game 75: W - Former Hornet Tycson Chandler is a talent, but is sure is fun to see Steven Adams is outplaying him.
April 3 at Memphis
Game 76: L - Last season, Z-Bo sat against the Thunder in the playoff clincher. He's not sitting, he's dominating, on Friday night in Memphis.
April 5 vs. Houston
Game 77: W - Nothing like James Harden to make it look like Russ doesn't shoot too much.
April 7 vs. San Antonio
Game 78: W - Western Conference Finals preview? Nahh. No Duncan, Parker, Ginobli. Everyone rests. Ask for your money back.
April 10 vs. Sacramento
Game 79: W - A home game against the Kings in April isn't exactly a great combination.
April 12 at Indiana
Game 80: W - You don't have to apologize for not watching this one.
April 13 vs. Portland
Game 81:  W - Celebrate the fact the Thunder wrap up the No. 2 seed, not that there's still another regular-season game.
April 15 at Minnesota
Game 82: L - Great job by the T-Wolves folks on "Crowd Appreciation night." Dozens show up.
Overall record: 59-23
Follow Andrew Gilman on Twitter: @andrewgilmanOK
---