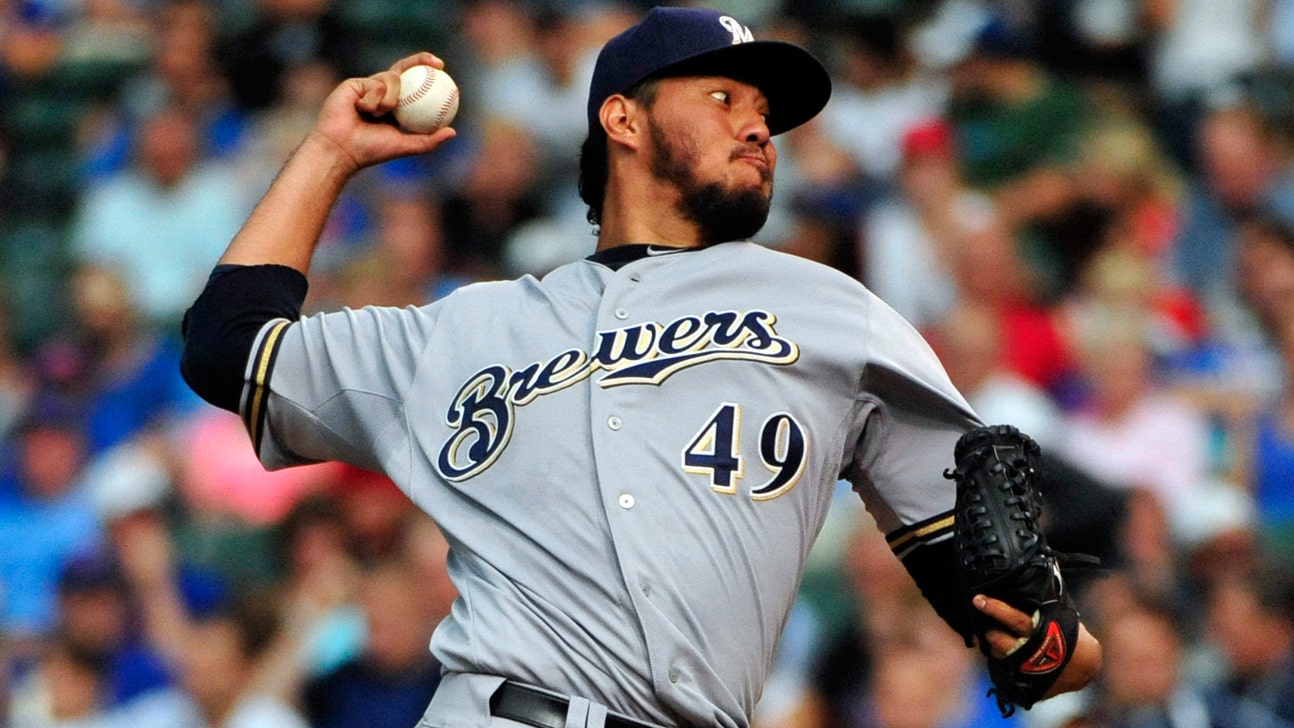 Gallardo propels Brewers past Cubs
Published
Aug. 12, 2014 12:49 a.m. ET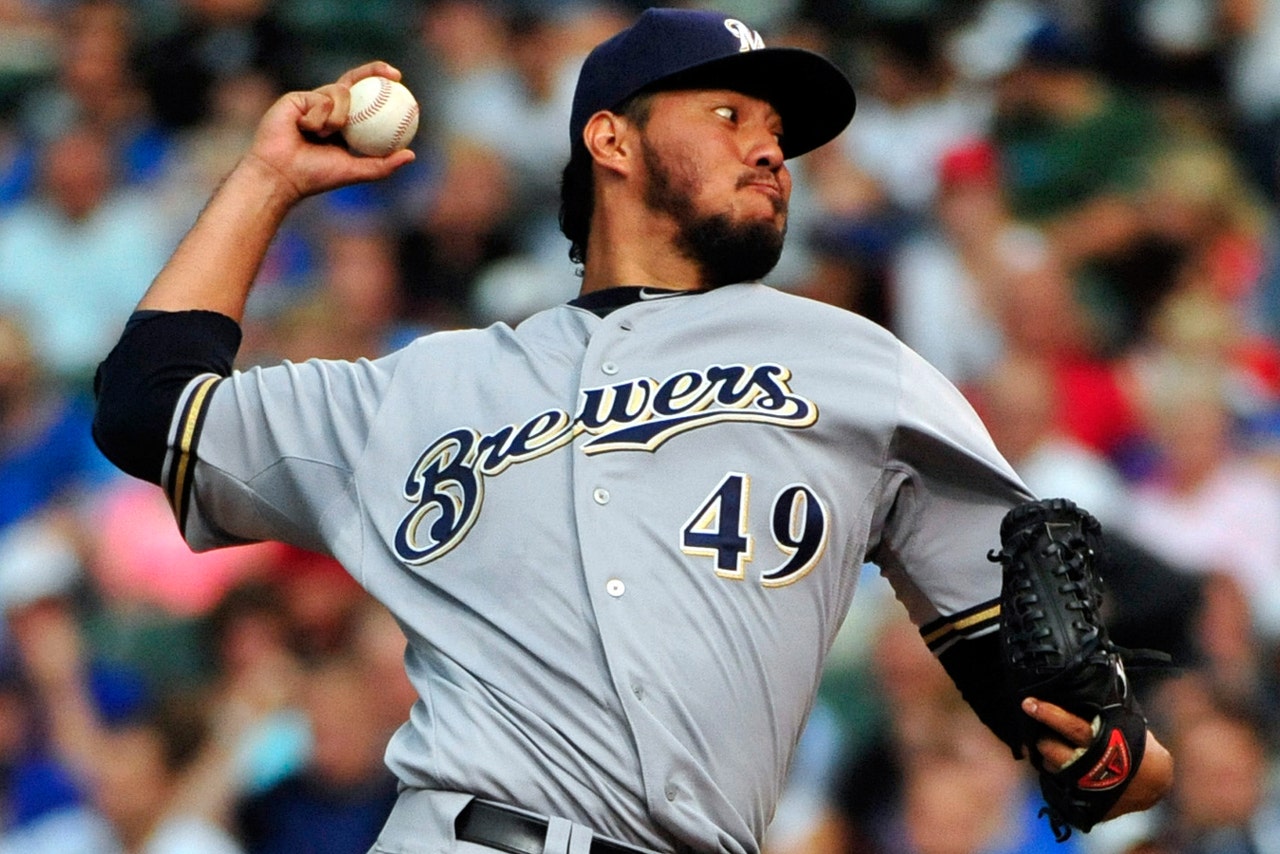 Yovani Gallardo was on quite the roll before the San Francisco Giants took advantage of a complete lack of command to chase the right-hander after just four innings last Wednesday.
One start after watching his scoreless streak of 16 2/3 innings end, Gallardo was able to bounce back to surrender just one run over seven innings Monday.
That allowed the offense time to get to Jake Arrieta in Milwaukee's 3-1 win over the Chicago Cubs at Wrigley Field.
"It was a close ballgame and I made pitches whenever I needed to," Gallardo said. "The run I gave up, the ground ball to first, it took a bad hop. But I just had to keep it there and let the guys come back and swing the bats."
After not allowing any runs in starts against the Mets and Rays, Gallardo fell behind 3-0 in the first inning against the Giants last Wednesday. He ended up lasting just four innings, the shortest start of his season in which he left healthy.
Gallardo, who walked four batters in four innings last time out, didn't issue a free pass and struck out six against the Cubs.
"It was command, to be honest," Gallardo said of the difference from his last start. "I think I was able to command the fastball to both sides of the plate, and go up out of the zone whenever I needed to, which is something I struggled with last time. And I think just keeping the curveball down in the zone."
Arrieta was equally tough, as the Brewers managed just two hits off the right-hander through the first six innings. One happened to be a solo blast from Mark Reynolds to put Milwaukee up 1-0 in the second inning.
The Cubs tied the game in the fifth inning on a two-out RBI double from Chris Coghlan after Justin Ruggiano and Wellington Castillo hit consecutive singles with one out.
After the Reynolds home run in the second, Arrieta retired 13 batters in a row until Ryan Braun led off the seventh with a single to center.
"He was good," Reynolds said of Arrieta. "I played with him in Baltimore, and he was good then. He had his cutter going and ran his fastball in there when he needed to and kept us off balance with his curveball. We scraped together just enough and Yo did a great job shutting them down to keep the game right there for us.
Standing at second base with one out, Braun went back to the bag to tag on a Scooter Gennett fly ball, thinking Cubs center fielder Arismendy Alcantara would catch the ball. The ball ended up hitting up against the ivy-covered wall, but Braun was thrown out at the plate because he initially retreated to second base to tag if there was a catch.
"Really it is what he reads," Brewers manager Ron Roenicke said. "With no outs, you come back and tag automatically if you think a guy has a chance to catch it. With one out, you just go by what you see. When the ball was hit, I thought he was going to catch it. (Bench coach) Jerry (Narron) is sitting next to me, and he thought he was going to catch it. Brauny thought he was going to catch it.
"I'm OK with him doing it. Once you see maybe he isn't going to catch it, now you have a tough decision because you are already tagging. If you slide off the bag, yeah you can score, but if you slide off the bag you aren't going to be able to tag. That's a tough play."
The out at the plate was quickly forgotten about when Khris Davis followed by hitting a hanging curveball from Arrieta into the left-field corner for a two-out double to score Gennett.
"I just got a good pitch to hit and put a good swing on it," Davis said. "The play before that, they had some momentum on defense but luckily I just got them at the right time."
Gallardo returned to pitch a scoreless seventh inning, while Will Smith turned in a perfect eighth inning. The Brewers got a big insurance run in the top of the ninth when Gennett followed Aramis Ramirez's two-out double with an RBI single to center.
With a two-run lead, Francisco Rodriguez was able to convert his major-league leading 36th save of the season. The bottom of the ninth wasn't easy for Rodriguez, mostly because of the first at-bat of the inning.
Cubs first baseman Anthony Rizzo fouled off seven two-strike pitches and turned an 0-2 count into a 3-2 count before striking out on the 13th pitch of the at-bat on a Rodriguez changeup.
Rodriguez even got creative because of how many pitches Rizzo was fouling off.
"Pretty much I threw every pitch I have," Rodriguez said. "I even invented a cutter, which I've never thrown in my life. I was just trying to get him to put the ball in play. . . . It was like, 'Oh, wow. This can be a long inning.' So I gave him something out over (the plate) so he could put it in play. He just kept missing it.
"I even invented a pitch, the at-bat was so long. That's something I haven't done in my career. I made a quality pitch in the end, and I got him."
Pure power: Reynolds' home run in the second inning Monday was his 20th of the season, meaning he has now hit 20 or more homers in seven consecutive seasons.
Only Miguel Cabrera (244), Albert Pujols (232), Adam Dunn (219) and Prince Fielder (208) have hit more home runs than Reynolds' 205 since 2008.
"It's hard," Reynolds said of his streak of 20 or more homers. "I mean, especially not playing every day. It has been an adjustment for me since I've played every day my whole career. I just stay at it and keep working hard and take advantage of opportunities when I get them."
Follow Andrew Gruman on Twitter
---