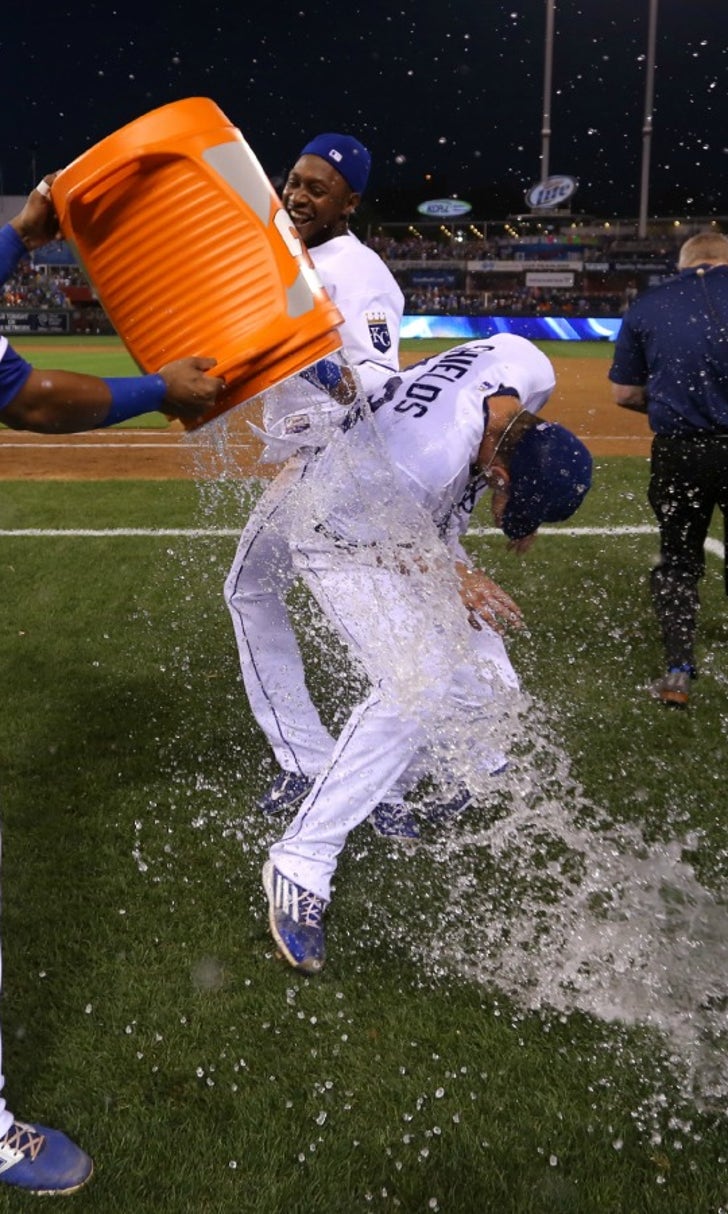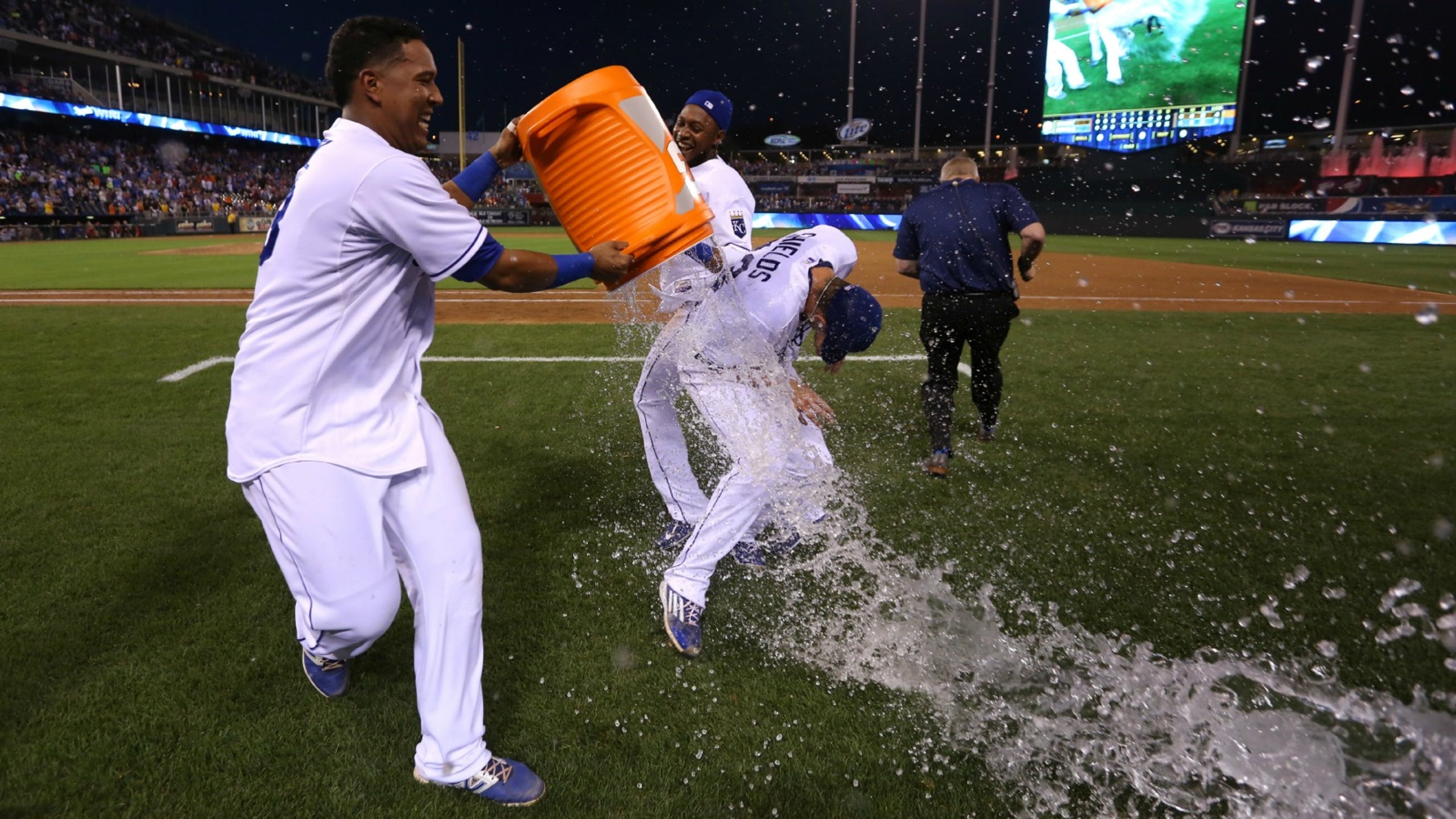 Fun continues at The K as Royals smack Giants for sixth straight win
BY foxsports • August 9, 2014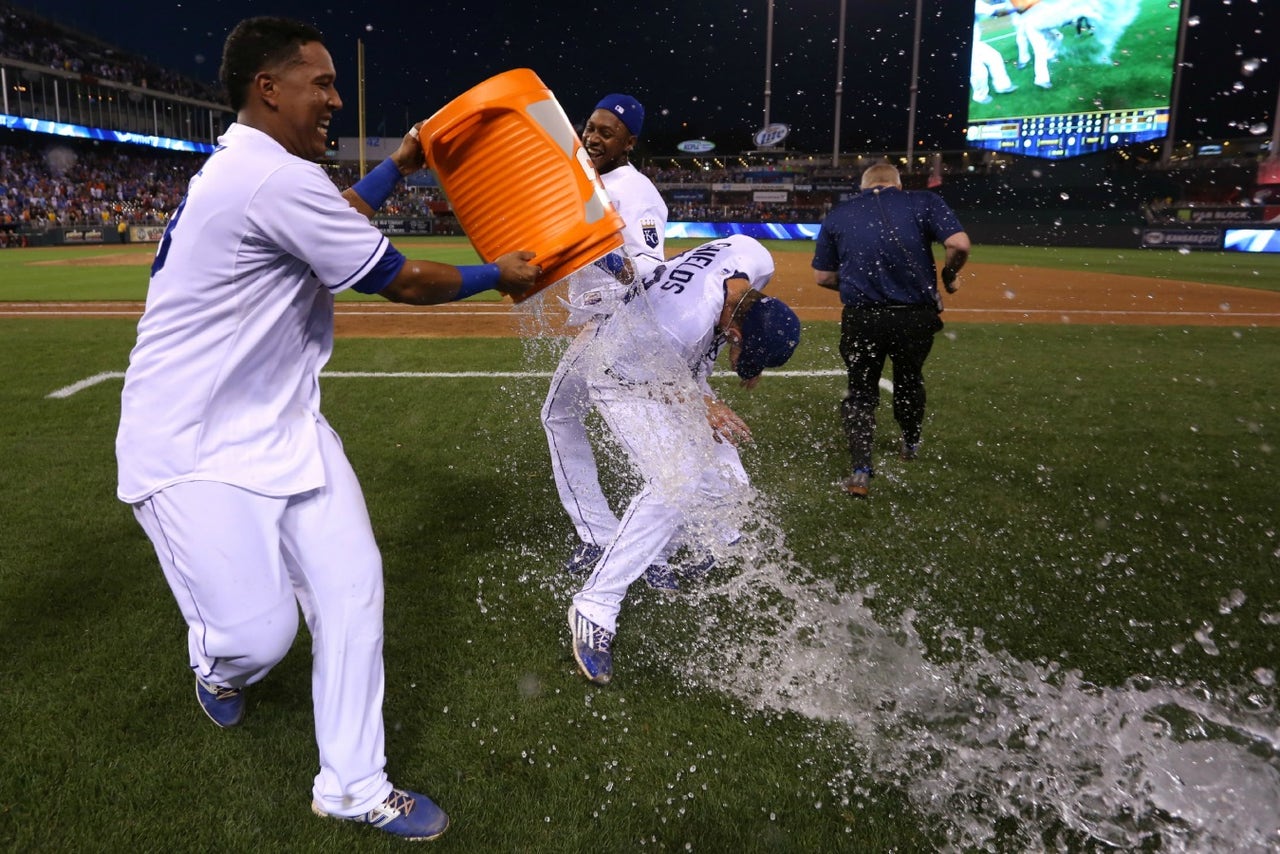 KANSAS CITY, Mo. -- Oh, my. This is getting serious.
The Royals rattled off their sixth straight win -- the 14th in 17 games -- with a whitewashing of the San Francisco Giants, 5-0, on Saturday night in front of an energetic 35,114 fans at The K.
"The crowd was awesome, man," starter James Shields said. "From the minute I started warming up, you could hear them get us going. Hopefully, they will continue to support us. ... This is fun."
It's fun for the Royals because they are playing sensational baseball, enough to pull with 1 1/2 games of the division-leading Detroit Tigers. The Royals also maintained their lead as the second wild-card team.
Shields and Alex Gordon carried the Royals on Saturday. Shields threw a complete-game shutout, his first since September 2012. Gordon smacked his 11th homer of the year and also added a single.
But it was Shields who dominated the proceedings. He gave up just four hits, walked one and struck out five.
"He was nails," manager Ned Yost said. "He had a sharp fastball, cutter, curveball, changeup. He commanded everything."
Yost said there was no question in his mind that he would send Shields out for the ninth.
"I tried to manage him once before in May of last year and that didn't work out too well," Yost said, referring to the infamous 2-1 loss to the White Sox in early May 2013 when he pulled a cruising Shields after eight innings for closer Greg Holland, who promptly gave up the tying run. The Royals then lost in extra innings and that loss started a long losing spell.
"Normally, we ask someone if they feel good going out for the ninth, but this time we didn't even ask."
Watch the Royals Live pregame and postgame shows before and after every Kansas City Royals game on FOX Sports Kansas City.
3 UP
-- Big Red Gordo. How fitting that on Nebraska Night at The K, former Cornhuskers star Gordon had a terrific night. Gordon got the scoring going in the fifth inning when he led off with a deep blast into the right-field fountains for his 11th homer of the season. Gordon also had a key hit in the four-run seventh and scored. And just for good measure, he made a couple of nice snares in left field. Asked if all the Nebraska fans in the stands inspired his home run, Gordon responded with a sly smile: "I hit home runs all the time. What do you mean?"
-- Clutch hits. You can't say enough about the clutch hitting the Royals executed in the bottom of the seventh. It all started with a Billy Butler smash off the center-field wall for a double. After Gordon's single pushed him to third, Lorenzo Cain won a long duel with Giants starter Tim Hudson and pushed a grounder into right field for an RBI single. That gave the Royals a 2-0 lead.
"Man, I was just trying to get it to the outfield, get that run home," Cain said. "I was just battling."
After a double play, Mike Moustakas won a battle against tough lefty and former Royal Jeremy Affeldt (who made his first Kauffman Stadium appearance since he pitched for the Royals in 2006) by doubling down the right-field line. That made it 3-0. Alcides Escobar then singled to left, scoring Moose. Esky took second on the play. And then Jarrod Dyson also beat Affeldt with an RBI single.
"We probably don't have innings like that enough," Gordon said. "But it shows that we can."
-- Defense. The Royals got great defense at the corners. Moustakas started an inning-ending double play in the fourth by snaring a wicked shot off the bat of Michael Morse. Moose also made a nice stab to his left on a sharp grounder by Matt Duffy in the eighth and threw him out. Meanwhile, Butler at first made a nice pick off a low throw from Escobar at shortstop in the fifth. Butler also made a sweet grab to his right off a hard grounder from Pablo Sandoval in the seventh and made a nice toss to Shields covering the bag.
3 DOWN
-- Raul's DP. Really not much to complain about. At all. But Raul Ibanez did almost short-circuit the Royals' big four-run seventh. After Cain's big RBI hit, the Royals still had runners on first and second with none out. But Ibanez got jammed and rolled into an easy 4-6-3 double play, seemingly killing the rally. But Moose and Co. saved him with some clutch hitting.
-- Big Sal only so-so. Salvador Perez did get a bloop single in the first. But with Nori Aoki on second base and two out in the sixth, and the Royals clinging to a 1-0 lead, Perez reached for a pitch out of the zone and flied out to end the inning. Nit-picky, I know.
-- Nothing. Absolutely nothing. There's nothing else to pick apart in this win. It was clean and tidy. And the Royals are rolling. No complaining from anyone.
You can follow Jeffrey Flanagan on Twitter @jflanagankc or email him at jeffreyflanagan6@gmail.com.
---