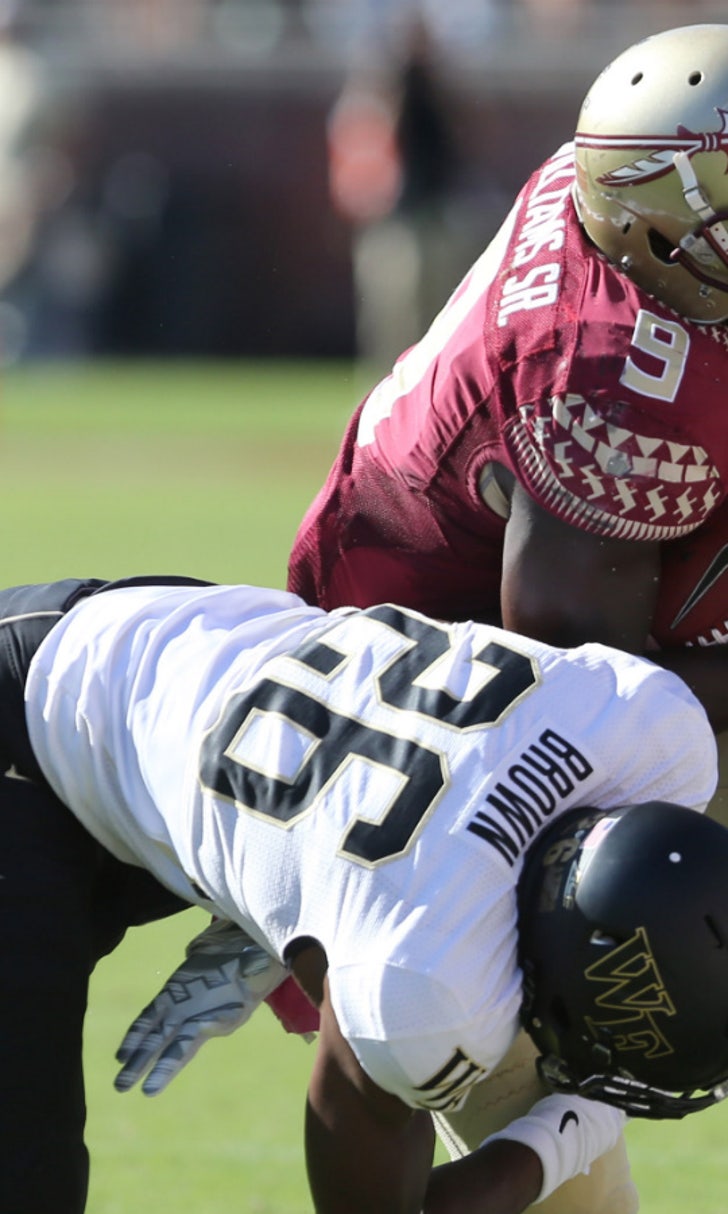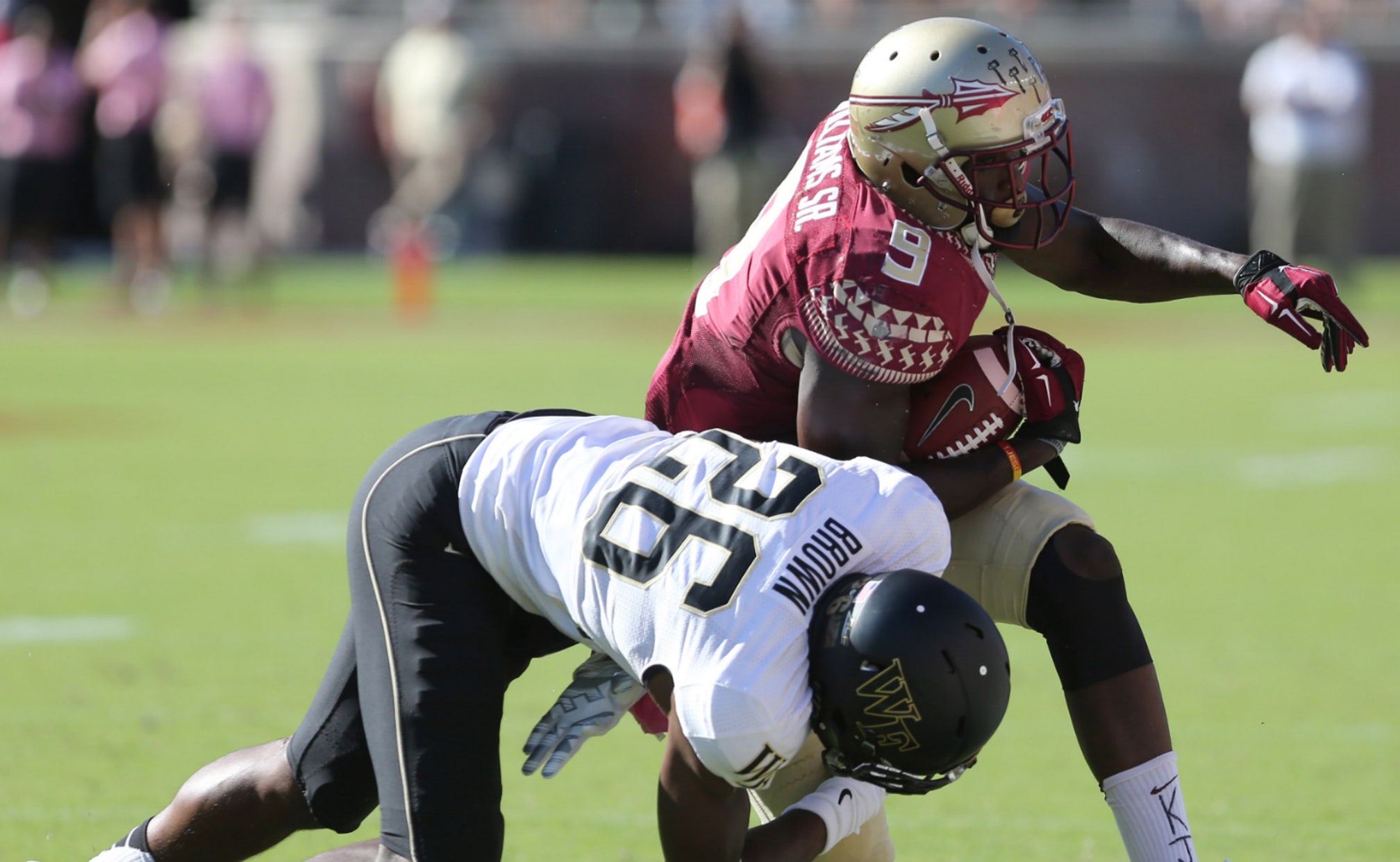 FSU RB Karlos Williams unlikely to play Saturday vs. Syracuse
BY foxsports • October 6, 2014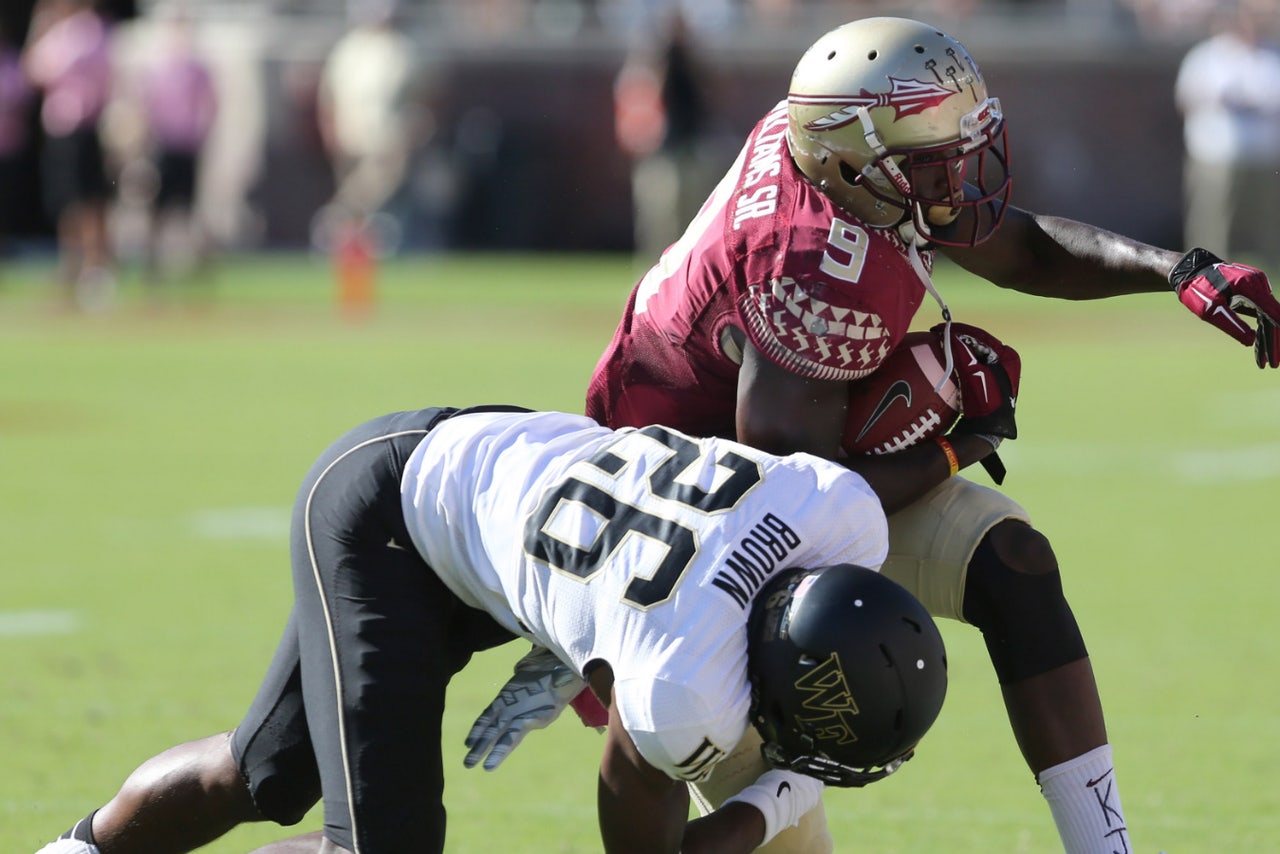 TALLAHASSEE, Fla. -- Florida State's 40-point victory over Wake Forest on Saturday was both costly and beneficial.
The Seminoles' offense struggled, and postgame news that three starters sustained injuries couldn't have come at a worse time.
"Sometimes the gods smile on you, and sometimes they don't," Florida State head coach Jimbo Fisher said of the injuries. "When you run a bunch of big guys into each other some people are going to get hurt."
Starting center Austin Barron broke his arm and will be out indefinitely. Wide receiver Rashad Greene sat out the entire second half with a concussion and is questionable for this Saturday. Running back Karlos Williams injured his ankle. Fisher doesn't expect Williams, who leads FSU with 353 rushing yards and five rushing touchdowns, to be available for Saturday's game at Syracuse.
"People heal differently, but he'll be in a boot today," Fisher said.
The injuries to Barron and Greene brought with them the opportunity for three freshmen to see increased action and impress coaches.
Center Ryan Hoefeld entered the game and immediately struggled, snapping a ball over quarterback Jameis Winston's head, but he eventually found his bearings and played well.
"Hoefeld did an outstanding job in my opinion," Fisher said. "His calls, his blocking... (He) did an outstanding job coming in and blocking up front."
With Greene failing to return for the second half, the Seminoles were left with a giant void at wide receiver. Fisher and wideouts coach Lawrence Dawsey called upon freshmen Travis Rudolph and Ermon Lane.
"Those two guys played big," Fisher explained. "Rudolph and Ermon Lane are really coming along. I thought those guys did an outstanding job stepping up and accepting that role and that responsibility in that part of the game."
The head coach had especially high praise for Rudolph, who caught a 59-yard touchdown from Winston during the second half of Florida State's victory.
"I've been very pleased, that guy [Rudolph] is just growing," Fisher said. "There's a possibility of him starting this week depending on the package we come out in."
Florida State, following tradition, chose players of the game for both offense and defense after the Wake Forest victory. In a rare occurrence, multiple freshmen were selected.
"On offense we picked three guys -- Hoefield, Travis Rudolph and Ermon Lane," Fisher told the media. "I thought those three guys were our players of the game, and that's really encouraging to me."
---