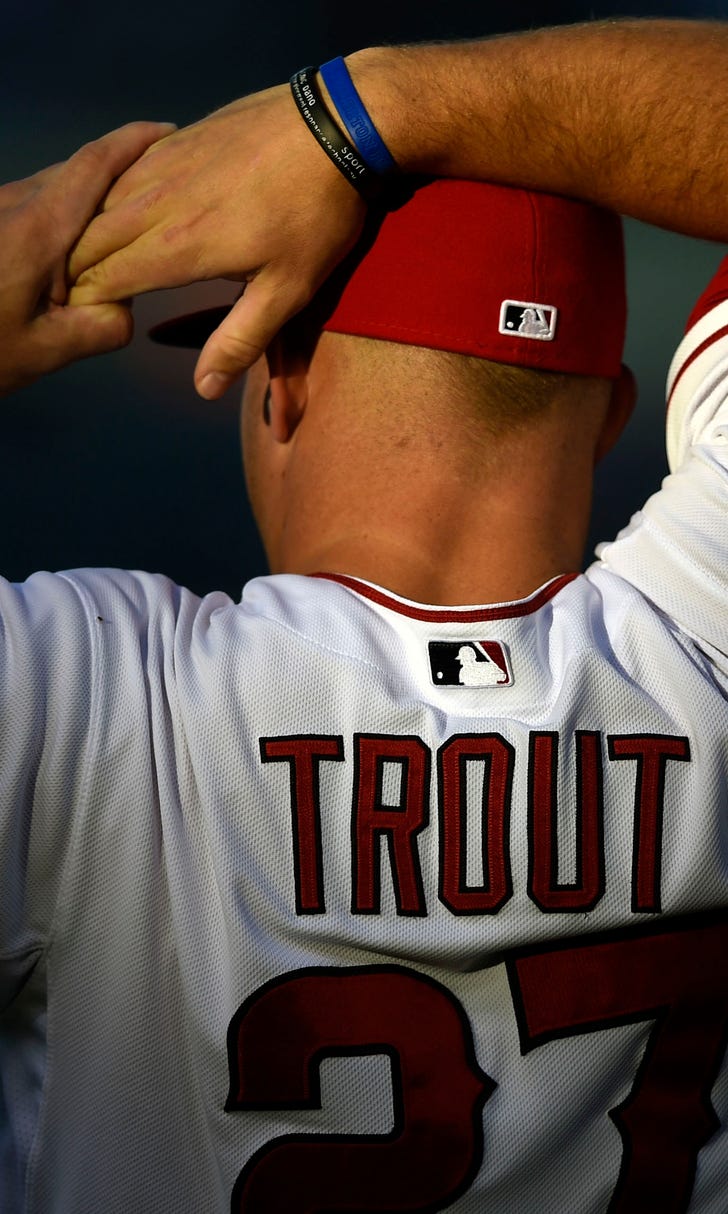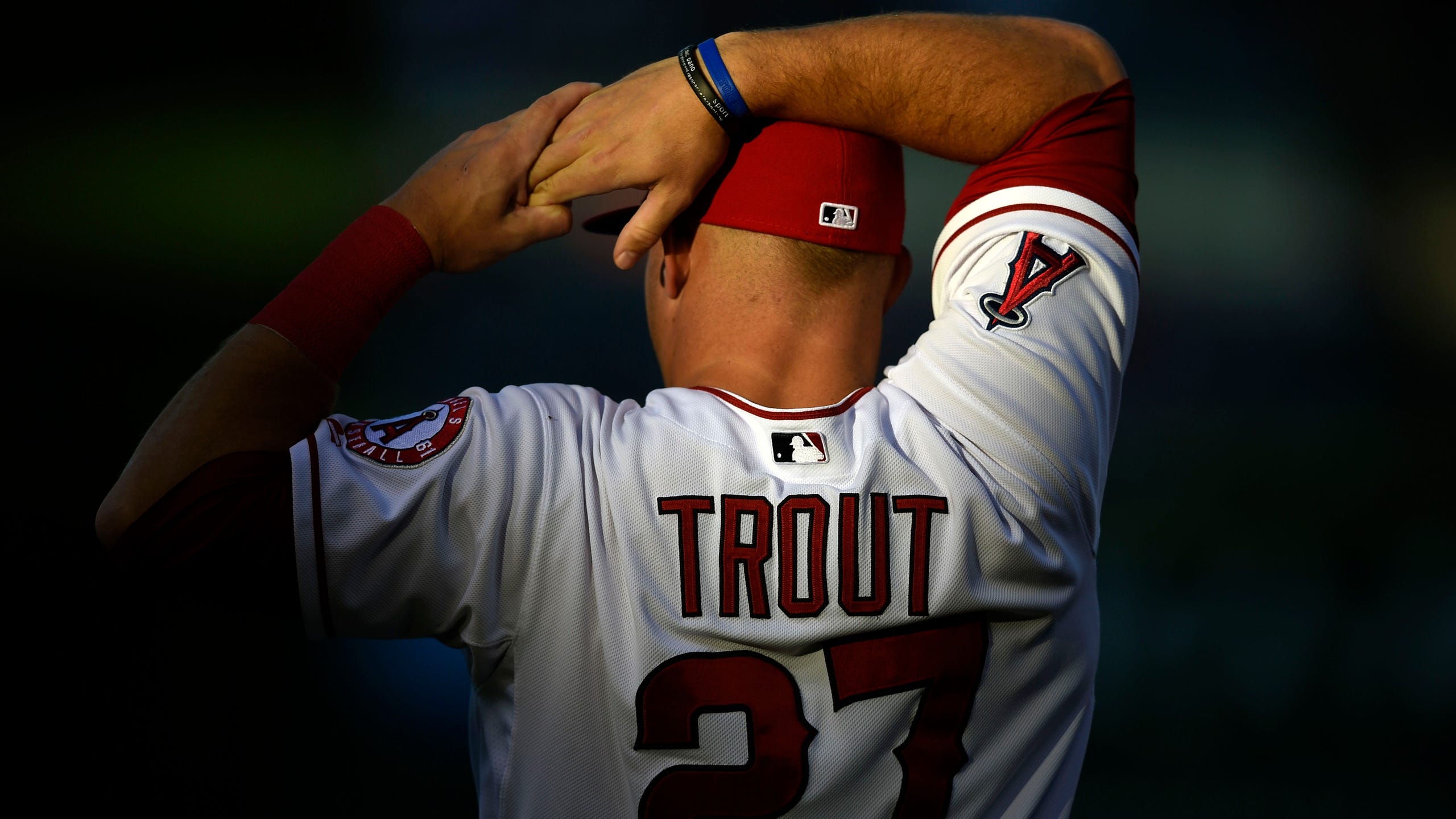 Freeway Series Game 3 notebook: Happy birthday Mike Trout
BY foxsports • August 7, 2014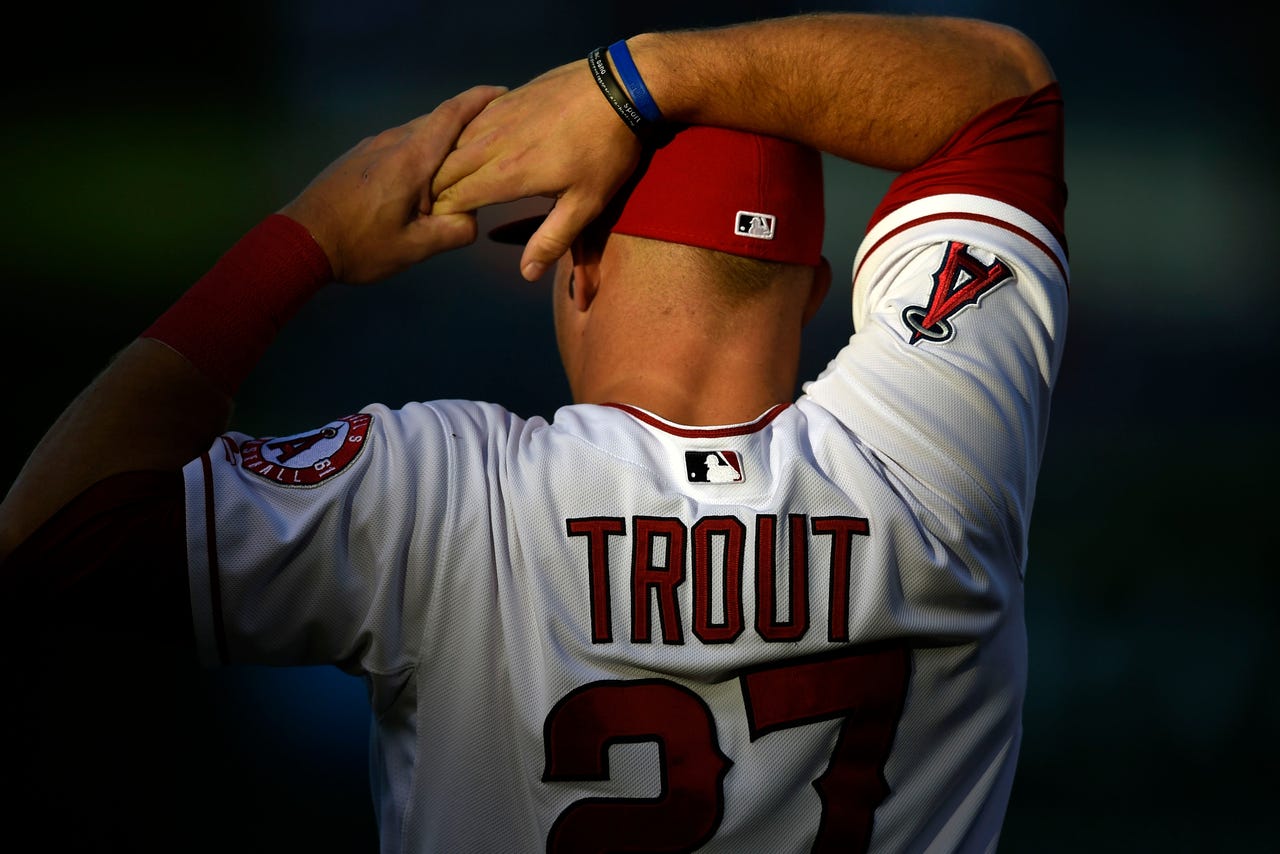 ANAHEIM, Calif. -- Hank Conger just didn't want to face the cutter. Or the splitter. Or the two-seamer.
The Angels' catcher that was responsible for breaking up Dan Haren's perfect game Wednesday night knew had an idea of what might have been coming to him. He used to catch Haren during the right-hander's days at the Big A and of all the pitches in his repertoire, there were a couple he really didn't want to hit.
So when he saw a fastball coming in the sixth inning, he swung. Conger sliced a single up the middle. 
"With him, he throws all of his pitches for strikes, so you can't really sit on a certain pitch," Conger said. "I was just trying to swing at strikes because he's got such nasty stuff."
But Conger's aggressive approach was maybe a little too aggressive after he reached base. When John McDonald singled to center in his next at-bat, he decided to take two bases and test the arm of Dodgers' center fielder Yasiel Puig. 
There was no Mutumbo finger wave needed this time: His laser throw down to third made the statement just fine.
"I wasn't taking a risk, because there wasn't too much offense going, but maybe try to get first and third in that situation," Conger said. "By the time I hit second, I was like, 'Alright, I got this.' I was running to the bag, running hard. But he's got a cannon and he showed it off tonight."
To the outsider, it might not seem smart to test the arm of one of the game's best outfielders but his manager liked the aggression.
"He's running on the pitch and Hank had plenty of time for his read," said Angels manager Mike Scioscia. "Puig put the throw right on the bag. But we're going to stay aggressive and he made a good play on that."
Happy birthday Trout
As if you didn't already know how good Mike Trout is, he's about to join some more elite company. 
Thursday is the All Star outfielder's 23rd birthday and what he's accomplished before that age will probably take up an entire page alone in the media guide: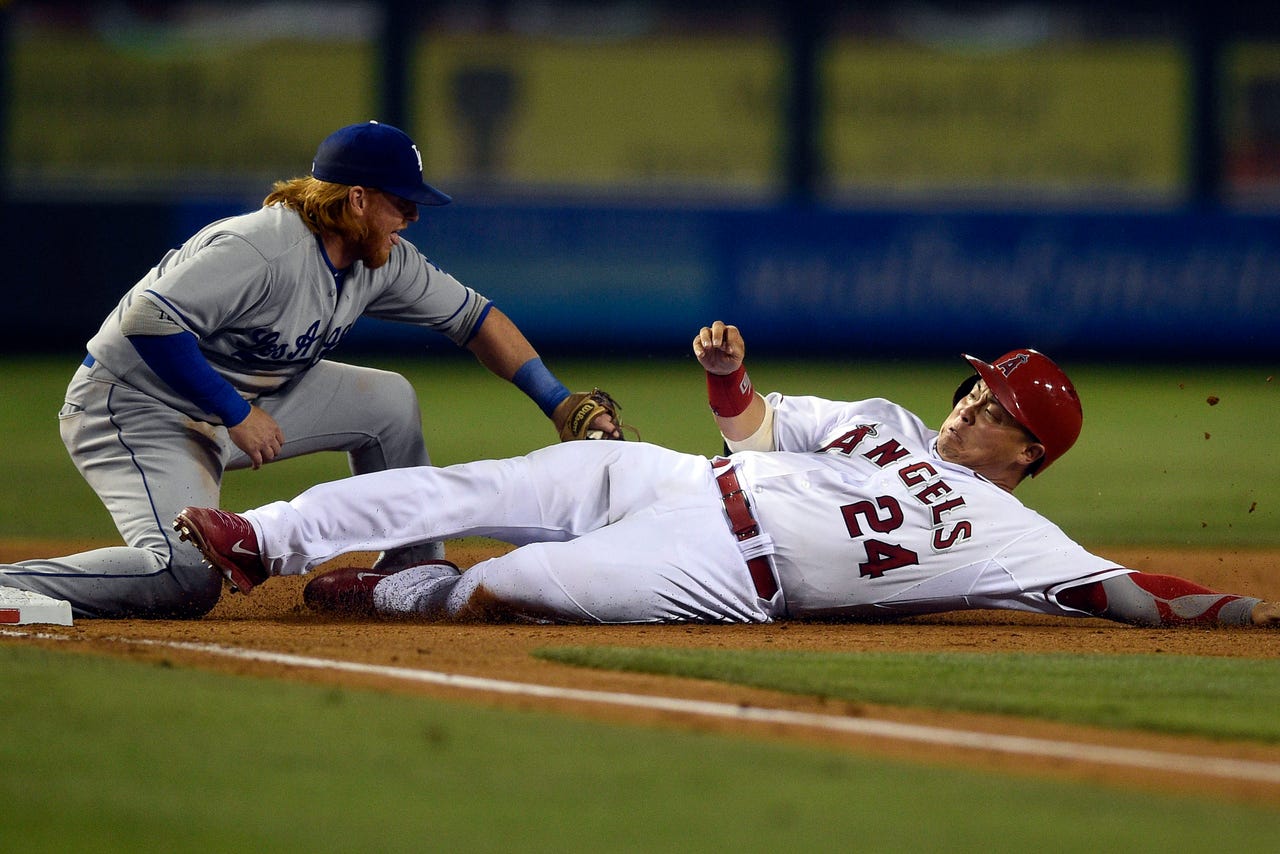 How the Angels lost (8/6): Kemp's HR changes course of Game 3
He becomes the fifth player to have multiple seasons of at least 25 home runs, 80 RBI, 100 runs and a batting average over .320 (Jimmie Foxx, Joe DiMaggio, Mel Ott and Ted Williams) before age 23.
-- Joins six other players with more than 210 extra base hits before 23 (Ott, Williams, Foxx, Ken Griffey Jr., Alex Rodriguez, Cesar Cedeno and Al Kaline).
-- Will be one of three players (Ott and Orlando Cepeda) as the only players with three season of 60 or more extra-base hits before 23.
-- Is in two categories all by himself as the only player to ever hit at least 80 career home runs and steal at least 80 career bases before 23 and the only player to record a season of at least 30 home runs, 40 stolen bases, 120 runs while hitting more than .320.
And those are just a few of the notables. Only 23, expect many more records to be shattered by Trout.
Figgins DFA'd
Prior to Game 3 of the Freeway Series, the Dodgers announced that utility infielder/outfielder Chone Figgins was designated for assignment. 
Figgins hadn't played since June 13 because of a strained oblique muscle and Justin Turner is left as the only utility infielder on the active roster.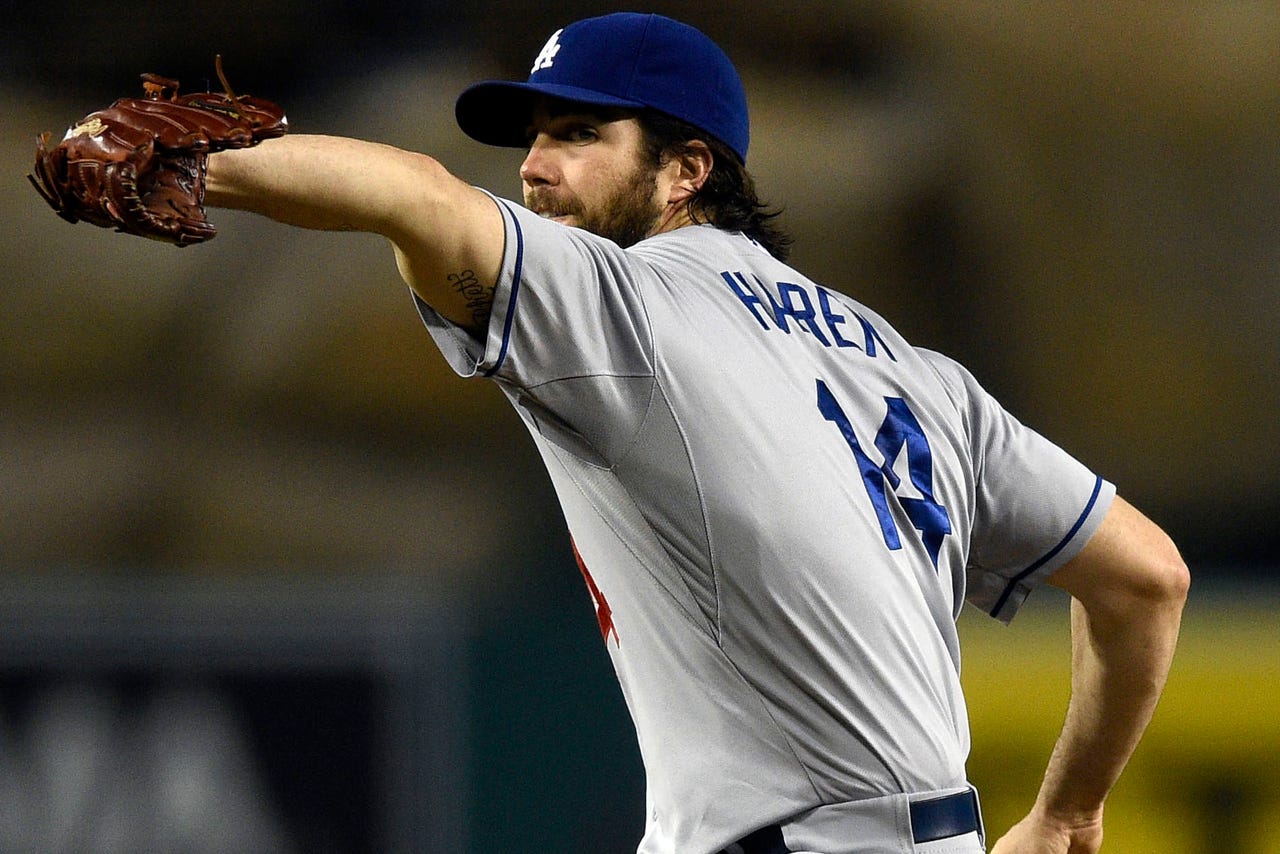 Haren snaps out of funk: 'I didn't want to be just the weak link'
On paper, it might not look like much but Figgins played a big role in mentoring second baseman Dee Gordon and was a key figure in the clubhouse.
"I think we all got pretty attached to who he is and what he brought to the club," said manager Don Mattingly. "Unfortunately, he ends up getting hurt and going down and the situation changed."
Mattingly stressed the importance of keeping around Miguel Rojas and Turner, guys that can both play shortstop and up the middle as Hanley Ramirez has battled minor injuries this season, but also said they can't replace what Figgins' clubhouse presence. 
"Again, I think we had all gotten attached to who is as a person, what brought to Dee, all that help and mentoring he did with Dee," Mattingly said. "It was a tough one." 
---