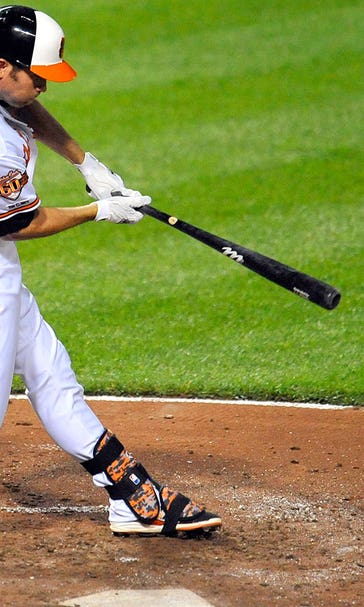 Free Agent Frenzy: Will J.J. Hardy ever homer?
June 6, 2014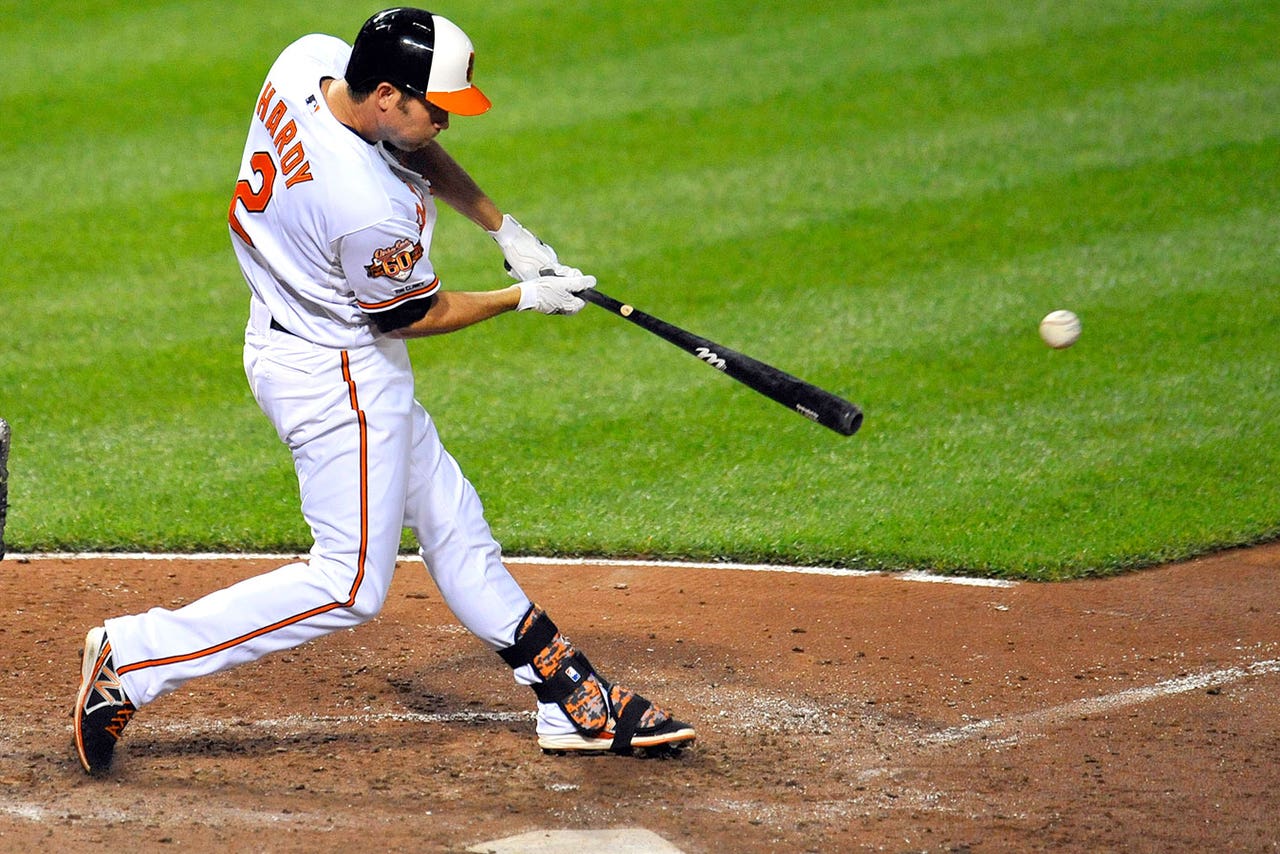 Between last week's edition of this article and this one, you probably missed out on Cardinals OF Oscar Taveras, who was called up Saturday and is owned in 45 percent of FOXSports.com leagues. Quick tip: In a 12-team mixed league, he probably wasn't worth it.
Here's this season's 10th edition of Free Agent Frenzy. Please note that, as in past seasons, no player will be mentioned in this space more than once in a four-week span, because we don't want to beat you over the head all year long about the same players. Let's get going!
(Note: All stats are through Thursday.)
Catcher: Josmil Pinto, Twins (owned in 2.6 percent of FOXSports.com leagues)
You know what's great about Pinto? Not just the seven home runs in 131 at bats, but the fact that he doesn't play quite enough for his .221 batting average to kill you. Pinto might play enough to hit close to 20 home runs, though. I'm in.
Digging deeper: John Baker (0.1 percent owned) is getting just about all the starts behind the plate for the Cubs while Welington Castillo is on the DL. Baker is a .252 career hitter without much power, but everyday at bats can help NL-only owners.
First base: Adam Lind, Blue Jays (owned in 17.4 percent of FOXSports.com leagues)
Lind missed a few weeks during April and May due to a lower back injury, but he's batting .349 with three home runs, 18 RBI, 26 runs scored and a .982 OPS in 35 games. In 2013, Lind batted .288 with 23 home runs and an .854 OPS. Yes, he sits against lefties sometimes. He can still produce for any fantasy squad.
Digging deeper: I like Kyle Blanks (0.2 percent owned) because I always get to use the word "hulking" to describe him - he'€™s 6'6", 265 pounds. Blanks plays part-time -€" mainly against lefties - but with 11 home runs between the minors and majors this season, can't your AL-only squad find room for him?
Second base: DJ LeMahieu, Rockies (owned in 3 percent of FOXSports.com leagues)
LeMahieu bats second sometimes when Carlos Gonzalez is out of the lineup, and with CarGo now on the DL due to his finger injury, LeMahieu might get more chances to steal bases. LeMahieu has pretty good speed (26 SB between the minors and majors last season) along with an everyday role. Plus, doesn't everyone at Coors bat at least .280?
Digging deeper: It sounds like Padres 2B Jedd Gyorko (foot) is headed for the DL, and if that happens, Alexi Amarista (0.3 percent owned) figures to get everyday at bats. Amarista isn't much of a hitter, but he might steal a few bases while he plays.
Third base: Trevor Plouffe, Twins (owned in 35.4 percent of FOXSports.com leagues)
Third base isn't exactly full of fantasy stars, so if you're looking for power, Plouffe can probably help if you haven't found a good replacement for, say, Nolan Arenado. Plouffe is batting his usual .250 with five home runs, 35 RBI and 29 runs scored. You could do worse.
Digging deeper: Deep mixed league owners might want to check into Conor Glllaspie (6.3 percent owned), who's batting .336 with 18 RBI in 38 games. Gillaspie's BA will come back to Earth, but he regularly posted .280-.290 marks in the minors, and he hit 13 home runs for the White Sox last season. It's not like the White Sox have anyone else good to replace him.
Shortstop: J.J. Hardy, Orioles (owned in 52 percent of FOXSports.com leagues)
ZERO homers? Come on, J.J. - you hit 77 home runs from 2011-13. This has been a fluke, and the rebound is going to start soon, right? OK, good.
Seriously, Hardy's walk rate is down, but he's hitting .297 and his batted ball distribution is about normal. This might sound cliche, but it has to get better from here.
Digging deeper: Eugenio Suarez (0.1 percent owned) batted .288 with eight homers and nine steals in the minors before getting called up earlier this week. As the Tigers' regular shortstop -€" assuming that last night's knee injury was minor - he should be an immediate AL-only target who might still be available. Suarez might not be worthy of mixed leagues right now, though.
Outfield: Gregory Polanco, Pirates (owned in 21.2 percent of FOXSports.com leagues)
Polanco, who's hitting .351 with six homers and 14 steals at Triple A, should be promoted sometime next week. I wrote about him in today's blog, and talked about him on today's Fantasy 15 podcast. Too much?
Digging deeper: Craig Gentry (0.4 percent owned) is getting plenty of playing time thanks to Oakland's outfield injuries, and has put his trademark speed to good use, scoring 21 runs and swiping 10 bases so far. Need speed in a deep mixed league? Give Gentry a try.
Starting pitcher: Yordano Ventura, Royals (owned in 46.5 percent of FOXSports.com leagues)
Last week, fantasy owners were having heart attacks about Ventura's elbow injury, which turned out to be minor (for now, at least). On Thursday, he allowed two runs in six innings. I try not to get too exuberant about rookie starters no matter how talented they are, but Ventura's ownership level has dropped to a point where you should see if he's available in 12-team mixed leagues. He still has 60 strikeouts in 63 1/3 innings with a 3.41 ERA, and you probably don't have five starters better than he is.
Digging deeper: Rubby De La Rosa (3 percent owned) might have been snatched up in your AL-only league after tossing seven scoreless innings against the Rays last Saturday, but take a look just to make sure. De La Rosa had Tommy John surgery in 2011, and spent last season walking a bunch of batters in the minors. However, he throws pretty hard, and pitched well in 10 Triple-A starts (3.04 ERA) before getting called up. If De La Rosa has another good start tonight at Detroit, he'll probably lock up a rotation slot (for awhile, anyway) and be worthy of consideration in deep mixed formats.
Relief pitcher: Cody Allen, Indians (owned in 12.6 percent of FOXSports.com leagues)
Allen notched four consecutive saves between May 30 and June 3. He's the man for the Tribe, and shouldn't be so widely available. Come on, folks.
Digging deeper: Joba Chamberlain (1 percent owned).
Ready to speculate? I'm very concerned about 39-year-old Joe Nathan and his 6.86 ERA. Go ahead and laugh, but I picked up Joba (2.59 ERA, 1.19 WHIP, 29 K in 24 1/3 innings) recently in my AL keeper league. Since this is probably the fifth time I've owned him, I'm sure the odds are finally in my favor.
---