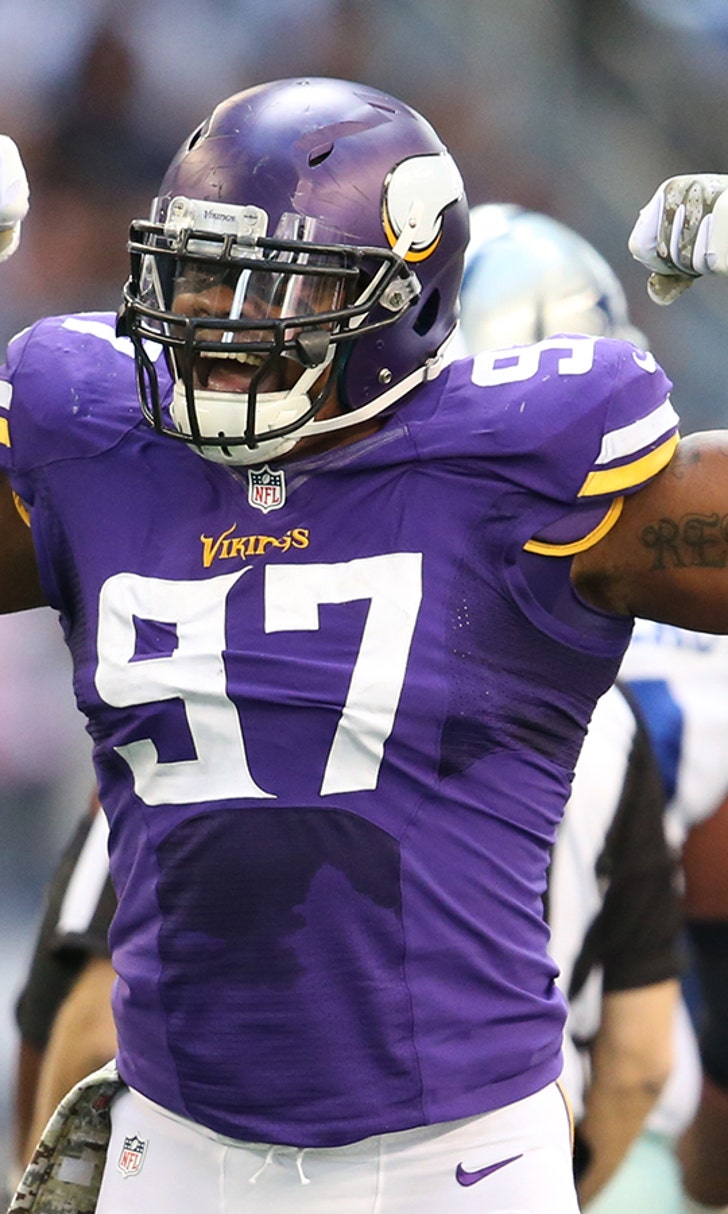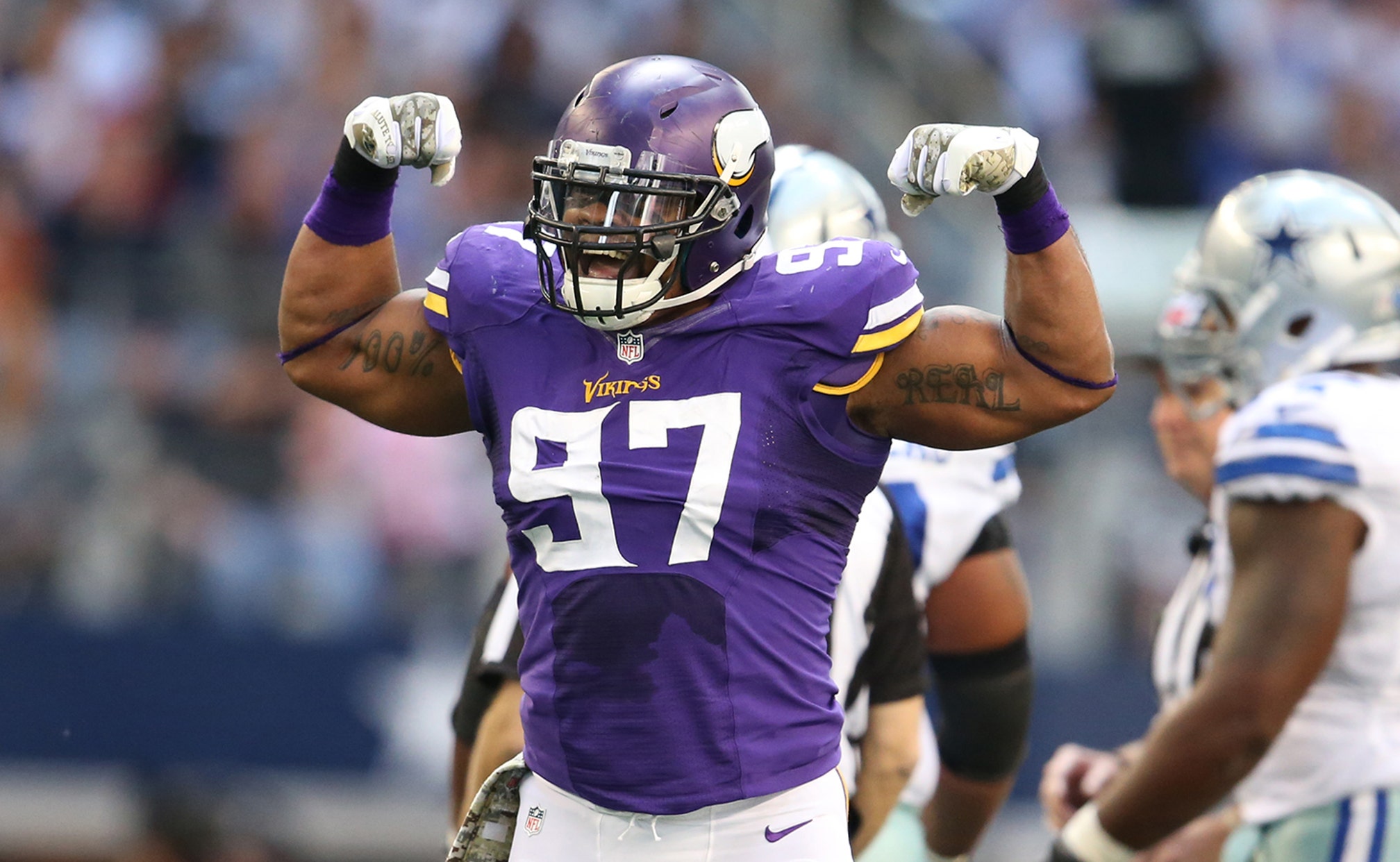 Free agent DE Griffen eager to work with Zimmer
BY foxsports • February 28, 2014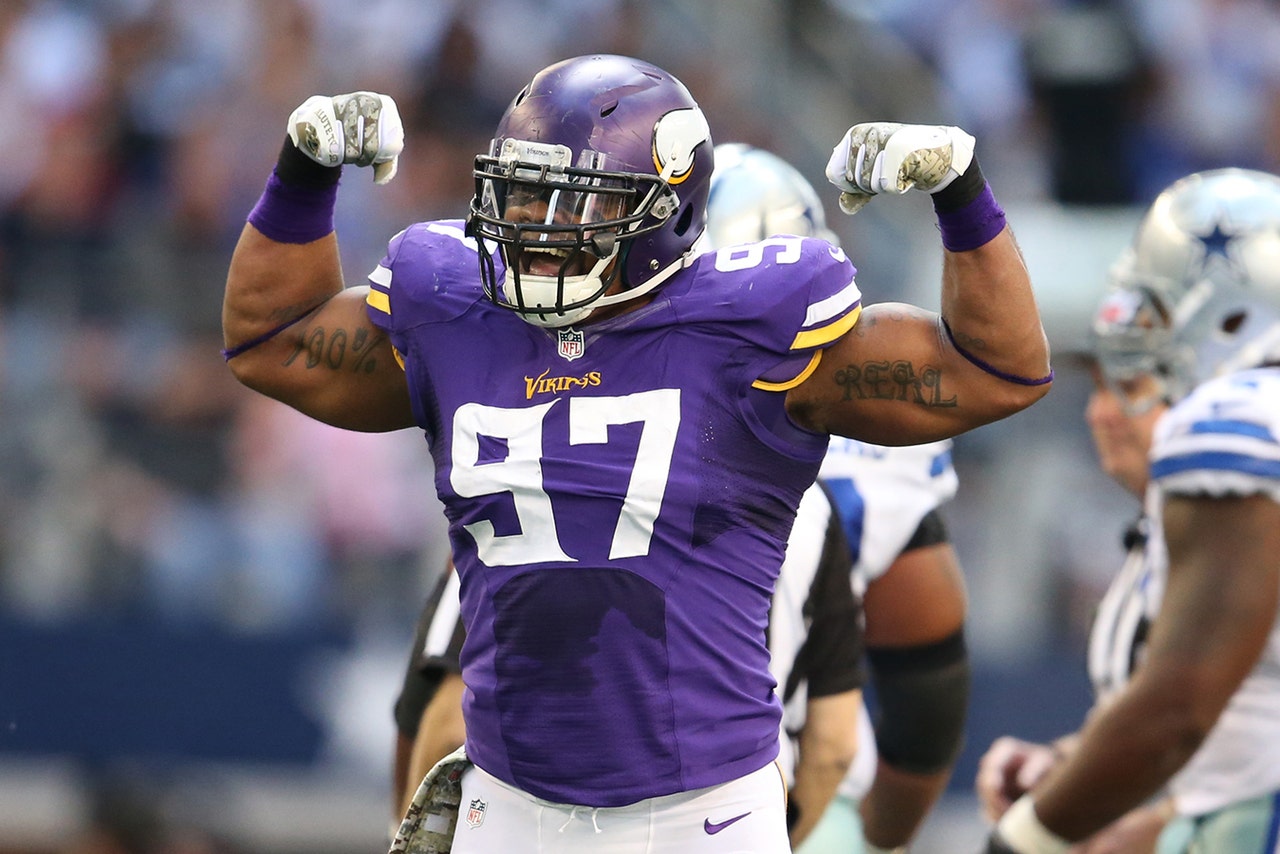 Everson Griffen didn't miss a chance to participate in early offseason activities with the Minnesota Vikings, even though the defensive end is waiting on a contract as an unrestricted free agent.
Griffen joined the team for the Arctic Blast snowmobile rally and said he was just "playing my role." He downplayed the significance of participating in team activities despite his pending free agency. Griffen wants his responsibilities with Minnesota to extend beyond an offseason fundraiser.
"Once a Viking, always a Viking," Griffen said earlier this month about taking part in the Arctic Blast. "And what I can do to get my face out there more and show them that I want to be here and I want to win a championship here and get this team to the next level, which I know I can do. And hopefully that happens so we can get the ball rolling and take the Minnesota Vikings to a place where we know we can go."
Griffen wants to remain with the team that drafted him in the fourth round out of Southern California in 2010. The two sides had talked about a contract extension for Griffen, 26, since last season. Yet one change has made Griffen's desire to stay with the Vikings even stronger.
Mike Zimmer's hiring as the new head coach has excited the players, even the ones hoping for a contract.
"He's a good standup guy," Griffen said. "Just talking to him and just feeling him out, he's the type of guy that you want to play for. He's the type of guy I want him to mold me into the type of player I know I can become. He's a great guy and I think he's going to be a great coach. Hopefully I get signed back here and I can experience his coaching."
Griffen, like the rest of the players, watched the coaching search carefully. Once Zimmer was named, players reached out to friends to find out what Zimmer was all about. All the reports were favorable, especially based on Zimmer's track record for good defenses and improving individual players.
Zimmer's impact on the team is already being felt by the players, even though they haven't had the chance to work together yet.
"We're looking for a guy that's going to be aggressive, that's going to attack, a guy that's going to coach us, just teach us the game," Griffen said.
Griffen's game fell off a bit last season. Projected by many as a potential breakout player in the preseason, Griffen slipped from a career-high eight sacks in 2012 to 5.5 sacks in 2013. He bested his career-high in tackles last season by one, finishing with 27, and continued to show his versatility by playing inside and outside along the defensive line.
Zimmer's defenses are known for versatility, and Griffen brings athleticism and flexibility. The Vikings have tried him at linebacker, but Griffen wants to see what he can do as a full-time defensive end and sees the opportunity as the starting right end.
"I'm a 4-3 end," Griffen said. "I play inside, I play outside. I do it all. But I'm really trying to build this and get it going at defensive end. I want to be that guy that they can count on day-in and day-out at defensive end. If it's 4-3 or 3-4, I'm willing to do anything. But I think (Zimmer's) going to run 4-3 and that's what he's comfortable with, and me at the end, me and (Brian Robison), so hopefully I get that chance to be able to show what I can do day-in and day-out."
Minnesota has a need, and a starting spot, with Jared Allen also a free agent and unlikely to be back.
Griffen is still a free agent as the March 11 opening to free agency closes in. Both sides have had talks and Spielman was set to meet with Griffen's agent during the NFL Scouting Combine in Indianapolis in his quest to meet with agents for all of Minnesota's pending free agents.
Spielman contends the Vikings are keeping an open mind on all their free agents. Griffen's mind is open, too, but certainly he has a first choice.
"I can't talk to no other teams right now, but I really don't want to," Griffen said. "I want to be here. But I'm a free agent now, so if it comes to that, then it comes to that. But I'm here now and I'm showing them that I want to be here, so let the chips fall where they may."
Zimmer was asked about his defensive line while at the combine and whether Robison could play right end. Curiously enough, Zimmer brought up Griffen's name unprompted.
"I just don't know enough about (Robison), about each person and how effective they are and vice versa," Zimmer said. "Everson, I know he's a good athlete and all that, but I don't know."
Of course, Griffen has heard the stories about Zimmer's fiery personality. Griffen said he can respond to a coach with some fire.
"I thrive off that," Griffen said. "I want a coach that's in my face because it's only going to make me a better player. If he has enthusiasm, if he's getting in your face, I thrive off that. I love that. That's what makes me play the best. So, a guy that's in your face telling you what you're doing wrong, what you need to do, you live for that.
"And the game we play, it's very crazy, so you have to be able to adapt to the situation and by a guy who's always going to have you ready and prepared during the game. So, I love that. That's my type of football right there."
Follow Brian Hall on Twitter
---