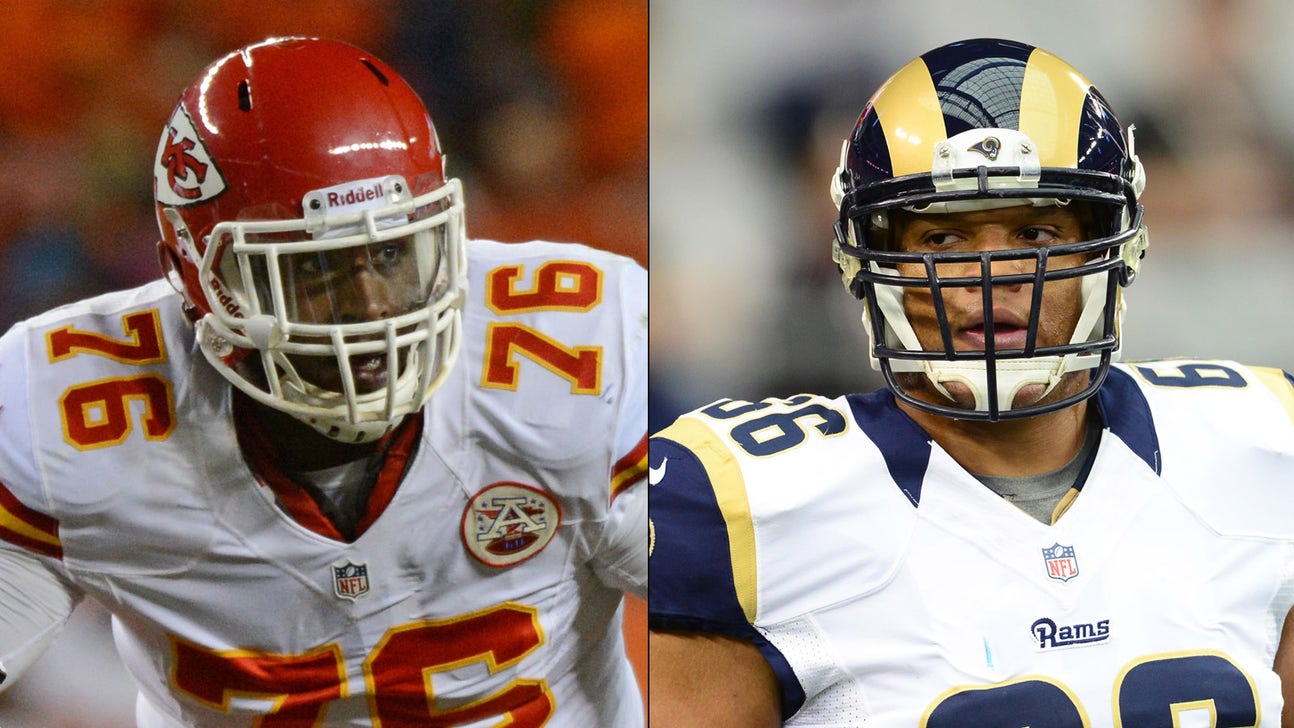 Free agency review: Dolphins focus on secondary, trench needs
Published
Mar. 18, 2014 11:00 a.m. ET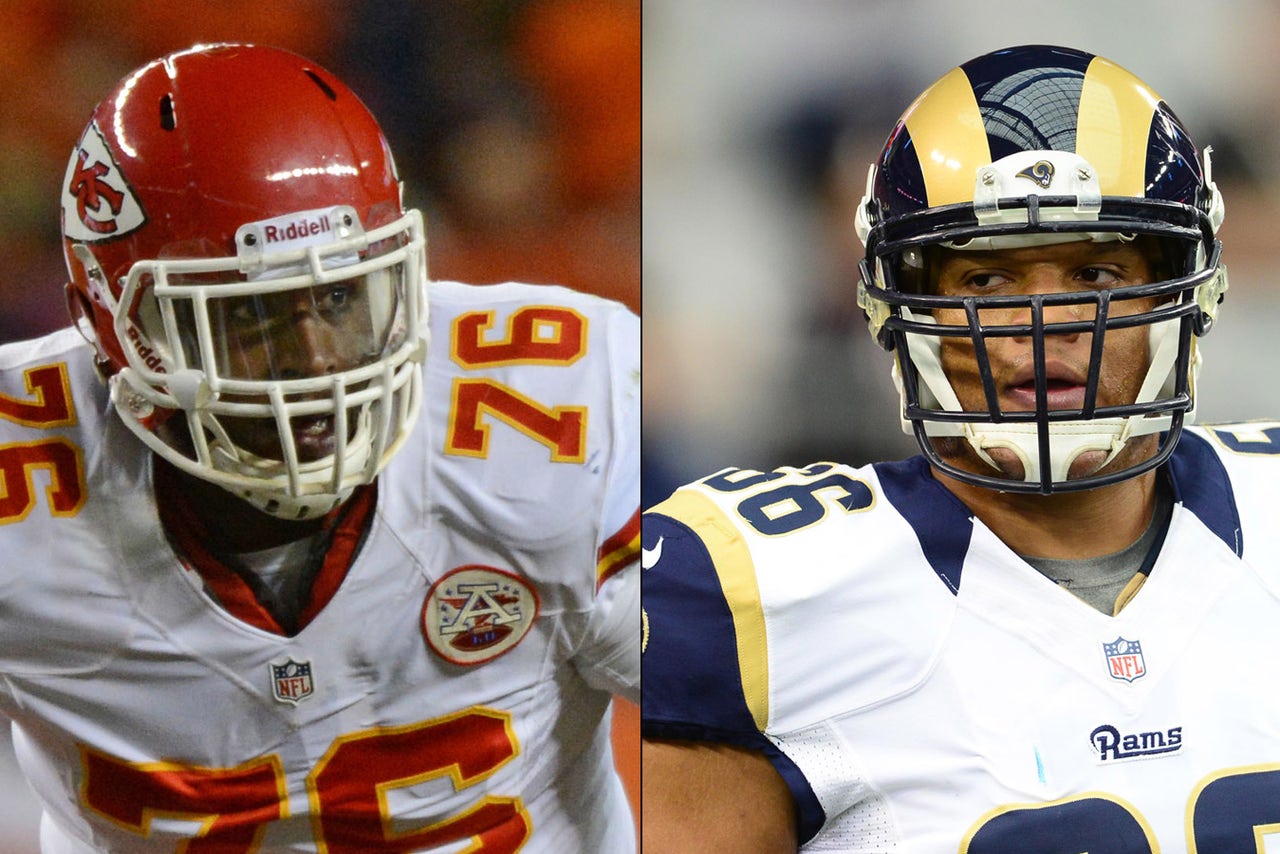 New general manager Dennis Hickey and the Miami Dolphins have been very active this offseason as they entered free agency with around $35 million to spend. While the free agency period didn't start until Tuesday March 11, the Dolphins started to adjust their roster with the re-signing of cornerback Brent Grimes and the signing of former Detroit Lions safety Louis Delmas.
The moves didn't stop there as the Dolphins were as active as expected as soon as the new league year started last Tuesday. In total, the Dolphins have signed five new players, re-signed two of their own and have seen four players leave for greener pastures.
Here is a full offseason overview as free agency heads into its second week.
COMING
OT Branden Albert (five years, $47 million)
The first big signing of the free agency period came with Albert coming over from Kansas City. The Albert signing was the first step in rebuilding an offensive line that allowed a league-high 58 sacks. With a potential franchise quarterback in Ryan Tannehill taking that many hits, they had to make the offensive line a priority.
Albert will solidify one of the most important positions in the NFL and protect Tannehill's blind side. He is also a very solid run blocker and should help a Dolphins running game that ranked 26th in the NFL.
S Louis Delmas (one year, $3.5 million)
An underrated move here for the Dolphins as they get a young safety (age 26) for a bargain. Delmas has been hampered by injuries but similar to what happened with the Dolphins signing Brent Grimes last season, this is a low risk, high reward move.
Delmas is versatile enough to get his nose dirty in the trenches as he has racked up 331 tackles over his career and five sacks as well. He is also good enough to make a difference in coverage as he is coming off a season in which he picked off three passes and had eight passes defended.
DT Earl Mitchell (four years, $16 million)
Mitchell is a nice addition to the defensive line. He will add some serious tenacity to a run defense that ranked as the ninth worst unit in the NFL. Not only is he a good run defender but he is a terror on the inside and will provide a constant pass rush that should take some pressure off of Cameron Wake.
CB Cortland Finnegan (two years, $11 million)
Finnegan is a physical defender who will not be shy about getting in a wide receiver's face in bump-and-run coverage. He hasn't played his best over the last two seasons as he has been hampered by a hamstring injury and he needed eye surgery as well. However, he brings a veteran presence to a young cornerback group as well as some grittiness.
G Shelley Smith (two years, $5.5 million)
Smith is the second piece in the rebuilding effort of the Dolphins offensive line. Smith will fit in nicely at either guard position that the Dolphins see fit. He will help in both the running and passing game as he has good speed, agility and balance to take on defenders and get to the second level of a defense.
STAYING
CB Brent Grimes (four years, $32.25 million)
Grimes was a bargain signing last season after going to the Pro Bowl in 2013. He was ultimately rewarded for his efforts and the Dolphins have one of the top corners in the NFL locked down for the future. Pro Football Focus has ranked him as the best free agent corner for the past two seasons and he graded out as the second-best corner this past season.
DT Randy Starks (two years, $10 million)
Starks returns to the Dolphins after playing on a franchise tag in 2013. He had 49 tackles last season and four sacks from the defensive tackle position. He can play all three downs and is incredibly durable as he has only missed two games during his 10-year career. He will help fortify the defense and be a force in both the run and pass defense.
BEST ADDITION
Branden Albert: They may have had to overpay for him a bit but it was such a position of need that the money should be overlooked. As mentioned above, the offensive line allowed a league-high 58 sacks last season and their running game was also poor. Adding Albert protects the blind side of Tannehill and they also can move on from Jonathan Martin. Finally, bringing in Albert gives them a proven veteran who will stabilize the locker room.
NEXT MOVE?
KR/WR Devin Hester: The electrifying kick returner is on the market after being released by the Chicago Bears. Hester played four years at the University of Miami and he is from Riviera Beach, Florida. This weekend there were also reports surfacing that he would welcome coming back to his roots in South Beach.
The move would make a lot of sense for the Dolphins who need a jolt in the return game. They would certainly love to bring him and his NFL record-tying 19 return touchdowns back to South Beach.
GOING
DT Paul Soliai, Atlanta Falcons (five years, $33 million)
Soliai was probably the team's best run defender, however, he only had one sack from the inside and didn't provide any pass rush otherwise. However, losing Soliai is not a detriment to this team as they replaced him with a younger, cheaper option in Earl Mitchell. Letting Soliai walk at age 30 for the contract that the Falcons gave him was a smart move.
CB Nolan Carroll, Philadelphia Eagles (two years, $3.65 million)
Carroll leaves for the Eagles and had his best season in 2013 as he picked off three passes and started 12 of the 16 games that he played in. He also defended 11 passes as well. His loss won't be a huge detriment to the Dolphins but he was a younger, cheaper option than the Dolphins recent signing of Cortland Finnegan.
CB Dimitri Patterson (released, saving $5 million)
Patterson was released after spending the last 10 games of 2013 on injured reserve with a groin injury. While he did have four interceptions last season, he has not been able to stay healthy, especially with Miami, where he appeared in only eight games over the past two seasons. At age 30, the Dolphins saved themselves money and allow themselves to give young cornerbacks Jamar Taylor and Will Davis some much needed playing time.
OT Jonathan Martin (Traded to the San Francisco 49ers)
Something was bound to happen after the bullying scandal that involved him and former offensive lineman Richie Incognito. Luckily for the Dolphins, instead of having to release him, they actually got a conditional seventh-round pick for him. While his off the field struggles are well documented, he wasn't much of a solution at left tackle after he replaced Jake Long.
WORST LOSS
Nolan Carroll: This move made less sense as soon as they signed Cortland Finnegan to a more expensive contract. The Dolphins could've signed Carroll, who is younger and less injury prone than Finnegan, to a contract of similar length (two years) and much less money ($11 million to $3.25). Carroll had four interceptions last season as opposed to Finnegan's one, therefore the decision not to bring him back is questionable.
HAPPY TRAILS
Jonathan Martin: The bullying scandal took a toll on this team in some form and trading him to San Francisco allows both Martin and the Dolphins to start anew. As mentioned above, Martin wasn't anything special on the field anyways, so keeping him on the team would've caused more headaches both on and off the field.
You can follow Andrew Goldberg on Twitter @goaldieberg or email him at andgoldie12@gmail.com.
---