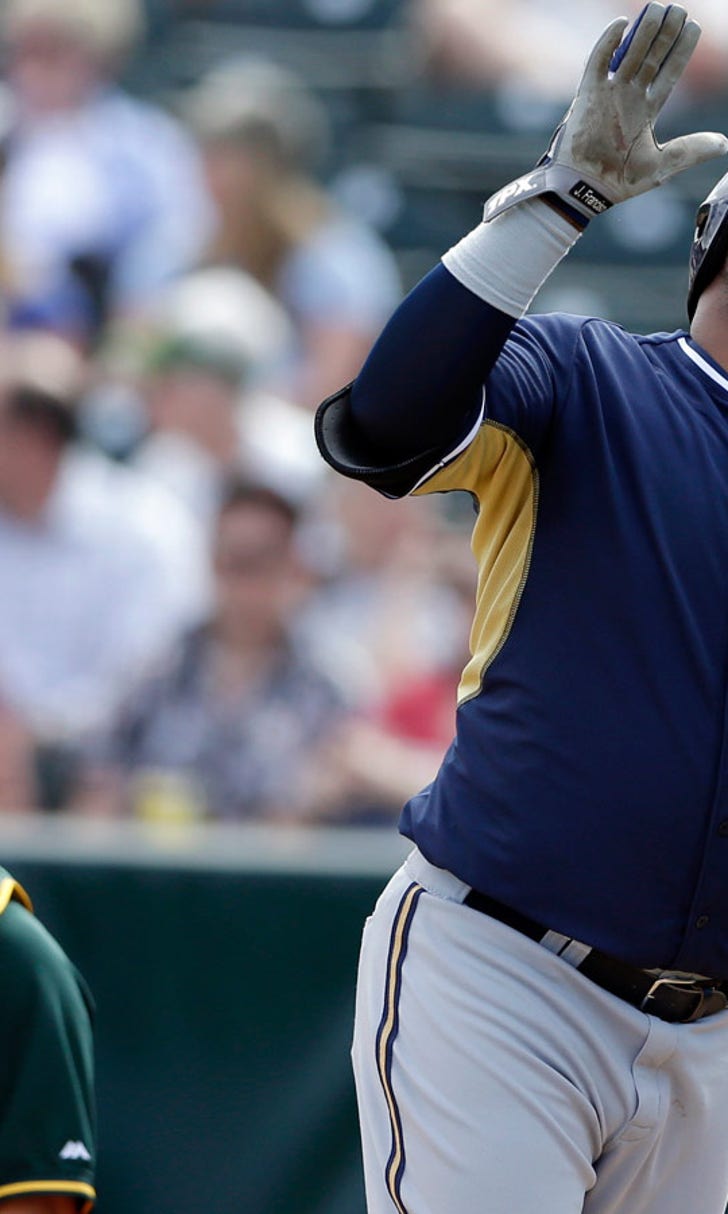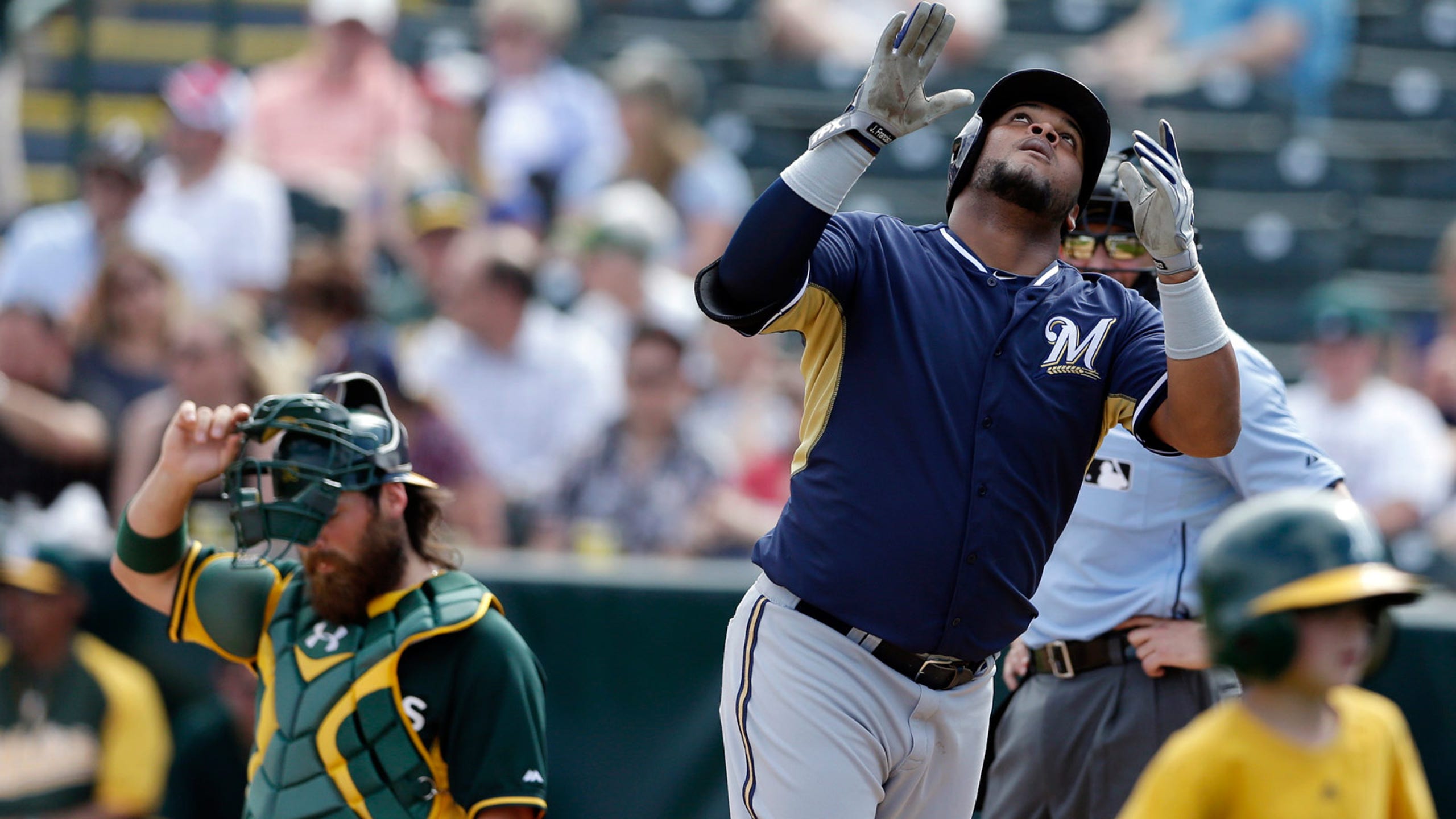 Francisco makes his noise with bat
BY foxsports • February 28, 2014
PHOENIX -- Juan Francisco is oftentimes slumped over in his locker, intently focused on his phone or iPod, seemingly oblivious to what's going on around him.
The Milwaukee Brewers first baseman rarely smiles or shows any emotion for that matter. A glance at the team's media guide usually provides a series of hobbies or interesting facts about the players, but Francsico's lists none.
His teammates, especially the Latin players, all seem to get along just fine with him, but nobody really knows much about him. Francisco doesn't speak English all that well, causing him to be extremely uncomfortable to do interviews.
In fact, he spoke just once last season after he was traded to the Brewers in early June.
Because of his big frame and lack of emotion, Francisco can come across as mean spirited, but those who know him best say that's not the case at all.
"Juan understands almost everything you tell him in English," Brewers manager Ron Roenicke said. "If I get really technical, I may have somebody else come in with him. But he understands everything.
"He's very quiet when he replies. He doesn't like to reply much. At the beginning I wanted to make sure (he understood), so I'd ask him to repeat to me what I said."
Francisco, who started 62 games at first base for the Brewers last season, is competing for a spot on Milwaukee's roster in spring training. He's intriguing because of his massive power but also strikes out in high volumes and will likely never hit for a high average.
The 26-year-old is on his third team because of this and will certainly find a spot somewhere in baseball if Mark Reynolds and/or Lyle Overbay prevent Francisco from making the team.
Francisco started Cactus League play off on a high note Thursday, blasting solo home runs in his first two at-bats. Both were towering shots, reminding everyone of just how much pop is in his left-handed bat when he squares up a baseball.
"Yeah, (I think I had a good swing)," Francisco said in a rare interview Friday at Maryvale Baseball Park. "I have to keep working.
"I just tried to make contact. That's it."
Designated for assignment by the Braves last year on May 30 and traded to the Brewers on June 3, Francisco hit 18 home runs between the two teams but struck out 138 times in 348 at-bats. He went into the offseason trying to eliminate his high leg kick and is trying to shorten his finish, keeping both hands on the bat. 
Francisco hit .260 with three home runs and 24 RBI in 40 games for Licey in the Dominican Winter League, focusing on making improvements that would help him when spring training rolled around.  
"I was working on my swing in the offseason when I played winter ball," Francisco said. "I changed a little bit my swing."
Making adjustments to his swing wasn't the only thing Francisco was focused on this winter, as he wanted to improve defensively at his new position. A third baseman for most of his career, Francisco struggled to make the shift over to first base in 2013.
Francisco made 10 errors in just 67 games at first base with the Brewers, sometimes even dropping good throws launched his way from across the diamond. He said the footwork at first base is what has caused him the most trouble in learning the position.
There's a chance Overbay would beat Francisco out for a roster spot if Milwaukee values a defensive option at first base over the power off the bench.
"I'm trying to work on first base, it's my new position," Francisco said. "I play comfortable right now, better than last year.
"When I don't work over there, everybody tried to help me at first base because everybody know I can play over there."
For a quiet and reserved guy, Francisco opened up as much as he probably ever will Friday. He was asked which baseball players he looked up to when growing up and answered David Ortiz because of the way the Red Sox slugger hits.
"My approach to the game to try to focus on the game, to try help, try to help the team," Francisco said.
There were looks of surprise from teammates when they noticed Francisco talking to a small group of reporters, but the fact he agreed to share his thoughts just a bit is a positive sign.
"Just him being comfortable is the biggest thing, whether it is language or his personality," Roenicke said. "He's more comfortable with the Latin guys, just his personality is comfortable with them."
After Francisco hit the two mammoth home runs against Oakland in the Cactus League opener Thursday, Roenicke made a bold statement by saying Francisco has as much power as anyone in the game.
"When he squares up the ball, it doesn't matter what part of the park, he's really got some power," Roenicke said Thursday. "Only a handful of guys have his kind of power."
When he heard the quote recited back to him Friday, Francisco shrugged and even began to smile just a little bit before leaning back and shaking his head.
"Nah, I'm not that powerful . . .  No, no," Francisco said.
Follow Andrew Gruman on Twitter
---