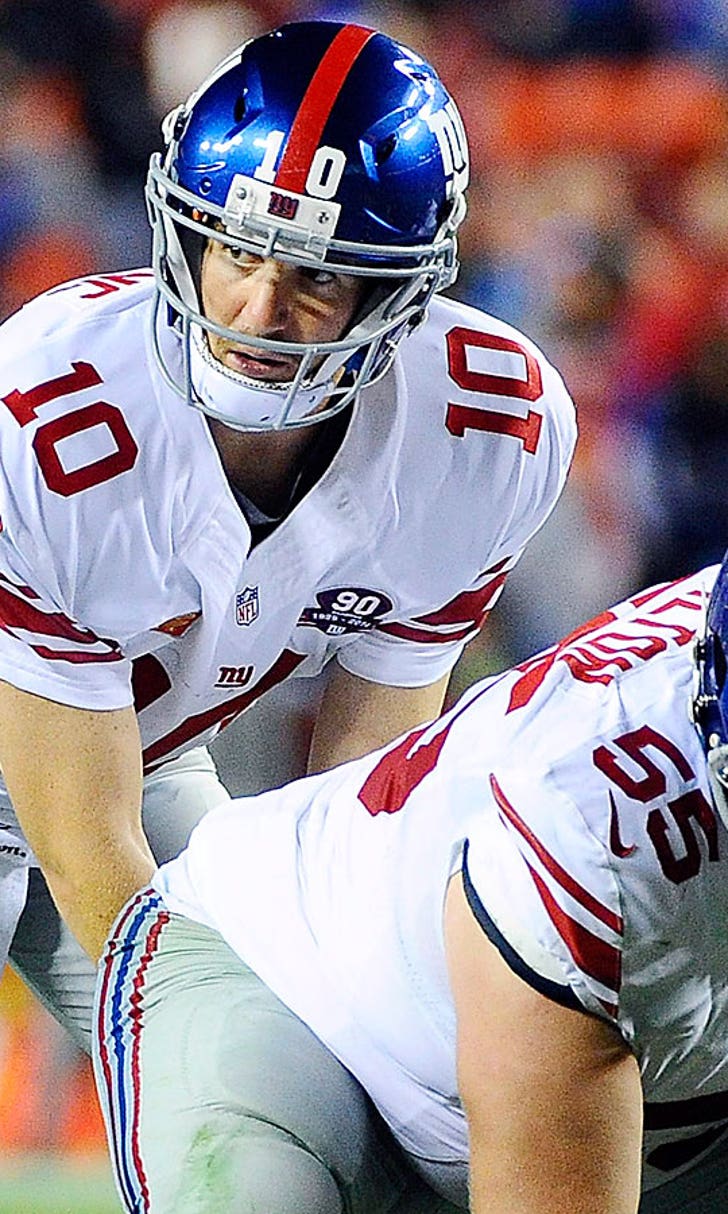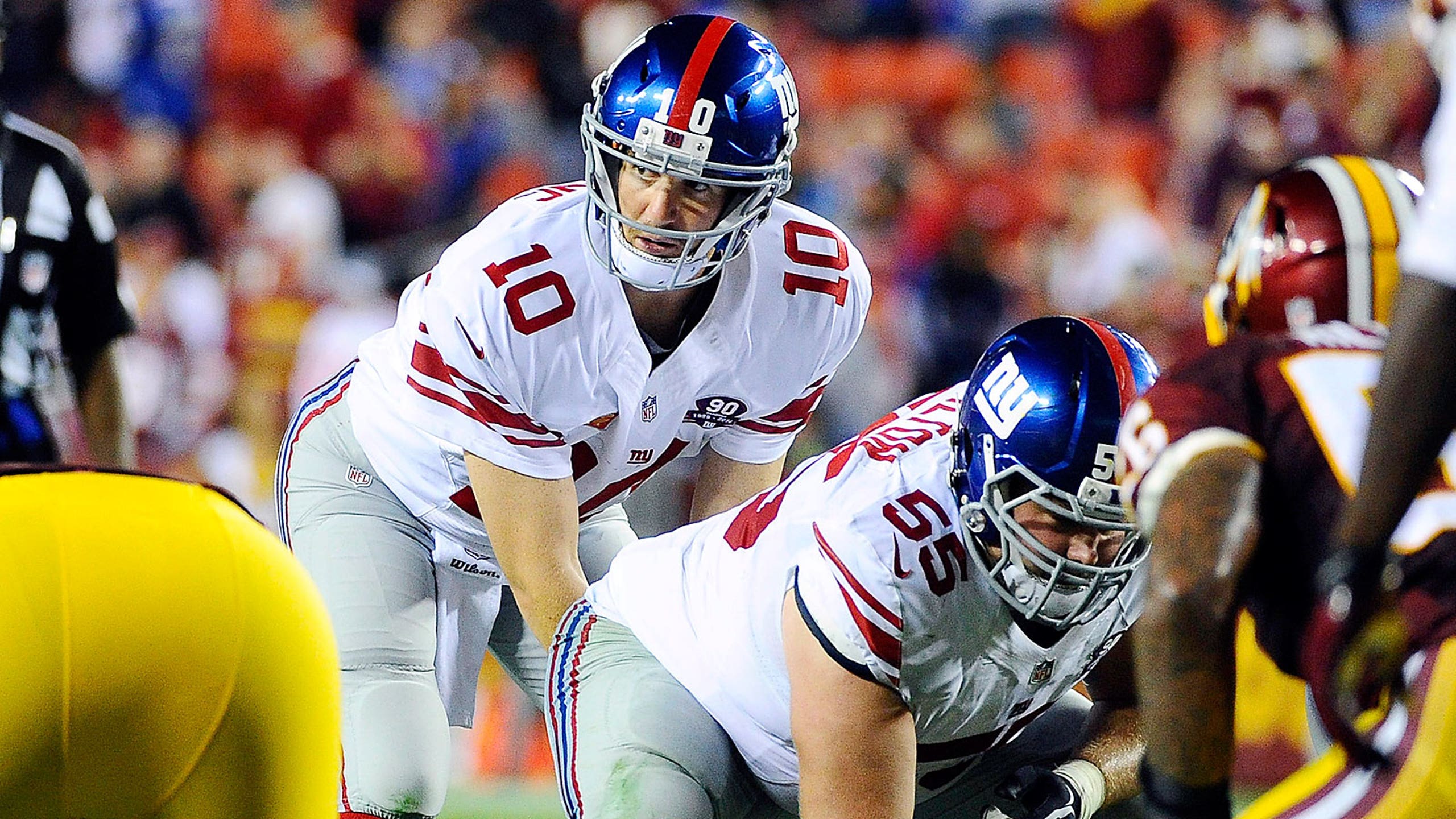 FPPG: Look to Eli, CJ2K, Marquess Wilson
BY John Halpin • December 11, 2014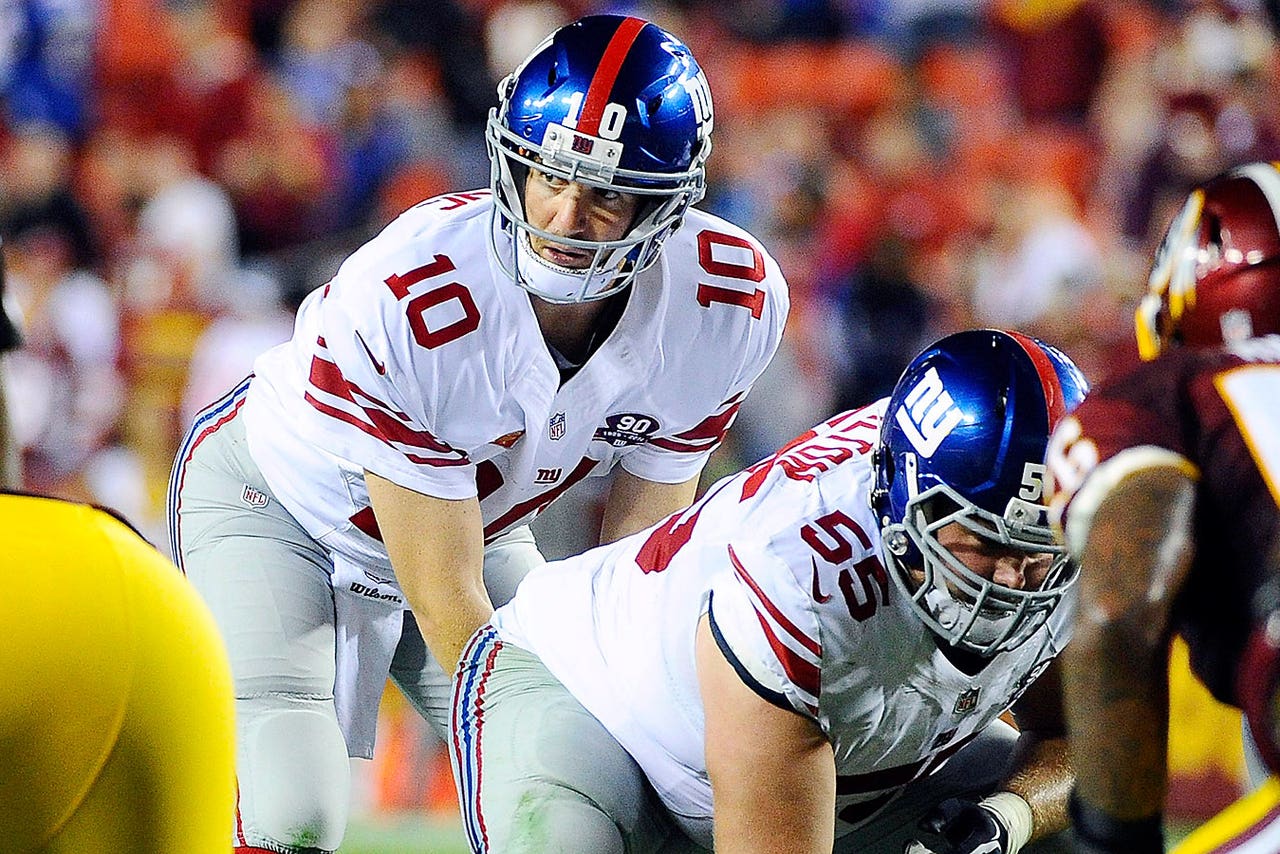 Through 14 weeks, our Position vs. Fantasy Defensive Points Allowed tool has been a tool to help you find good matchups. We had some hits (Jonathan Stewart) and misses (Frank Gore) last week.
As always, please remember that the players listed are mostly meant to be borderline guys, who need reasons for you to play or bench them. You won't see recommendations to start Calvin Johnson and Matt Forte, because you should always start Johnson and Forte. Make sense? Good.
Note: The fantasy points per game (FPPG) referenced below are from FOXSports.com standard leagues.
Thursday game: Cardinals at Rams
Quarterbacks
Stay away: Andy Dalton, Bengals (at Browns)
The Browns' defense ranks seventh with 17.1 FPPG allowed to opposing quarterbacks. In Week 10, Dalton completed just 10 of 33 passes for 86 yards and three interceptions against the Browns. Gotta sit the Red Rifle in this spot.
Also:
Can you start Colin Kaepernick against anyone right now? You definitely can't against the Seahawks, who have limited quarterbacks to a league-low 14.1 FPPG, and have allowed 20 points while intercepting four passes over their last three games. Did you see the Seahawks-49ers game on Thanksgiving night? Kaepernick had no chance, and now they'll play in Seattle. No, thanks.
Play, play, play: Eli Manning, Giants (vs. Redskins)
Eli has been very inconsistent this season, but he has a great matchup at home against the Redskins' league-worst fantasy defense (24.9 FPPG to opposing QBs). The Giants dropped 45 on the Skins in Week 4, with Manning throwing for 300 yards and four touchdowns. He's a top-12 option.
Also:
Philip Rivers threw for 252 yards and three scores last time he faced the Broncos, who rank 27th with 22.4 FPPG allowed to opposing quarterbacks. This looks to be a solid spot for Rivers.
Jay Cutler at home on Monday against the Saints' 28th-ranked fantasy defense (23.2 FPPG allowed to opposing QBs)? Yes, please.
Running Backs
Stay away: Frank Gore, 49ers (at Seahawks)
The Seahawks are also doing a good job against opposing running backs, ranking eighth with 14.7 FPPG allowed. Two weeks ago, they held Gore to 28 yards on 10 carries. Forget about Gore due to this matchup.
Also:
Ryan Mathews has been nursing an ankle injury this week, and he has a matchup with the Broncos' seventh-ranked fantasy defense (14.4 FPPG allowed to opposing RBs). Mathews isn't a top-25 RB option.
Play, play, play: Chris Johnson, Jets (at Titans)
Can a back be recommended as a fantasy starter if he's in a straight timeshare? Yes, if his team tries to run the ball on 99.9999999 percent of its plays, and if he's facing the Titans' 29th-ranked fantasy defense (22.1 FPPG allowed to opposing RBs). Johnson and teammate Chris Ivory are both worthy of your consideration, and rank at the RB2/3 cusp in standard leagues.
Also:
It looks like DeAngelo Williams (hand) will miss another game for the Panthers. So will Cam Newton, and when Newton was absent against the Bucs in Week 1, the Panther backs combined for 103 yards on 30 rushing attempts. Jonathan Stewart will be a busy man on Sunday, and he's coming off a huge game (20 carries, 155 yards, TD) in Week 14. Roll with Stewart against the Bucs' 24th-ranked fantasy defense (20.4 FPPG allowed to opposing RBs).
Wide Receivers
Stay away: Mike Wallace, Dolphins (at Patriots)
We'll need to watch this one, because as of Thursday morning, it was unclear if Patriots CB Darrelle Revis would be on Wallace or Jarvis Landry. You'll want to avoid this week's Revis Island visitor, but neither Dolphin wideout looks like a good option against the Pats' fifth-ranked fantasy defense (19.2 FPPG allowed to opposing WRs).
Also:
In investment parlance, we're shorting the 49ers in Week 15. Michael Crabtree caught nine passes against the Raiders, but he's headed for another matchup with his pal Richard Sherman and the Seahawks' league-best fantasy defense (14.8 FPPG to opposing WRs). Try again next week, Michael.
Play, play, play: Marquess Wilson, Bears (vs. Saints)
Marquess Wilson steps into Brandon Marshall's role, and gets a matchup with the Saints' 27th-ranked fantasy defense (25.4 FPPG to opposing WRs). Did you see Jay Cutler target Wilson deep a couple of times against the Cowboys last week? Look for more of that moving forward. Wilson is still available in 97.7 percent of FOXSports.com leagues if you want him.
Also:
Donte Moncrief has been targeted just four times in each of his last three games, but with teammate Reggie Wayne dealing with some injuries and considering that the Colts host the Texans' 31st-ranked fantasy defense (28 FPPG to opposing WRs) on Sunday, Moncrief looks like a decent flex option.
Martavis Bryant woke up against the Bengals (four receptions, 109 yards, TD) after a couple of down games, but this recommendation is more about the Falcons' 29th-ranked fantasy defense (26.3 FPPG allowed to opposing WRs). Bryant's teammate, Antonio Brown, might catch 50 passes in this game.
Tight Ends
Stay away: Heath Miller, Steelers (at Falcons)
Miller caught 13 passes for 153 yards in two games over Weeks 11 and 13, and followed that up with a one-catch, one-yard, one-TD outing in Week 14. Like most non-elite fantasy tight ends, Miller is inconsistent. Don't roll him out for this week's matchup with the Falcons' sixth-ranked fantasy defense (5.4 FPPG to opposing TEs).
Play, play, play: Jared Cook, Rams (vs. Cardinals)
Looking for a streamer? Cook plays tonight against a Cardinals' defense that ranks 26th against opposing tight ends (9.3 FPPG), and has given up a league-high 67.3 yards per game to players at that position. Cook is available in 69.5 percent of FOXSports.com leagues.
Also:
Not that many of you are looking to bench Jimmy Graham, but his owners are certainly concerned after a couple of bad games. Look: Graham was targeted 11 times last week. His Week 15 opponent – the Bears – have given up 11 FPPG to opposing tight ends, which is more than any other team. Graham will (probably) be OK.
---