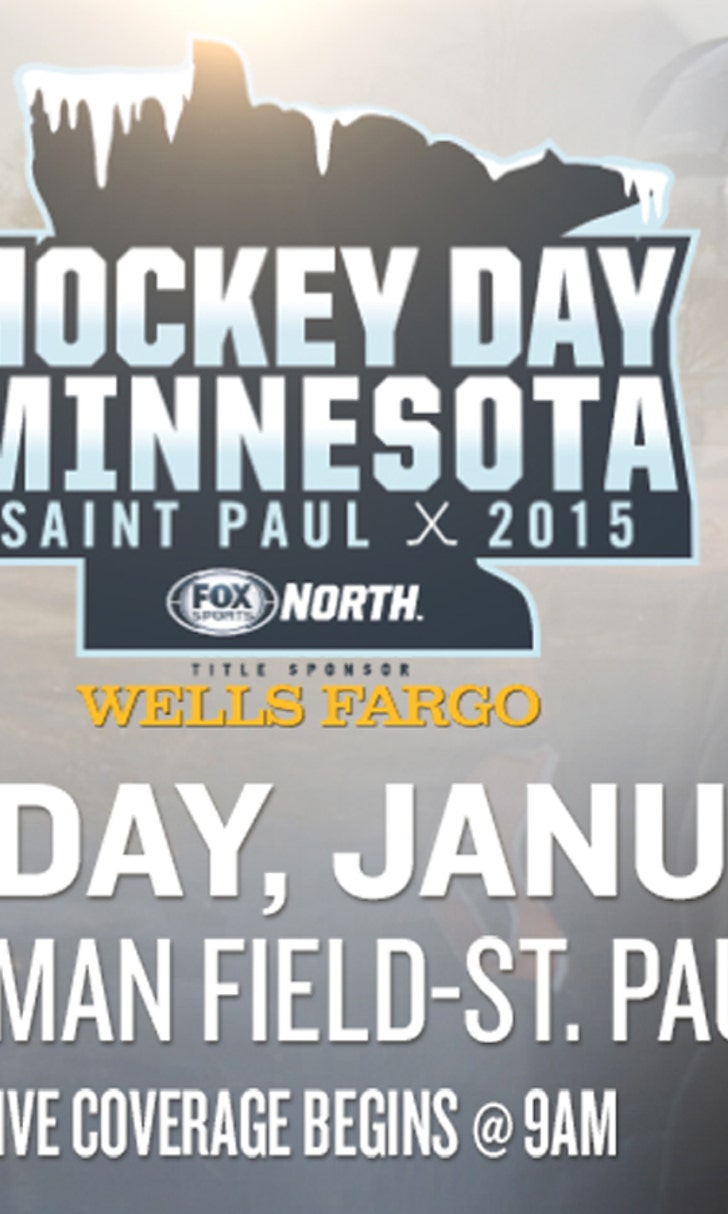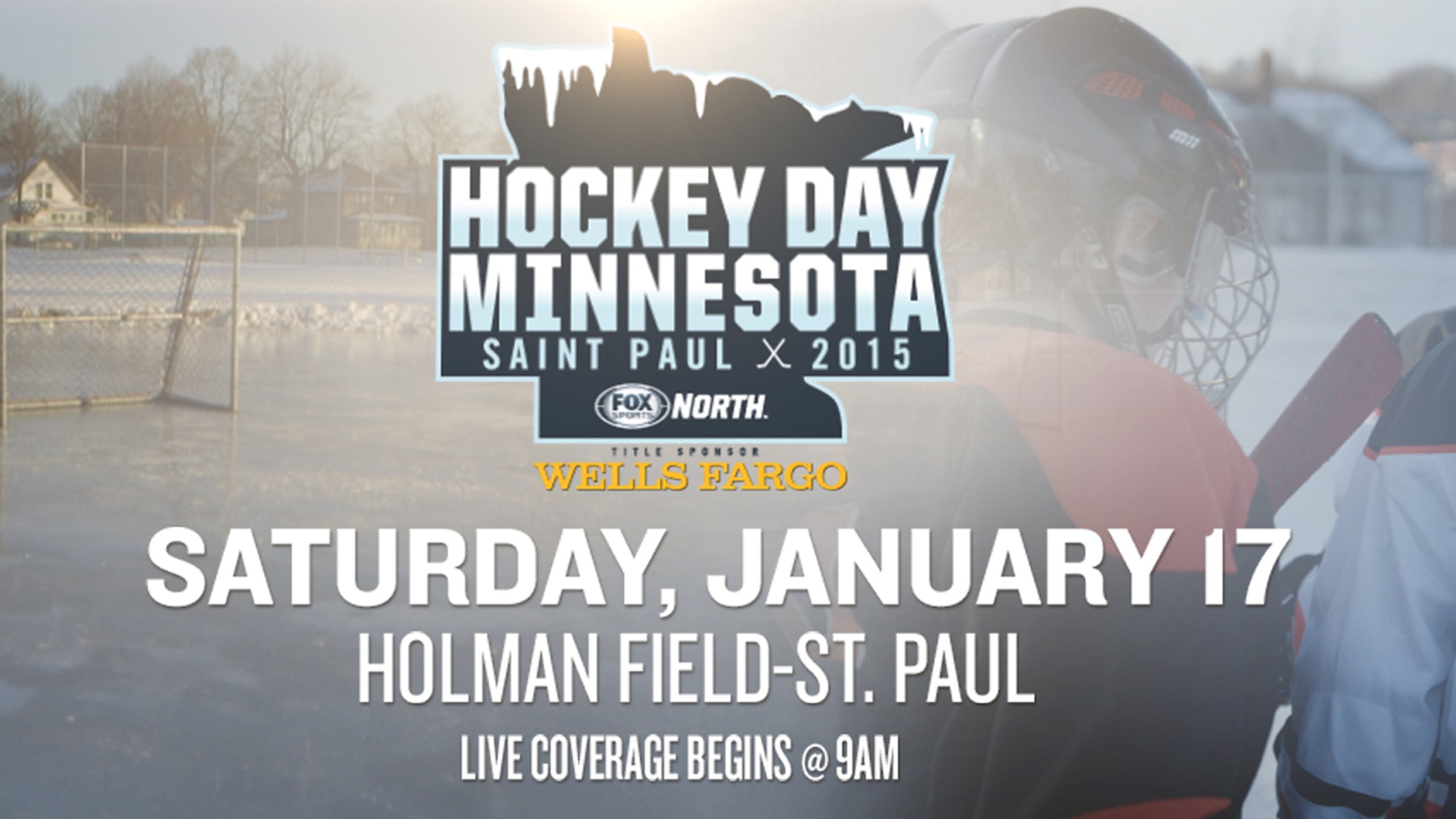 FOX Sports North announces details for Hockey Day Minnesota
BY foxsports • January 12, 2015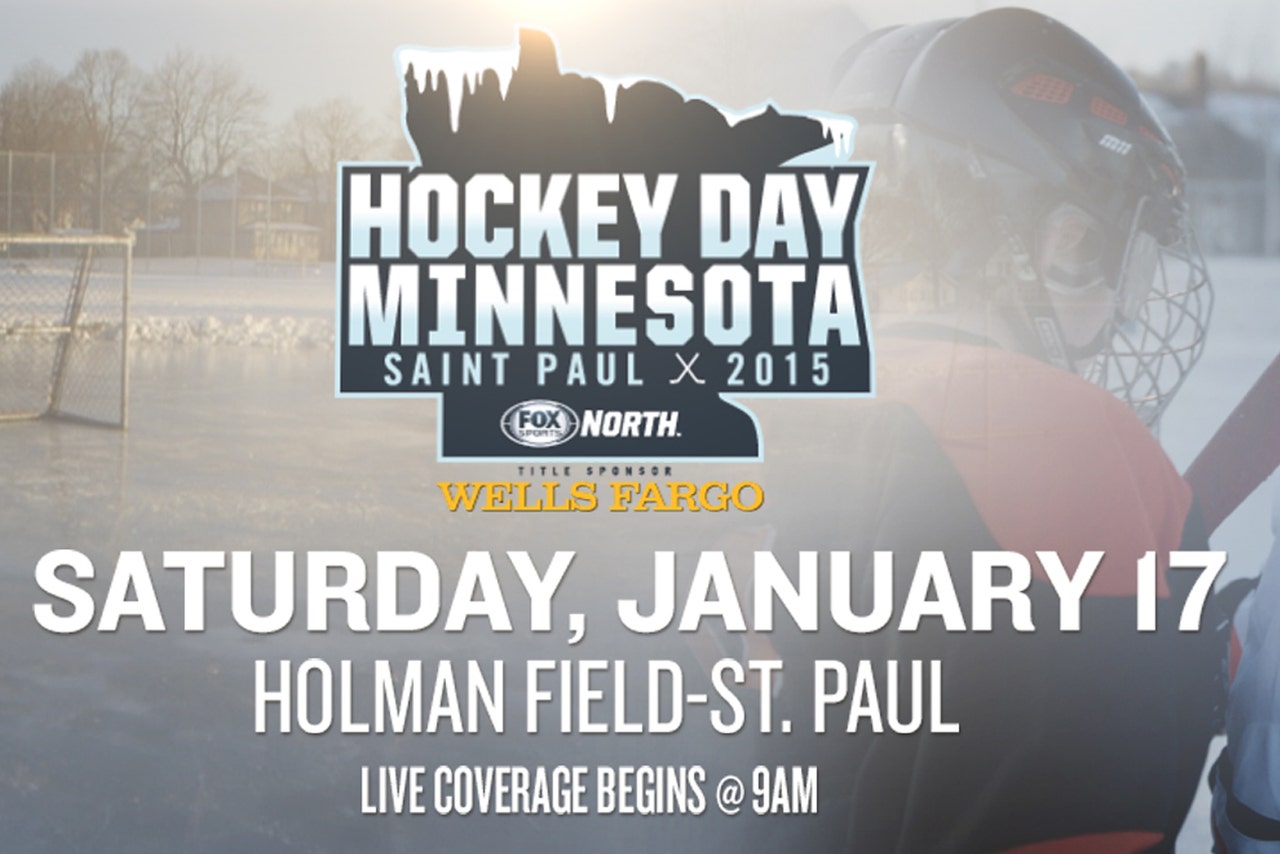 FOX Sports North, in conjunction with the Minnesota Wild, Minnesota Hockey, Serving Our Troops and Wells Fargo, today announced details for the ninth annual Hockey Day Minnesota (HDM), set for this Saturday, Jan. 17.
The telecast event begins at 9 a.m. and will feature more than 16 hours of original hockey-related programming, including three outdoor high school games from Saint Paul's Holman Field, a Big Ten border battle between Minnesota and Wisconsin, and the Minnesota Wild versus the Arizona Coyotes in primetime.
The outdoor games will be played on a refrigerated rink on the tarmac of Saint Paul's Holman Field -- home base to the Minnesota National Guard 34th Combat Aviation Brigade and 2-147th Assault Helicopter Battalion, which deployed to Kuwait in 2014.
Hockey Day Minnesota partnered with Serving Our Troops to host this historic event, in an effort to link hockey in Minnesota to the men and women serving our country overseas. HDM 2015 will include unique interactions with our soldiers and families as our communities drop the puck for a truly special message from home. Serving Our Troops has been providing a special message from home for our Minnesota National Guard in the form of dinner with their families for years, completing 10 projects and serving nearly 80,000 meals around the globe.
Viewers will be treated to three highly anticipated high school matchups, including a meeting between two of the premier hockey programs in the state: Hill Murray and St. Thomas Academy. The Pioneers make their third HDM appearance and hold three titles from 22 state tournament appearances, while the Cadets have made seven state tournament appearances since 2003. St. Paul Johnson, a program rich in hockey tradition, makes its third HDM appearance and will be on display in a matchup against Luverne. HDM 2015 shines the spotlight on girls hockey as Cretin-Derham Hall takes on the Duluth Northern Stars in a delayed broadcast.
Tickets for the outdoor high school games taking place at Holman Field in St. Paul are now on sale and available for purchase at hockeydaymn2015.com. Proceeds of the event will benefit Saint Paul Youth Hockey and Serving Our Troops.
FOX Sports North will have numerous on-air talent personalities reporting throughout the day. Tom Hanneman will anchor the Hockey Day Minnesota set from Xcel Energy Center alongside analysts Tom Chorske and Wes Walz. Brendan Burke and Kevin Gorg will handle play-by-play duties for the three outdoor games with Marney Gellner reporting. Doug McLeod and Ben Clymer take over the broadcast booth for the Minnesota-Wisconsin game and Anthony LaPanta and Mike Greenlay will call the Wild game.
HDM 2015 TV schedule
| | | |
| --- | --- | --- |
| TIME | EVENT | LOCATION |
| 9 a.m. | Hockey Day Minnesota |   |
| 10 a.m. | Luverne vs. St. Paul Johnson | At Holman Field, St. Paul |
| Noon | Hockey Day Minnesota coverage |   |
| 1:30 p.m. | Hill Murray vs. St. Thomas Academy | At Holman Field, St. Paul |
| 3:30 p.m. | Hockey Day Minnesota coverage |   |
| 5 p.m. | Minnesota vs. Wisconsin | At Mariucci Arena |
| 7:30 p.m. | Wild Live presented by CenturyLink |   |
| 8 p.m. | Minnesota Wild vs. Arizona Coyotes | At Xcel Energy Center |
| 10:30 p.m. | Wild Live Postgame presented by CenturyLink |   |
| 11 p.m. | Cretin-Derham Hall vs. Duluth Northern Stars (Girls; tape delayed) | At Holman Field, St. Paul |
Jamie Hersch will be reporting from Camp Beuhring military base in Kuwait where she will have the honor of interacting with deployed soldiers of the Minnesota National Guard. Hersch will interview a number of special guests and provide coverage of a floor hockey game played by members of the 34th Combat Aviation Brigade. Additional military details will be announced at a later date.
FOX Sports North will once again offer viewers an interactive social media experience on FOX Sports North PLUS by integrating traditional TV with live social media updates. The hockey community will be encouraged to join the HDM celebration by using #HDM2015. Text and photo content will be incorporated into the broadcast and featured on a custom "squeeze back" screen on FOX Sports North PLUS throughout the day. There will be social media prizes given throughout the day to fans using #HDM2015.
Schedule of 2015 Features:
-- Brady Lind: Acute lymphoblastic leukemia hasn't stopped the 10-year-old from playing the game he loves. A touching story about how the sport of hockey has helped an Alexandria family through tough times.
-- Tribute to our Troops: Lieutenant Colonel Greg Fix is the commander of the 2-147th Assault Helicopter Battalion currently deployed to Kuwait. While he's off serving his country in the Middle East, his daughter Ruthie and her Rosemount teammates wear a replica of the Red Bulls Task Force Shield on the back of their hockey helmets to show support for Colonel Fix and all of our troops overseas.
-- Luverne community: A community known throughout Minnesota for winning the state basketball championship in 1964 is now getting into hockey. The Luverne Cardinals made their first appearance at the Minnesota State Hockey Tournament last year and many feel it's only the beginning.
-- Duke Pieper update: This gifted hockey player from Edina was first featured as part of Hockey Day Minnesota in 2010. An update on the now 20-year-old, who has learned to walk again after experiencing complications from cavernous humangeoma.
-- Hockey for all Ages: An "old-timers" hockey league in Rochester is proof that hip and knee replacements, and even pacemakers, can't trump the love of the game.
-- Christian Folin: Thriving in his rookie season with the Minnesota Wild, Folin's journey to the NHL is far from ordinary. From Sweden, to a gas station in Fargo and now the NHL, it's a unique story about following a dream.
Hockey Day Minnesota 2015 on FOX Sports North will be the ninth annual celebration of hockey from peewees to pros. Previous sites for outdoor games include Baudette Bay (2007-08), St. Paul (2009), Hermantown (2010), Moorhead (2011), Lake Minnetonka/Excelsior (2012), Grand Rapids (2013) and Elk River (2014).
---