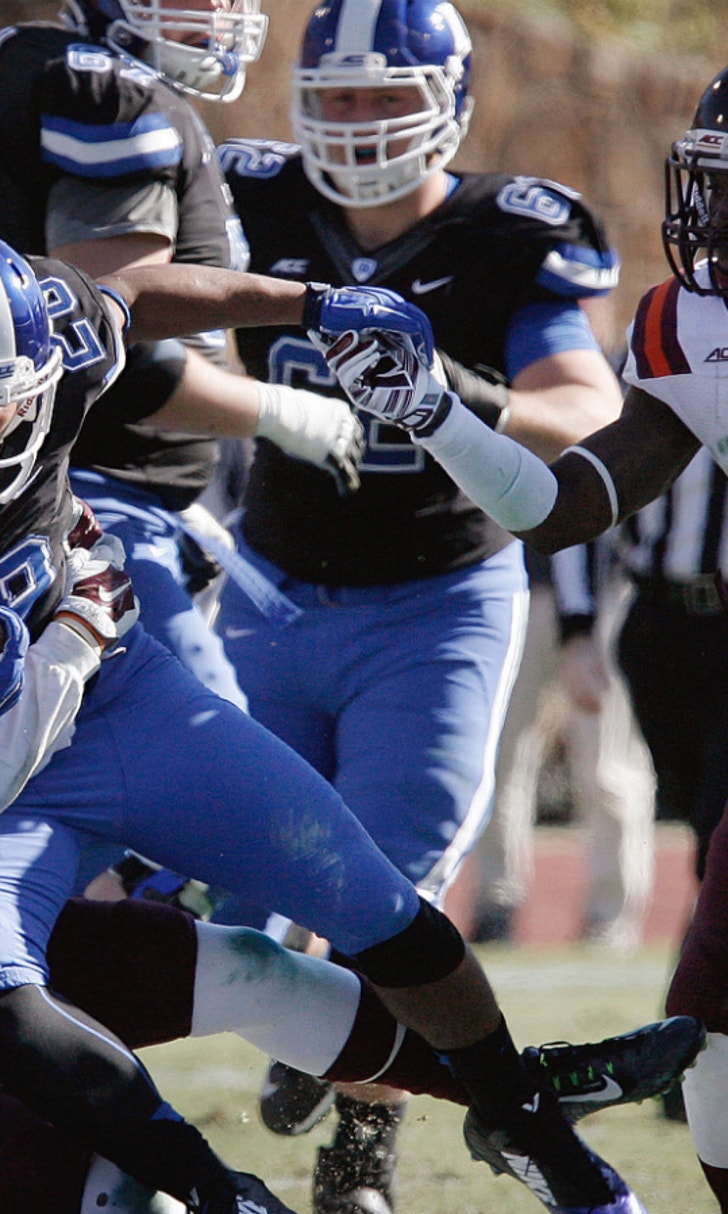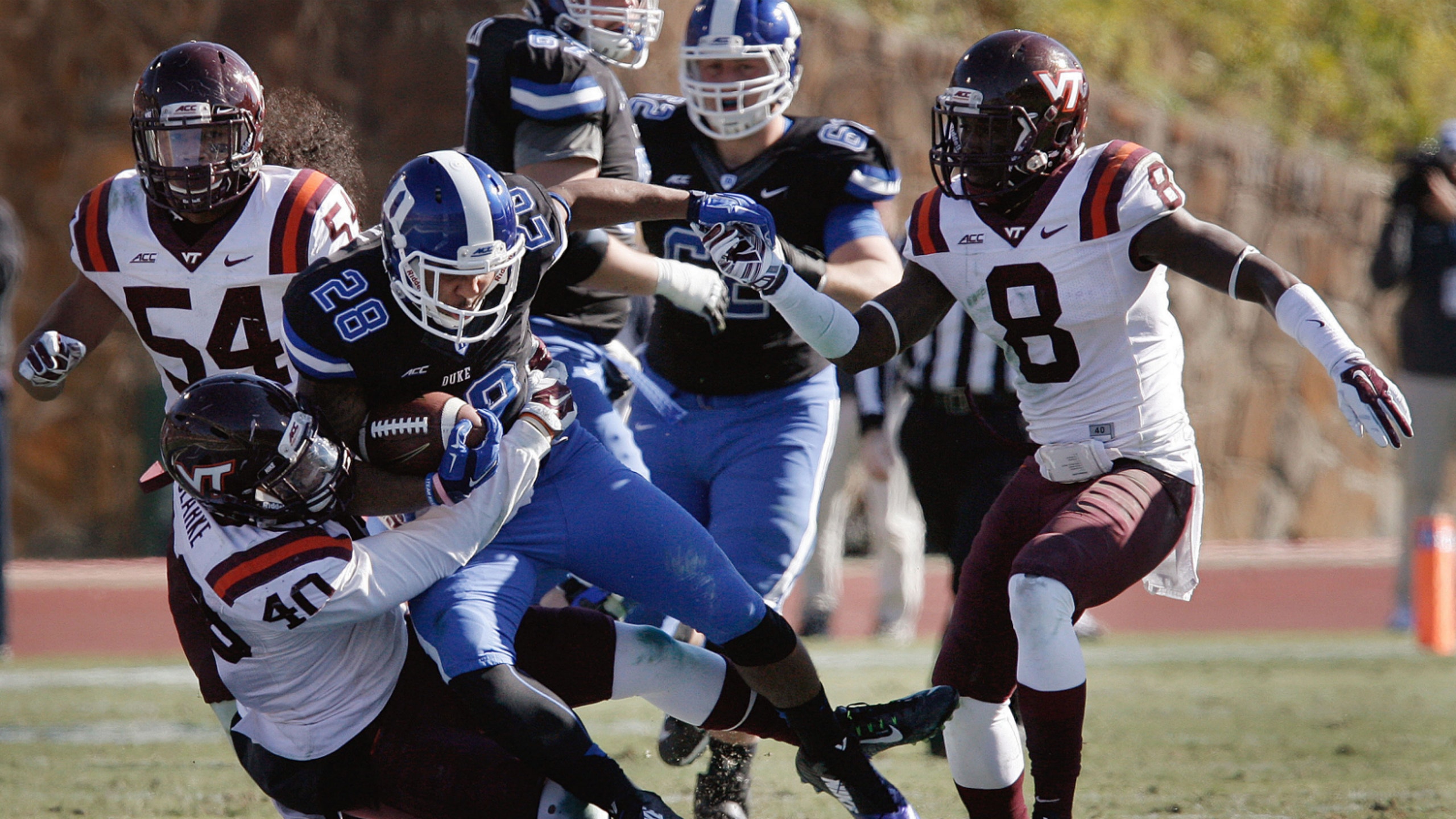 Four Downs: No. 21 Duke's mistake-riddled loss to Virginia Tech opens up Coastal
BY foxsports • November 15, 2014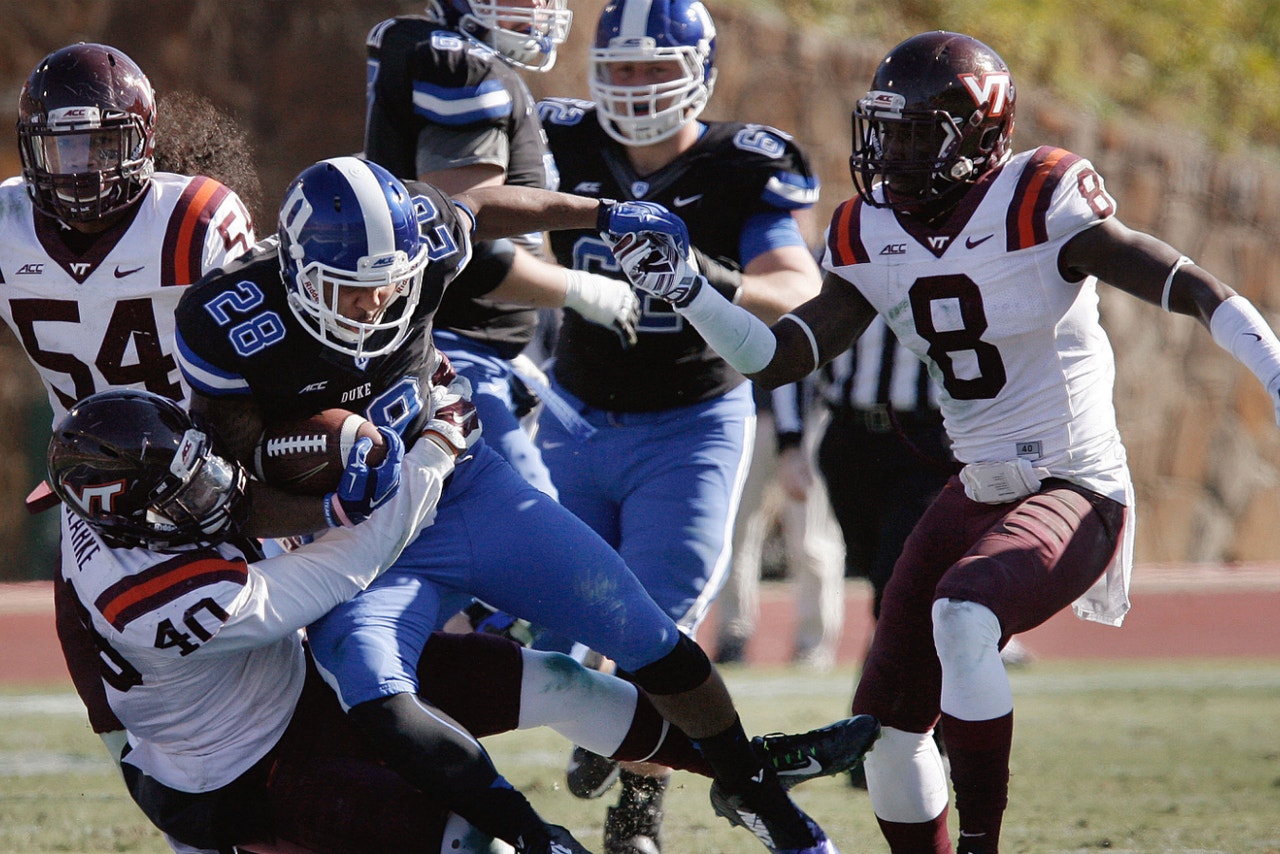 DURHAM, N.C. -- Until 3:30 p.m. ET on Saturday, it looked like No. 21 Duke was in complete control of the Coastal Division.
But a Deshaun Watson injury for Clemson resulted in a somewhat unexpected Georgia Tech win, and the normally-clean Blue Devils (8-2, 4-2 ACC) couldn't avoid mistakes on Saturday and dropped a 17-16 game to Virginia Tech (5-5, 2-4 ACC) at home. Now, with four days off before facing rival North Carolina at home on Thursday, Duke has to get past this one in a hurry.
Entering Saturday's game, Duke had allowed four sacks all year and committed six turnovers through nine games. Then the Blue Devils allowed four sacks to the Hokies and turned it over three times, all in one game. Duke's field goal kicker Ross Martin had been perfect all year (13 of 13). He went 3 of 5 against Virginia Tech, including missing a 40-yarder that would have given Duke a two-point lead late in the game.
"We've been playing clean football -- offense, defense and special teams -- today we didn't do that, and that could be kind of our kryptonite to stopping what we have here at Duke University," senior quarterback Anthony Boone said.
Martin's first miss of the season came on a 51-yard try at the end of the first half, but Duke still went to the break leading 10-7. He made a 48-yard try in the third and then a 24-yarder that put Duke up 16-7, but with 2:26 to go and Duke down by one, it seemed automatic he'd make it from 40.
Duke head coach David Cutcliffe, though, winced when he saw the snap and hold, knowing something had gone wrong. He was right. "Perfection is not part of anything anybody does. Sometimes at the worst of times, it's not perfect," he said.
"Our formula, and you all know it, has been to do all the little things well. We work at it, our players believe in it and sometimes it doesn't go according to script. ...We come in with six (turnovers) in nine games, and we have half of that in one (game)," Cutcliffe said. "That's something that is piercing to us, because it's not what we can do as a program and be successful. It's never good. The head coach is responsible for making sure our players are in the best position they can be in to be successful.
"Our players played hard. I don't have to look at the tape to know that. I know we were emotionally ready. But my job is to make sure that we are prepared and that our execution is going to be pristine. So when a team doesn't do that, that's the only place that you should look, or anybody should look, is the head football coach."
A caveat is necessary here -- plenty of good quarterbacks struggle against Virginia Tech. Their defense, even though it's had its share of issues this year, is excellent. Duke players and Cutcliffe said that all week leading into this game, and reiterated it in the postgame.
It started well for both Boone and Duke. He began the game 5 of 7 for 55 yards, and Duke was hitting big plays in both the run and pass game as they got out to a 10-0 lead. But he would complete just 13 of his final 33 attempts for 126 yards, no touchdowns and two interceptions.
"That's a good defense. Can't discredit those guys. If you look back, most quarterbacks aren't very successful against them. A few have had success, but that's a good defense. We had a couple drives, a couple miscues here and there. But for the most part, I tip my hat off to (Virginia Tech defensive coordinator) Bud Foster and those guys," Boone said.
"Obviously with their tight coverage, you have to be basically on time. Their pressure can get you out of rhythm and get you throwing the ball a little earlier than you want to. But as far as their pressure affecting accuracy, I would just say it affects more the consistency of your rhythm of throwing on time and things like that."
Whatever it was, Boone missed on multiple chances to hit a wide-open Duke receiver streaking down the field for what at the very least would have been a big play. Now, it's somewhat of a cumulative affect in that, as Boone said, Virginia Tech's pressure forces you out of your comfort zone as a quarterback. But Duke couldn't afford those missed opportunities.
Those aren't always on the quarterback, though, as his head coach pointed out.
"We've got to protect him. Some of this is -- we've got to protect him as well as we can possibly protect him. A lot of those percentages were throwaways," Cutcliffe said. "When you barely miss a throw here or a throw there, you've got to look at every aspect of it. Was the receiver doing exactly what he thought? Was the ball where it should have been?
"It's something that you study and you learn from, but there's no epidemic going on. Virginia Tech did a tremendous job of forcing the ball out of his hand early or under duress."
Virginia Tech often puts an extra defender in the box to stop the run. Duke ran the ball well early, but couldn't keep it up throughout the game as Virginia Tech was doing a good job stopping it. Teams have to make the Hokies pay by executing and hitting receivers -- who, in some cases, will be open by design -- and Duke couldn't do it.
"You've got to continue to find answers and if the answers aren't there in the run game, that's pretty risky. We should be able to hit some of those big plays, and we just didn't consistently do it. You've got to credit them obviously, some, they covered us and some we missed it when they weren't covered," Cutcliffe said.
The Tar Heels will come in to Thursday night's matchup clinging to a .500 record and one win away from bowl eligibility, while Duke comes in needing to win its final two games of the season to win the Coastal.
There is no option for Duke but to forget this game, however disappointing it was.
"We have no choice but to (forget it) emotionally. But intellectually, we've got to study. We will study the game, but we have to separate the two. Emotionally, this has to be let go of, or we won't be ready to play Thursday night," Cutcliffe said.
The attitude of the players seemed to be one of disappointment, but a resolve that they had to move on, and quickly.
"It hurts, because we haven't been in this position in awhile. But that's all part of the game," defensive end Dez Johnson said. "For us, it's just think about it a little bit and hopefully just move on and get back on the right track.
"Short-term memory. Usually, that's kind of the quarterback mentality, they have a bad game and they've got to get rid of that. But yeah, it's going to hurt. It's football and that was a close game -- a great game, actually. Nobody likes to lose. We'll probably dwell on it for a little bit, but we know we have to change really quickly and get ready for a great team that's coming in on Thursday."
Boone in particular owned his own performance, credited Virginia Tech's defense and seemed especially eager to move on. Mostly because they have no choice. But also because it'll give them a chance to put everything behind them in a hurry.
"Obviously tomorrow starts Day 1 prep of Carolina. So just get ready for that and get ready for a Thursday night game. Nobody on our team has ever played Thursday night, so that's going to be exciting. It's Carolina, one of the biggest rivalries in college football or college sports, period. Just get ready for a good matchup against Carolina on Thursday night here at home," Boone said.
Duke has come so far, but it's still a little jarring to think about a Duke team that has no idea, largely, what it is to lose like this. Duke has generally been out-talented in its losses the last few years, not out-executed.
"One of the things you have to learn to do in athletics -- we all know, even when we're little people -- is you have to learn how to fail," Cutcliffe said. "Failure can never be final, ever. Success isn't either, but failure can't ever be. By having a fast turnaround, it's a great life lesson. You don't stay down long in this world and become very successful.
Our players have developed a great program. We've got high standards. We've got a high level of play that we generally are able to maintain. We give great effort. When you have days like today, that's when our team has to rally and play five days later. All of us individually have to accept that challenge, and we will. You have to embrace it, not accept it."
Before, oh, say about 12:30 p.m. ET or so, the Coastal Division seemed like it was Duke's to lose with the only teams close to them -- Miami and Georgia Tech -- facing tough games against Florida State and Clemson, respectively. But when Deshaun Watson went down for Clemson, Georgia Tech rolled to a comfortable win to close out its ACC slate at 6-2. Duke has the head-to-head tiebreaker with Georgia Tech, but with its loss to the Hokies, Duke also has two league losses now.
Miami holds the tiebreaker with Duke by virtue of a win, but the Hurricanes will need to beat Florida State for that to matter. Even so, a three-team tie between Miami, Duke and Georgia Tech will send Georgia Tech to the ACC title game. And so Duke needs to win out. Win, and they're in. Lose, and they're not.
Duke has a home game left against North Carolina before a home game against Wake Forest. Obviously, this Thursday night's test will all but insure (pending some Wake Forest wackiness) a Coastal crown.
Cutcliffe hasn't shied away from making sure that his team understands what is at stake.
"I made sure they understood it. I don't talk about that until I felt like I needed to talk about that," Cutcliffe said. "The obvious is this -- we've got two huge football games left. That's the obvious. So what lies behind has no comparison to what lies ahead. That was the point. None. Zero.
"Now we've got a two-game season. That's what we're faced with. Our only opportunity to get to Charlotte is to win both. Tell it like it is, accept or embrace that challenge."
Cutcliffe feels like the program he has built at Duke is ready to end the season with two must-win games, even after the disappointing loss today.
"What you ultimately do is take the challenge. You're right -- it's a huge challenge. What people need to do, and I will do and our team will do, is accept the challenge," Cutcliffe said.
"That's the beauty of it. That's the part -- not everybody can do it, but we can."
---