Four Downs: Jackson rolls; Shanahan's gutsy call
Published
Dec. 15, 2013 9:46 p.m. ET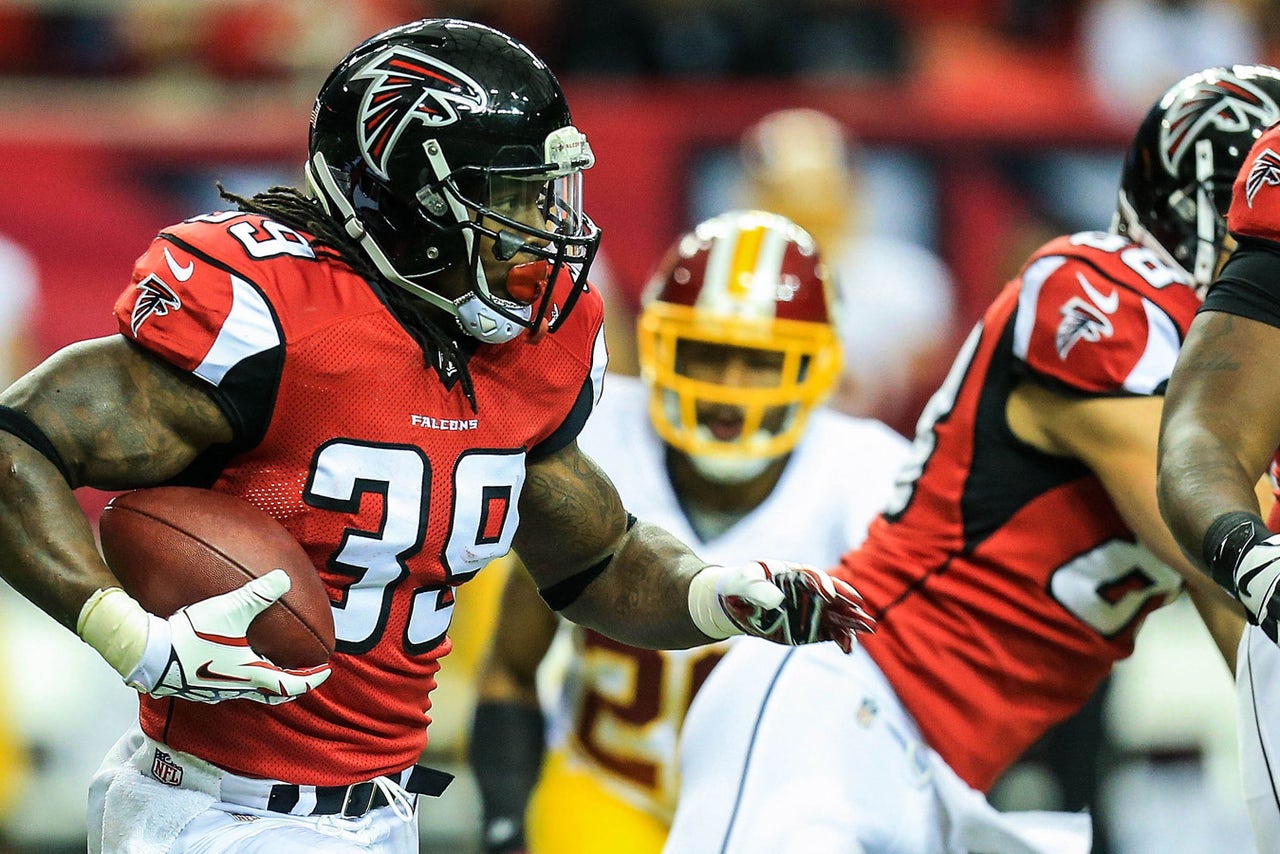 Here are four things we learned about the Falcons' 27-26 victory over the reeling Redskins (losers of six straight):
Looking at his huge frame, athletic build and bulldozing running style, it's easy to forget that Jackson didn't amass more than six touchdowns from 2009-12.
It's also easy to forget that Jackson had logged only two outings of multiple TDs over the previous five seasons.
Make that three.
Against the Redskins (seven turnovers against Atlanta), Jackson plowed the opposition for a pair of short scores (2, 3 yards) that probably left Falcons fans wondering what could have been ... had the 30-year-old back avoided a substantial hamstring injury from Week 2 (missing four-plus games).
Citing an ESPN report, the Falcons are in excellent cap shape for next season, roughly $25 million under the expected threshold of $126.3 million. But even with that economic flexibility, club officials still need to make some tough decisions with certain veteran players, like Jackson, before the free agency and draft periods.
On the positive side, Jackson has five touchdowns in his last four games. On the down side, he boasts only one outing of 100 total yards with the Falcons (Week 1).
In one respect, the Redskins should be applauded for trying to salvage a lost season with one sweeping gesture.
But in this NFL-overtime age, where each club gets a possession in the absence of an opening-drive touchdown, no head coach should feel emboldened to let it ride from two yards away.
Just go for the tie.
Especially on the road ... and with your second-string quarterback leading the charge. In essence, it was a needlessly gutsy call on Shanahan's part — even if it had worked.
Speaking of second-stringers, Redskins QB Kirk Cousins (381 yards passing, three TDs, two INTs) was a hot topic for Sports Radio Nation this week, earning a battlefield promotion after the club decided to inactivate Robert Griffin III for the season's final three games.
It was a curious move, considering that Griffin has seemingly recovered from last January's serious knee injury and that Shanahan could be fired from his coaching post in two weeks.
Shanahan also upped the intrigue for Sunday's game by telling a media outlet, during the week, that Washington might land a first-round pick in next year's draft for Cousins — assuming the kid finished with a flurry in December.
Well, so far, so good for Cousins, who shredded a Falcons defense that hadn't allowed a 300-yard passing day since Week 4 (Tom Brady) and completed three picture-perfect TDs to Fred Davis (23 yards), Pierre Garcon (53 yards) and Santana Moss (3 yards) — with the latter coming in the waning seconds.
On the two-point try, Cousins had plenty of time to throw, especially after scrambling to his right ... but Falcons cornerback Desmond Trufant deflected the ball out of the end zone, clinching his team's fourth victory of the year.
On paper, this was a golden matchup for quarterback Matt Ryan and Co., taking on a Redskins defense that had already surrendered 400-plus yards six times this season.
And everything was clicking early on, as Ryan (210 yards passing, one TD, one INT) engineered touchdown drives of 83 and 36 yards, vaulting the Falcons' lead to 14-0.
But on the ensuing 11 drives, Atlanta only notched 30 yards once -- a 57-yard possession that ended with the Redskins' goal-line stand early in the third quarter.
The good news: The Falcons converted on four of five red-zone opportunities, collecting three touchdowns (Gonzalez, Jackson twice), one field goal (Matt Bryant also had a 51-yarder) and getting halted on the aforementioned goal-line stand.
The grim news: Only Tony Gonzalez (six catches, 62 yards, one TD) tallied more than 50 yards among the Falcons playmakers.
Among the eight NFL clubs with four or fewer wins, only the Falcons, Buccaneers and Redskins are set at quarterback for the foreseeable future.
And the Redskins don't even count here, since St. Louis owns Washington's top pick next May — thanks to a 2012 blockbuster trade that led to RGIII going to D.C.
Bottom line: If top-tier prospects like Teddy Bridgewater (Louisville), Johnny Manziel (Texas A&M), Brett Hundley (UCLA) join Fresno State's Derek Carr in the draft, it's possible that all four QBs get taken within the first eight picks.
That QB-heavy wish list plays right into the Falcons' hands, essentially giving them unfettered access to the top defensive end prospect (Clowney), the premier O-lineman (Matthews), the top receiver (Clemson's Sammy Watkins) and two potential game-changers at linebacker (UCLA's Anthony Barr and Buffalo's Khalil Mack).
And given that Atlanta should be decisive underdogs in its final two games — at San Francisco and home to Carolina — Falcons general manager Thomas Dimitroff and his staff should be flush with options at the top of Round 1.
---