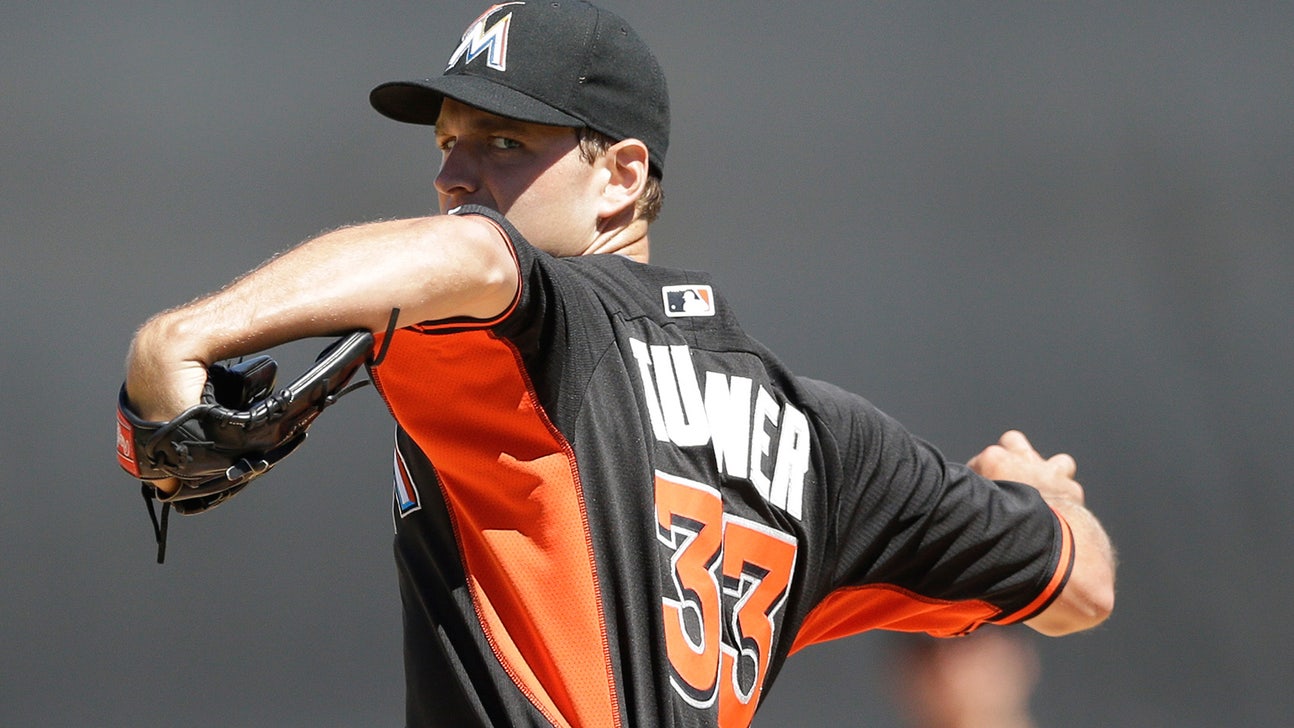 Former Tigers pitching prospect gets the win in Lakeland
Published
Mar. 13, 2014 6:26 p.m. ET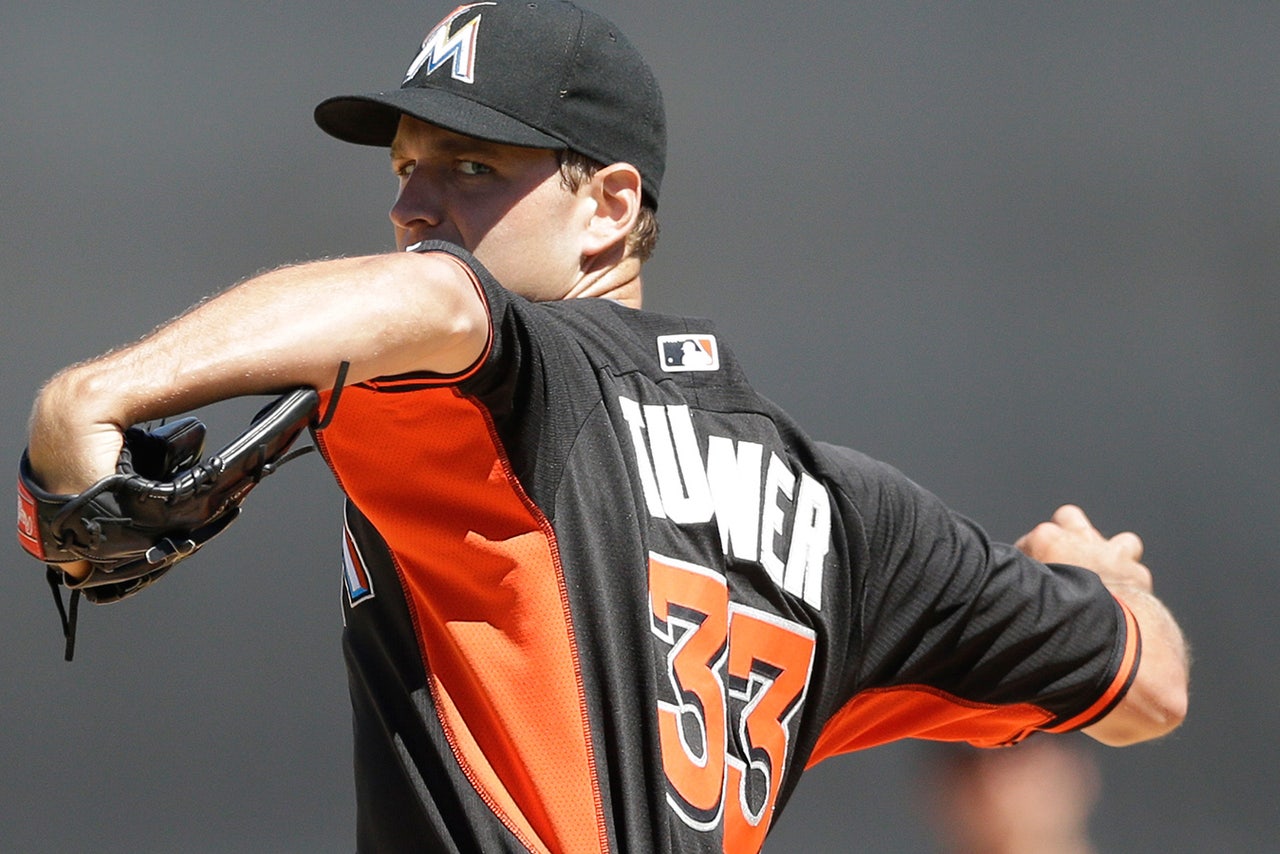 LAKELAND, Fla. -- It was impossible to watch Jacob Turner pitch against the Detroit Tigers on Thursday and not think about the days of future past.
Turner was expected to be a top-of-the-rotation fixture with Detroit someday. He was the ninth overall pick in the first round in 2009 after becoming a sensation at Westminster Christian High in St. Louis. The Tigers stepped up with a major league contract worth millions to keep him from honoring a scholarship offer from the University of North Carolina.
He debuted in the majors in 2011 at the age of 20, and was on the fast track to success.
However, in the middle of the next season, Detroit general manager Dave Dombrowski traded away the future for the present. He sent Turner and two other prospects -- catcher Rob Brantly and pitcher Brian Flynn -- to the Florida Marlins for pitcher Anibal Sanchez and second baseman Omar Infante.
It was a trade made for the stretch run of that season, but then the future for Sanchez changed as surely as it did for Turner, the winning pitcher in Miami's 4-2 victory on Thursday.
Sanchez was 5-7 with a 3.94 ERA when the trade was made, and has been 18-13 with a 2.80 ERA for Detroit since. He was so impressive late in 2012 and in the playoffs, posting a 1.77 ERA in three starts, that the Tigers signed him to five-year deal for $88 million. And last year, Sanchez went 14-8 and led the American League with a 2.57 ERA, while also setting the club's single-game strikeout record with 17 against the Atlanta Braves.
The steady arm obtained for the playoff drive became a fixture.
Turner's still finding his way. But he's also only 22.
He was 3-8 with a 3.74 ERA last year for the Marlins. And his record after 33 major league starts is 5-14 with a 4.27 ERA.
He was competing with Drew Smyly (who started on Thursday for Detroit and gave up four runs on eight hits in 3 1/3 innings), Andy Oliver and Duane Below for the fifth rotation spot two years ago at this time.
"I feel like I kind of grew up in this organization," said Turner. "I probably had a little extra motivation being back here, and it was weird being on the other team."
He came into the game with a 6.23 ERA for the spring, but gave up one earned run in four innings and felt good about the outing. And he got Miguel Cabrera to ground out and fly out.
"Any time you face a guy who won the Triple Crown," said Turner, "you can gauge where you are."
I asked Turner about having to separate himself from being a Tiger and watching the 2012 World Series, having pitched for the team representing the American League in it.
"I didn't really watch too much of it," Turner said. "It's a process, I guess. But I'm happy for the success they've been having. They deserve every bit of it. I still have a lot of friends here.
"Rick Porcello helped me a lot. He was just a few years younger than I was. I was just coming to spring training that first year out of high school. I didn't know what to do. I watched him and Ver (Justin Verlander) and Bondo (Jeremy Bonderman), and learned from them."
The Marlins lost 100 games last year, but have some talented players like superstar pitcher Jose Fernandez, slugger Giancarlo Stanton and slick-fielding shortstop Adeiny Hechavarria to build around.
"What we have now in Miami is special," Turner said. "It's going to be special."
Smyly and Turner stay in touch and remain friends.
"It's different in this game," Smyly said. "People get traded and you play against them, against your friends. Jacob's going to do great, though."
Marlins manager Mike Redmond appealed a play in the ninth inning, when Tigers pitcher Blaine Hardy picked off Derek Dietrich at first.
Quick replays of both calls determined the umpires had been correct.
"I like human error," said Nathan. "This game is all about ..."
And then Nathan cut off that thought to say: "The good thing about this is that it will give people an opportunity to see how good these (umpires) are out there. Today's game is a perfect example. I thought (Hechavarria) was out, but they got it right."
Ausmus said that while on the field with umpires to consider a challenge, he has three signs that he receives from bench coach Gene Lamont. Lamont, who is on a walkie-talkie speaking with defensive coordinator Matt Martin as he reviews the video, gives Ausmus a yes, no or 50-50 signal. They had technical difficulties at one point, which Ausmus said would lead to a fourth signal.
"But this is going to be a lot like jury trials," Ausmus said. "If you get a quick answer, you are probably not going to be happy with it."
---