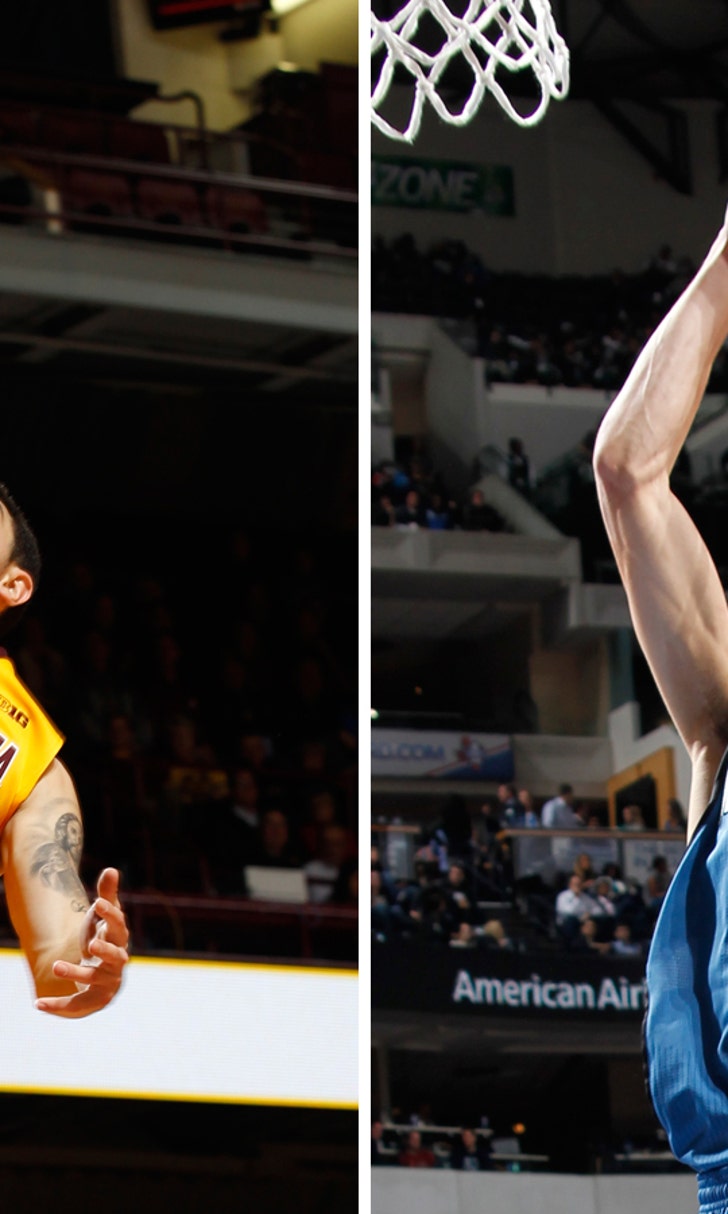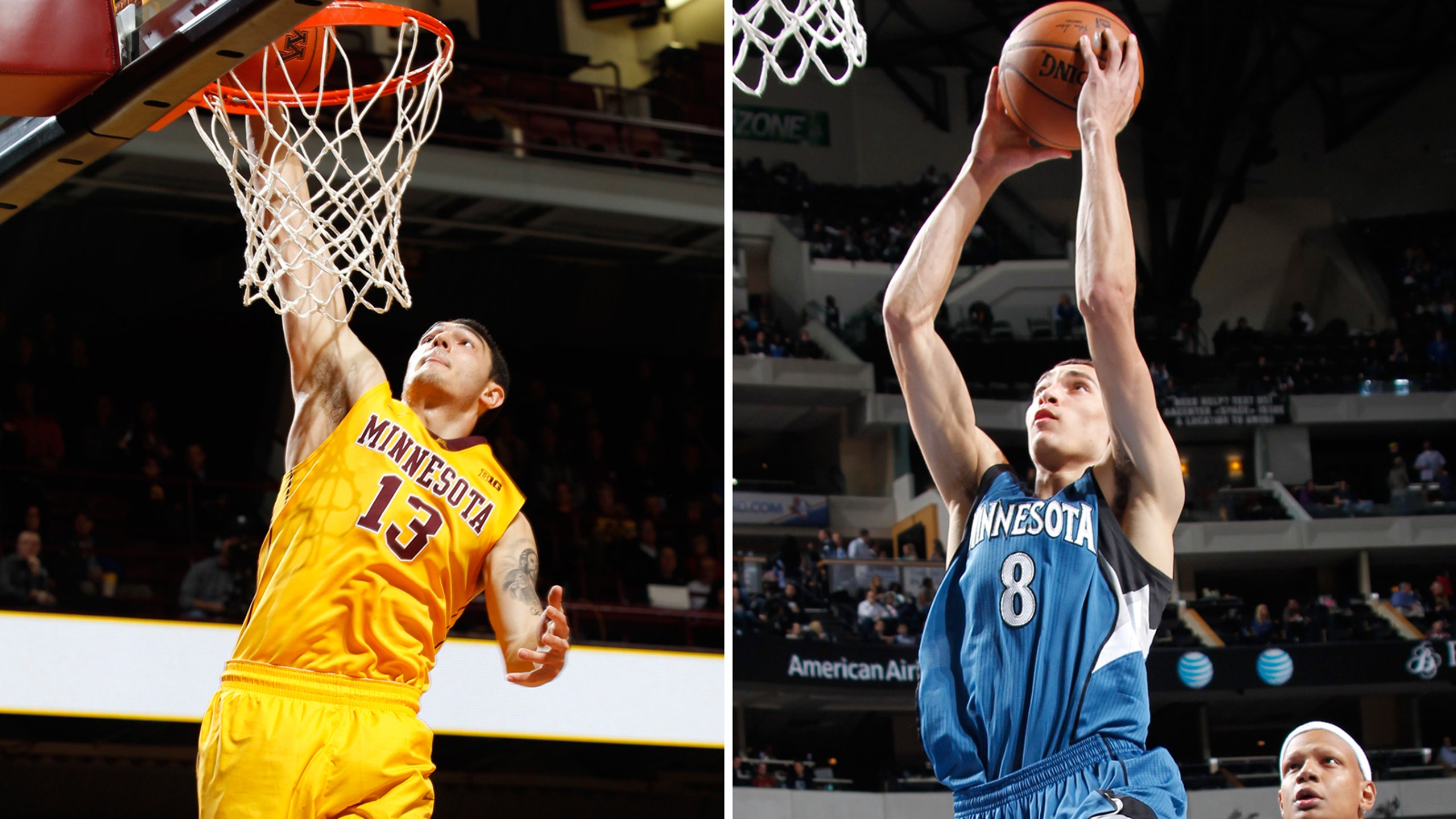 Former prep teammates Wolves' LaVine, Gophers' Martin reunited in Minnesota
BY foxsports • November 20, 2014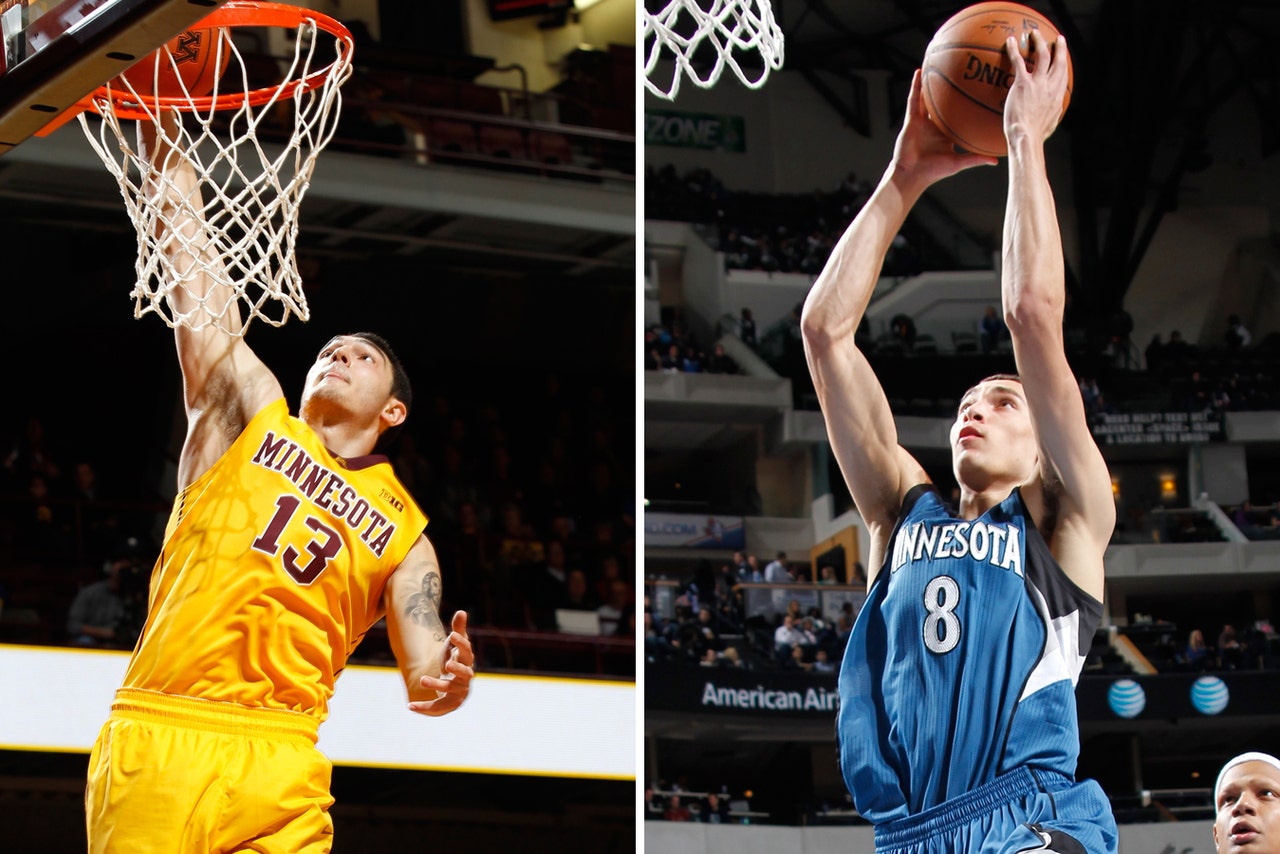 MINNEAPOLIS -- Ask Josh Martin how he fared against Zach LaVine in a 1-on-1 matchup and you'll get one side of the story.
"In high school, I used to whoop his butt," Martin said.
LaVine recalls their matchups differently.
"Every time someone interviews him something about 1-on-1 or dunking, he always wins," LaVine said. "I don't know. I feel like I'm the one in the NBA, so I don't think he's the one beating me."
Regardless of who won those matchups, or who put on a batter show during their impromptu dunk contests, there's no questioning that Martin and LaVine -- former high school teammates at Bothell High School in the Seattle suburb of Bothell, Wash. -- both have basketball talent.
LaVine took that talent and turned it into a scholarship at UCLA, and then parlayed just one year of college basketball into his selection as the 13th overall player taken in the 2014 NBA Draft. The Minnesota Timberwolves took the raw but athletic LaVine with their first-round pick, and the rookie has already been thrust into extra duties after an injury to starting point guard Ricky Rubio.
Martin, meanwhile, followed LaVine's path from Bothell to Division I basketball when he committed to play for Richard Pitino at the University of Minnesota. The freshman has come off the bench in the Gophers' first two games and has played sparingly as he adjusts to basketball at the next level.
There must be something in the water in Bothell, because the town produced Division I players in back-to-back years. Martin and LaVine were teammates during LaVine's senior year and Martin's junior year. The duo also teamed together in AAU for a season with Friends of Hoop, the same Seattle-based AAU team that produced other NBA players such as Jamal Crawford, Nate Robinson and Spencer Hawes, among others.
By the time LaVine was drafted by the Timberwolves, Martin had already committed to the Gophers. So the Wolves rookie had a familiar face in town as soon as he arrived.
"It's weird, because when he got drafted, when he was at the draft table, I was kind of feeling like, 'Oh, he's going to go to Minnesota. He's going to come to Minnesota, I know it,'" Martin recalls. "And then pick No. 13 rolled around and Minnesota picked him, I was like, 'OK, that's cool. That's crazy, but cool.' . . . We're basically like brothers. It's good having him up here, him and his family."
LaVine and Martin are different players -- LaVine is a 6-foot-5 point guard, while Martin is a 6-8 forward -- but both possess similar athleticism and a penchant for dunking.
They each admit it's been a while since they've had a dunk contest, but both players give credit where credit is due when it comes to their high-flying displays.
"He's a really good dunker. The last dunk contest, he said he won. I think I won," LaVine said of Martin. "He's got a lot of dunks, man. He's a powerful dunker. For his size, he can do a lot of different things."
Martin had similar praise for LaVine: "An offensive freak. He really can do everything on the court."
Neither has had the opportunity to get to watch the other play in person yet this season, as their crazy schedules haven't allowed the time for it. The Timberwolves just concluded a lengthy road trip that included a game in Mexico City, and the Gophers started their year with a game in Puerto Rico and now are in the midst of a five-day stretch with three home games.
As soon as things quiet down a bit, though, Martin and LaVine plan on supporting their friend and former teammate from the stands.
"It'll be difficult to go see games, but I really want to go and support the Timberwolves and my boy Zach," Martin said. "I watched him a lot when he was at UCLA. I was always cheering him on there, so I'm definitely going to be cheering him on up here, especially since he's in the same city."
When Martin and LaVine do find time to get together -- which was easier before their respective seasons started -- Martin says there wasn't a whole lot of basketball discussion. Instead, they chat about things that most other 19-year-olds talk about.
And of course, they mostly hung out at LaVine's apartment.
"I'm not going to his dorm," LaVine said. "I'm done with the dorms."
It's been roughly two years, Martin estimates, since he and LaVine have played a 1-on-1 game. Now that they're both in the same city again that meeting may have to take place, whether it's at Target Center, Williams Arena or any other gym in the Twin Cities.
"We probably will now that he's talking smack," LaVine said. "I might have to run him one real quick. He knows that's my game."
The Gophers are counting on Martin -- who chose Minnesota over Florida State, Pittsburgh and Oklahoma State -- to provide some depth at the forward position this year, an area in which Pitino's team could certainly use it. Though LaVine played just one year of college basketball, he offered his friend some words of wisdom before he got to campus.
LaVine's main message: listen to your coaches and have confidence in yourself.
"I've come to realize that the quickest way to get on the court is by your effort, because no one can take that away from you," Martin said. "If you're giving 100 percent, there's no one else who can stop you doing that."
Follow Tyler Mason on Twitter
---