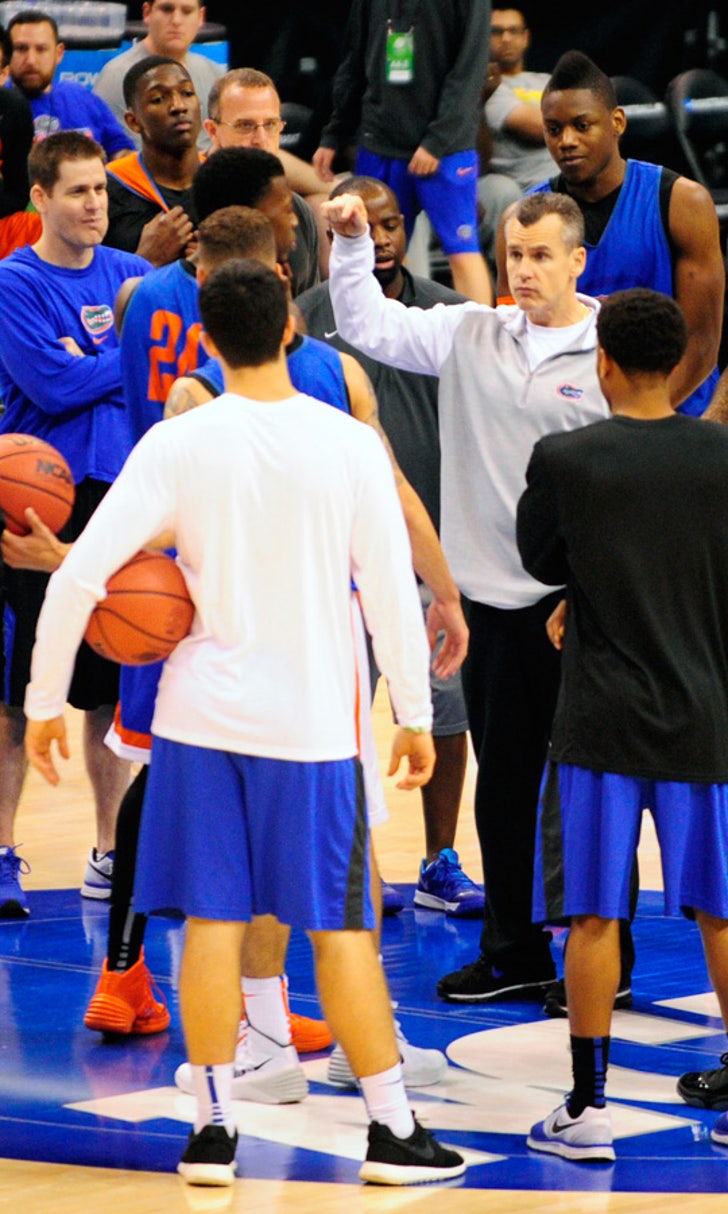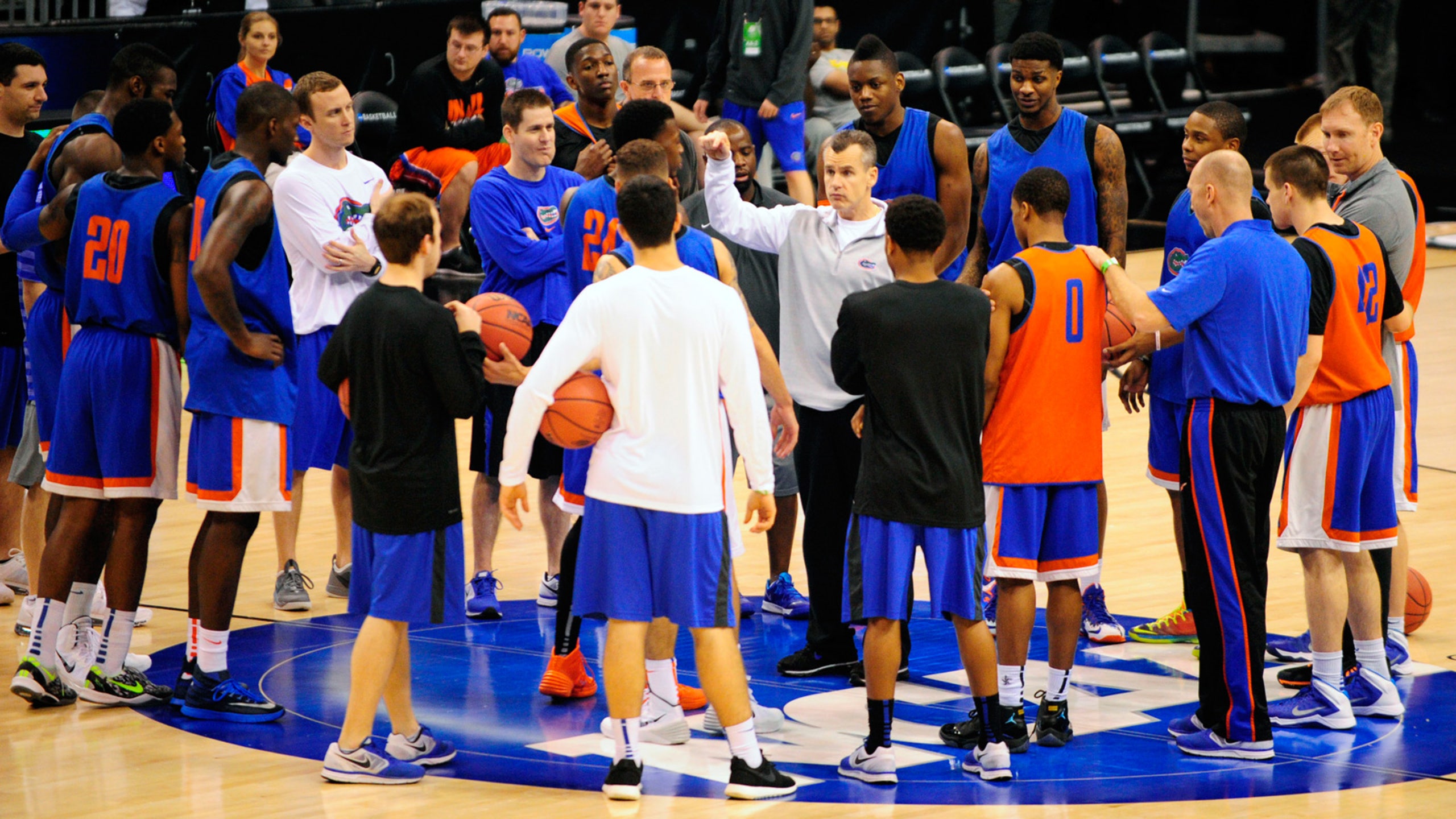 For No. 1 Gators, there's no overlooking 16th-seeded Albany
BY foxsports • March 19, 2014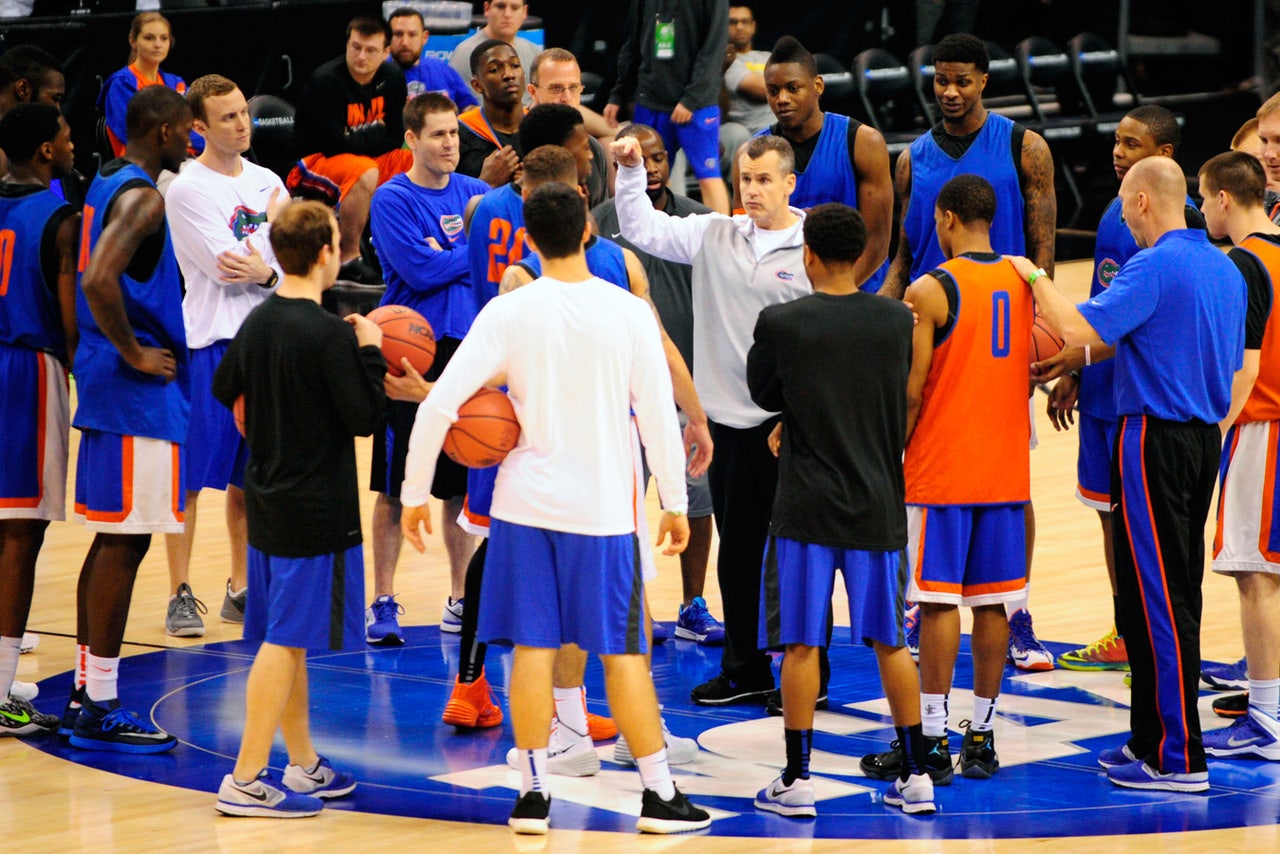 ORLANDO -- So this was how the first question of the 2014 NCAA Tournament was put to the top-ranked Florida Gators.
"The specter of being No. 1 is out there for you guys and in some quarters that means you either win it all or it's a disappointment. How do you look at the specter?"
And this was how Scottie Wilbekin answered.
"The 'specter?' What does that mean?"
UF's senior point guard was then told it meant the shadow of being No. 1. As in the menace that comes with the ranking; the curse of that daunting number; the threat of being the targeted team.
In other words, more ancillary stuff that Wilbekin and his three fellow classmates learned a long time ago -- on the way to winning 116 games together, as well as losing another 29, including their fair share of heartbreakers -- means nothing.
His rebooted answer.
"We try not to think about it," Wilbekin said. "It really doesn't matter once the ball goes up. Anything can happen. So we've got to be on our toes, no matter what."
That's the way No. 1 Florida (32-2) has gone about its business in winning 26 straight and rolling through an historically perfect Southeastern Conference campaign, so it only makes sense the Gators maintain that level-headed and humble mindset when they open NCAA South Region Tournament play Thursday at 4:10 p.m., against 16th-seeded Albany (19-14) at the sold-out Amway Center.
"Anybody can beat anybody in this tournament," forward Casey Prather said. "We have to be ready from the get-go."
Ready for Albany, that is, the team that advanced with a win in Tuesday night's play-in round over fellow No. 16-seed Mount St. Mary's. Since the tournament expanded from 48 to 64 teams in 1985, No. 1 seeds are 116-0 against No. 16 seeds, which was probably why the Wednesday conversations had less to do with the Great Danes, champions of the America East Conference Tournament, and more to do with Florida's crushing elimination one game shy of the Final Four each of the last three years.
Naturally, it was a topical subject Wednesday and each player was quick to point out that any road to another shot at the Elite Eight starts with beating Albany.
"No one is looking past them," sophomore guard Michael Frazier said.
Eventually, though, came some perspective. Even some what-ifs.
Rewind to 2011. The Gators led Butler by 11 points with less than 10 minutes to go in the Elite Eight only to lose 74-71 in overtime.
Rewind to 2012. The Gators led Louisville by 11 with under eight minutes to go in the regional title, but lost 72-68.
Rewind to 2013. The Gators never led Michigan, falling behind by 18 points in the first 10 minutes before suffering its second-most lopsided NCAA defeat ever.
Four years, a fourth NCAA Tournament for these four seniors.
Now what?
"The teams we've been on the last three years, they haven't been as connected and haven't had as much chemistry as this team has had," senior center Patric Young said. "We really enjoy playing with one another and I think if we get that opportunity -- if we're blessed to have that chance to [play for] a Final Four -- I think each and every guy is going to make sure to lay it on the line and come ready to go."
Added Wilbekin: "This year's been different. We have more leadership and more experience than any other [UF] team, and as far as what happened those last three years, I don't know. And to be honest, I don't really care. We're not thinking about that."
Does the phrase, "Stay in the moment" sound at all familiar?
For now, the moment is Albany, a school in the state capital of New York, but also a state of mind that is every bit about the Gators (and their collective focus) as it is about the Great Danes, an undersized and grossly undermanned opponent that will come in sky-high, with nothing to lose and a chance to to be in the national spotlight for a couple hours.
During the Albany news conference, Coach Will Brown recounted how his 11-year-old son, Jackson, came to him with a question after Tuesday night's big victory.
"He goes, 'Are we going to get killed?' " Brown said. "So I took about 15 minutes, then I looked at him and said, 'We'll be OK, buddy.' "
Donovan was told of the exchange. He did not bite.
"They've earned the right to play the game," he said.
Which means they've earned the right to be respected by their opponent. Donovan gladly obliges and his players follow suit.
Being the nation's No. 1-ranked team -- and "the specter" that accompanies that -- is not an excuse.
"We'd never been the No. 1 team and when we finally achieved it, we were like, 'OK,' but everything was the same. Nothing changed," Young said. "We have no control over what people are saying about us."
What they can control starts between the lines. With Albany.
THE TIP-OFF
History: The Gators and Great Danes have played once, with UF winning 83-64 in the second game of what turned out to be Florida's first national-championship season. Corey Brewer scored 18 points, Joakim Noah had 17 and Lee Humphrey threw in 15 more on five 3-pointers. The game will mark UF's first against a team from the America East Conference.
Pre-game storyline: Lose and the season is over. That plot line is not changing. The Gators are a big favorite over the Great Danes, with 30 tournaments of history on UF's side. No 16-seed ever has defeated a No. 1 seed.
About the Gators: Florida didn't score a bunch of points in the Southeastern Conference Tournament (63 per game, nearly 8 below its average), but the Gators didn't give up many, either (52.6 per game), allowing just 37.6 percent from the floor and 6-for-37 from the 3-point line (16.2 percent). ... UF is 31-11 in the NCAA Tournament under Coach Billy Donovan, with his .738 winning percentage ranked seventh in college basketball history and sixth among active coaches. ... The Gators go as Scottie Wilbekin (13 ppg, 3.8 apg) goes. The senior point guard was named SEC Player of the Year as well as to the SEC All-Defensive Team, then capped the season with MVP honors in the league tournament after going 13-for-21 from the 3-point line. ... Senior 6-9, 250-pound center Patric Young (11.1 ppg, 6.1 rpg) has been sensational down the stretch. He made some huge, timely baskets the last four games and his defense has been positively stellar. ... Sophomore guard Michael Frazier (12.9 ppg, 3.5 rpg) led the SEC in 3-point percentage (.455) and was a deadly 10-for-15 in SEC Tournament play. He has 34 treys over the last eight games. ... Backup point guard Kasey Hill (5.5 ppg, 3.1 apg) suffered a turf toe injury during Wednesday morning's practice at Bishop Moore High. Though Hill took part in the afternoon shoot-around at Amway, he was not pain-free and his status for the game could be questionable.
About the Danes: They're in their fourth NCAA field and coming off the first NCAA win in program history after defeating Mount St. Mary's in the so-called play-in game Tuesday. ... Albany averages 66 points per game, shot 43.9 percent for the season (36.4 from 3), allowed 41.9 percent (35.2 from 3) and a plus-3.1 rebounding margin for the season. ... The Danes played just one opponent that finished in the RPI Top 100, losing to Pittsburgh, which happens to be the No. 9 seed in the South Region, by a score of 58-46 on New Year's Eve. For what's it's worth, Albany lost games to New Hampshire, Maryland-Baltimore County and Massachusetts Lowell. ...  The Danes are a balanced bunch with four players who average in double figures: 6-4 guard Peter Hooley (15.7 ppg, 40 percent from 3); 6-6, 230-pound forward Sam Rowley (11.5 ppg, 6.7 rpg, 52 percent from floor); 5-9 guard D.J. Evans (11.2 ppg, 3.1 rpg, 2.8 apg) and 6-6, 205-pound forward Gary Johnson (10.9 ppg, 4.9 rpg). ... The Albany coach is Will Brown, now in his 13th season -- the longest-tenured coach in the America East -- and with a record of 190-205. The Danes have NCAA appearances in two consecutive seasons for the second time during his tenure ('06, '07).
KEY NUMBERS:
* 0 - Coaches in SEC history with more NCAA Tournament wins than Donovan.
* 1 - Wins needed by Florida to tie the record for most by a UF senior class. Walter Hodge (2006-09) won 117. The foursome of Wilbekin, Young, Casey Prather and Will Yeguete are on 116.
* 3 - Times the Great Danes have played in the state of Florida. In addition to the aforementioned loss at UF in 2005, they also lost 76-72 at UCF and 81-65 at Florida Atlantic two days apartment in November 2009.
* 8 - Native Australians playing on teams in the NCAA field. Albany has half of them in forward Luke Devlin, brother forwards Sam and Mike Rowley, along with Hooley.
* 56.2 - Florida's free-throw percentage over the last seven games, thanks to a morbid 68 of 121 from the line. The six games before that, though, UF went 111-for-146 from the line for 76 percent, so the Gators have proven they can make free throws.
Watch for it: Needless to say, the Great Danes have not faced an opponent like the Gators, which means they have no clue as to the defense they are about to encounter, be it in against their half-court sets or full-court pressure.
---