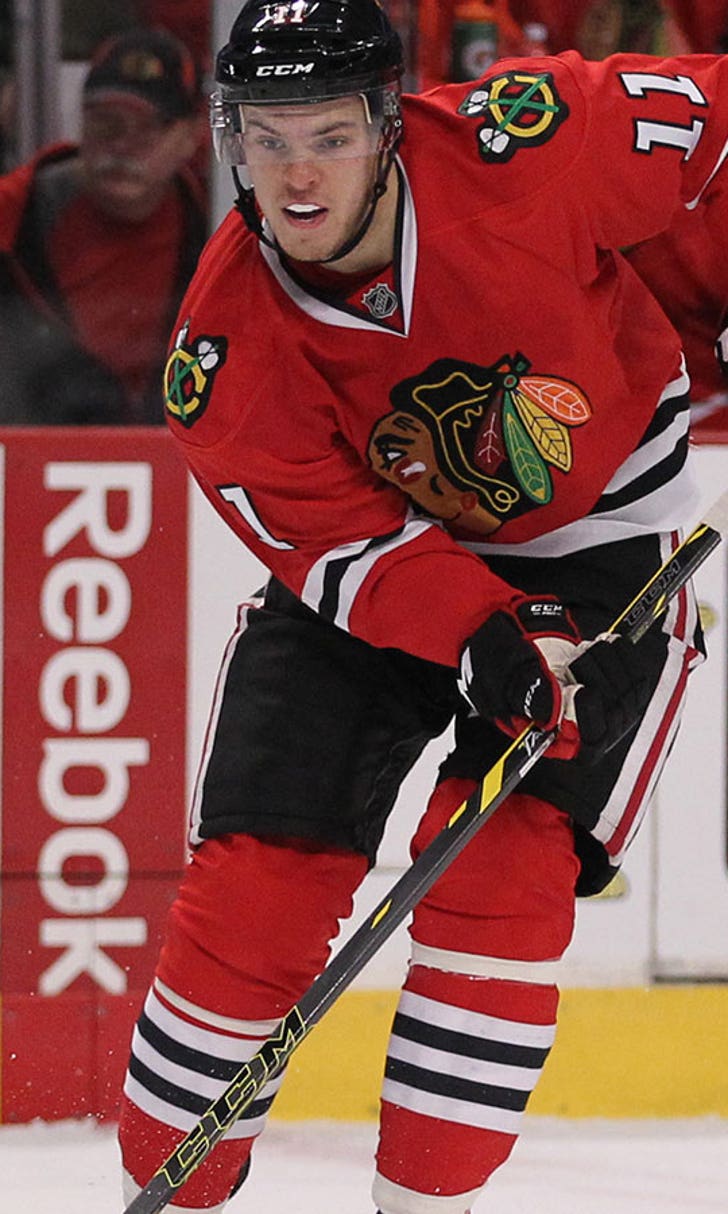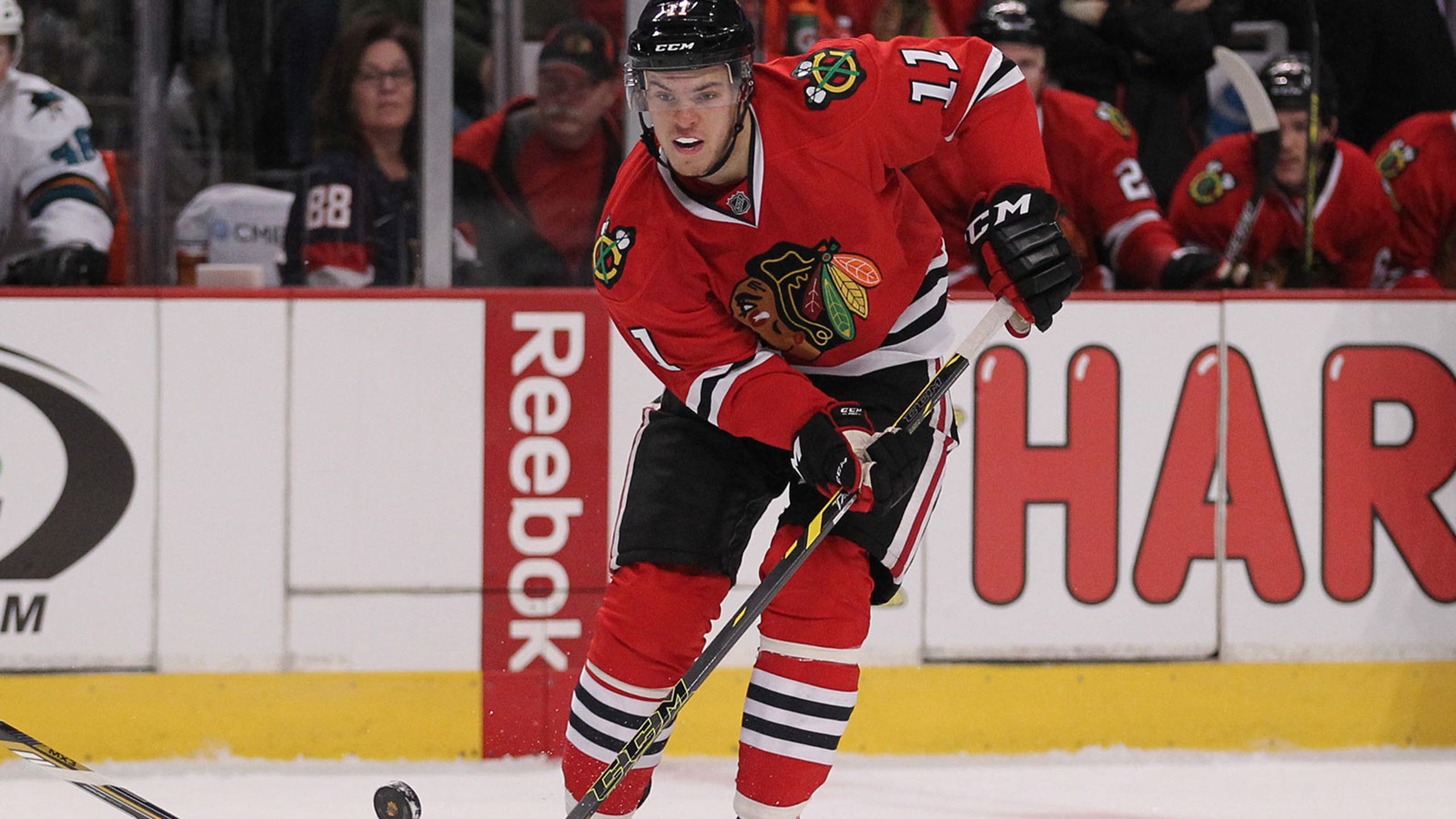 For Morin, it's a change of scenery and opportunity
BY foxsports • December 16, 2014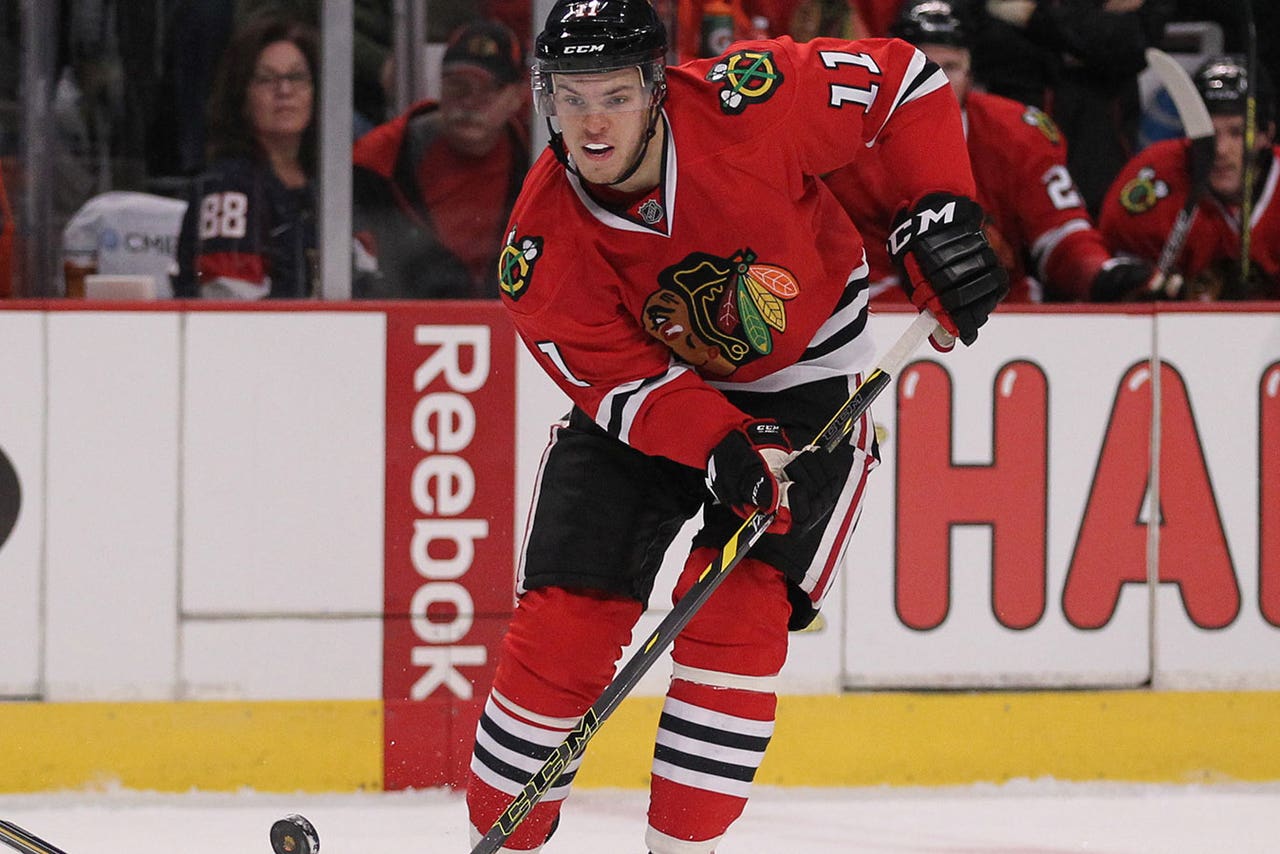 With what had become a bottleneck of healthy defensemen, and Tim Erixon being healthy scratched lately, Blue Jackets general manager Jarmo kekalainen traded Erixon to the Chicago Blackhawks on Sunday for right wing Jeremy Morin. He was a second round pick (45th overall) in the 2009 draft of the Atlanta Thrashers (now the Winnipeg Jets).
Having four forwards (Horton, Letestu, Anisimov and Hartnell) on Injured Reserve necessitated a move to bolster the forward lines.
Morin was averaging 7:44 on ice with a deep Chicago roster and played in just 15 games (0-0-0) for the Blackhawks this season. Might this be a classic case of a change of scenery to jump start his season?
"Anywhere that you go," said Morin, "you have to earn your ice time and earn your opportunities. It's refreshing for me to get a fresh start with a great group of guys. I'm real excited to be here. It's an opportunity for me to make a good impact."
He sees coming into the Blue Jackets organization as an opportunity to thrive. He'll be given the chance to show what he's got, as every player is, and make a lasting impression in the hopes of sticking in the lineup. He plays a similar style with which the Blue Jackets have forged their identity.
"I think it's great to walk into a room like this. I see a tight-knit group that plays as a unit on the ice. They play an honest and physical game. They're not afraid to get in the dirty areas and it's good to see."
While most in the room are not too familiar with Morin, one player knows his style of play pretty well. Defenseman Kevin Connauton played against Morin for two years when they were both playing in the American Hockey League.
"He was in Rockford (AHL) and I was in Chicago (AHL)," Connauton said, "and we faced each other about 12 times a year for back-to-back seasons. We saw a lot of each other. He was always a good player and a guy that we focused on shutting down. He's got some skill and grit in his game.
"I never enjoyed playing against him, which is always a compliment when someone's joining your team, right? I never really met him off the ice, but we're pretty well acquainted on the ice. I think he's a good addition to our forward group."
Connauton and Morin, while in the AHL, dropped the gloves and squared off with each other on Dec.  8, 2012. Morin gives the decision to Connauton. "I definitely played against him a lot when he was playing for the Wolves (Chicago). That was not one of my better fights. I wouldn't say that (fighting) is one of my strong suits."
He comes from a hockey family, as his brother Chad, his cousin J.D. Forrest and father Steve all played the game. Jeremy, like a few of the current Blue Jackets players, spent some time with the U.S. National Team Development Program. The Auburn, New York-native has heard about some of the Blue Jackets from his bother.
"He (Chad) played with Nick Foligno," Morin said. "He's actually played with a few guys, Jack Skille and Jack Johnson, at the U.S. program. I feel like my brother is more familiar with the guys on the team than me."
Foligno said of Morin, "I actually played with his brother when I was with the U.S. program in Ann Arbor. I don't know much about him, but I've heard of him. In watching him in practice (Monday), he looks like a real good offensive guy, a good shooter and a good skater. So, I'm excited to see what he can do in a game for us. We're happy to have him."
The addition of the right-handed shot gives Blue Jackets head coach Todd Richards some options to bolster his forward lines. He reiterated that he cannot give a true assessment of Morin until he's seen him in action over the course of a few games. He also wouldn't commit to Morin drawing into the lineup Tuesday against the Detroit Red Wings.
"It's tough when you're running a practice to isolate on one guy. But the few glimpses that I got of him, it looks like he can skate and it looks like he can shoot. Once you get into a game, it's a whole different animal.
"I want to hold my comments until I get a 'feel' for his game. I want to watch him play in games and practice a little bit more. I don't think you're going to get a real good judgment of him off of one game. It's going to be a handful of games."
The acquisition of Morin is another of those 'under the radar' moves that Kekalainen is becoming known for. A change of scenery, coupled with opportunity, might be just what the 23-year-old winger needs to get his career on track.
---