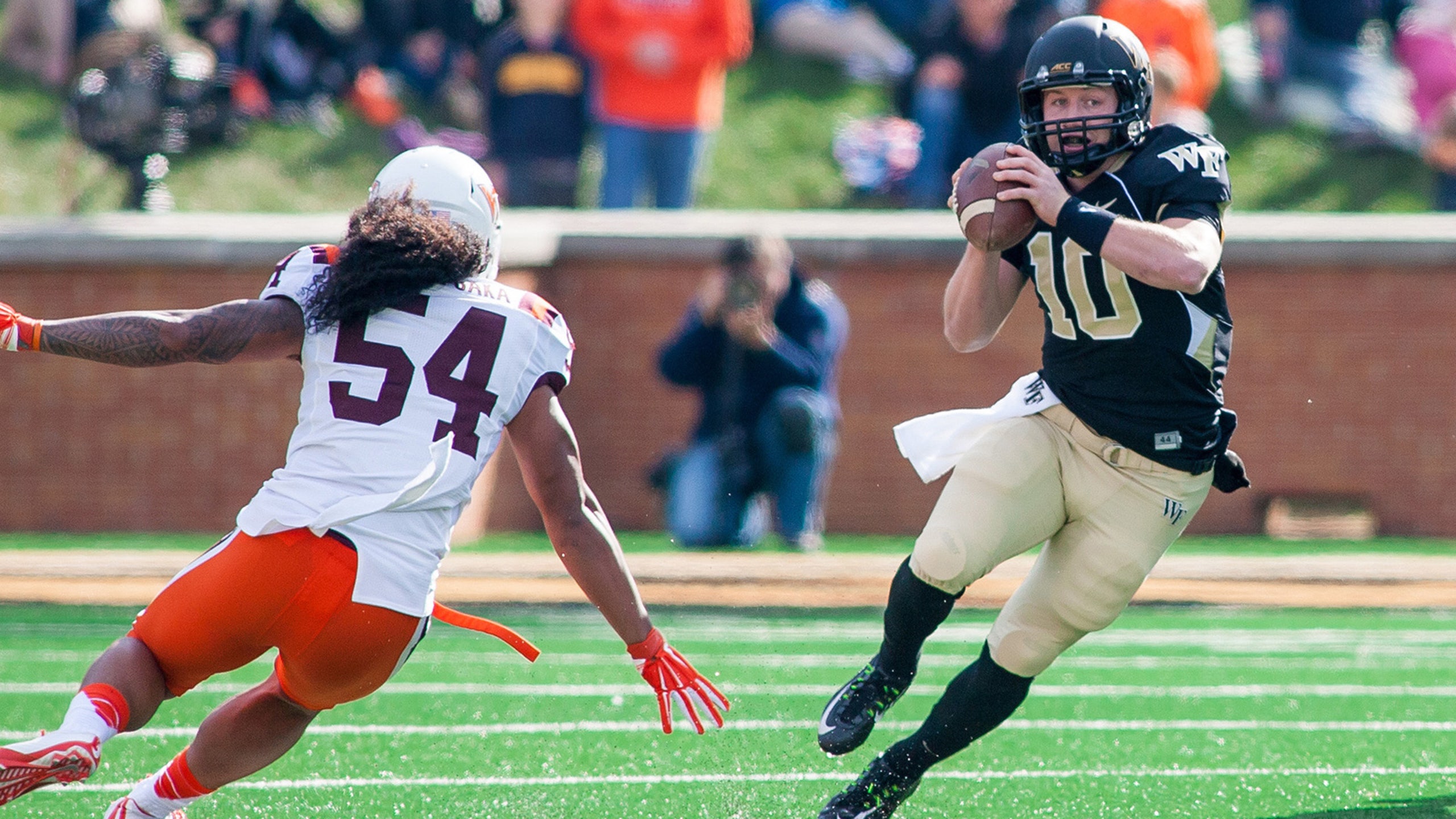 Following scoreless regulation, Wake Forest prevails over Virginia Tech in OT
BY foxsports • November 22, 2014
With two of the lowest-scoring offenses in the country meeting in Winston-Salem, N.C., on Saturday afternoon, touxhdowns were expected to be a rare sight. Vegas set the over/under at around 38 points, but Virginia Tech and Wake Forest took it a quite few steps in reverse, tying the national record for futility through 60 minutes of play. The Hokies and Demon Deacons needed overtime to settle the outcome of the game ... and to score the first points in the matchup.
The Virginia Tech-Wake Forest matchup became the first game since Arkansas State-Florida Atlantic in 2005 to finish regulation with a 0-0 tie. 
Eventually, per college football rules, one team did win the game: an undermanned Wake Forest team improved to 3-8 in coach Dave Clawson's first season on the sidelines. As for Virginia Tech, the Hokies fell to 5-6 and will need a win over rival Virginia next weekend in order to reach bowl eligibility for the 22ns straight season.
There was certainly plenty of cause for celebration at Wake Forest after its team interrupted its own stretch of record-related futility, but after the Demon Deacons missed a potential game-winning 37-yard field goal at the end of regulation, the narrative surrounding the unassuming noon game was set. 
Parts of this story aren't too surprising. Wake Forest claimed the 126th-ranked scoring offense nationally entering the game -- ranked ahead of only Eastern Michigan and SMU -- while Virginia Tech wasn't much better, scoring just 25.3 points per game (90th nationally). Both teams are, unequivocally, defensive-minded rosters. But this was an ugly one, an extreme case of poor offensive play. Case in point: Virginia Tech's game-tying field goal in the first overtime was the first time the team reached the 25-yard line the entire game ... if only because the rules mercifully mandated the Hokies start the drive there.
The offensive numbers were, predictably, terrible.
Hokies first-year starting quarterback Michael Brewer finished the game with 121 yards passing and an interception. His counterpart, Wake Forest freshman John Wolford, accounted for 160 yards and a pick. The teams combined to convert on just 24 percent of third downs and to turn the ball over four times. The game featured 18 punts.
Wake Forest will gladly walk away with its first ACC win in its past 10 tries and Clawson seemed more than happy with his team's resiliency and defensive effort after the game. Still, it's understandable if, on a national scale, this game is remembered for ulterior motives.
---