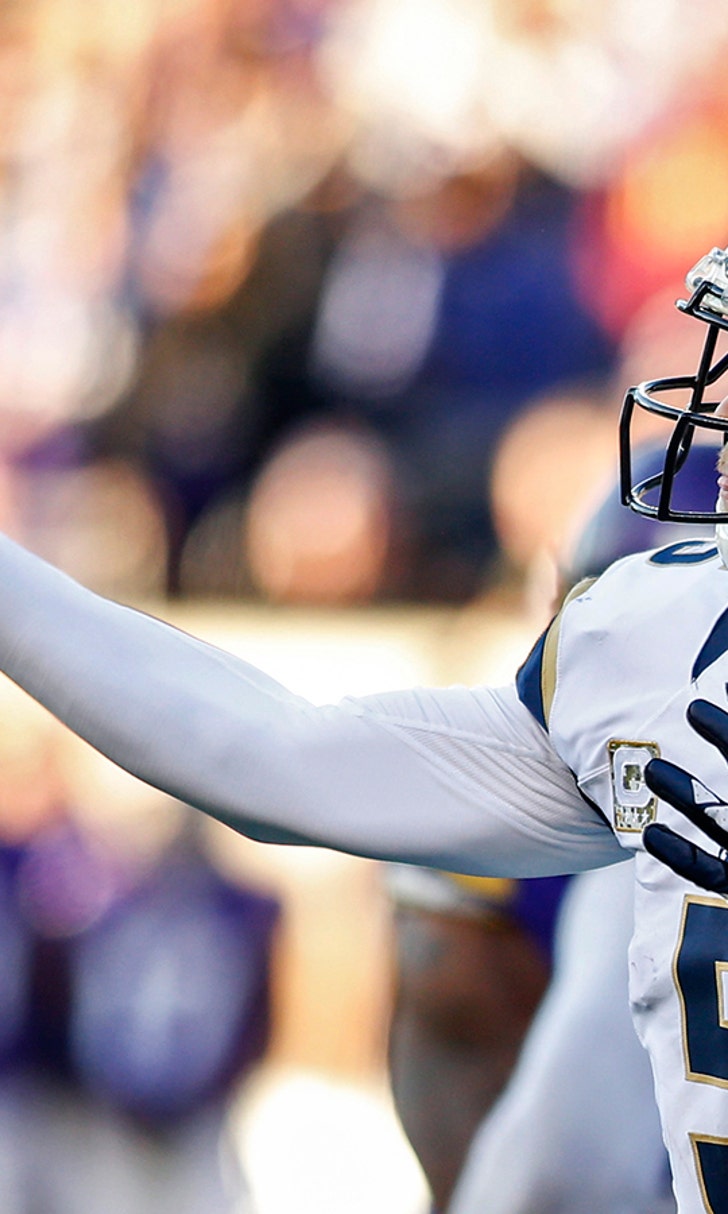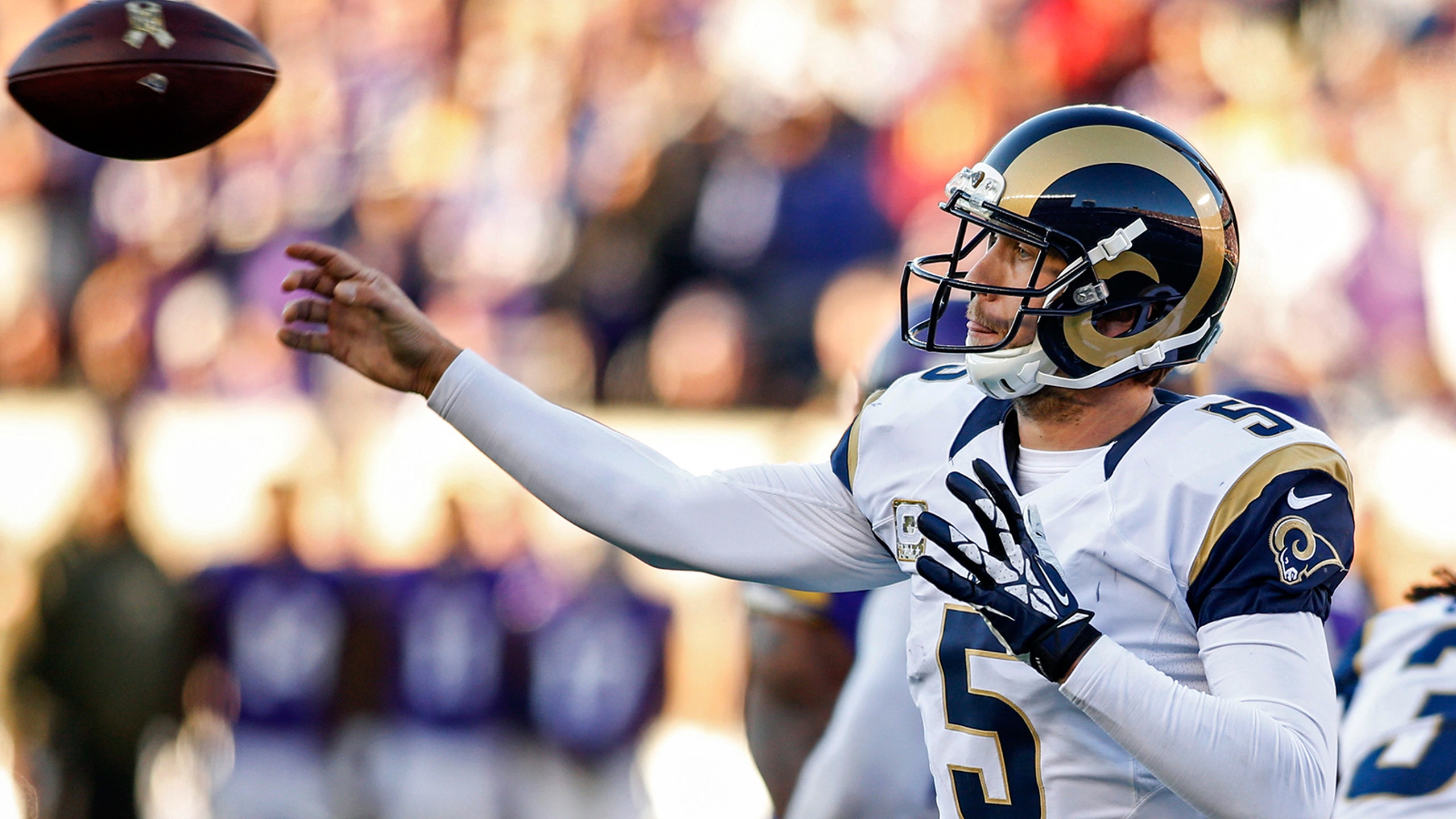 Foles likely Rams starter; Keenum still must pass concussion protocol
BY foxsports • November 27, 2015
ST. LOUIS -- Unless Case Keenum passes the NFL concussion protocol Saturday, St. Louis will turn to benched starter Nick Foles at quarterback.
Keenum split practice time Friday with Foles, who was relieved of his duties two weeks ago by coach Jeff Fisher. Keenum had returned to practice on a limited basis Wednesday after missing Tuesday's workout because of a concussion.
"At this point, Case has been limited in practice and we've got him listed as questionable," Fisher said after practice. "He's not quite cleared the concussion protocol and unless we get good news tomorrow, then Nick will be our starter. If he's completely cleared, and if he feels good, he'll start.
"As it is right now, it's looking like we're going to have to potentially go with Nick, which is great. I'm so excited about Nick getting a chance to play. Case might be our third unless things get better tomorrow."
The Rams (4-6) did not make Keenum available to reporters after the practice at Rams Park because he's still in the concussion protocol.
Keenum made his first start of the season last week and was injured when his helmet banged into the turf after being sacked with about a minute to play in a 16-13 loss at Baltimore. He threw for 136 yards, completing 12 of 26 passes, and lost two fumbles.
"We're not going to subject him to any risks," Fisher said. "We just have to wait and see how the protocol works itself out."
Fisher benched Foles two weeks ago after a 37-13 blowout loss to the visiting Bears. Foles was 17 of 36 for 200 yards in the defeat.
The Rams rank 31st overall on offense and in passing going into the game at Cincinnati (8-2).
"He had a great week," Fisher said about Foles. "He's seized the opportunity. The offense understands where the challenges are. We need to score points. Nick is excited about the opportunity if he gets the chance to play."
Foles started the first nine games of the season for the Rams. He has seven touchdowns and six interceptions.
"Watching Case and looking through a different lens, you learn a lot," Foles said. "As a quarterback, you always have to prepare like you're starting. You're always ready to go if your number is called.
"It's not like I turn it on and turn it off. I always stay ready. Hopefully, I'll play better. That's the goal."
Fisher provided an update on receiver Stedman Bailey, who was shot in the head Tuesday while sitting in a parked car outside a home in the Miami area, where he attended high school. Bailey, serving a four-game suspension for violating the NFL's substance abuse policy, remains in intensive care after his surgery.
"Our doctors have talked to the attending physicians and surgeons and he's in stable condition right now," Fisher said. "Our trainer, Reggie (Scott), went down to see him and we're just trying to gather more information. As far as the incident is concerned, there's an ongoing investigation and I have not gotten any details."
Tavon Austin and Kenny Britt each wore No. 12 in honor of Bailey at practice. Fisher had no problem with the jersey switch.
"It's cool. They love Sted. If we had enough jerseys to go around, everybody would have a 12 jersey on, including me," Fisher said. "It's a very, very unfortunate incident. What we're able to gather is he was just simply in the wrong place at the wrong time.
"The guys love Sted. He's a very popular teammate."
Austin has his locker next to Bailey. The two were teammates in college at West Virginia. News about his friend hit him hard.
"I keep praying. He's my closest brother on the team," Austin said. "Hopefully, coach Fisher will let (me) wear his number in the game. I'd like to wear it the rest of the season.
"He's going to be all right. He's going to be good. I'm not just saying it, I'm believing it."
NOTES: Cornerback Trumaine Johnson (thigh), defensive end Robert Quinn (hip/back), and rookie offensive tackle Rob Havenstein (calf) also did not practice. All are listed as questionable. ... The Rams practiced indoors but went out to work for about the last 20 minutes in the rain. Rain is in the forecast for Sunday's game at Cincinnati.
---
---