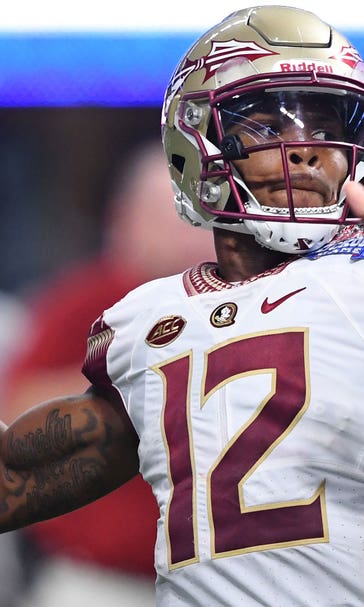 Florida State QB Deondre Francois cited for marijuana possession
April 13, 2018
TALLAHASSEE, Fla. (AP) -- Florida State quarterback Deondre Francois again finds himself in off-field trouble.

The rising junior was cited by Tallahassee Police on Thursday for possession of marijuana after officers served a search warrant at his residence. Tallahassee Police public information officer Damon Miller said the Special Investigations Section had received information that drug activity was occurring at the residence and got a search warrant.

According to the police report, officers found 17 grams of marijuana as well as other drug paraphernalia. Francois told officers the marijuana was not his and that he had not smoked since December. He was not arrested and has been given a diversion program since it was less than 20 grams.

Florida State spokesman Derek Satterfield said the school is aware of the incident and it is handling it internally.

Francois has been limited during spring practices as he rehabs from a knee injury he suffered during last season's opener against Alabama. He started 13 games for the Seminoles in 2016 and threw for the fifth-most yards in school history (3,350) as he was named the Atlantic Coast Conference's Rookie of the Year.

Francois has not endeared himself to new coach Willie Taggart. Francois was investigated by police in January for a domestic violence incident with his girlfriend, who is pregnant. He was not charged.

Even though it occurred late in Jimbo Fisher's tenure, Taggart also was not pleased that Francois decided to miss a late-season game against Delaware State to go home. Shortly after being hired, Taggart was disappointed Francois was missing position meetings while the Seminoles were preparing for the Independence Bowl.

Going into spring practices, Taggart expected a lot of Francois even though he was physically limited.

"He's going to be able to encourage his teammates, be a great leader and keep rehabbing," Taggart said. "He's got a lot of work to do even though he's not out there on the football field, and I'm looking forward to him working on those things."

Florida State completes spring practice on Saturday with its Garnet and Gold game. James Blackman, who started 12 games last season, and Bailey Hockman will be the quarterbacks.


---
---