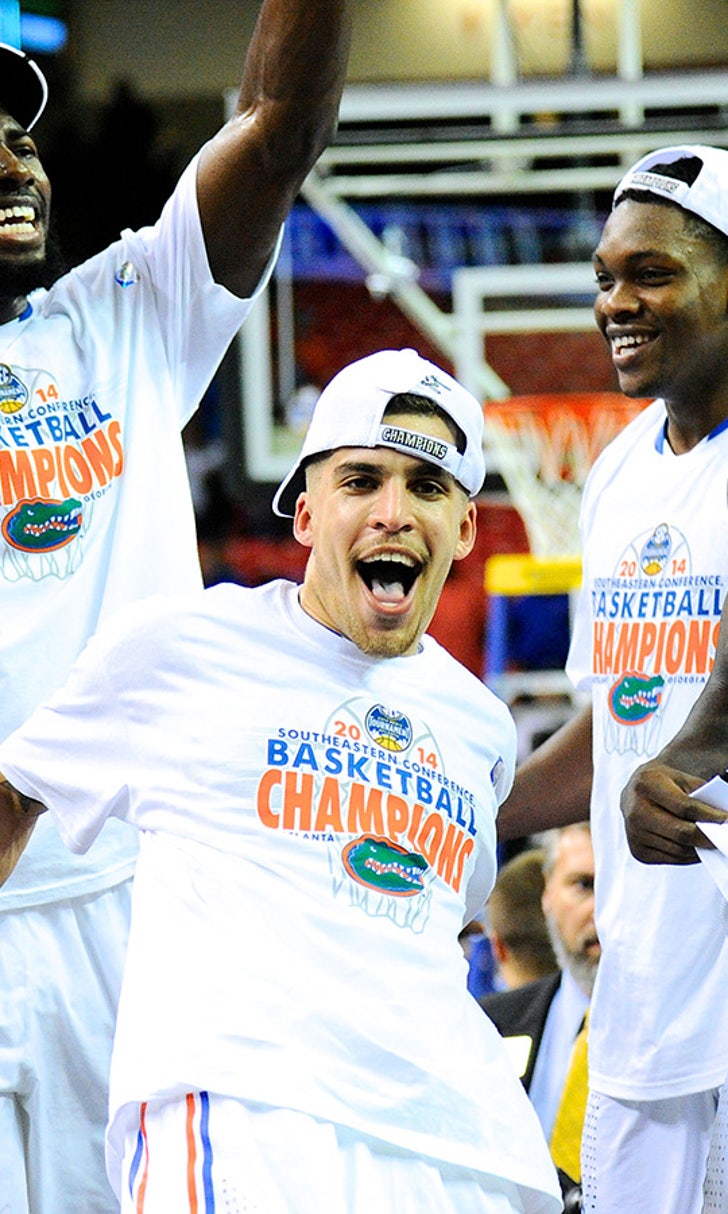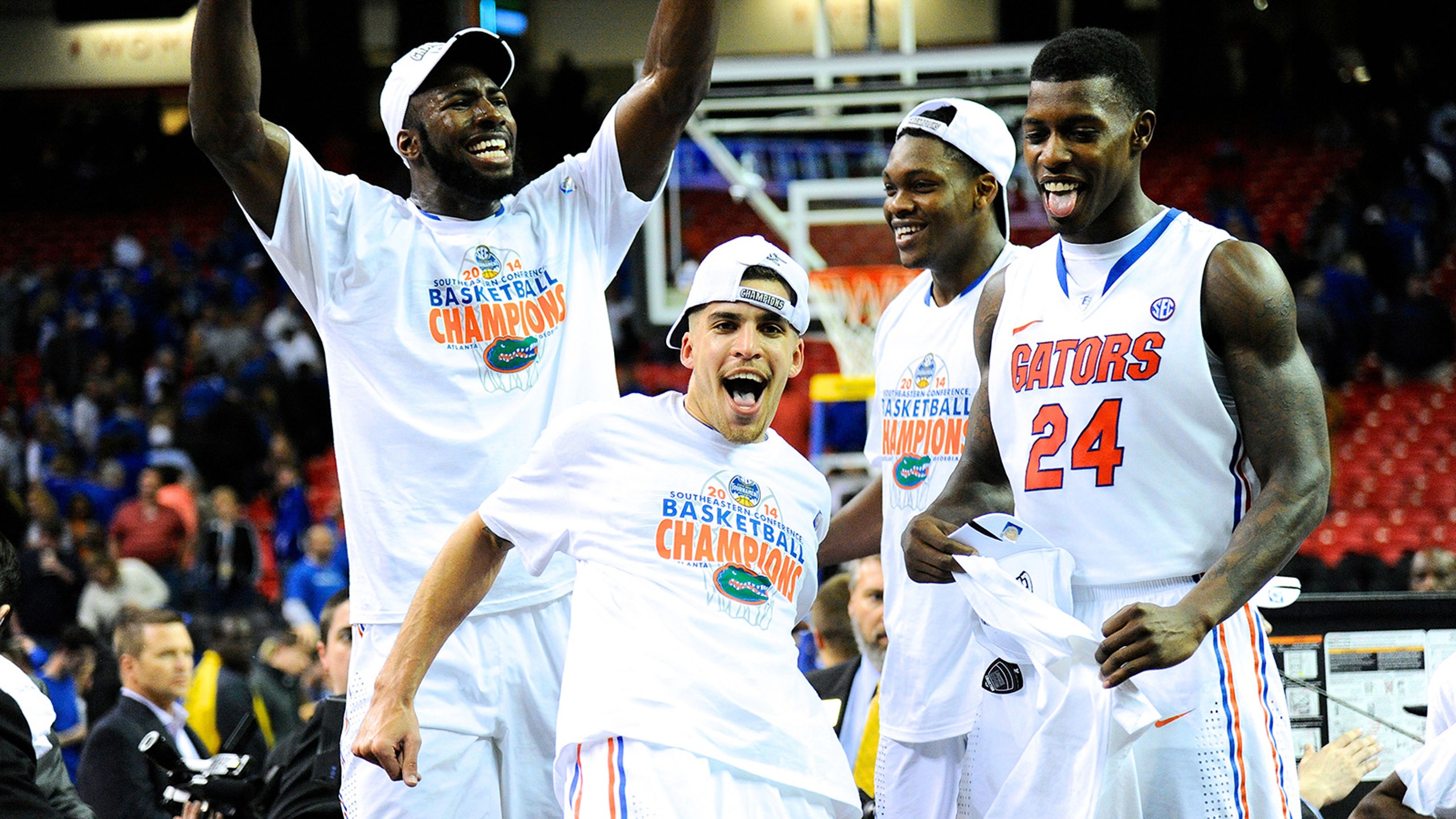 Florida carries SEC title, confidence into NCAA Tournament
BY Zach Dillard • March 16, 2014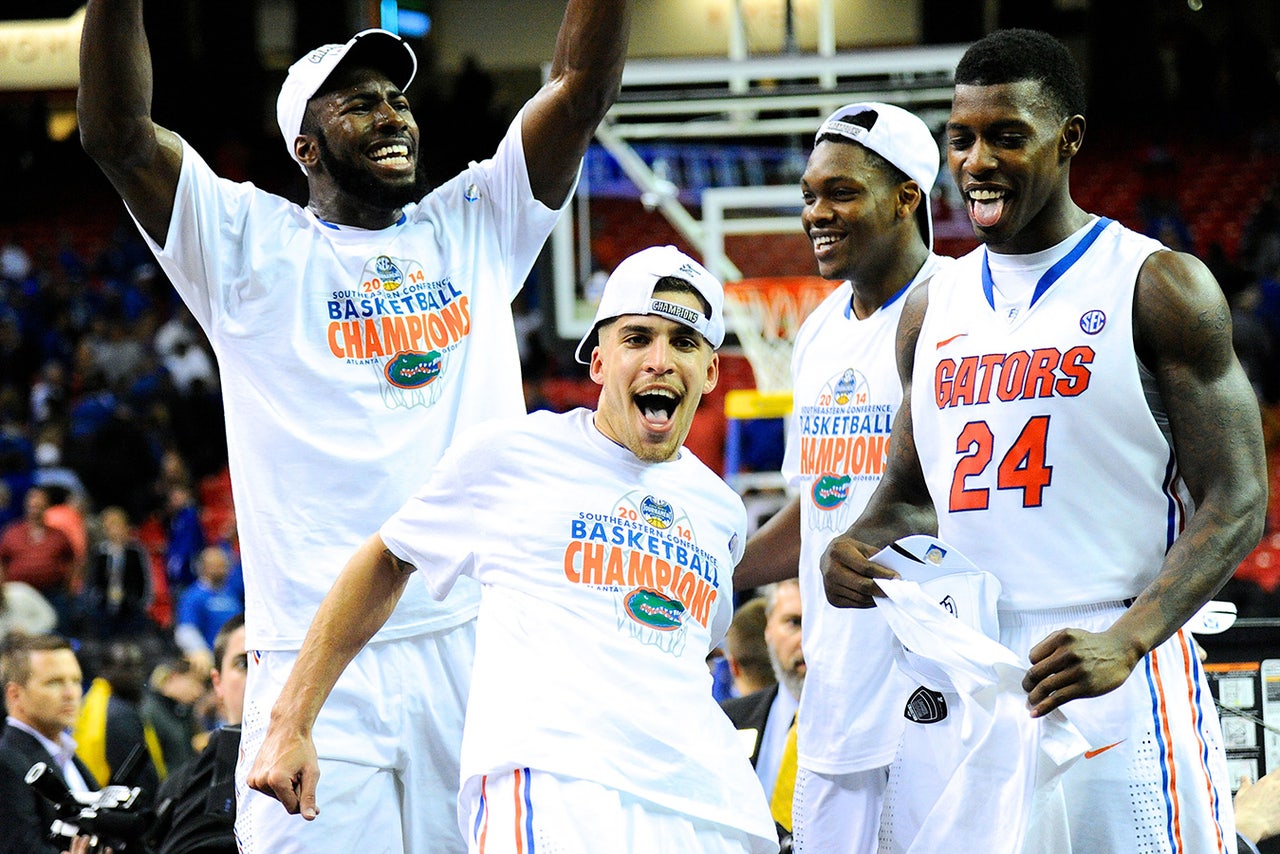 ATLANTA -- A team received its trophy. A nation received its confirmation. And that was about it.
Florida was crowned the undisputed SEC champion on Sunday afternoon, capturing the conference's tournament title by holding off a surging Kentucky team with one final defensive stop in the closing seconds, a play encapsulating the champs' entire season, and then the senior-laden Gators looked ahead. Past their impressive resume. Past the foregone conclusion that they would claim one of the nation's coveted No. 1 seeds in the NCAA Tournament. Past the Georgia Dome doors and out into the rest of March, and, preferably for Billy Donovan and his team, into April.
"Coach told us that after tonight when we wake up in the morning this is in the past," sophomore Michael Frazier II said.
Sure, the typical championship traditions were prioritized. When the clock ran down on Kentucky's offense, with star point guard Scottie Wilbekin applying on-ball pressure then poking the ball loose to secure the 61-60 final, a stage was made and the Florida players danced as Freddie Mercury serenaded them with words about winning things. They gave speeches. They cut down nets.
Then it was all over in Atlanta.
Wearing championship gear adorned with the nets' string, the players and their coach sat on the podium talking about a specific game against their primary conference rivals, all while learning what the future holds; the NCAA Tournament Selection Show unfolded during the press conference, the bracket revealed for the first time. The Gators were placed in the East Regional as the No. 1 overall seed (surprise, surprise), though the road ahead is not easy: Kansas and Syracuse were considered for 1-seeds at one point or another, UCLA took home the Pac-12 tourney title and VCU, Ohio State and New Mexico also appear more than capable of making things tough on the SEC champs.
As exhilarating as the conference title game was for Donovan & Co., there's little time for reminiscing. Their next game is in four days, and, as one of the preeminent favorites to cut down the nets -- of the national title variety this time -- they have big, big plans.
"You got to be able to move to the next thing," said Donovan, whose team captured the SEC Tournament title for the first time since 2007. "And the same thing can happen in winning. You can win and it can become intoxicating and you lose your way and lose your focus and lose your sight of where do we need to get better. But I think all those things, guys' confidences go up and down.
"Sometimes the biggest thing I try to get across to our guys is, most of the time we, as people, we're living in two extremes. We're either fearful of something or we're way overconfident about something. You got to be able to get yourself focused on what reality is."
For the past few months, at least from the view from press row, that reality involves 26 straight wins and one of the most efficient two-way machines in college basketball.
Donovan's Gators lost just two games by a total of seven points this season -- the coach even characterized the UConn loss as ending on a "fluke play", adding more credence to the excellence -- all while beating the likes of Kansas (2-seed), Memphis (8-seed), Tennessee (underrated 11-seed) twice and Kentucky (underrated 8-seed) three times.
Seniors Wilbekin, Casey Prather and Patric Young give this team a sense of unwavering fortitude. They do not relent, especially defensively, as one would expect from a team that holds opponents to 90 adjusted points per 100 possessions, and when talented sophomores like Frazier and Dorian Finney-Smith are thrown into the mix, it's evident just how well put together this roster is. It boasts outside shooting, rebounding and some of the best on-ball defending this tournament will see. It's a credit to Donovan and his staff. And the fact that it's such an upperclassman-dominant collection adds more weight to its opponents' task.
The Gators know exactly what they are capable of -- and how to attain it.
"I think we have the kind of confidence that we can line up against anyone," Young said. "We think if we're playing the right way, that there's no one we can't beat."
Added Wilbekin: "We're right where we need to be confidence-wise. Obviously we came into this tournament wanting to win it. That was our goal. We accomplished that. Now it's just on to the next game."
It may be swept under the Dance's rug, but a drought ended on Sunday. Florida had not won the SEC Tournament title since Joakim Noah, Al Horford and the rest ran through the event for the three straight years (2005-07). Of course, the final two seasons of that trifecta led to Donovan's two national championship rings. This team is not exactly that team -- these Gators are not near as scary offensively, they play at a more deliberate pace and the rely more on perimeter players than that vicious one-two interior punch of Noah and Horford -- but they can bring home the same trophy in the end.
If frontrunners are to be trusted in March, then Florida, a frontrunner among the tourney's frontrunners, is about as trustworthy as it gets. The SEC Tournament did little in terms of seeding or acquired confidence, but it did perpetuate a question: Can the two-loss Gators be beaten again? There have been 26 straight nos. Will March produce a yes?
---