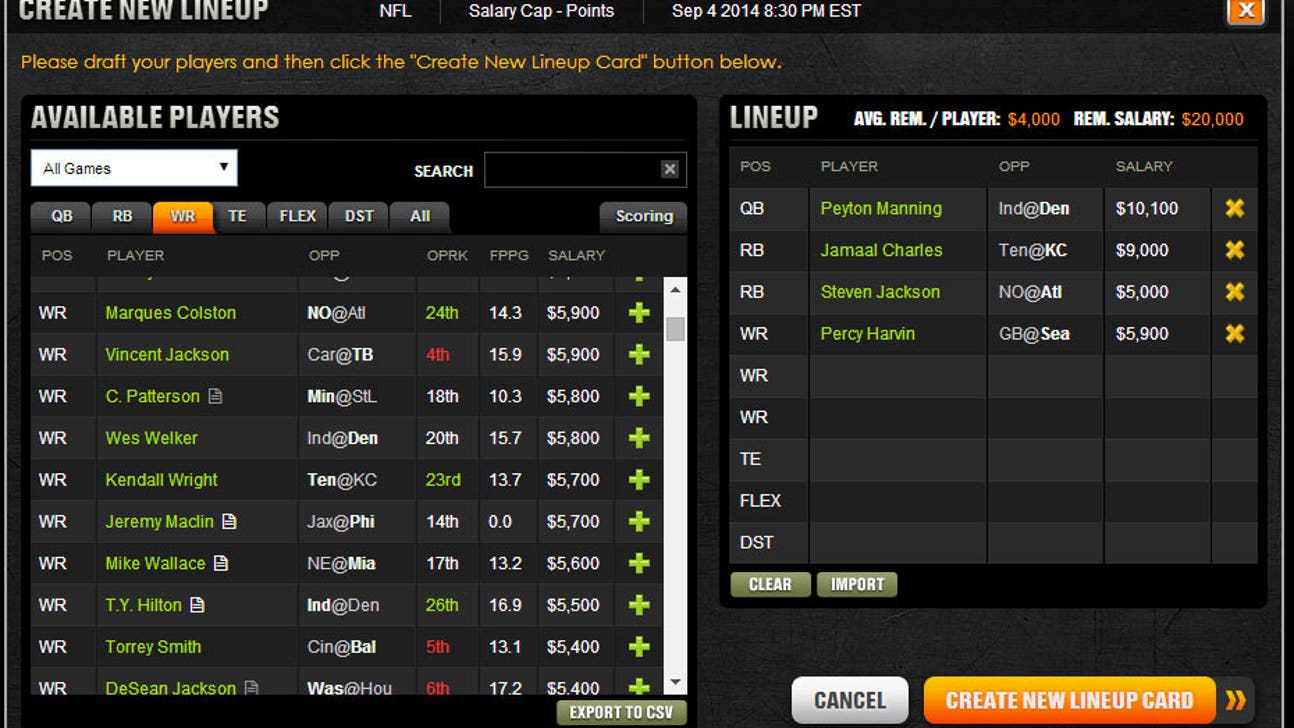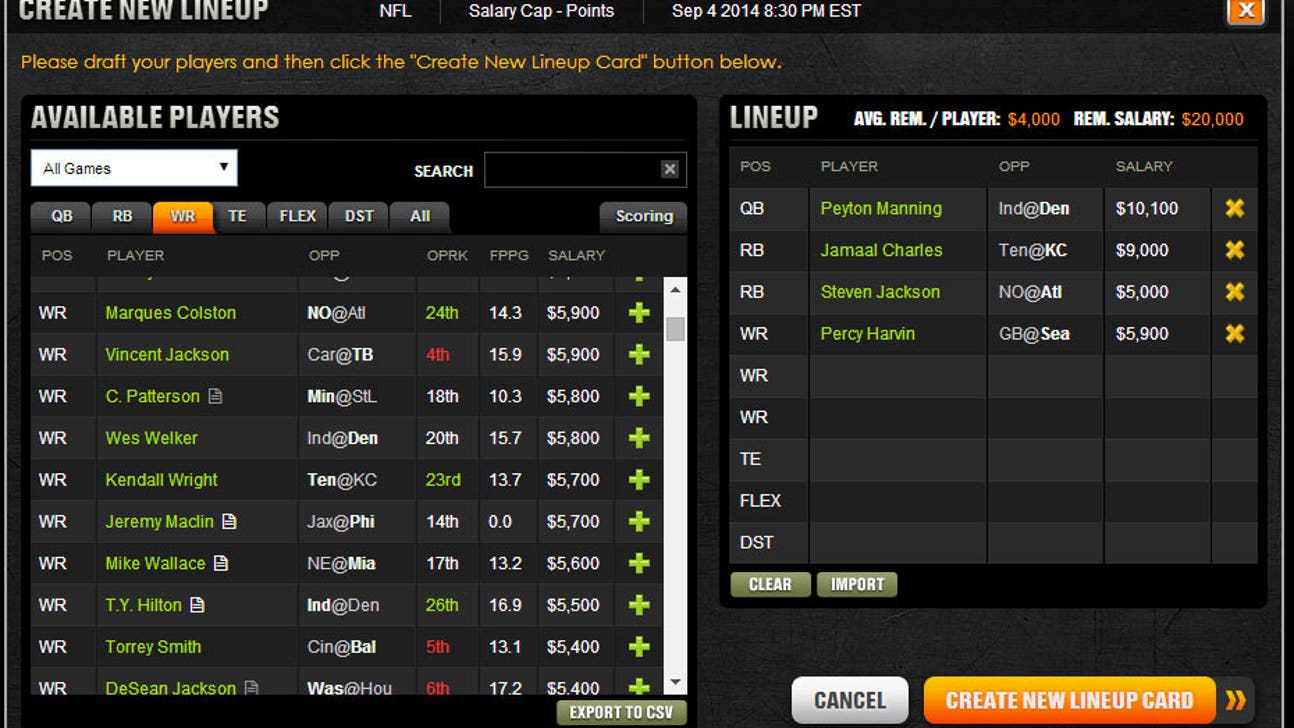 Five ways to win money on DraftKings
Published
Aug. 4, 2014 12:00 p.m. ET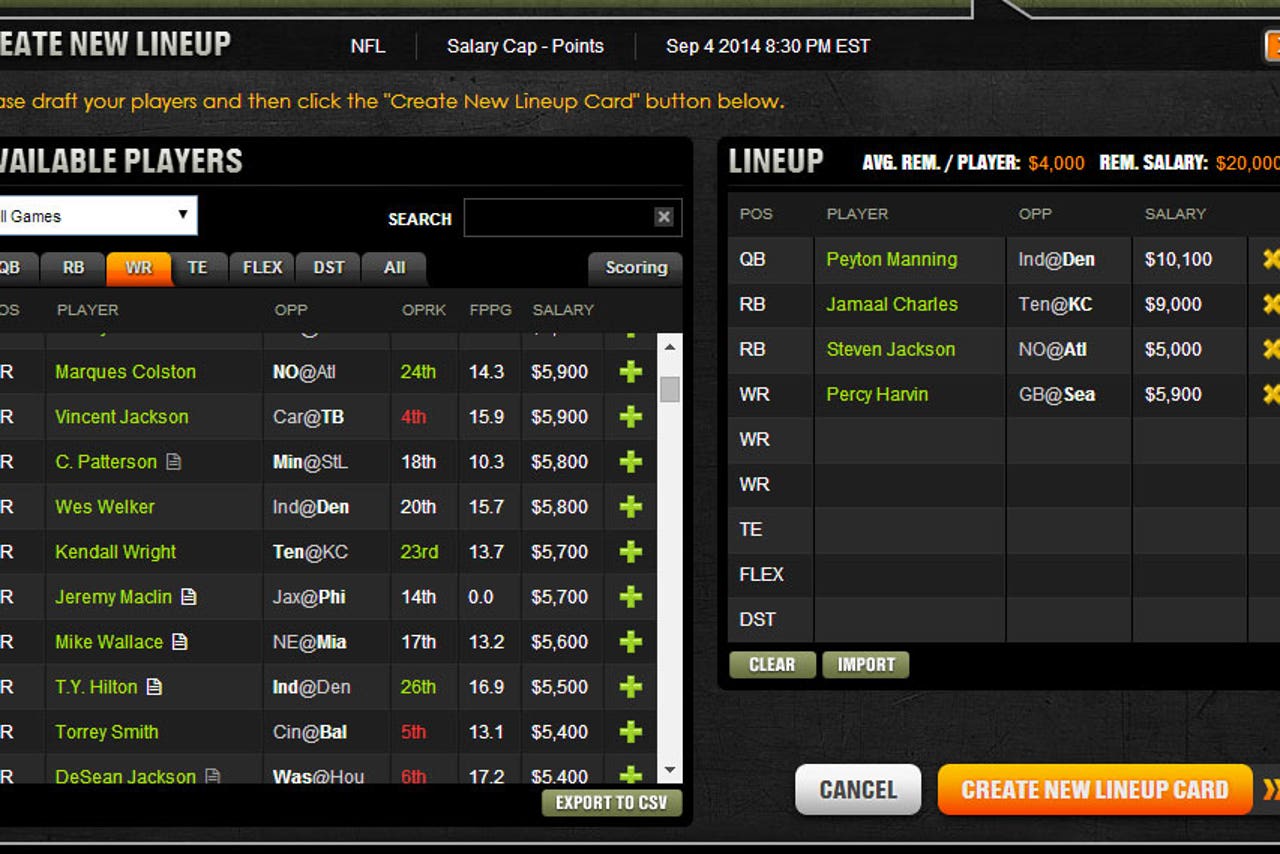 Gameplay on DraftKings, a leader in 1-week fantasy football, is a little different than your standard season-long fantasy football league. You choose the best possible team under DraftKings allotted salary cap, and each contest lasts just 1 week.
DraftKings is giving you a FREE entry into their $100,000 Week 1 contest if you click here!
Let's try to dig a little deeper today into the strategy on DraftKings. From roster differences to scoring, there are a few subtle items to note before building out your ultimate one-week lineup and playing for the big bucks.
1)      No Kickers – Looking at the roster composition, it might stand out that DraftKings has done away with the kicker position. For the small number of kicking enthusiasts out there we apologize, but for the vast majority of fantasy players this is a welcome change. Week to week, kickers were extremely unpredictable and while their validity might remain in the season long game, they had no business being included in the weekly contests. Without the kicker, DK has added in an additional Wide Receiver slot. Overall you have to build your rosters in the following format: QB, RB, RB, WR, WR, WR, TE, FLEX (RB/WR/TE) and DEF.
2)      Full Point Per Reception – If you're a tenured season-long player, you know how much the reward for a reception can play into overall value. The difference between a full fantasy point per reception and zero points per reception changes a guy like Shane Vereen to being a reasonable 3rd round choice to dropping deep into drafts. On DraftKings, receivers and backs get a full point for each catch which adds a lot of value to pass catching backs, but also creates a dynamic where wide outs have significantly higher upside.
3)      Yardage Bonuses – One of the most underrated aspects of the DraftKings scoring systems is their bonus structure, which awards 3 fantasy points to players who hit 'milestone' bonuses during a game at their given position. The milestones are as follows:
a.       300+ Passing Yards = 3 bonus points
b.      100+ Rushing Yards = 3 bonus points
c.       100+ Receiving Yards = 3 bonus points
While the bonus points are evenly awarded, regardless of position, this actually creates a dynamic that makes wide outs even more valuable than the full point per reception. Take a look at the number of players who have hit these bonuses over the last four seasons:
Last Four Seasons
| | | | |
| --- | --- | --- | --- |
| Year | 100+ RuYd | 100+ RecYd | 300+ PaYd |
| 2010 | 124 | 181 | 96 |
| 2011 | 131 | 192 | 121 |
| 2012 | 123 | 192 | 126 |
| 2013 | 97 | 208 | 118 |
As you can see, receiving yards is the most commonly reached target. Of course this can be somewhat attributed to the fact that both WR's and TE's fall into this category, but still it is well known that the NFL is becoming more and more of a passing league with each year that passes. Looking at 2013 alone, you can see that the 100+ yard rushing game totals for RBs plummeted to just under 100 total while 100+ yards receiving skyrocketed to over 200 total.
4)      3 WR + an additional FLEX – Continuing on the theme of valuing wide receivers, the DraftKings roster layout forces you to take 3 receivers to start, with the option of adding a fourth. The FLEX can be used on a RB, WR or TE, but I'd strongly recommend using that spot for an additional WR, specifically in tournament play. With the scoring set up as it is, receivers have significantly more upside than any other position.
5)      Interception Penalties – This variable is less noticeable than others, but at DraftKings only one point is taken away for an interception. Certain formats deduct two points per pick, which can slightly devalue QBs, especially those who tend to have a more 'gunslinger' mentality.
Those five roster and scoring notes will go a long way in helping you build lineups on a weekly basis at DraftKings. You can find the entire roster and scoring system at this FAQ Page, and you can head over to DraftKings now to start building your Week One fantasy football lineups!
$5 MILLION is up for grabs in the DraftKings Daily Fantasy Football Kickoff Bash! Claim your FREE contest entry here >>
---