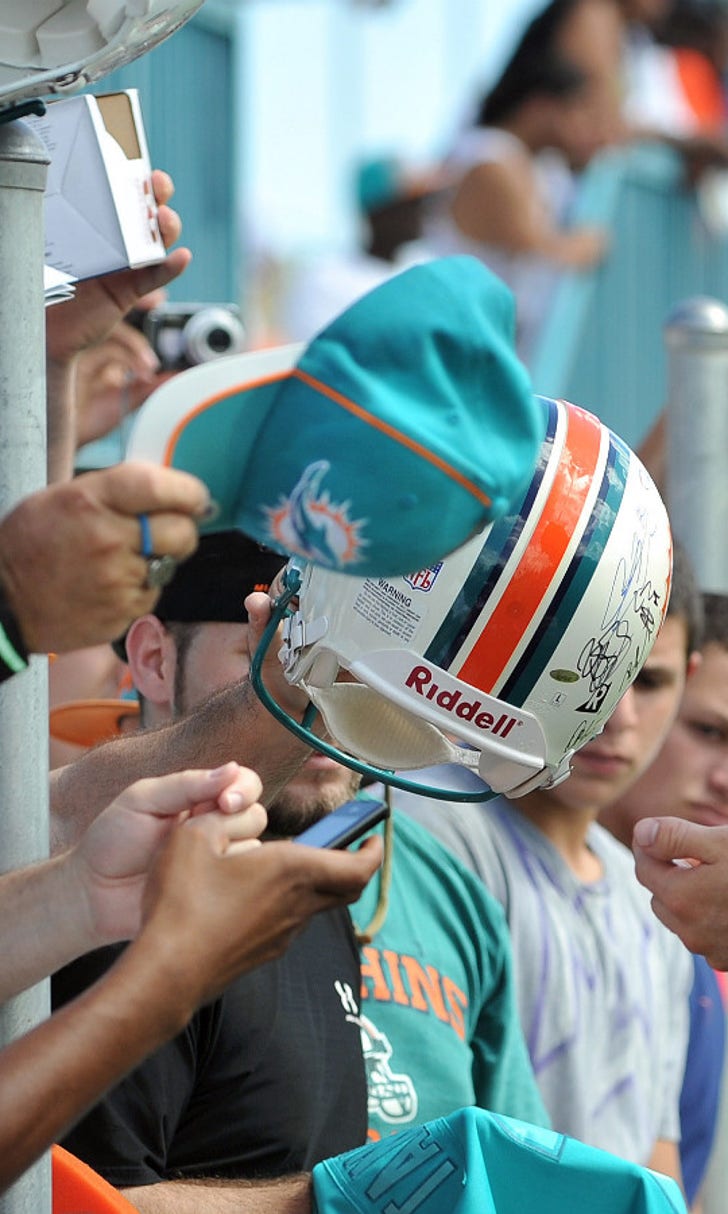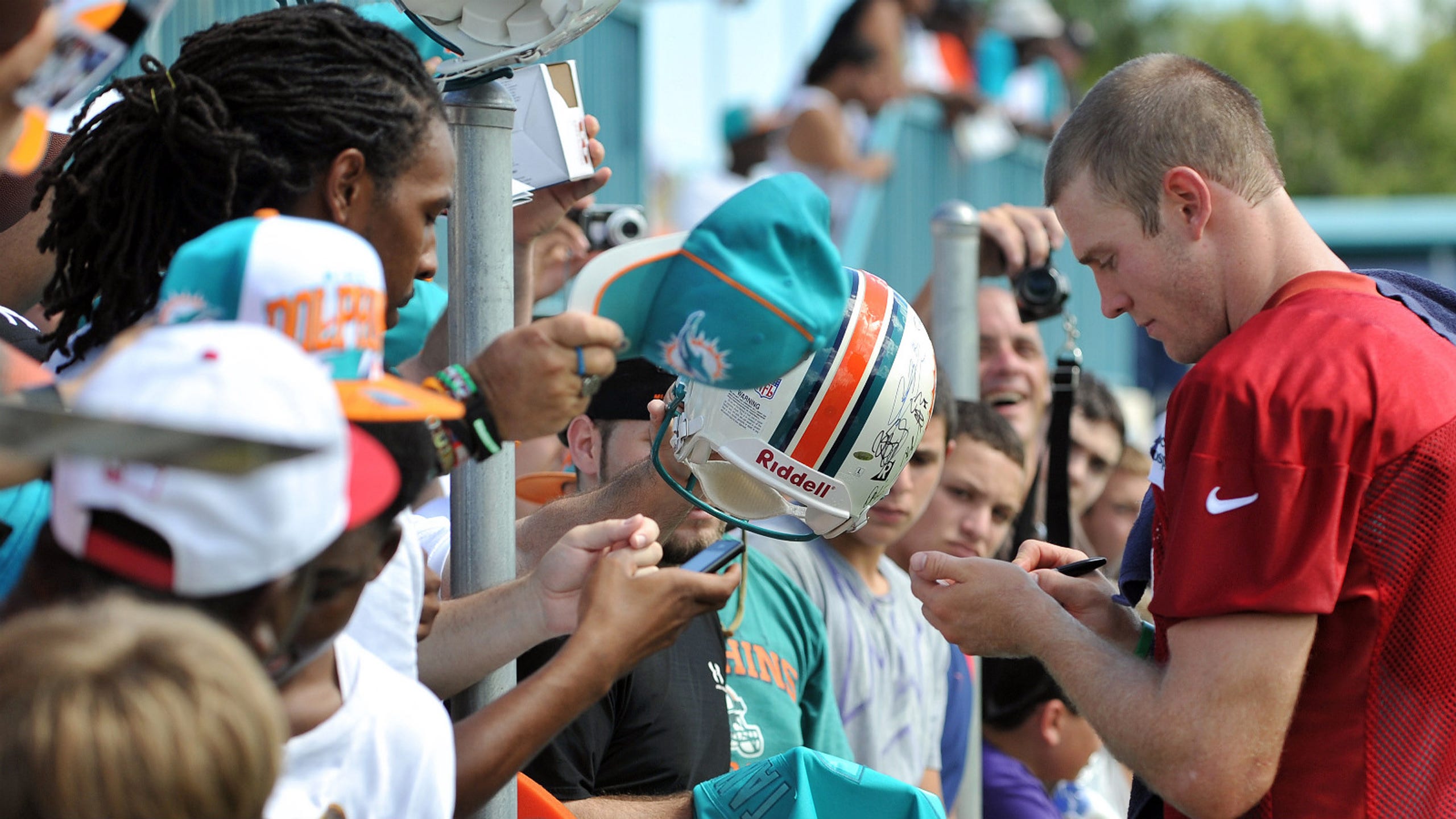 Five questions as Dolphins begin preseason against Falcons
BY foxsports • August 7, 2014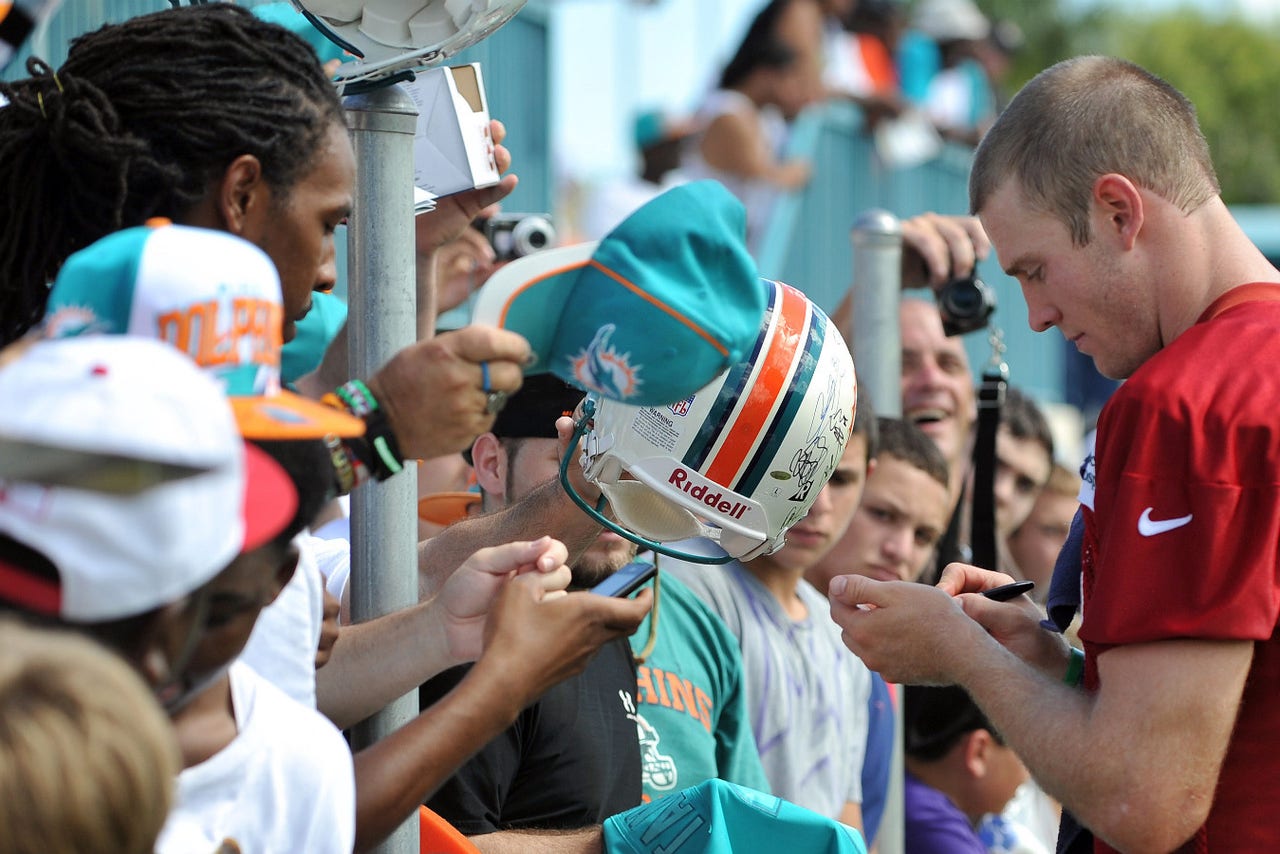 The Miami Dolphins hit the road for their first preseason game against the Atlanta Falcons on Friday. After two weeks of training camp, there's plenty to watch for with several key players either out or recovering from a recent injury. New players are eager for a chance to help improve a team in desperate pursuit of a playoff berth that has eluded the organization since 2008. 
Here are five pressing questions as the preseason begins.
1. Which Ryan Tannehill will show up against real competition?
It's clear Tannehill has had his hands full adapting to a new offensive system under newly hired offensive coach Bill Lazor, who is emphasizing an uptempo offense designed to get the ball quicker out of Tannehill's hands. The former quarterback coach for the Philadelphia Eagles had success last season with Nick Foles in his second year. But so far there has been decidedly mixed results with Tannehill and the offense in Dolphins training camp. He looked good in last Saturday's team scrimmage, moving with efficiency out of the pocket, but then again his offensive linemen weren't exactly tested like they will be on Friday. Tannehill will need to show improvement in his long-range accuracy. The interceptions he threw this week in training camp will be quickly forgotten with a strong showing versus the Falcons.
2. Which wide receivers will the coaching staff give opportunities to?
It remains to be seen just how conservative head coach Joe Philbin's play calling will be. He has plenty of options among the wide receivers battling for a final roster spot. Dolphins fans will be eager to see Mike Wallace shine, but his participation is in doubt for Friday. Rookie Jarvis Landry has showed great hands in training camp and had a strong showing in the scrimmage. Rishard Matthews has also been a reliable target all week. As evident from practices and the team scrimmage, Lazor likes to keep his players moving around, to go along with plenty of misdirection. There will be no shortage of targets for Tannehill. With Wallace and Brian Hartline out for last week's scrimmage, Tannehill connected with five different receivers that day.
3. Have the Dolphins found a suitable replacement at center?
Injured starting center Mike Pouncey may be ahead of schedule on his rehab work, but he won't be seen for at least several games into the season after he underwent hip surgery. That left Nate Garner to fill in. While he did a capable job in last week's team scrimmage, the team went out and upgraded the position with the addition of former 2007 draft pick Samson Satele. Satele has done well so far, but he is still adapting to his new team and a new system. On top of that, the offensive line has five new players added to the mix to try to improve upon last year's group that allowed too many sacks.
"Well, I think everybody's out there fighting for a spot," guard Daryn Colledge said on Wednesday. "I think only one or two positions are really locked up at this point. So everybody's kind of trying to find their spot. Everybody is out there battling trying to find out where they connect and it's good. We get in a situation where we've got a lot of playing next to a lot of guys, so if we get an injury situation in the season, we have some experience with everybody."
4. How will the battle for starting running back unfold during the preseason?
Notable free agent pickup Knowshon Moreno had a career year with the Denver Broncos last season, but his knee surgery after minicamp opened the doors for Lamar Miller to make a strong case for the starting job. But is he truly ready for it. With Moreno coming off the Physically Unable to Perform List in time for Wednesday's practice, he is doubtful to play. It's simply too early to know where exactly to place him on the depth chart. He has been limited to individual drills.
"I think it's just kind of been a gradual progression, day-to-day it's been and the medical staff has obviously done a great job supervising his rehab," Philbin explained after Wednesday's practice. "It just felt like this was the appropriate time to get him going."
Added Moreno: "I'm just going to come out here and work. I can't really think about the depth chart and things like that. Wherever the coaches want me to be, that's where I'll be. I just want to come out here and work."
Miller's speed is one thing, but his strength and power have helped him pick up extra yards. If he can be utilized properly in the passing lanes as well, then the coaching staff will have a better idea of just what he can provide. Daniel Thomas and Marcus Thigpen will also get touches.
5. Just how good are the Dolphins' defensive backs?
Maybe it helps that Tannehill and the offense are still a work in progress, but freshly re-signed Pro Bowl selection Brent Grimes and newcomer Cortland Finnegan have looked impressive paired together. Louis Delmas and Reshad Jones bring veteran experience and steadiness at the safety positions. Philbin pointed out how far along Will Davis and Jamar Taylor have come at the corner position in their second years.
In short, there's plenty of depth here. The Falcons may see it firsthand, especially if their much-maligned offensive line can't hold back the Dolphins defense and quarterback Matt Ryan is forced to rush matters.
You can follow Surya Fernandez on Twitter @SuryaHeatNBA or email him at SuryaFoxSports@gmail.com.
---