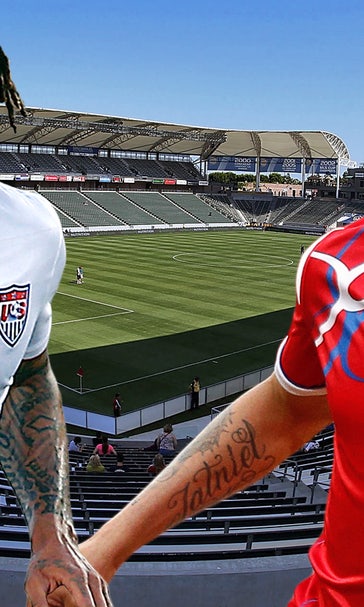 Five Points: USMNT searches for complete performance against Panama
BY Kyle McCarthy • February 7, 2015
CARSON, Calif. --
Patience remains a necessary virtue for the U.S. men's national team at this stage. The start of a new FIFA World Cup cycle provides room for fresh faces and new ideas without the pressing need to produce results in competitive matches. U.S. coach Jurgen Klinsmann and his players are taking advantage of the latitude afforded in a bid to strengthen the team for the CONCACAF Gold Cup this summer and the challenges ahead down the road.
The poor run of recent results threatens the resolve, though. One setback turns into two. Two leads to three and four. And then, all of a sudden, the team enters a preseason friendly with Panama on Sunday (4:00p.m. ET, ESPN, live coverage on on Matchtrax and @FOXSoccerTrax) with a five-match winless streak to address and a fistful of questions to answer.
"Of course it carries over," U.S. forward Jozy Altidore said on Saturday afternoon about the series of recent results stretching back to October. "Look, at the end of the day, when you represent the national team, you're part of that group and you're a part of that team. I'm not saying that it's OK that we haven't performed well. I'm not saying that we shouldn't be upset with ourselves. We represent our country. But, keeping that in mind, you have to look at what we're trying to do with our transformation and trying different players and be patient with it in that respect."
As the past week shows, the tether only stretches so far. This edition of Five Points discusses the manifestation of the decreasing understanding and explores how this team can buy itself some time with a victory.
Debate about fitness levels reinforces need for complete performance
Klinsmann's specific comments protected the identities of the trailing players and sparked a wider referendum in the process. Those typically frank words also placed his players in a position to respond. The extra week of work between the Chile defeat and this affair against Panama boosted the entire squad to a point where U.S. defender Jermaine Jones said almost every player is currently at 100 percent.
"I would say in the first 30 minutes (against Chile), we showed a good game," Jones said. "I hope the week more that we have trained now, we will get a little bit of fitness back and that we can play not only 30 minutes. We can go over 90 minutes and show that phase that we showed in 30 minutes."
This friendly provides an opportunity to brush off the debate and reinforce the tenets long held dear. The objective at this juncture: produce a coherent and cohesive display over the course of 90 minutes to dispatch this particular storyline for good.
Increased burden to carry play requires more control in possession
"I think in some parts of the game, you have to be smart sometimes," Jones said. "If you feel your energy go down and you don't have the power to go back and forth. You have to be smart to keep the ball easier and maybe make the easy play and not always the difficult one."
Expect this group to locate more of those interludes in this affair. If the Americans can alter the cadence of the game effectively without losing dominion over it, then they should place itself in a better position to avoid those second-half concerns.
Dalliance with 3-5-2 might yield a return to more comfortable operating principles
Some of the troubles on the ball stemmed from a dearth of familiarity with the recently introduced 3-5-2 setup employed in the first half. There were some bright spells when the Americans transitioned quickly and used DeAndre Yedlin on the right, but there were also times when the lack of familiarity led to players picking up unfamiliar spots and slowing the proceedings down accordingly.
Combine those inevitable hiccups with the teething issues in defense (Jermaine Jones' roving served as the locus for many of those concerns) and the case for a return to 4-4-2 is evident in this affair. Klinsmann preaches the need for pragmatism often. This match -- particularly with Panama expected to field a 4-4-2 formation filled with the most experienced players selected for this friendly -- cries out for a sensible return to the familiar to establish a comfort level in defense and a reliable series of positions on and off the ball.
"As we said down in Chile, we want to have different variations in our approach," Klinsmann said. "If, for whatever reason -- the players you have available, what the opponent brings to the table, you are more comfortable in a 3-5-2 -- like some of the top teams in the world are doing, then we want to have this card in our pocket when we need to play it. The defenders have to deal with it. It's a different approach, as well as if we play a 4-4-2, a 4-3-3 or a 4-4-2 in a diamond."
Personnel changes create flexibility and leave room for considerable tinkering
Klinsmann must make at least two changes to his starting XI from the Chile game with Steven Birnbaum ruled out with a knee injury and Bobby Wood back in Germany.
Their absences create some latitude to ease the transition to 4-4-2. Instead of replacing like for like in that 3-5-2 setup, Klinsmann can use those berths to compensate for dropping Brek Shea and Yedlin into the back four. Clint Dempsey will likely move higher up the field and play off Jozy Altidore up front, while Klinsmann can sift through a raft of options to supplement Michael Bradley and Mix Diskerud in midfield.
Jones' potential role -- he played in midfield during the second half in Chile, but he could easily slot into central defense here -- influences the final product substantially. If he features in central defense, then a spot could open for Lee Nguyen or Wil Trapp in a narrowly construed midfield or perhaps Miguel Ibarra in a more expansive setup. If he starts in central midfield, then a berth in central defense opens for Matt Hedges, Perry Kitchen or Shane O'Neill.
The exact deployment remains in flux based on a variety of factors on the day, but the principles remain largely the same.
Could the desire for a result alter second-half approach?
Perhaps the sternest test will arrive in the second half as Klinsmann weighs his priorities. These friendlies are designed to experiment with tactics and introduce new players, but the recent run of poor results creates some pressure to secure a result.
As this match progresses, it is worth keeping a careful eye on the substitution patterns. Klinsmann made four changes in the final half-hour in Chile and trusted two uncapped players (Trapp and Zardes) to bolster his side. Those efforts did not ultimately yield benefits, but they did provide potential contributors for the future with meaningful match experience in a difficult spot.
Will a similar approach apply here (especially with the dearth of experience on the bottom half of the roster) or will Klinsmann stick with his trusted figures to see out the game this time? It is exactly the sort of litmus test required to evaluate the patience levels within the ranks after this difficult period.
---