Filly Ria Antonia to run against boys in Preakness
Published
May. 12, 2014 1:24 p.m. ET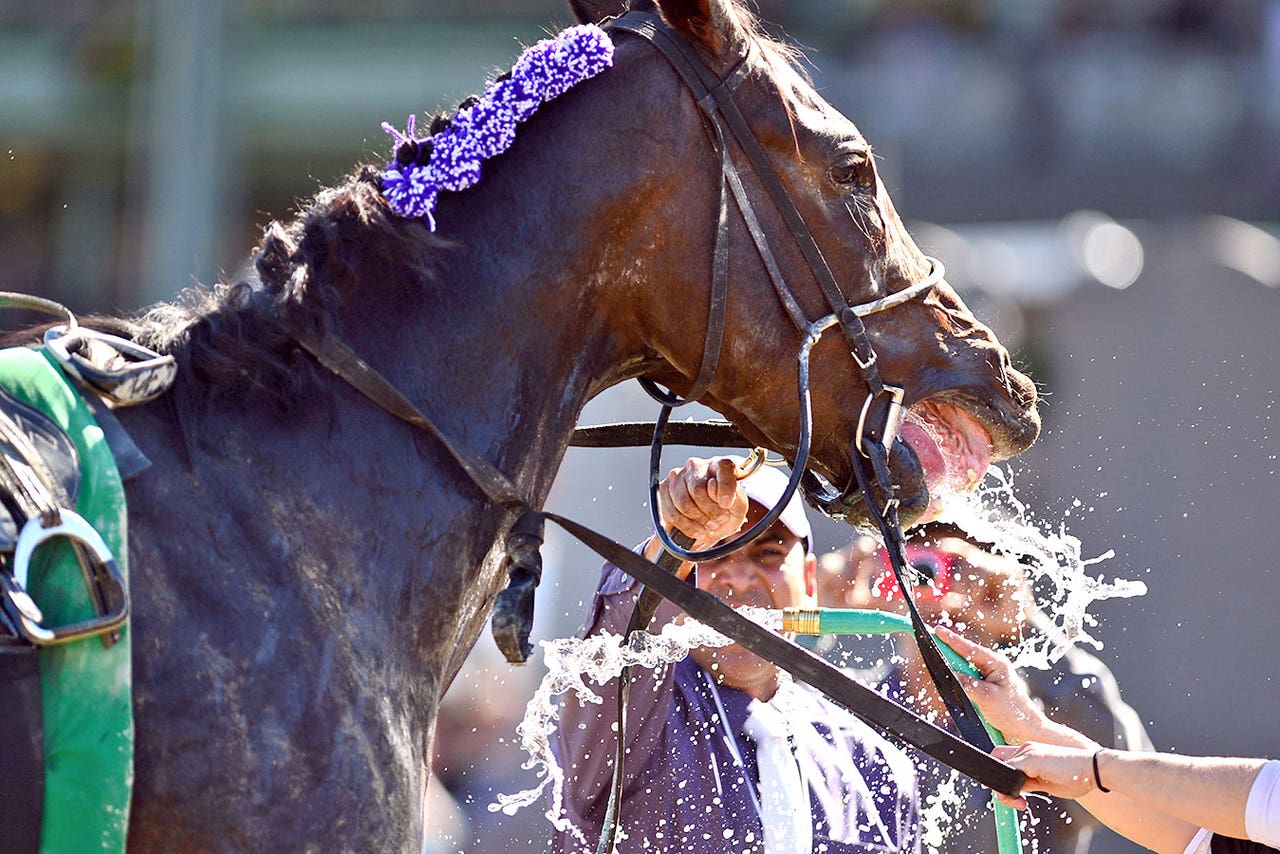 BALTIMORE -- A filly is going to challenge the boys in the Preakness for the first time since 2009 when Rachel Alexandra won.
Ria Antonia will be ridden by Calvin Borel, who guided Rachel Alexandra to victory. Ria Antonia is coming off a sixth-place finish in the Kentucky Oaks on May 2 at Churchill Downs, where she has been training.
For the first time in the Preakness, a filly, a female jockey and a female trainer will all compete at the same time. Rosie Napravnik will ride Bayern while trainer Linda Rice will saddle Kid Cruz.
Ria Antonia's trainer, Tom Amoss, said Monday the idea to run her against the boys came from her owners. He said she has passed all the tests to take on the challenge. She joined his barn three days after the Oaks, when the owners decided to switch to Amoss from Hall of Fame trainer Bob Baffert.
''I don't know what happened in the Oaks, but I like the way she looks now,'' Amoss said. ''We have a healthy, sound horse and we are ready to roll the dice.''
Amoss said he sees the Preakness as Kentucky Derby winner California Chrome versus everyone else. He says if California Chrome runs his race in the 1 3/16-mile Preakness then he will win, but if not, it opens up opportunities for other horses, including Ria Antonia.
Ria Antonia is scheduled to jog at Churchill Downs on Tuesday and arrive in Baltimore from Louisville, Kentucky, on Wednesday. The 139th Preakness is Saturday.
It will be the third time a Triple Crown race has had a filly, a female trainer and a female jockey.
In the 1984 Kentucky Derby, Patricia Cooksey rode So Vague to an 11th-place finish, one spot ahead of Biloxi Indian, trained by Diane Carpenter. Fillies Life's Magic was eighth and Althea was 19th.
In the 1996 Belmont Stakes, Hall of Fame jockey Julie Krone rode South Salem, who was eased; Cynthia Reese trained In Contention to a ninth-place finish; and filly My Flag was third.
California Chrome galloped 1 1/4 miles Monday at Churchill and then departed on a flight to Baltimore.
''Everything is perfect,'' said Alan Sherman, assistant to his father and trainer Art Sherman, who will rejoin the colt in Maryland.
Also on the same flight were Preakness contenders Ride On Curlin, who finished seventh in the Derby with Borel on board; General a Rod, who was 11th in the Derby; and Pablo Del Monte, who didn't run in the Derby because the owners didn't like the No. 20 post position.
---