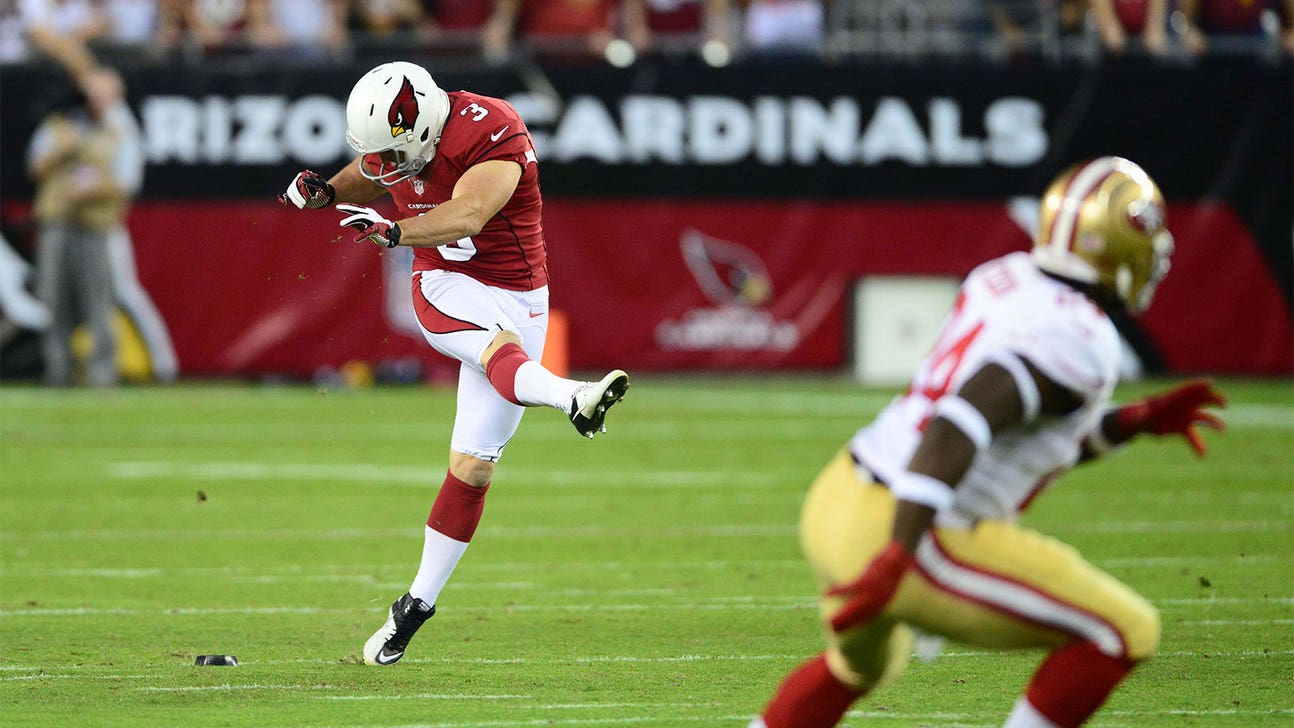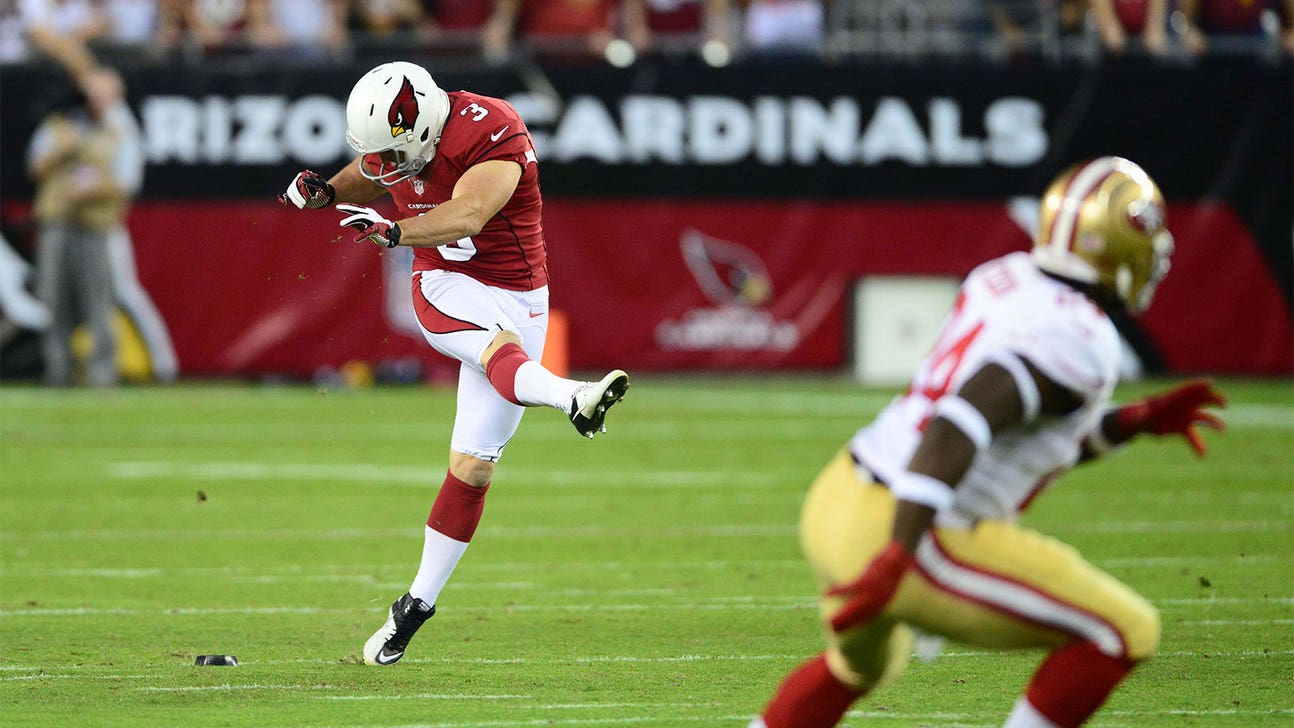 Feely to debut new kickoff approach in battle for his job
Published
Aug. 12, 2014 4:36 p.m. ET

GLENDALE, Ariz. -- Jay Feely doesn't hate rookie kicker Chandler Catanzaro; doesn't even dislike him.
"He's a good guy. We have a good relationship," Feely said.
But that doesn't mean Feely and Catanzaro are comparing notes, correcting each other's technique flaws or laughing over dinner.
"We really don't talk much," Catanzaro said. "I'm kind of on my own I guess."
If you think that sounds like harsh treatment from Feely, an accomplished 14-year veteran with deep knowledge of the game, consider how you'd feel in his shoes. 
This isn't a situation where a veteran slowly grooms his eventual replacement like Pat Tillman groomed Adrian Wilson. This isn't about being a good teammate, because Catanzaro and Feely will never be regular-season teammates. This is about competition for a job; one job. Either Feely wins that job or he's out of work and off to whatever island unemployed kickers go.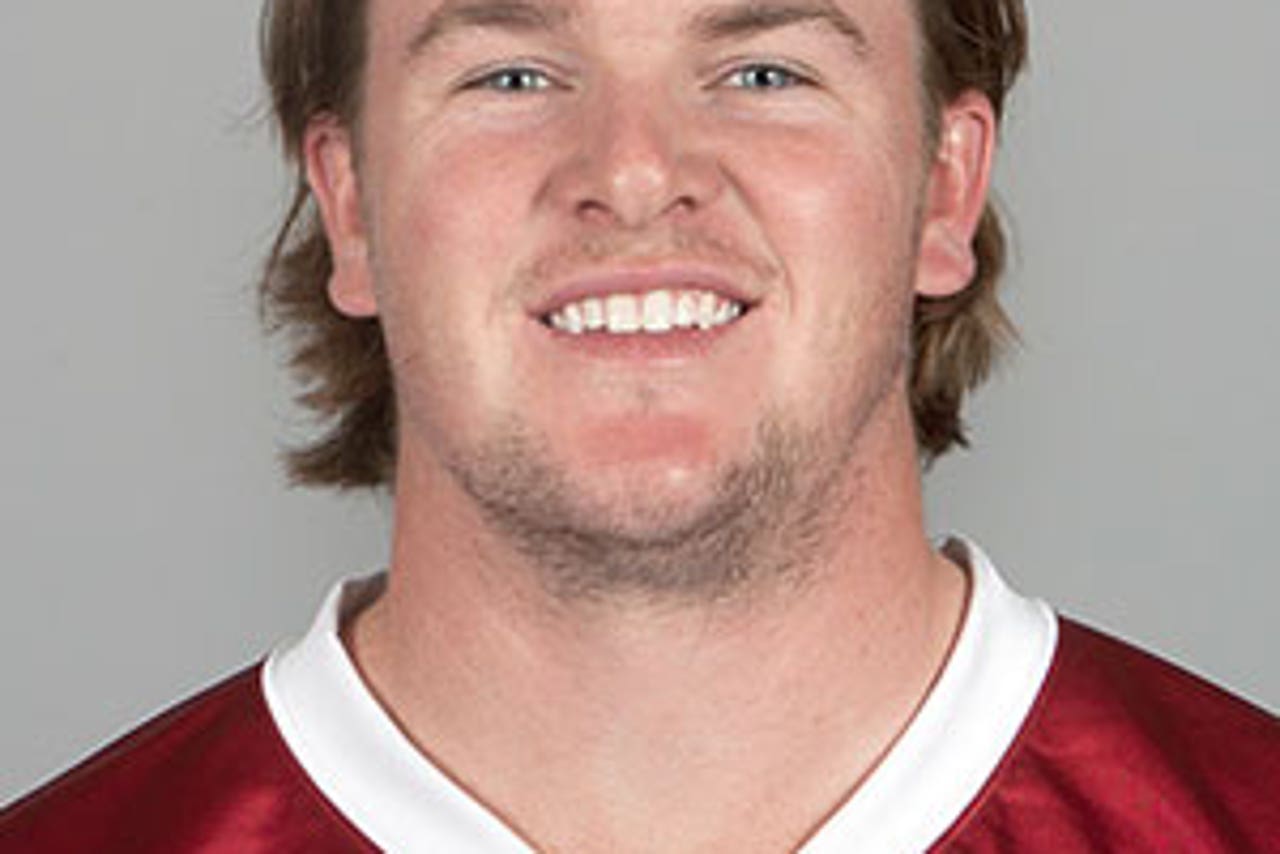 Chandler Catanzaro
There's only one kicking job per team -- 32 in the NFL. So while it may seem odd to think of a kicking competition as cutthroat, that's exactly what it is.
"It's unique in that it is a one-for-one proposition, so that changes the dynamics from other positions," Feely said. "You have to worry about your performance, and he's going to worry about his performance and then let the coaches make their decision."
As far as resumes go, Feely obviously has the greater list of bullet points. He's the 16th-most accurate field goal kicker in league history at 82.663 percent, and he's made more clutch kicks than Catanzaro has attempted or even imagined. That has to be a consideration when coach Bruce Arians ponders all those late-game situations where a field goal means the difference between winning and losing. 
But Feely is 38; Catanzaro is 23. You know the NFL's belief about young, fresh legs? Well, it is most noticeable when each player kicks off. Catanzaro was regularly booming his kickoffs deep into the end zone in Saturday's preseason opener against the Texans. 
Feely hasn't shown that kind of leg. The Cardinals ranked 27th last season in touchback percentage at 37.93 percent despite a rule change that moved kickoffs up five yards to the 35-yard line before the 2012 season.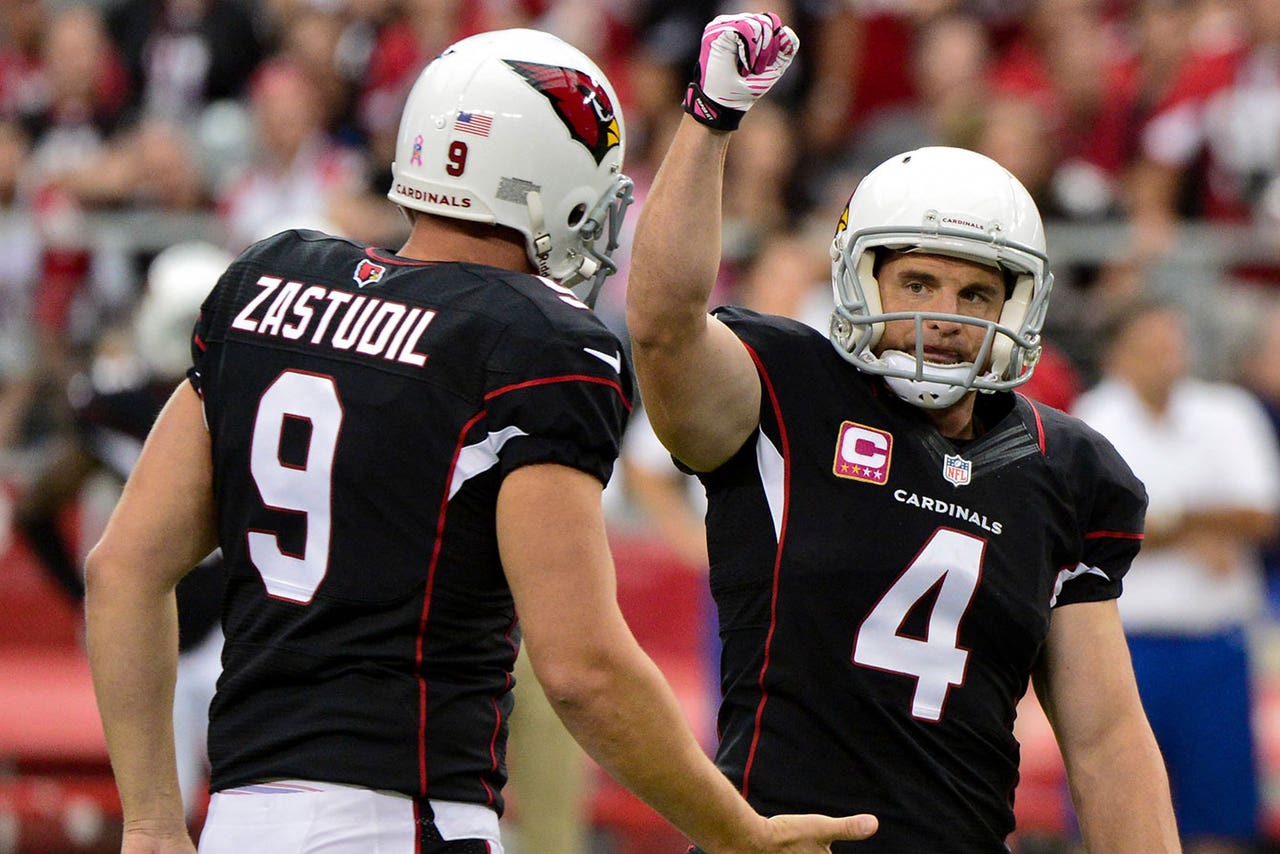 Jay Feely has connected on 98 of 115 field-goal attempts in his four seasons with the Cardinals and has an 82.7 percent success rate over his 13-season career.

"It wasn't as big a concern (at the start of the season)," coach Bruce Arians said. "It got there later in the year."
Feely wasn't ready to acknowledge that criticism of his game last season, but he addressed it in the offseason. When Feely kicks off on Saturday in Minnesota, he will debut a new approach that mimics former Lions kicker Jason Hanson's approach. 
"It's added some depth to the kicks," Feely said. "You have to do that as you get older; you have to adjust and change things to help yourself get better. Your body's not going to respond the same way as you get older, so you have to compensate."
Put simply, Feely will begin his run into the kickoff farther back.
"You take longer steps. You go back farther from the ball," he said. "It's about carrying through the ball with more momentum.
"It's hard for most kickers when you have a longer approach -- especially younger guys who haven't practiced it -- to have it timed up right. Usually, the shorter the approach the better the timing, but you have to have more leg strength on shorter approaches because you're not generating as much power.
"It's similar to a golf swing. If you look at Phil Mickelson, his swing is long; Bubba Watson's swing is long, so they're going to be a little more erratic. It's harder to keep it on plane or connect right, but it has the potential for greater length."
Since the rule change, accuracy isn't very important for kickoffs.
"There's no directional kicking any more," Feely said. "You're just trying to hit it out of the back of the end zone." 
Hang time is still important in making sure a return man doesn't attempt to bring a kick out of the end zone, but Saturday will offer a hint at whether Feely has improved this vital area of his game in a competition where Arians has said "the games are everything.
"(Jay)'s always kicked off adequately, but when someone is there that is kicking off better and all the field goals are the same, you're going to take the guy who can kick off better," Arians said.
The odd thing here is that Catanzaro didn't even handle kickoff duties at Clemson. That duty fell to punter Bradley Pinion.
"Coach (Dabo Swinney) told me to focus on field goals, but kicking off was something I could always do," said Catanzaro, who finished his college career second in the ACC and first at Clemson for career points. "After the Orange Bowl, people were talking about how I couldn't kick off, and it kind of gave me a competitive edge. I took that, and it made me more hungry."
Arians has noticed.
"The kickoffs were the thing that is most impressive," Arians said of Catanzaro's near-perfect Saturday performance. "I knew he could kick extra points and field goals; that's a given, but he didn't kick off in college. 
"We knew he had a strong leg, but (the Texans) were trying to return (his kickoffs) and any time (they) start behind the 15-yard line you know you had a great kick."
Feely will get his chance to counter Catanzaro this week, and each kicker will take one subsequent game after that to determine the winner.
Feely has had to fend off competitors before, but even if he won't acknowledge it, this time feels different. He's playing for a relatively new coach (Arians is in his second year with the Cardinals) so there isn't a deep trust, forged from years of delivering in the clutch.
Feely's 83.3 percent conversion rate on field goals in 2013 matched his second-lowest percentage in his last eight years, so he'll have to prove he can still be that consistent clutch performer while producing results through his new kickoff approach. 
"It's a results-driven business so you always have to prove yourself," Feely said. "But I think there's a lot of value at our position in experience. Adam Vinatieri stayed around until he was 41 years old because of it. I'm a guy who has stayed around a long time because of it. 
"When you've failed as big as you can fail and you haven't allowed that failure to defeat you, it takes away some of that fear of failure, and that's a big asset. Much like a closer in baseball, you can't fear failure."
Follow Craig Morgan on Twitter
---