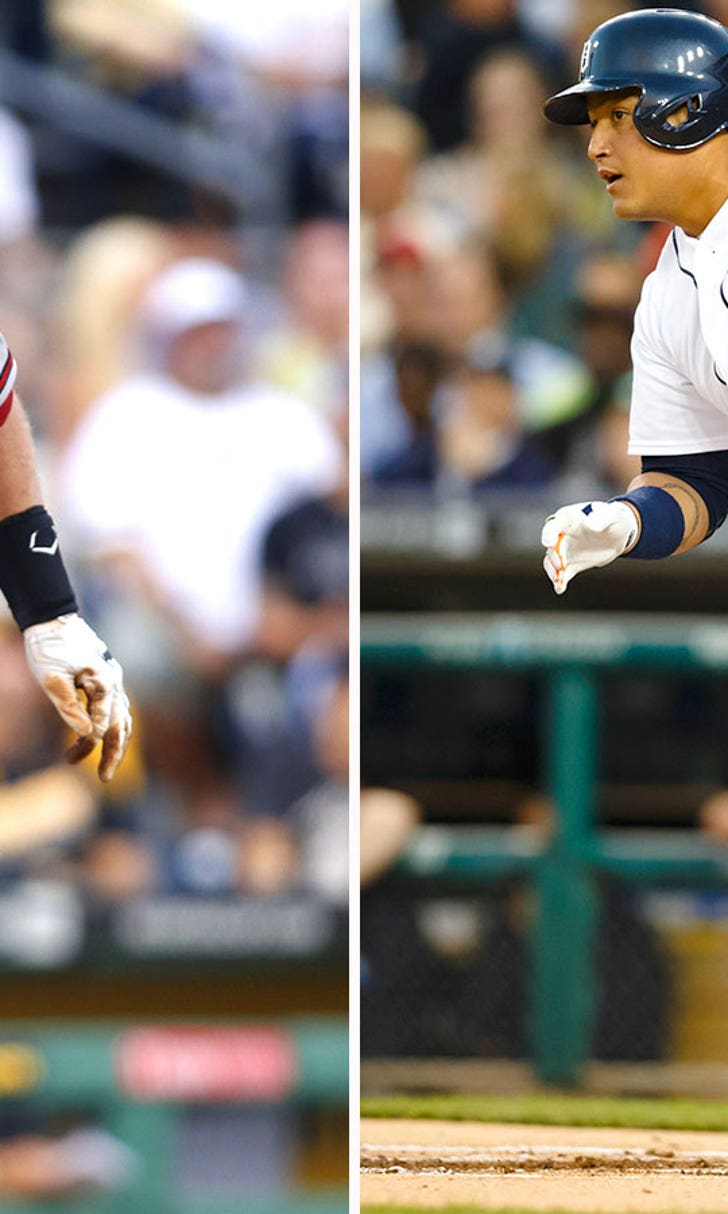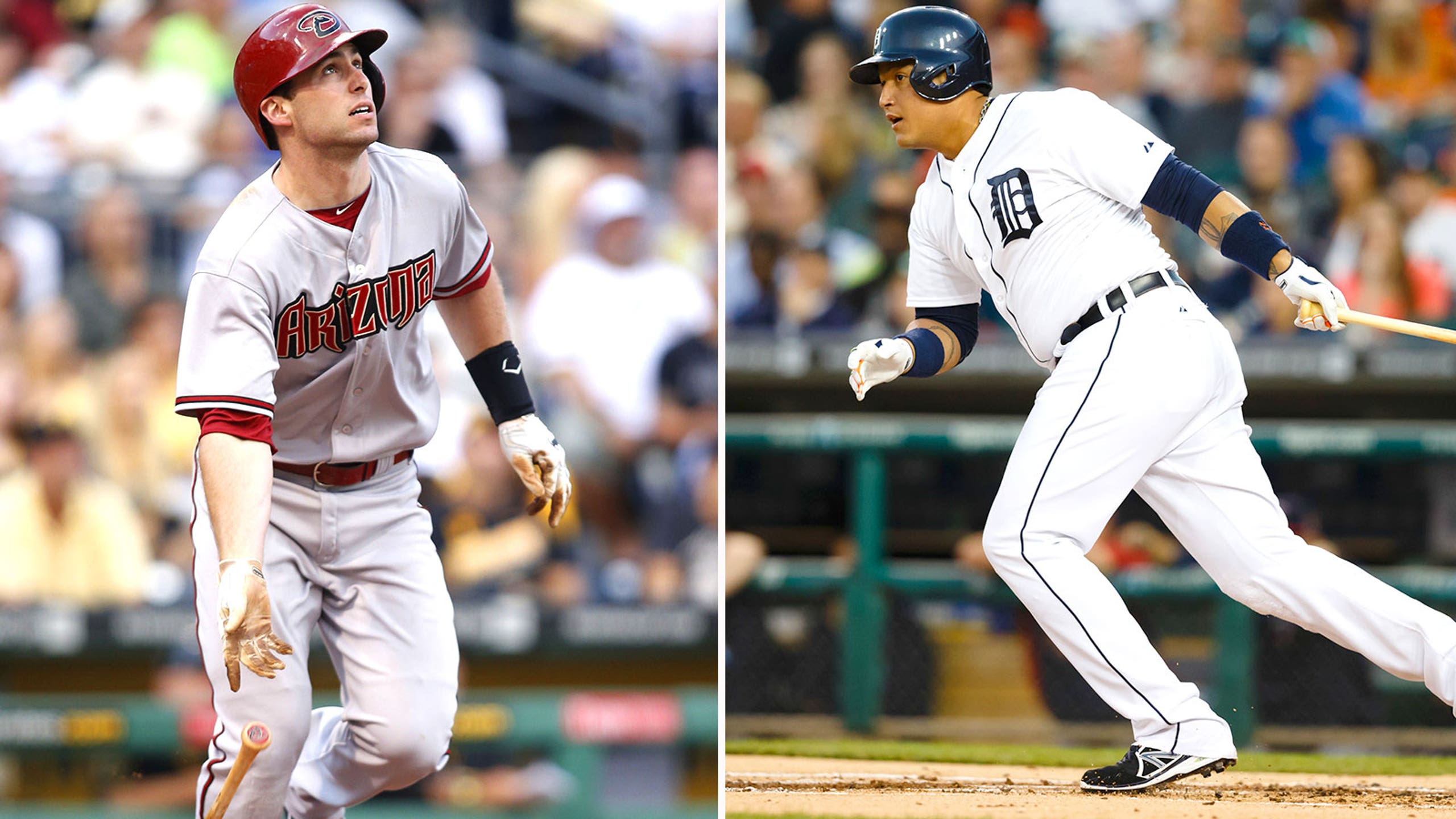 Fantasy Fox: Way-too-early look at the top 25 first basemen
BY foxsports • February 3, 2015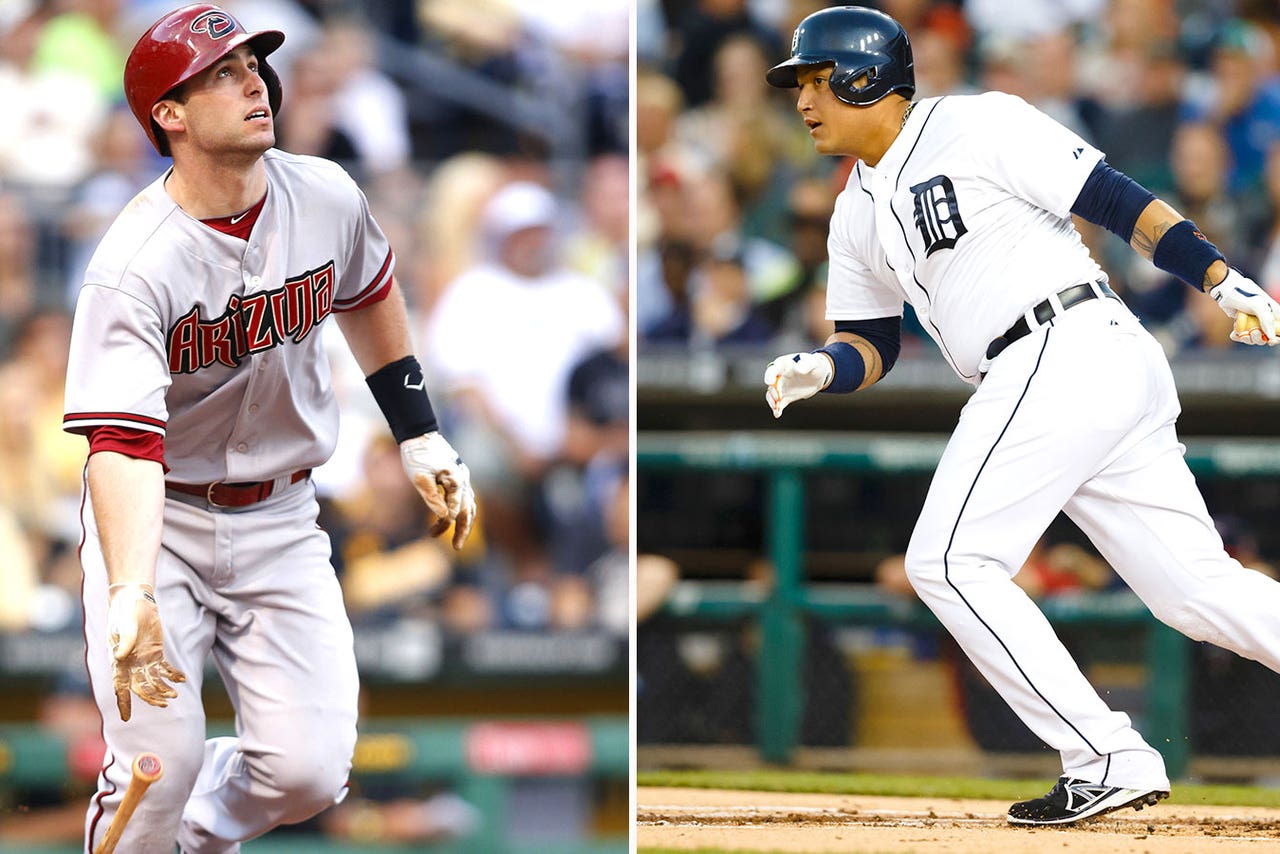 As we begrudgingly wave bye-bye to the NFL season -- the league really needs to move the Pro Bowl back to its original date (post-Super Bowl) -- it's time to focus our energies on the next, great fantasy-related matter at hand:
The 2015 baseball season.
Here's an early, early look at the Top 25 First Basemen for 5x5 roto leagues -- a listing that tangibly includes a few names who should become 1B-eligible sometime in mid-to-late April:
1-13
1. Miguel Cabrera, Tigers
1a. Paul Goldschmidt, Diamondbacks
3. Chris Davis, Orioles
4. Edwin Encarnacion, Blue Jays
5. Jose Abreu, White Sox
6. Prince Fielder, Rangers
7. Joey Votto, Reds
8. Anthony Rizzo, Cubs
9. Albert Pujols, Angels
10. Freddie Freeman, Braves
11. Adrian Gonzalez, Dodgers
12. Carlos Santana, Indians
13. Lucas Duda, Mets
SKINNY
1) Yes, Goldschmidt (19 HR, 69 RBI, 75 runs, .300 batting, 9 steals in 2014) incurred a noticeable decline from his superhuman numbers of two years ago (36 HR, 125 RBI, 103 runs, 15 steals).
But then again, what did you expect to happen?
Even before their organizational implosion last season (17-win drop-off), the Diamondbacks didn't have a plethora of power-related options to protect Goldschmidt in the lineup. As a result, he might have felt extra pressure to carry an offense that averaged only 3.8 runs per game.
Plus, the injury-riddled Golschmidt played in only 109 games last year -- a far cry from the 152 average for the 2012/13 seasons.
So, why the No. 1A ranking? Well, it helps Goldy's cause that Miguel Cabrera (offseason ankle surgery) won't be a lock for Opening Day with the Tigers.
Plus, even with the power struggles of 2014 ... Goldschmidt still nearly replicated his 2013 output with doubles, batting average, on-base percentage, slugging, OPS and OPS-plus.
2) Chris Davis (suspended 50 games for Adderall usage last season) may have an elite-level ranking here ... but there's also no incentive to invest a low-Round 1/high-Round 2 draft choice on a guy with zero chance of replicating the 53 homers or 138 RBI from 2013.
That aside, Davis (26 HR, 72 RBI, .196 batting last year) remains a healthy bet for 30 homers, a reward for playing 81 games at cozy Camden Yards ... and 13 outings at Yankee Stadium and Minute Maid Field (Astros) -- two notable bandboxes in the American League.
3) At first blush, taking Jose Abreu (36 HR, 107 RBI) early in Round 1 has the appearance of a mild reach, given his short track record ... and reduced power for the second half of last season (nine homers for July, August, September).
However, Abreu (reigning AL slugging champion) batted .298 or higher in each of the final four months; and from a splits perspective, the Cuba native notched two months of double-digit homers, two months of double-digit RBI, four months of double-digit runs and four months of 30-plus hits.
4) Freddie Freeman's No. 10 ranking comes with a huge caveat:
If you're in a league that rewards on-base percentage ... feel free to bump him up to the top six or seven.
Given the Braves' major overhaul during the offseason -- with the club trading away potential fantasy dynamos like Justin Upton (Padres), Evan Gattis (Astros), Jason Heyward (Cardinals) -- it's fair to wonder the following:
From an opponents' perspective, what's their motivation for earnestly pitching to Freeman (four-year averages: 21 HR, 89 RBI, 85 runs, .287 batting) at any point of a random game? Why not just approach him, in a roundabout fashion (everything off the plate), three or four times per outing?
Bottom line: Freeman might register 120-plus walks for the Braves ... but that's the only offensive-inflation guarantee for 2015.
5) Lucas Duda's generous standing reminds me of the 2013 preseason, when I didn't attach a top-20 ranking to Mets first baseman Ike Davis, even though he was coming off a 32-homer, 90-RBI campaign.
This supposed injustice elicited a flood of very-angry emails from Mets fans -- many of whom wanted to run me over with a car or humanely push me off a cliff (not unlike how "Stork" from Animal House fame died in real life).
But I held strong in my belief that Davis (9 HR, 33 RBi, .205 batting the following year) would be a long-term bust. Other factors: The mammoth size of Citi Field, the lack of lineup protection and the god-awful tallies with batting average, on-base percentage and strikeout-to-walk ratio.
Fast forward to the present: Yes, there's a little trepidation with including Duda (30 HR, 92 RBI, 74 runs, .253 batting in 2014) in that second wave of first-base marvels.
But then again, it's hard to deny a 20-something power hitter who's notched double-digit homers for four consecutive seasons ... and boasts a .349-plus OBP three times in that same span.

14-25
14. Justin Morneau, Rockies
15. Brandon Moss, Indians
16. Brandon Belt, Giants
17. Eric Hosmer, Royals
18. Matt Adams, Cardinals
19. Adam LaRoche, White Sox
20. Joe Mauer, Twins
21. Mark Trumbo, Diamondbacks
22. Mike Morse, Marlins
23. Mike Napoli, Red Sox
24. Allen Craig, Red Sox
25. Mark Teixeira, Yankees

WATCH LIST
**Ryan Zimmerman, Nationals (should be 1B-eligible by April 20)
**Yonder Alonso, Padres
**Jonathan Singleton, Astros
**Logan Morrison, Mariners
**Ryan Howard, Phillies
**Justin Smoak, Blue Jays
**James Loney, Rays
**Pedro Alvarez, Pirates (should be 1B-eligible by May 1)

Jay Clemons, the 2008 Fantasy Football Writer of the Year (Fantasy Sports Writers Association), can be reached via Twitter, day or night, at @ATL_JayClemons.
---