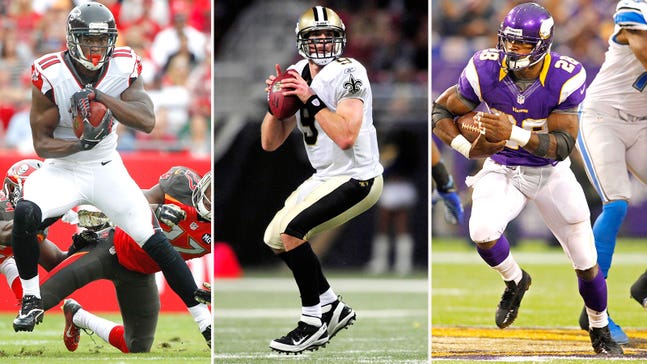 Fantasy Fox: Post-draft look at fantasy football's Top 125 players
Published
May. 8, 2015 10:15 a.m. ET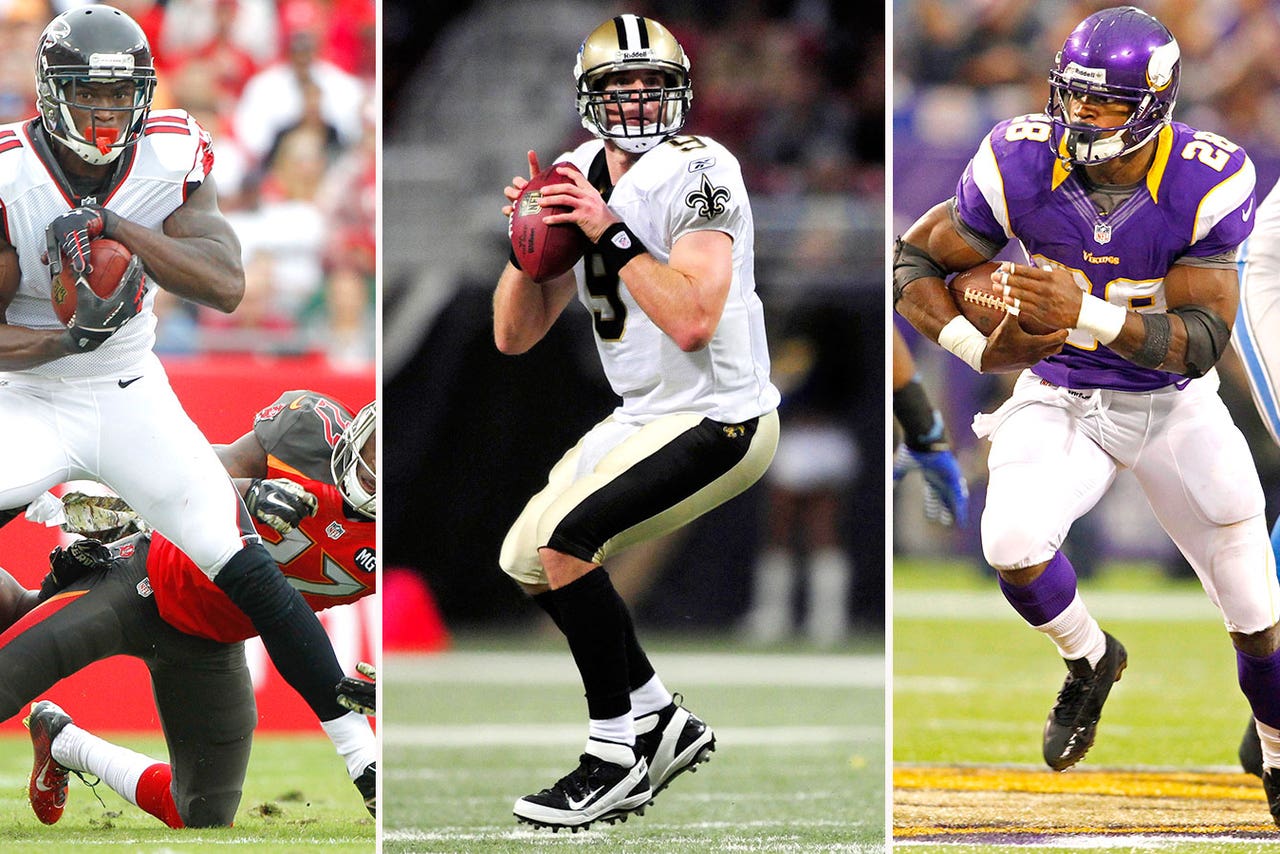 With the NFL Draft in the books, the Fantasy Fox takes an inaugural, post-draft stab at the Top 125 Playmakers For 2015 -- excluding kickers, defenses and special teamers:
1. This is NOT the year to own the No. 1 overall pick in standard-scoring leagues -- since Charles (33 TDs over the last two seasons), Peterson (missed 15 games last season for personal reasons) and Foster (heading into his age-29 campaign) may not be primed for career years in 2015.
In other words, late first-rounders DeMarco Murray, Antonio Brown, Marshawn Lynch and maybe Le'Veon Bell likely possess the same value as the top-4 playmakers.
So if that's true ... why not get two studs for the price of one -- late in Round 1/early in Round 2?
2. The safety play at the top: Of his last 39 games, dating back to Thanksgiving Weekend 2012, Charles (1,324 total yards, 14 TDs last year) has amassed 100 total yards and/or one TD 29 times.
3. In a perfect world (for fantasy owners), Le'Veon Bell would have been a healthy lock to replicate last year's scintillating numbers (2,215 total yards, 11 TDs).
But a three-game suspension (which might pared down to two) to start the season has curtailed that notion. Instead, we're probably looking at 1,500 total yards and maybe nine touchdowns.
4. There's a school of thought that Foster may hit the proverbial wall this season, the combination of age, nagging injuries and general wear and tear (average yearly workload since 2010: 311 touches).
But I'm not ready to throw the bearded baby out with the bath water just yet.
Foster was redoubtably the most valuable fantasy asset last October, rolling for 140-plus total yards three times and racking up three outings of multiple touchdowns.
All told, Foster averaged 150 total yards and two TDs during that span.
5. Aaron Rodgers may be the reigning MVP and a lock for 4,700 yards passing/40 total TDs, when healthy. But it's still hard to pull the trigger in Round 1.
Rodgers passed for fewer than 230 yards six times last season ... while tallying only 10 TDs in those outings.
6. Even with Kevin White in the draft fold, I will be shocked if Alshon Jeffery (two-year averages of 87 catches/1,277 yards/8 TDs) doesn't finish with 1,400 yards and 10 TDs -- as the No. 1 option in the Bears' passing game. Finally!
7. There's a temptation to rank Odell Beckham Jr. above Antonio Brown here, given the absurd stats from his rookie campaign -- 91 catches, 1,305 yards, 12 TDs in just 12 games.
However, I also live in fear of the proverbial sophomore slump, or least a watered-down version of that time-tested notion for Beckham.
The rationale: Opposing defensive coordinators will have all spring and summer to devise ways to hinder Beckham. Plus, tailbacks Rashad Jennings, Andre Williams and Shane Vereen could all be rock-steady fantasy contributors.
The safe play calls for Beckham to be a mid-to-late Round 1 pick in standard-scoring leagues.
For PPR drafts, though ... go ahead and snag OBJ in the first four selections.
1. From a fantasy perspective, the Saints didn't fortify their receiving corps during the draft. On the flip side, the Saints might have the NFC's No. 2 offensive line -- behind the Cowboys -- thus preserving Drew Brees (four straight seasons of 4,900-plus yards passing) in the pocket.
Seems like a fair exchange.
That said, with a receiving corps comprising Brandin Cooks, Marques Colston, Jalen Saunders and little else of fantasy consequence (read: no Jimmy Graham) ... it's best to hold tight on Brees until deep into Round 3 (or maybe even Round 4).
2. Of his final nine games last season (including the playoffs), Broncos tailback C.J. Anderson averaged 127 total yards and 1.1 TDs. Within that span, he also produced multiple outings of three touchdowns.
3. I have Mike Evans (68 catches, 1,051 yards, 12 TDs as a rookie) 29 slots below Odell Beckham, which may qualify as a fantasy sin, given the following stat:
During a six-game stretch last season (Weeks 8-13), the rookie Evans averaged five catches, 10 targets, 100 yards and 1.3 TDs -- a time when Tampa Bay scored more than 17 points just once.
4. It's funny. Jeremy Maclin (85 catches/1,310 yards/10 TDs last year) has nothing to do with the Chiefs' god-awful drought of 20 games without netting a touchdown from a wide receiver (a cold snap that dates back to early December 2013).
And yet, he's paying the price for Kansas City's porous track record with wideouts.
In other words, on any other team, Maclin would be an easy choice for Round 3 in standard-scoring leagues.
5. Conservatively speaking, I have Martavis Bryant tabbed as the third-best No. 2 receiver in fantasy.
Yes, the rookie exploded for six touchdowns in his first four games last season. But the final push was somewhat troubling, as Bryant averaged only 1.8 catches, 3.0 targets, 32 yards and 0.3 TDs in his last three regular-season outings.
6. Sammy Watkins (65 catches, 982 yards, 6 TDs) would have a higher ranking here, if Matt Cassel, E.J. Manuel and rookie Bryce Petty weren't the primary quarterbacks in Buffalo.
Even for his dream season of 2010 with the Chiefs (3,116 yards passing, 27 TDs), Cassel still wasn't a 60-percent passer.
7. On the surface, Justin Forsett (1,529 total yards/8 TDs with the Ravens last year) shouldn't have a lower ranking than Doug Martin.
However, I'm convinced Tampa Bay will recommit to a power-rushing attack in 2015 -- spearheaded by Martin and Charles Sims -- regardless of who's logging snaps at quarterback (Jameis Winston, Mike Glennon).
Jay Clemons, the 2015 national winner for "Sports Blog Of The Year" (Cynopsis Media) and 2008 Fantasy Football Writer of the Year (Fantasy Sports Writers Association), can be reached via Twitter, day or night, at @ATL_JayClemons.
---