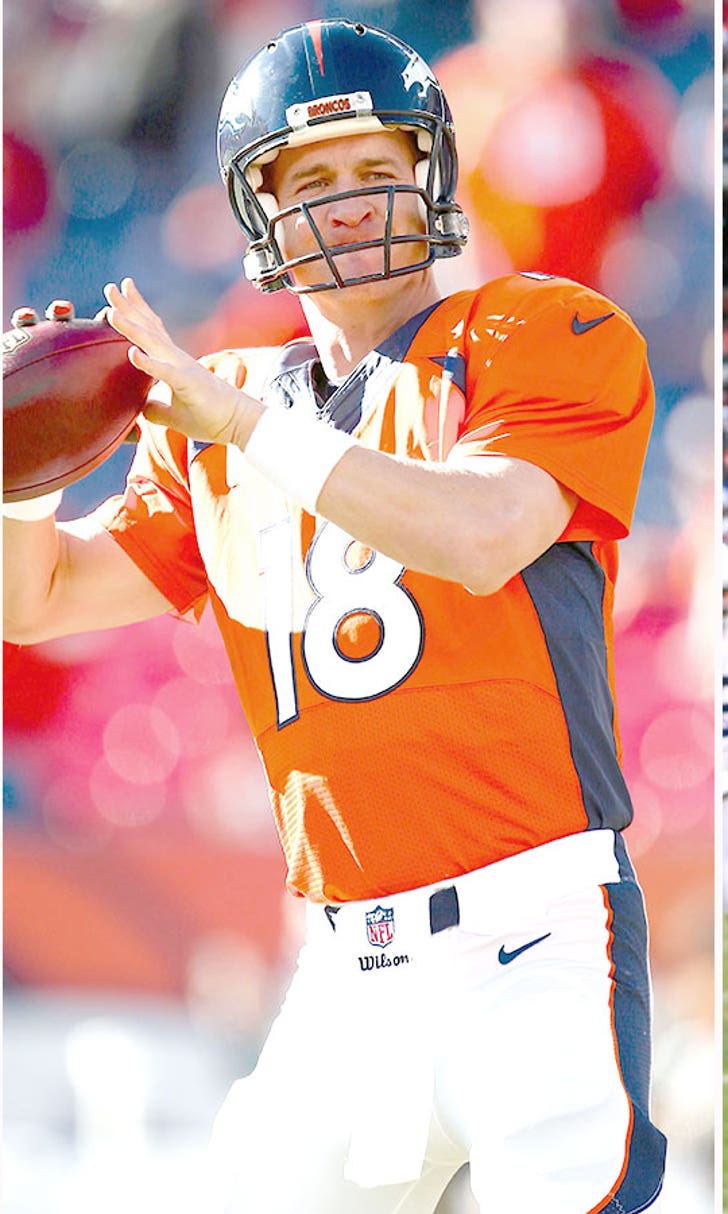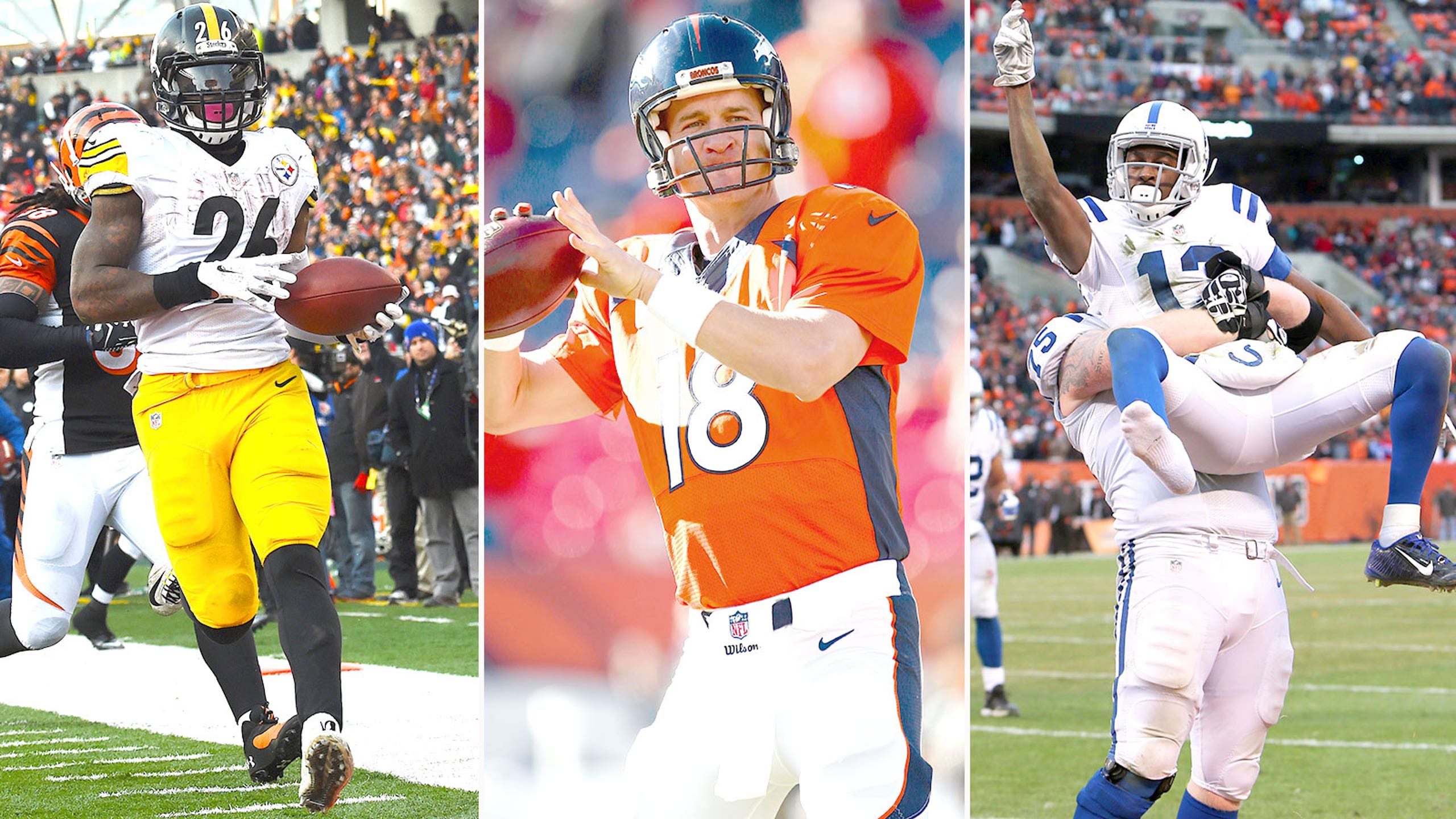 Fantasy Fox: Bell, Manning, Hilton headline Week 14 Revelations
BY foxsports • December 8, 2014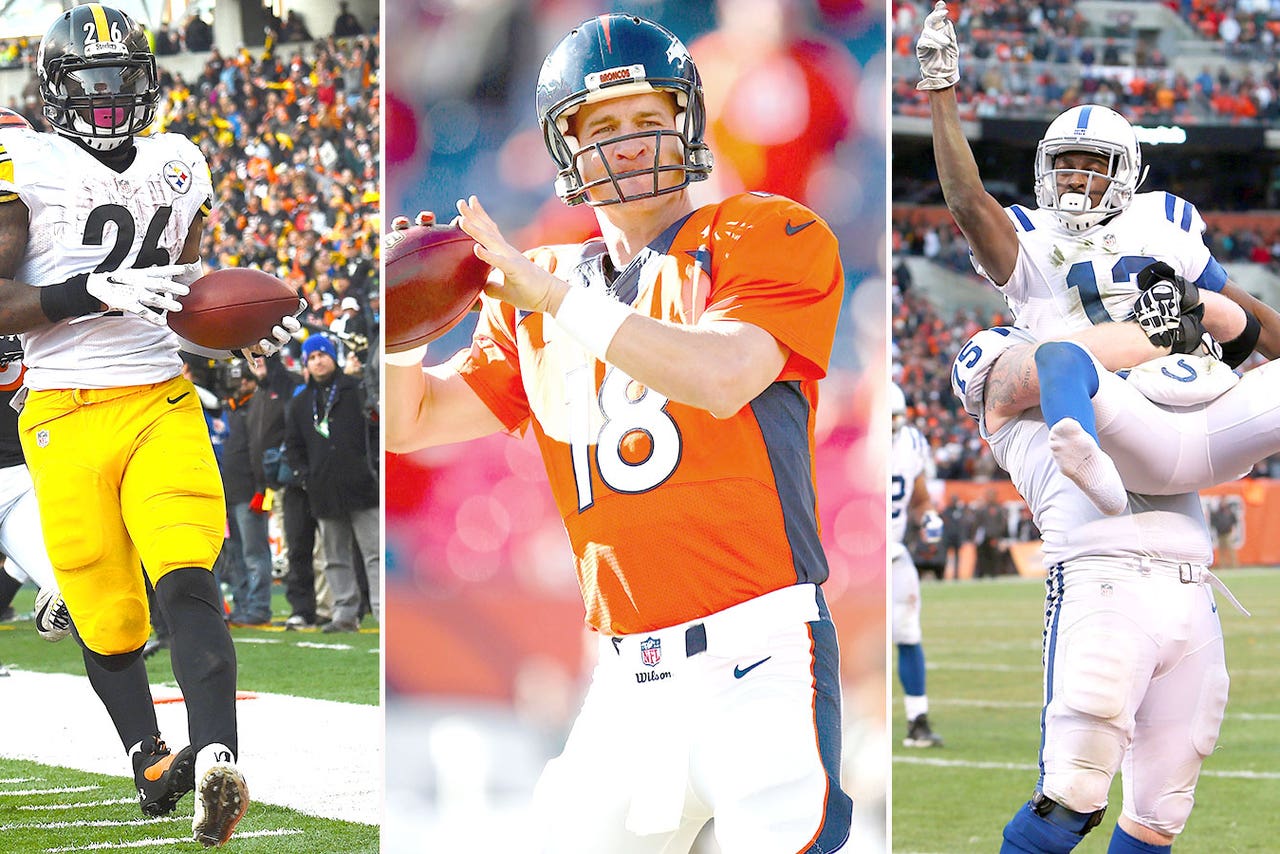 Here's a dose of mini-Revelations off the Sunday action from playoff Week 14 -- a classic day of exhilarating fantasy highs (hello, T.Y. Hilton, Calvin Johnson, A.J. Green) ... and soul-crushing lows (see: Rivers, Philip):
1. There's no point in over-celebrating Le'Veon Bell's insane outing against the Bengals -- 235 total yards (185 rushing) and three touchdowns -- for one simple reason:
If you've already missed the starting-lineup or trade-deadline boats on Bell over the last few weeks ... there's nothing anyone can do or say to help mollify such stupidity.
And frankly, I wouldn't want to be associated with someone who found any reason to bench Bell -- one of only two tailbacks in modern-day history to tally 200-plus scrimmage yards in back-to-back-to-back games (along with Walter Payton, 1977) -- against the Titans, Saints and Bengals.
Which brings us to this: It's implausible to believe Bell (1,924 total yards, eight TDs) will sprint past Payton and produce a fourth straight 200-yard performance in Week 15.
But against the Falcons, on the Georgia Dome's lightning-fast turf, Bell's a healthy lock for top-3 numbers against an Atlanta defense that has already surrendered 160-plus rushing yards three times.
2. Peyton Manning and Tom Brady have long been joined at the hip -- legacy-wise -- even if they don't enter the Hall of Fame during the same year.
Here's another reason to link the two all-time quarterbacks ... but for once, it's something pessimistic:
In Week 15 of the 2007 season, at the tail end of a record-breaking year of 50 TD passes, Brady faced the Jets at home amid a torrent of heavy rains, cold temperatures and stifling crosswinds.
The result: He threw for only 140 yards and zero touchdowns, while singlehandedly crushing the playoff hopes of every fantasy owner who rode Brady's coattails to the postseason (and presumably the top seed).
The final stats were inglorious, as well, with Peyton tallying 173 yards passing and zero scores against the Bills.
(In case you care about such trivialities, the Broncos won the game.)
As such, a high number of Peyton-led fantasy teams likely didn't win their quarterfinal matchups. Especially those who also handcuffed Demaryius Thomas (two catches, 11 yards vs. Buffalo) to his real-life quarterback in starting lineups.
And that may be the worst thing about Black Sunday in Denver: There's no shame in getting knocked out of the fantasy playoffs. Division winners fall to No. 7 and 8 seeds all the time.
But there's a certain humiliation that comes with elite-level performers -- like Manning and Thomas -- plunging to the icy depths of sub-mediocrity ... on the same damn day!
Ugh.
3. Jonathan Stewart may be persona non grata for future fantasy drafts, the result of three straight subpar seasons.
But he could certainly end up as this year's Jerome Harrison, in terms unconsciously piling up monster yardage in the final weeks of an NFL campaign -- without a suitable explanation for the breakout.
For those with short memories, the lightly regarded Harrison had tallied only 489 yards and two TDs for Weeks 1-14 of the 2009 season ... before exploding for 593 total yards and five TDs in the Browns' final three games.
One reason for Harrison's killer emergence: Backfield mates like Jamal Lewis and Chris Jennings fell by the wayside before December ... allowing for Harrison to flourish in a workhorse setting.
Stewart may enjoy a similar featured fate, boasting moderate, but climbing averages of 15 touches in his last four outings.
The Panthers back, who showed excellent burst in his 69-yard scoring run against the Saints, also has a pair of attractive matchups for Weeks 15 and 16 -- locking horns with the Buccaneers (average points allowed since Week 3: 28) and Browns (bottom-10 rush defense).
Put it all together, and Stewart deserves flex-spot consideration for all 10-, 12- and 14-team leagues (standard scoring), especially on the heels of QB Cam Newton's second three-TD effort of the season.
4. Le'Veon Bell may be the world's hottest fantasy tailback, but Jamaal Charles easily stands as the best pound-for-pound starting option, crushing the Cardinals for 111 total yards and two TDs on Sunday -- off only 12 touches (10 carries) -- and demonstrating remarkable consistency since Week 4.
Of his last 10 outings, Charles has notched 100-plus total yards and/or one touchdown nine times; and in that span, the Chiefs superstar has found the end zone 14 times.
In other words, you might as well pencil Charles in for averages of 120 yards/1 TD over the next two weeks, with the Chiefs taking on the Raiders (home) and Steelers (away).  
In his last three games against Oakland, Charles has amassed 465 total yards and eight scores. Plus, he has scored at least one touchdown in every meeting with Pittsburgh.
5. I will never bench Bucs wideout Vincent Jackson (10 catches, 17 targets, 159 yards vs. Detroit) in 12-team PPR leagues again -- especially during the playoffs.
(For the year, Jackson has collected nine-plus targets nine times.)
6. It shouldn't surprise anyone that Ryan Fitzpatrick -- one of the most schizophrenic fantasy QBS in memory -- followed up last week's 358-yard, six-TD gem (against the Titans) with a 154-yard, one-TD clunker on Sunday (against the Jaguars).
Citing the previous six career outings of four-plus touchdowns (heading into the weekend) ... The Bearded Wonder had deflating averages of 177 yards/1 TD in the very next start.
7. Would it be wrong to cheer for the Colts to incur a large first-half shortfall against the Cowboys for Week 16?
Of Indy's last two road outings that also entailed sizable early deficits (Weeks 8 and 14) ... wideout T.Y. Hilton has absurdly amassed 16 catches, 29 targets, 305 yards and three TDs -- including Sunday's explosion in Cleveland (10 catches/19 targets/150 yards/2 TDs).
Jay Clemons, the 2008 Fantasy Football Writer of the Year (Fantasy Sports Writers Association), can be reached via Twitter, day or night, at @ATL_JayClemons.
---