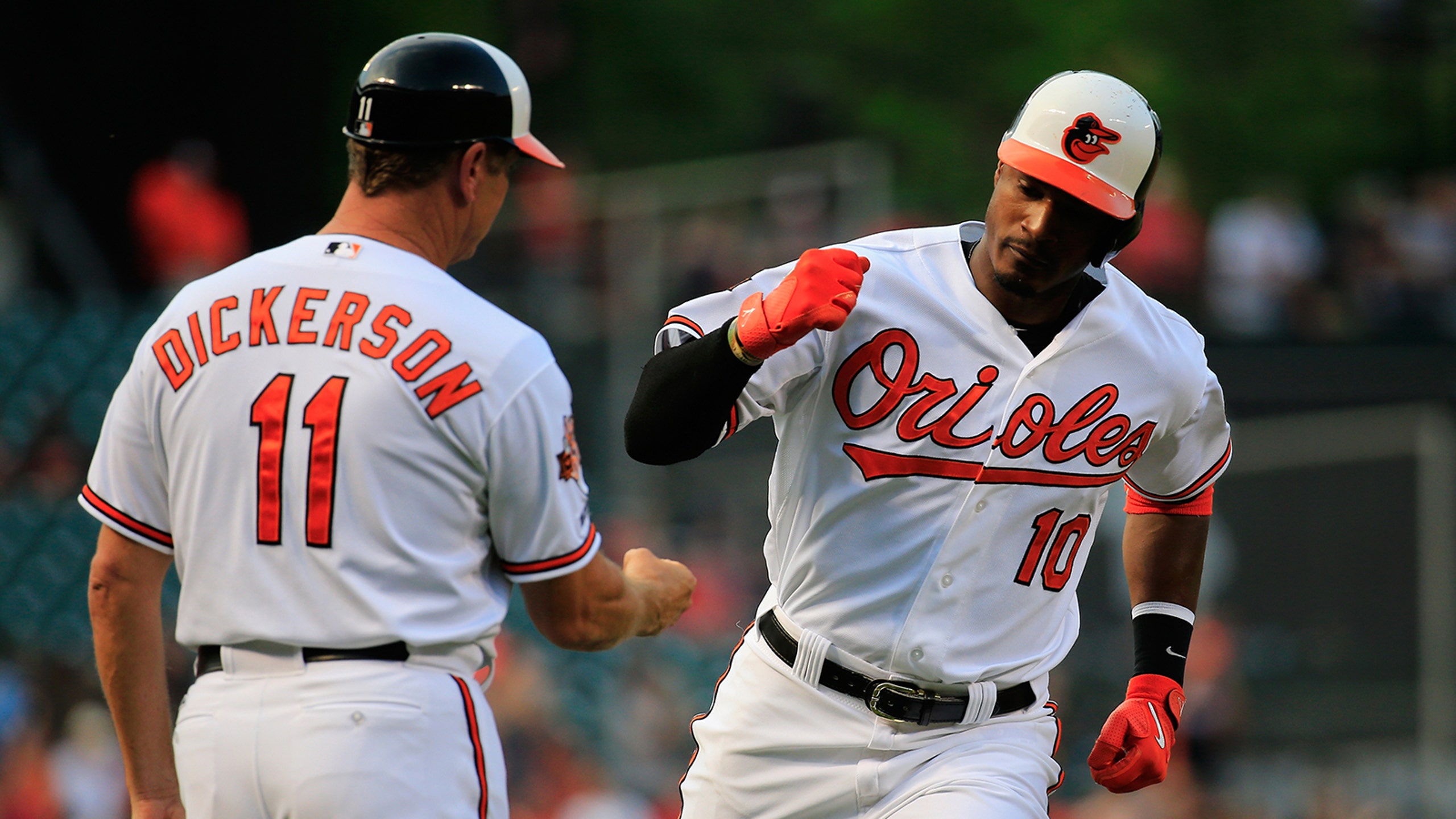 Fantasy Baseball Team Preview: Baltimore Orioles
BY John Halpin • February 5, 2015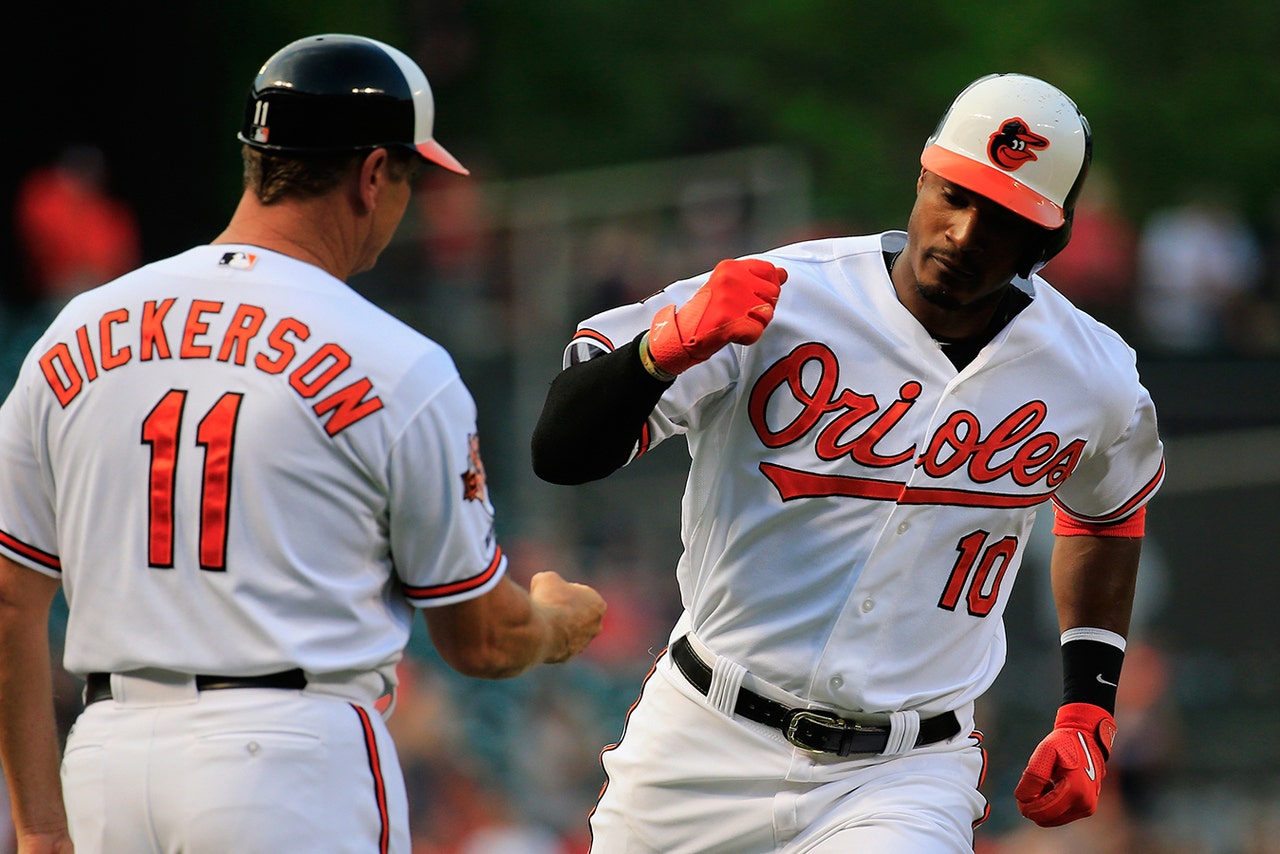 The O's lost more than they added during the offseason, but will get a couple of their better fantasy players back from injury.
(Note: When a player's fantasy draft status is mentioned - e.g., "he's an SP4" - the number is based on 12-team mixed leagues.)
ALSO SEE: TEAM PREVIEWS ARCHIVES
Key additions: OF/DH Travis Snider
Key losses: OF Nick Markakis, OF/DH Nelson Cruz, RP Andrew Miller
Projected Lineup
1. Alejandro de Aza LF
2. Manny Machado 3B
3. Adam Jones CF
4. Chris Davis 1B
5. Steve Pearce RF
6. Matt Wieters C
7. J.J. Hardy SS
8. Travis Snider/Delmon Young DH
9. Jonathan Schoop 2B
De Aza has a bit of power and decent speed, but he can't hit lefties. That leaves him in danger of losing at bats to Pearce and Young, and makes him a bad mixed-league option ... Machado should be ready for Opening Day after having knee surgery in August. He could bat .280 with 20 home runs, and should be a nice corner pick in the middle rounds ... We're past the point of worrying about Jones' free-swinging ways. He's a five-category fantasy threat (even though he stolen just seven bases last season), and you can consider him at the end of the first round ... Davis batted .199 with 26 home runs before receiving a PED suspension in September. If you believe the BA can bounce back to .250, Davis' big power and 1B/3B eligibility makes him worthy of a Round 4/5 pick ... Pearce had a surprising breakout season at age 31, but at this point he probably only has a full-time role because the Orioles didn't find any good alternatives. If you think his 2014 was for real, he'll only cost you a late-round pick ... Wieters was shut down in May due to an elbow injury, but expects to be ready for Opening Day. Remember that he averaged 22 home runs, 73 RBI and 66 runs from 2011-13 ... Hardy didn't hit a home run until June 21 last season, but he finished with nine, and the bet here is that his slow power start was a fluke. Still, he posted a .699 OPS in the second half, so don't expect a return to top-10 fantasy SS status ... Snider had 13 homers with a career-best .776 OPS in 322 at bats, but he probably won't play full-time ... We're not going to jump back in on Young after a couple of good months, right? OK, good ... Schoop could hit 16 homers again, but if his overall offense (.209 BA, .598 OPS) doesn't improve, the O's won't let him play every day ...
Projected Rotation
1. Chris Tillman
2. Bud Norris
3. Miguel Gonzalez
4. Kevin Gausman
5. Wei-Yin Chen
CL: Zach Britton
Hardy, Machado and Jones are excellent defenders, and Schoop is pretty good as well. The Baltimore pitchers should again have ERAs that outpace their peripherals ... Tillman has a 3.42 ERA with a 1.19 WHIP over the last three seasons, but his low K rate makes him a marginal mixed-league play ... Norris improved enough last season to earn consideration in deep mixed leagues. He doesn't appear likely to wreck your ERA and WHIP anymore ... Gonzalez doesn't induce many ground balls, so the O's superior infield defense won't help him much. Look for that 3.23 ERA to rise, and stay away from him ... Gausman's heat finally translated into a better K rate in August and September. At 24, he's still loaded with potential ... Chen throws a lot of strikes, but doesn't do much else. Pass.
Britton emerged as a solid closer, with a 1.65 ERA, a 0.90 WHIP, 37 saves and a ridiculous ground-ball rate of 75.3 percent. Britton's ERA and WHIP are likely to go up, but he seems to have a pretty good hold on this job. Darren O'Day and Tommy Hunter are probably next in line.
Sleeper: Gausman, who has the talent to emerge as this staff's best starter. He's being drafted outside the top 60 fantasy starters, but could return solid value there if things go well.
Top prospects
Dylan Bundy, SP – Bundy pitched 41 1/3 minor-league innings last season after undergoing Tommy John surgery in June 2013. He was regarded as an elite prospect before the procedure, and MLB.com recently ranked him at No. 20 overall. If Bundy is healthy, he could dominate and pitch for the O's sooner rather than later.
Hunter Harvey, SP – The 20-year-old Harvey doesn't have Bundy's ceiling, but he posted a 3.18 ERA with 106 strikeouts in 87 2/3 innings at low-A ball last season before being shut down due to elbow soreness (he was just about at his innings limit, anyway). Nice grab for dynasty leaguers, but we probably won't see him in Baltimore until late 2016 or 2017.
Christian Walker, 1B – Walker hit 26 home runs between Double A and Triple A, but struck out at an uncomfortably increased rate after his promotion. He won't be a star, but AL-only owners should watch for a late season promotion, maybe if Delmon Young doesn't work out.
ALSO SEE: TEAM PREVIEWS ARCHIVES
---