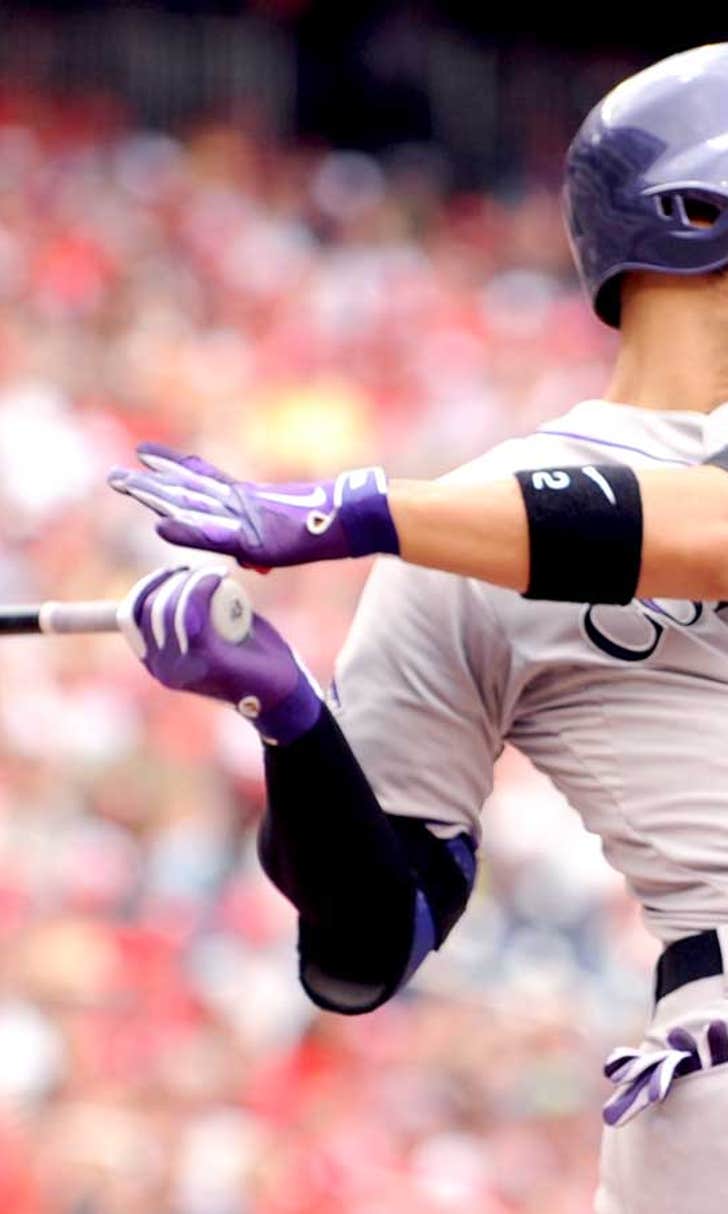 Fantasy Baseball 2014 Team Previews: Colorado Rockies
BY John Halpin • March 14, 2014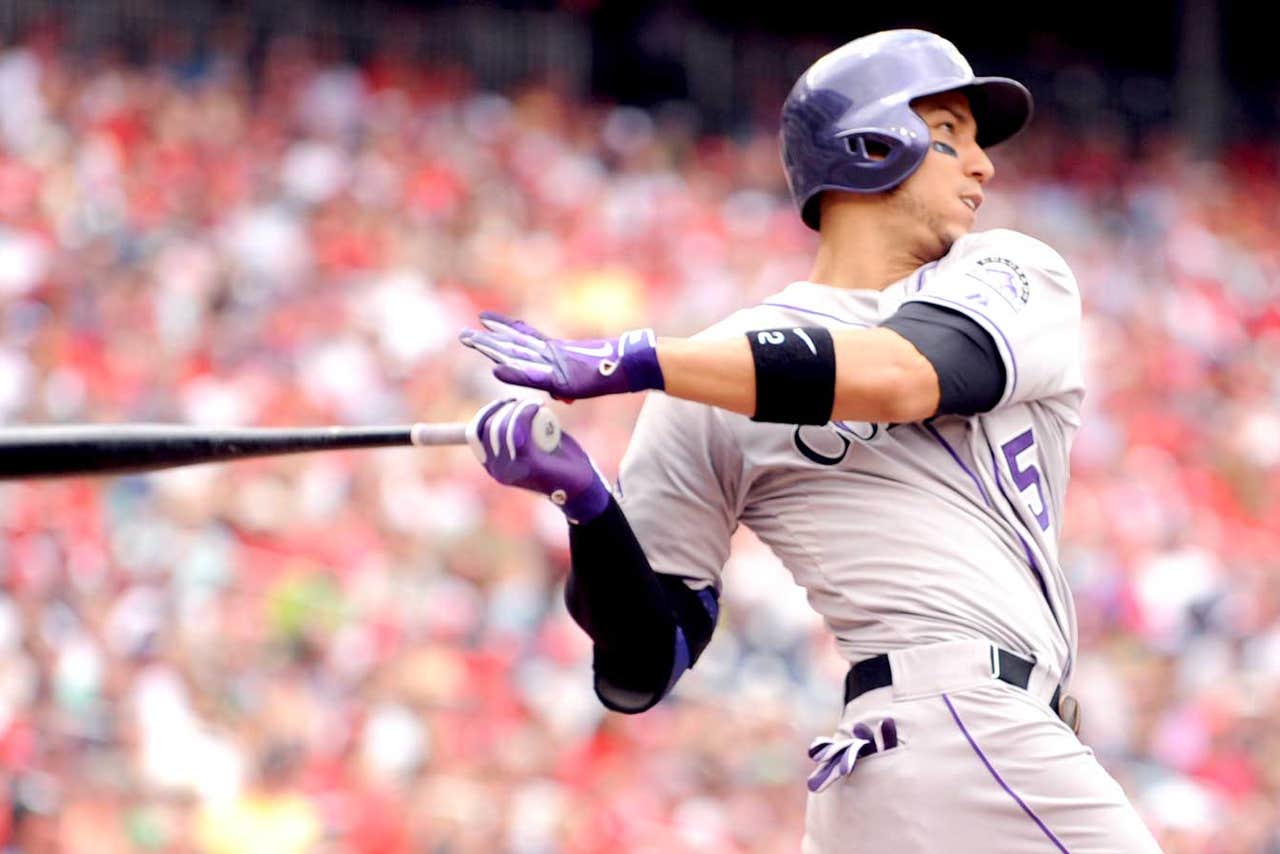 Many a fantasy owner has racked up offensive numbers thanks to Coors Field. This year will be no different.
Key additions: OF Drew Stubbs, SP Brett Anderson, 1B Justin Morneau, RP LaTroy Hawkins
Key losses: 1B Todd Helton, SP Drew Pomeranz, OF Dexter Fowler
Projected Lineup
1. Corey Dickerson/Drew Stubbs CF
2. Michael Cuddyer RF
3. Carlos Gonzalez LF
4. Troy Tulowitzki SS
5. Justin Morneau 1B
6. Wilin Rosario C
7. Nolan Arenado 3B
8. DJ LeMahieu/Josh Rutledge 2B
Dickerson has good power and decent speed, and has been impressive so far this spring. He appears to have the edge over competitors Stubbs, Charlie Blackmon and Brandon Barnes, but a Dickerson/Stubbs platoon would make a lot of sense. Since Dickerson is a Rockie, I might draft him in a 12-team mixed if he wins the job outright … Cuddyer might hit 20 homers and steal 10 bases again, but that .331 average won't be repeated, so he should be a third or fourth outfielder in standard mixed leagues. Then again, I used to have Rockies season tickets, and saw Dante Bichette hit like Mickey Mantle … CarGo needs to stop getting hurt, but look at the numbers he put up in 110 games last season. He's gotta be a first-round pick … Tulowitzki has similar injury concerns, and doesn't run any more, but still merits a pick in the late first/early second … Can Coors Field inflate anyone's stats? The next test case is Morneau, who slugged .411 last season and hasn't been good since the first half of 2010. I've got Morneau 23rd at first base, because if he doesn't hit, the Rox can always shift Cuddyer to that spot and backfill with one of their many outfielders … Rosario is my fourth-ranked catcher, but he's going second at the position in many drafts. He's hit .282 while averaging 24.5 HRs, 75 RBI and 65 runs over the last two seasons. What's not to like? … I'm not a big Arenado fan, but can see picking him near the end of a 12-team mixed draft. Coors will always help the BA, and he could hit 15 homers … LeMahieu might have the edge over Rutledge in this position battle, but Rutledge is the guy all fantasy owners want to see win. He could go 15-15 or better. LeMahieu might steal 20, but won't give you much else.
Projected Rotation
1. Jorge De La Rosa
2. Jhoulys Chacin
3. Brett Anderson
4. Tyler Chatwood
5. Juan Nicasio/Franklin Morales
CL: LaTroy Hawkins
De La Rosa finally had another healthy season, going 16-6 with a 3.49 ERA and a 1.38 WHIP. Can he do it again with a K/BB ratio of less than two-to-one? I'm gonna guess not … I like Chacin a little better than De La Rosa because of his less-checkered health history and better track record of keeping the ball on the ground. However, he's expected to start the season on the DL due to a shoulder strain … Anderson is an extreme ground-baller, and seemingly a perfect fit for Coors Field. I'll avoid him in drafts, and take May 17 in the "When will Anderson go on the DL?" pool … Chatwood brings another grounder-heavy arsenal to this rotation, but it's amazing that a guy who throws as hard as he does misses so few bats. NL-only, maybe … Nicasio and Morales can be drafted in 38-team leagues, if you're desperate.
The 41-year-old Hawkins will start the season as the closer, but it's hard to imagine him getting 30 saves. Rex Brothers looms as the successor, whether or not he's lefthanded.
Sleeper: Rutledge. If he wins the job, he can be owned in any format. Keep your fingers crossed.
Top Prospects
Jonathan Gray, SP – Baseball America ranks Gray 12th among all prospects. He was drafted last June and threw just 37 1/3 innings after that, whiffing 51 batters against just eight walks. Gray has big-time stuff, including a high-octane fastball and nasty slider, and could come quickly.
Eddie Butler, SP – Butler is 24th in the BA rankings, and had a 1.80 ERA across three minor-league levels last season. Maybe the Rox are finally going to have some pitching?
Tom Murphy, C – Murphy is currently blocked by Rosario, but if he keeps hitting for power, they'll make room for him in a year or two. 
---