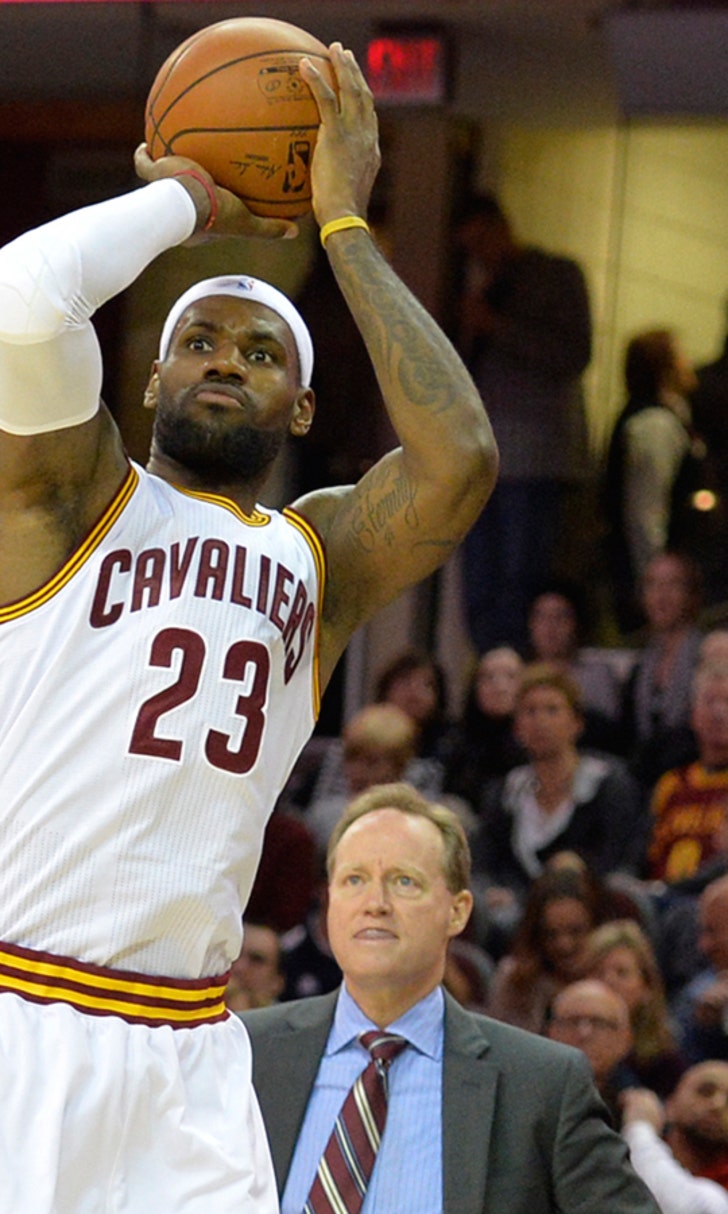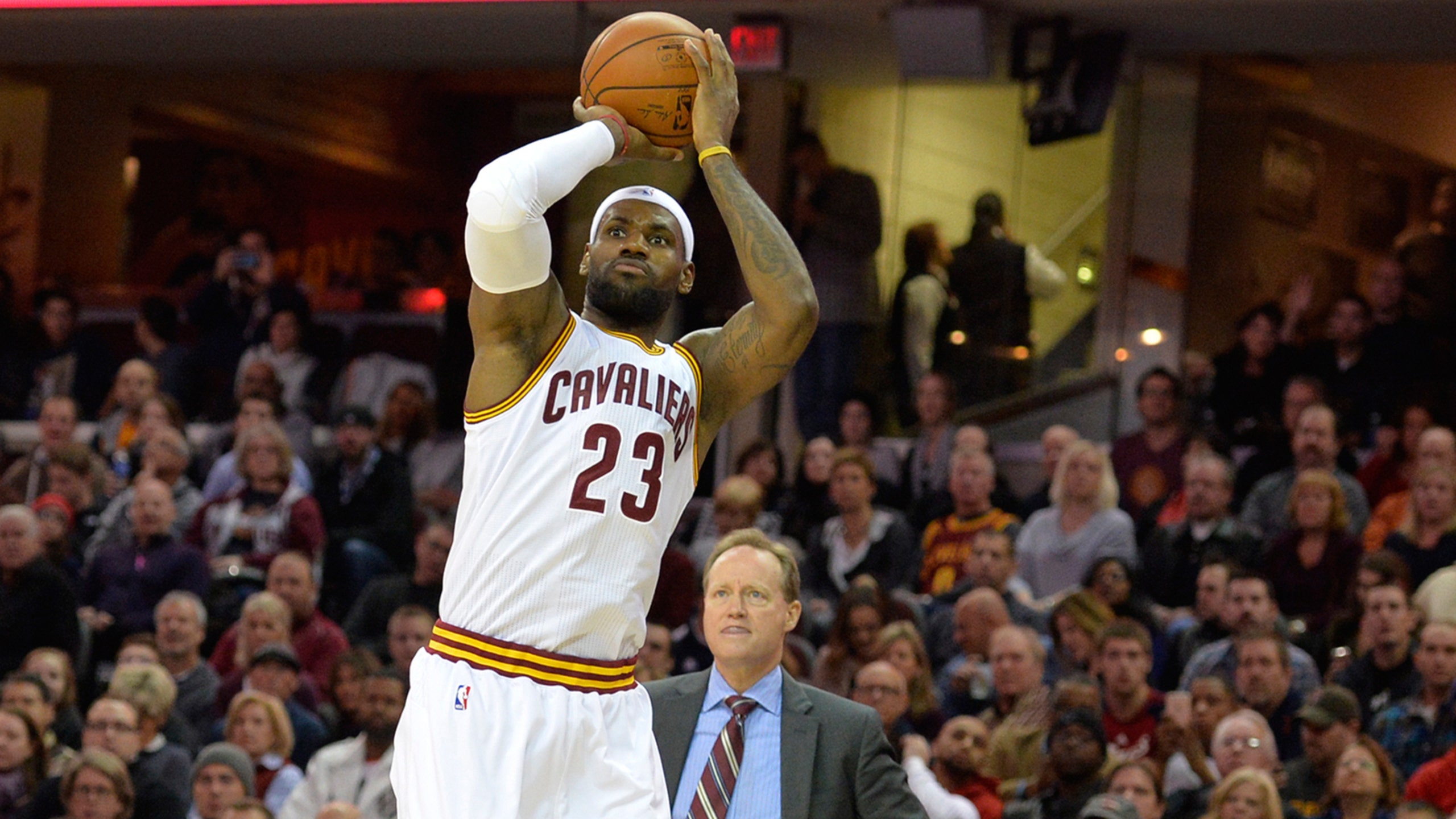 Fancy passing, nifty shooting, and Cavs figuring it out
BY foxsports • November 15, 2014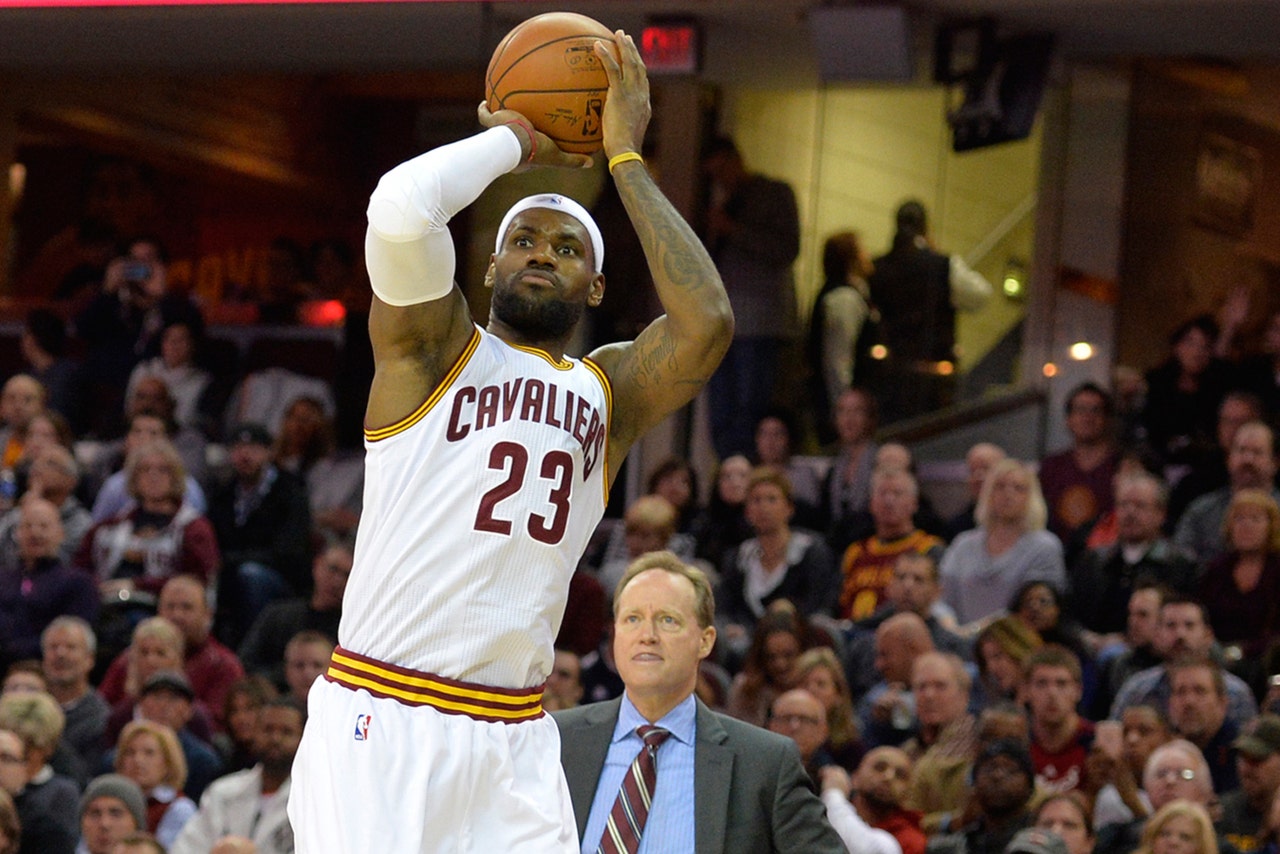 CLEVELAND -- Lots of random dribbles from the Cavaliers' 127-94 hammer job of a victory over the visiting Atlanta Hawks on Saturday:
1. The Cavs turned this into 48 minutes of garbage time. That's really the bottom line on this one. Before the game, coach David Blatt said he felt the ball movement was improving. It sure looked like, didn't it? It was almost as if the Cavs had seven guys on the floor, to the Hawks' three or four.
2. The Cavs buried their first 11 3-pointers and set a franchise record with 19 for the game. They also set an NBA record by going at least 9-of-9 on threes in a quarter. Basically, if there was a shooting record to be had, the Cavs were interested.
3. It doesn't hurt that they also passed for 39 assists. Yes, 39. This from the same team that compiled a measly six assists in a loss at Utah last week.
4. Again, this is what happens when a team with LeBron James, Kyrie Irving, Kevin Love and others starts to figure it out. This was a basketball clinic in its purest form -- the ball moving and guys making fundamentally sound plays. Hard to go wrong there.
5. The Cavs (5-3) led by 43 points in the second half. They have won four straight after a clunky start. The Hawks (5-4) had won four straight entering the night. But five minutes in, it was clear that streak would end. The Cavs are starting to figure it out, kids. And that means trouble for everyone else.
6. Oh, and there's this: LeBron played just three quarters and finished with 32 points. He went 13-of-20 from the floor, passed for seven assists and grabbed six rebounds. He's just been magnificent during this winning streak (and not too shabby in most of the losses, either). The more comfortable the Cavs get with each other, the better LeBron seems to get.
7. Or is it the other way around? Either way, the Cavs have been looking a lot more like a team that has mastered its offense lately.
8. It's worth mentioning that the Cavs had to come from way back to win at Boston the previous night. They didn't play particularly well, but won on the road. Then, against the Hawks, they came out strong and never let up.
9. Blatt put it this way: "I want to put this in perspective. We were just in Boston (Friday) night, and struggled mightily. It sort of stands to reason that we might come out with a little bit less energy. Our guys made it a point to do the exact opposite."
10. Irving often struggles against talented Hawks point guard Jeff Teague. Remember last year when Kyrie went scoreless in Atlanta, where he missed all nine of his field-goal attempts? On Saturday, Irving finished with 20 points on 6-of-9 shooting. He passed for five assists without committing a turnover. Meanwhile, Teague scored five measly points and made just two field goals.
11. Tristan Thompson and Dion Waiters were fantastic off the bench. Thompson went for 15 points and seven boards. And Waiters deserves his own paragraph below.
12. Two games after returning from a lower-back bruise (and perhaps a bit of bruised ego), Waiters passed for a game-high eight assists. That's right, Waiters had more assists than anyone else on the floor, and he barely played in the fourth.
13. Defensively, the Cavs were much better against the NBA's top 3-point shooting team. The Hawks entered the game hitting 41 percent of their treys -- but were a miserable 3-of-22 on Saturday. And top marksman Kyle Korver? Yeah, he went 0-of-1 for the game for 0 points. Ouch, say Hawks fans everywhere.
14. For the Cavs, the defensive play of the night happened in the third quarter, when LeBron swatted a shot into the stands and saluted the fans. Again, this is a lot closer to what people expected the Cavs to be like.
15. But just like you can't get too down with the losses, you can't get too high with the wins. "Have we turned the corner?" Blatt asked, repeating a reporter's question. "Heck, I didn't even think there was a corner yet. It's just so early."
16. In the event the Cavs needed it, here's another dose of good news: Seven of their next eight games are at home. "Our season started in a difficult fashion, schedule-wise," Blatt pointed out. "I think it's coming at a good time for us. It's sort of rounding into shape, and (having stretch of home games) is helpful."
17. As for the Hawks, Paul Millsap (16 points) is a really nice player. I still think they're getting to the second round of the playoffs this year. And if they play well enough at the right time and stay healthy, this is a team that could shock. They typically move the ball extremely well and play very smart. But it's fair to ask if there's really enough talent.
18. Love finished with 13 points, six rebounds and five assists. Shawn Marion contributed 11 points and some very valuable defense. Anderson Varejao grabbed 10 boards in 21 minutes.
19. Finally, rookie Joe Harris continued his encouraging play with 12 points. He's already given the Cavs about as much as No. 1 overall Anthony Bennett (now with Minnesota) gave the Cavs all of last year. And Harris was picked in the second round.
---