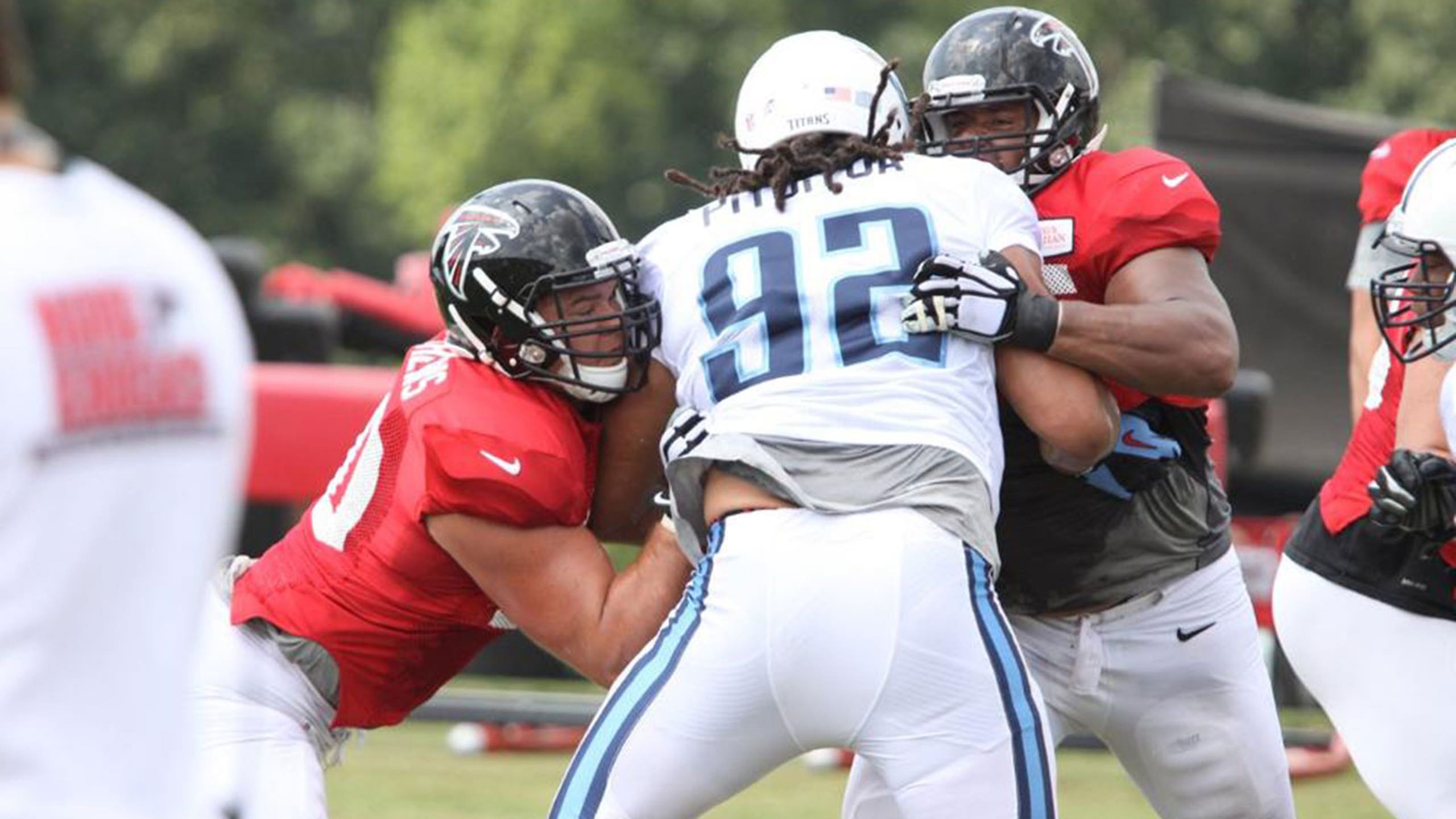 Falcons: Four observations from combined practice with Titans
BY foxsports • August 5, 2014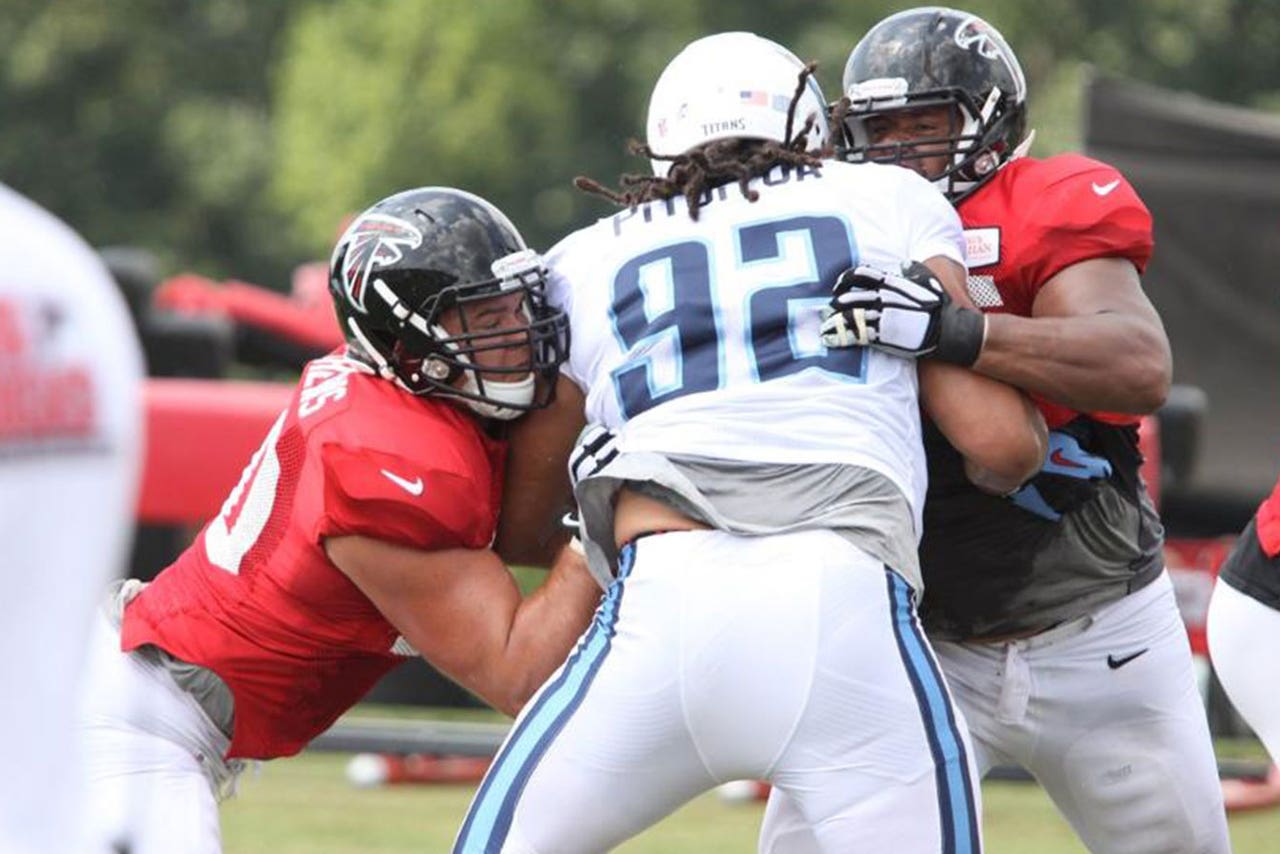 FLOWERY BRANCH, Ga. -- The Falcons endured eight training camp sessions, and a modified practice with a scrimmage, prior to Monday's meeting with the Tennessee Titans at Atlanta's training facility. Here are four observations from the combined workout:
With Desmond Trufant and Robert Alford at the corners, and William Moore at strong safety, Atlanta's defensive backfield only had one question mark: The free safety position.
Injuries have forced the Falcons to reevaluate how they hunt for a starter at free safety. Or more accurately stated, who they hunt for to take that role.
The two front-runners for the job--Dwight Lowery and Dezmen Southward--are hobbled. Southward was in pads Monday, after missing a week with a knee injury, but he's still not ready to take over that top spot on Atlanta's depth chart.
Lowery is in the league's concussion protocol, after a collision forced him from Friday Night Lights, Atlanta's practice/scrimmage held at a local high school each year.
The concussion is Lowery's third in the NFL, so there is concern for his future. He watched the combined session from the sidelines on Monday, and has several steps to overcome before he can become eligible to return to the field.
Taking his place with the first team was second-year safety Kemal Ishmael, who is making plays all over the field, including behind the line of scrimmage. He only played three snaps on defense last season, so stepping into a starting role will take some adjustments.
Also taking some time at free safety are cornerbacks Robert McClain and Ricardo Allen, who will now cross-train at the position.
In this Falcons defense, the free safety frequently plays a "center field" position deep in the secondary, a place where he can roam and ballhawk at will. Both McClain and Allen have those cover skills.
Where the adjustment period will come in, is how the two corners learn how to come down into the box to tackle, and actually attack the quarterback. Atlanta like to use safeties to blitz opposing passers.
Hawley, who is penciled in as Atlanta's starting center, got into a little brouhaha on Monday with Tennessee safety Michael Griffin. Shortly after the scuffle began, it was stopped.
But there were repercussions.
Hawley was flagged by the officials overseeing the dual practice session, and ejected from practice.
"Yes, the guys knew the rules of engagement and they were violated," said head coach Mike Smith when asked about Hawley's dismissal. "When they're violated, there's going to be a consequence. The consequence was that some other guys had to step up and take some extra reps, and we lost a good player. During the game, if that were to happen, we're going to lose a player and we need to learn that we can't be fighting."
Hawley's ejection came one day after he and rookie defensive end Ra'Shede Hageman got in to a shoving match that concluded in Hageman bruising his hand on Hawley's helmet with a punch.
Even though Hawley never threw a punch, he was an instigator in a another altercation on July 28. After the punches were handed out, instead of getting back to practice, Hawley had words for rookie Jacques Smith.
While Coach Smith is tired of seeing his team get into fights during practice, Hawley's rambunctiousness was taken differently by Todd McClure, the man who held down the center position in Atlanta prior to Hawley.
Matt Ryan was sacked a career-high 44 times in 2013. His previous high of 28, was left massively in the rearview mirror.
According to Pro Football Focus, Ryan was pressured 290 times last season by opposing defenses, more than any other quarterback in the league.
Rookie right tackle Jake Matthews had another strong practice on Monday. He's been a star at camp thus far, and no Tennessee pass-rusher got the better of him in the joint session.
Matthews was praised by offensive line coach Mike Tice before Monday's combined practice. Tice called Matthews "outstanding and confident." And with the way Matthews has handled every challenge thrown at him through camp thus far, it's easy to see why Tice felt Matthews was ahead of every other tackle in the draft.
And he has gotten better since his arrival.
Ryan seems happy the Falcons called Matthews' name in the first round of the 2014 draft.
"He certainly doesn't look like it [the typical rookie] to me," said Ryan. "He is as savvy as any rookie that I have been around, in any position. He plays very physical. He is extremely athletic. I have been incredibly impressed with him, up until this point. I am excited that we were able to draft him."
But the big guys up front that protect the quarterback aren't the only blockers under the microscope. The reps handed out to Atlanta's running back corps, will in some part be determined by who can stay back and protect Ryan.
With Steven Jackson sidelined with a hamstring injury, Jacquizz Rodgers and Devonta Freeman will compete for touches, and the spot behind Jackson on the depth chart. While Freeman has a slight edge running the football, if he can't keep Ryan from getting mauled, his playing time will be severly limited.
The running backs worked on pass-protection drills on Monday. The key to Freeman taking more reps on offense will be his mastery of pass protection.
Undrafted rookie wide receiver Bernard Reedy, out of the University of Toledo, has been showing out for the duration of camp.
The 5-foot-9 speedster has been getting behind the defense with regularity, and on Monday showed that it wasn't just Atlanta's defense he could scorch.
Reedy took a step inside, then burst outside and up the sideline past Tennessee cornerback Winston Wright for a long touchdown catch on Monday. If that wasn't enough, later in the same 1-on-1 drill, Reedy used his speed to leave another Titans defensive back in the dust.
The two long touchdown catches show that Reedy might be able to help this team as a deep threat that can stretch the field. But with a very top-heavy wide receiver corps, not only is Reedy going to have to excel at hauling in the rock, he needs to be a superstar on special teams.
So far Reedy has been an impressive piece to special team coordinator Keith Armstrong's units, but Reedy did muff a punt on Monday. That's a mistake the rookie can't afford to make, no matter how may defensive backs he makes look silly.
---